This week's Sunday Spotlight is Amateur rider Traci Ribeiro. Traci is an accomplished lawyer that has recently rediscovered her riding career. Along with Kosta Kalanov, Traci runs Kalanov Equestrian out of Country Ridge Stables in Mundelein, Illinois. The pair are growing their business of buying, importing and selling horses, and have found great success. Though she loves the business, there are two horses Traci will never sell: Abudabi and Malte 53.
How did you get into riding?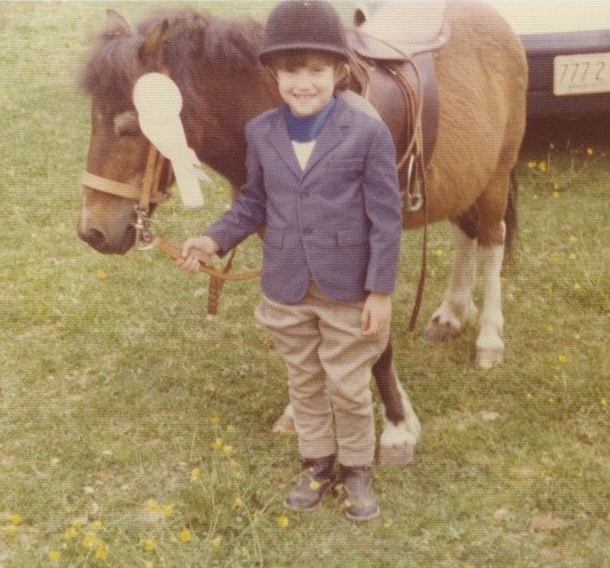 I got into riding when I was four because my parents rode. They wanted to keep me busy while they rode, so they got me a pony named Ginger. My parent's friends also had a daughter my age that rode, so we just popped around on our ponies. I did my first show on Ginger at four years old.
Tell us about competing growing up.
Growing up, I spent every day riding. We would play around the horses all day long. We would ride them bareback, go swimming in the lake…things I wouldn't even imagine doing now. Eventually we moved and we had acreage, so we had our horses at our house in Virginia. We rode through the Fox Hunting fields and jumped there rather than in the ring. It was a little different than the riding I do now. I had no fear then. If I fell, I bounced back up. I was never afraid to jump any height. When we Fox Hunted as kids, we rode in the back and we were told to jump the low side of the jumps, but we would hang back and jump the high sides.
In high school we did the Hunter circuit. I did a little bit of Three Day Eventing. I had a chestnut Hunter named Humphrey. We probably did the 2'6″ Hunters. His show name was For No Reason because, at the time, a lot of people were naming their horses Happy Birthday or Easter Bunny, and I had gotten him for no reason. The first time I won a class, and I didn't realize this would happen, the announcer said, "Traci Ribeiro riding For No Reason," which caught me a little off guard and I had to think, "Oh, that's my horse's name!"
Tell us about riding in college.
When I went to college, it was only IHSA where you picked a horse out of a hat and you rode that horse. I didn't ride the fanciest of horses growing up, so I easily adapted to riding horses I hadn't ridden before. When I started at Hollins College, I actually didn't make the team. I was an alternate. In the first week, one of the girls on the team couldn't show, so I was called up and won both of my over fences classes and under saddle, so I was able to stay on the team. Otherwise, I might have left because I had gone to this specific school for the main reason of riding, and not making the team was not part of the plan.
After Hollins College, I went to Hofstra University in Long Island. They had a team, but the quality of horses was not as high caliber. At Hollands, we had Sweet Briar, Randolph-Macon…those schools lived for their riding program. In Long Island, they did not.
Did you ride after college?
I took a break from riding after college. After I graduated, I went to law school. So, I became a lawyer and practiced law for the next 25 years, always with the goal of returning to riding. I always lived in big cities where getting out to the barn was very difficult. I didn't own a car for twenty years. A few years ago right around this time, I didn't own a car, I didn't own a horse, I lived in downtown Chicago…now I own six horses. I practice law full time, I just do it at the stalls, in Vendor Village or in the Sanctuary on my laptop.
Tell us about how you get back into riding.
At some point I just realized that I had accomplished a lot of what I needed to accomplish as a lawyer and started taking lessons. Within about two months I bought two horses and was showing a few weeks after that. I was at World Equestrian Center in October 2017 jumping 2′. I met my current trainer Kosta through the barn I was at, and we decided to go into business importing, buying and selling. I do a lot of the administrative part of it.
My first two horses that I had were not best suited for a beginner, so Kosta went to Europe and found me two horses that, every time I show, someone asks to buy them. I won't sell them. Their names are Abudabi and Malte 53; they're not going anywhere.
Tell us about Abudabi.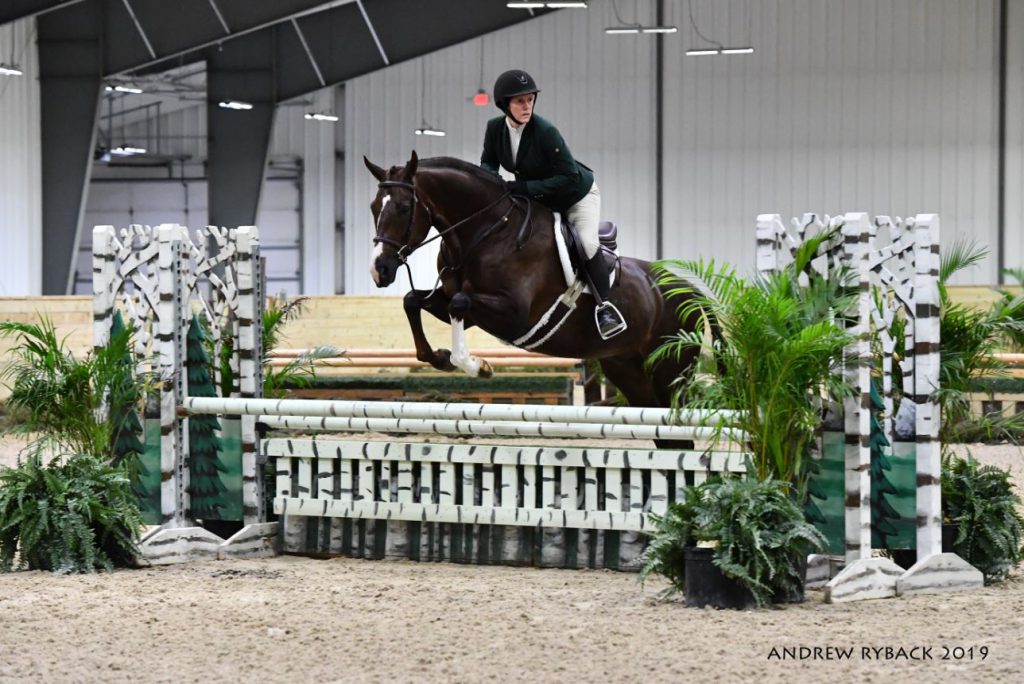 Abudabi (Boo) was in Bulgaria, where Kosta is from. Kosta called me and said, "I found a horse, his name's Abudabi," pronouncing it A-boo-da-bi. I said, "Are you sure that's his name?" He was insistent that his name was said that way. We ended up bringing him home. It's funny, the announcers always call him (the normal pronunciation of) Abudabi, and finally I met them and corrected them. They thought I was joking!
They didn't know what they had when Boo was in Bulgaria. They had no idea that they had a Hunter. He was a Jumper doing the 1.30-1.40 m. I rode him shortly after he arrived and he was phenomenal. He just has this Hunter gait that makes you confident. We do the Jumpers, too, because he's fast and he can turn, but he is great in the Hunters. I was doing the 2'6″ Hunters with him this Winter and we did the $2,000 Non Pro Derby 2'6″ and have won it three times. We just recently moved up to the 3′. We did the $2,500 USHJA National Hunter Derby for the first time two or three weeks ago and finished seventh. I was thrilled.
Tell us about Malte 53.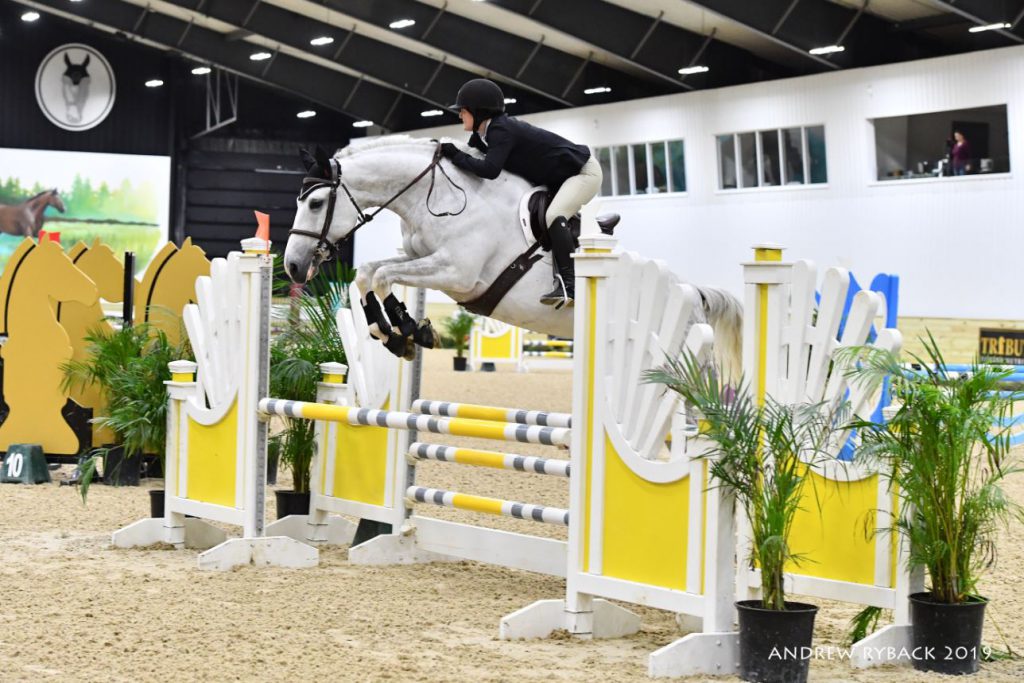 Malte 53 (Malte) and I started in the Jumpers when I got him. I would just plant my hands on his neck and turn my head and he would just go. We went from 0.08 m to 1.00 m. He takes care of me. The only time he would ever stop is if he thought I was more likely to fall off if he went. There are several photos that Andrew Ryback Photograhy has where both of our eyes are closed over the fences, because that's how easy he is to ride. He doesn't even think he has to keep his eyes open.
Tell us about your Winter at WEC.
We've been here the whole Winter. We've sold a couple while we were here. This is an incredible place to sell horses. Being here for the Winter was amazing. I wanted to make up for lost time, because I had taken 25 years off. Everyone at World Equestrian Center has helped us through the learning process. English is not Kosta's first language and I haven't done this in a while, and everyone has helped us. The two of us didn't know a lot of the in and outs and we didn't have another barn with us. Each week, we've had different barn neighbors, and every week they have invited us to come train with them or come show with them. The amount of people that have helped us has been pretty amazing. The riders that I ride with in my division…we're all friends now. I'm sad for it to end.
What are your future riding goals?
My goal is to move up in height on both horses. I would also love to make the horse business my business. I want to grow the business, more buying and selling horses. I would also like to get better. This is my passion, this is what I want to do. We hope to be back next Winter!
Photos courtesy of Andrew Ryback Photography.