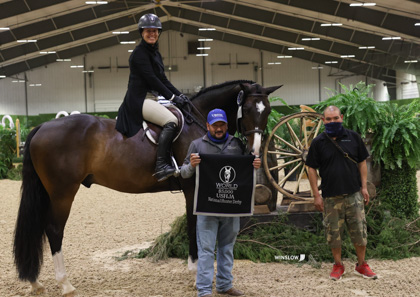 Thirty-three stunning hunters took to the R+L Arena tonight to contest the $5,000 USHJA National Hunter Derby at World Equestrian Center in Ohio. Course designer Keith J. Bollotte set a beautiful winding course of natural fences that offered rider's the opportunity to show off their horse's brilliance and adjustability. First round competition was tough, with only three pairs earning scores into the 90s.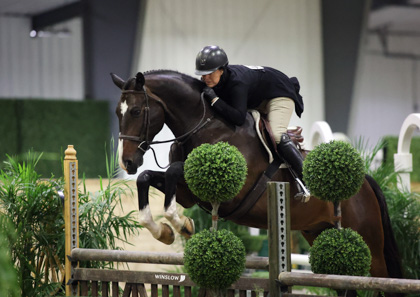 Tammy Provost and Jill Donaldson's Persuasive delivered a stylish first round taking four high options to earn a score of 91.5. Provost and the 8-year-old bay Dutch Warmblood returned for the handy round and beautifully negotiated the course which featured bending lines, inside turns and forward distances for a score of 89; giving them a combined total of 180.5 for the win.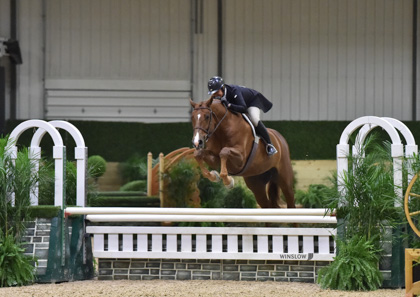 Second place finishers Santana and Belynda S. Bond earned the high score of the first round with a 93. Bond and the 9-year-old chestnut Warmblood gelding owned by Gesture LLC returned for the handy where their performance garnered an 86 for a two round total of 179.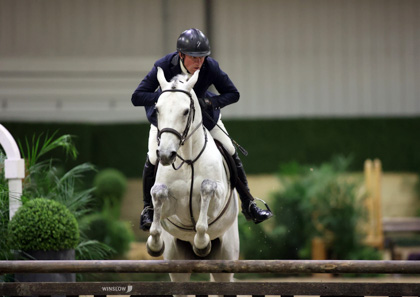 David Beisel of David Beisel Stables in Goshen, Ohio, and Five Star (Oh Star x Pina Colada) earned a first round score of 86. Beisel and the 12-year-old gray Selle Francais gelding, owned by Rev Media Marketing, returned for a lovely second round to score an 88 for a total of 174 to secure a third place finish.
$5,000 USHJA Hunter Derby Results
Persuasive, Tammy Provost – 91.5 | 89 | 180.5
Santana, Belynda Bond – 93 | 86 | 179
Five Star, David Beisel – 86 | 88 | 174
Steller, David Beisel – 87 | 86 | 173
Giviera, Tina Judge-Boyle – 92 | 78.5 | 170.5
Gina Balou, Michaella Gerlacher – 88 | 82 | 170
MTM Bentley, David Beisel – 88.5 | 81 | 169.50
No Doubt, Jeff Gogul – 84 | 74 | 158
Doc Holiday, Elizabeth Akey – 78 | 79 | 157
Corallo Z, Sam Berry – 85 | 70 | 155
Congratulations to all of our competitors for a wonderful evening of hunter derby action.
Photos courtesy of Winslow Photography
Join us online all weekend for top hunter/jumper competition on clipmyhorsetv.com.