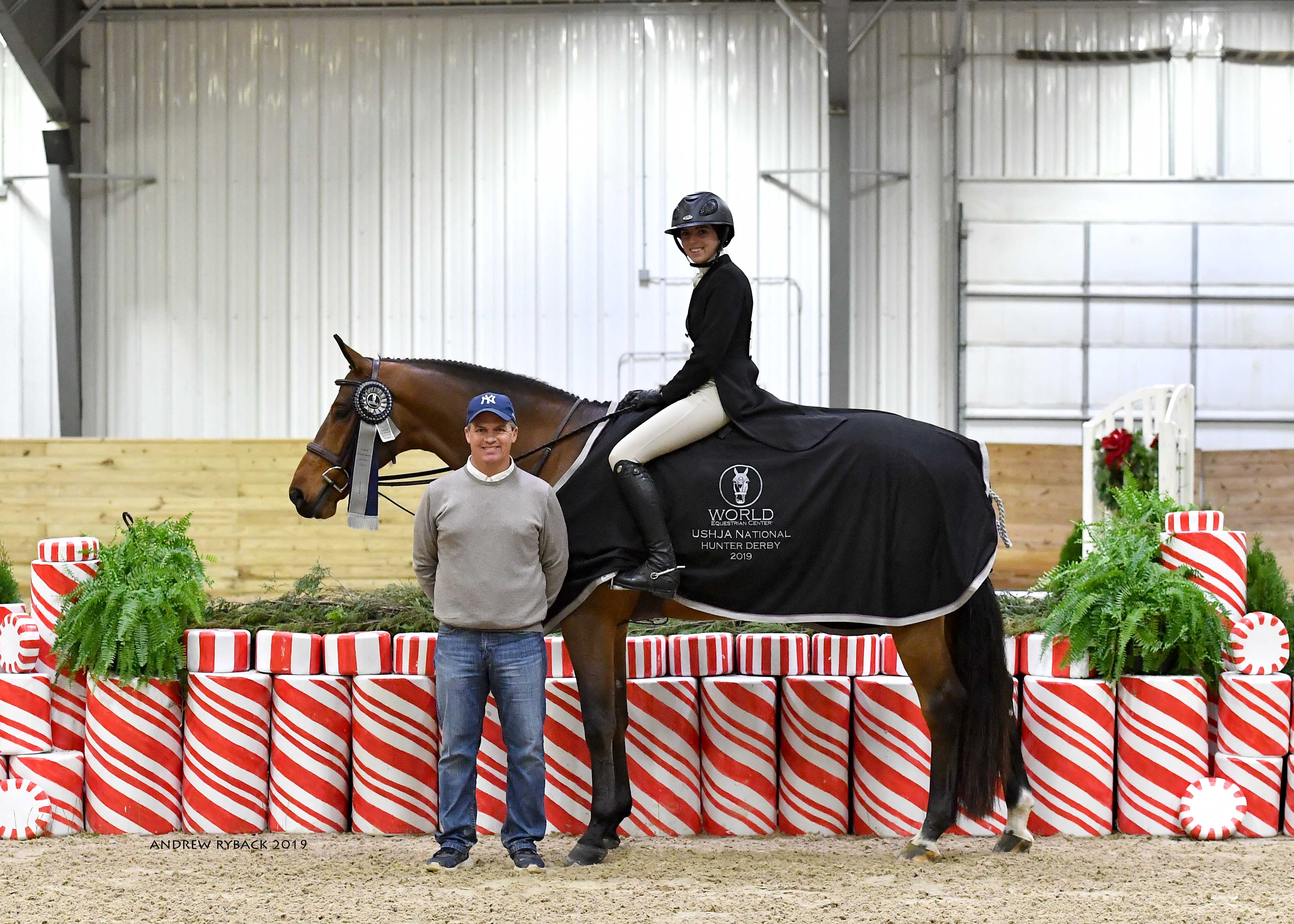 Twenty stunning hunters took to the R+L Arena this afternoon for the $5,000 USHJA National Hunter Derby. The course for the class was designed by Thomas Hern, Jr. of Plymouth, Massachusetts and featured sinuous bending lines, four high options and plentiful festive holiday decor. Several entries scored high into the eighties and the nineties, but it was Taylor Willever and Barbara Brungess's Cornetto (Cayton x Madame Shutterfly) that ultimately earned top honors. Cornetto's groom for this afternooon's class Daniel Ventura received the Groom's Award of $100 cash and a $50 WEC gift card for the gelding's stunning turnout.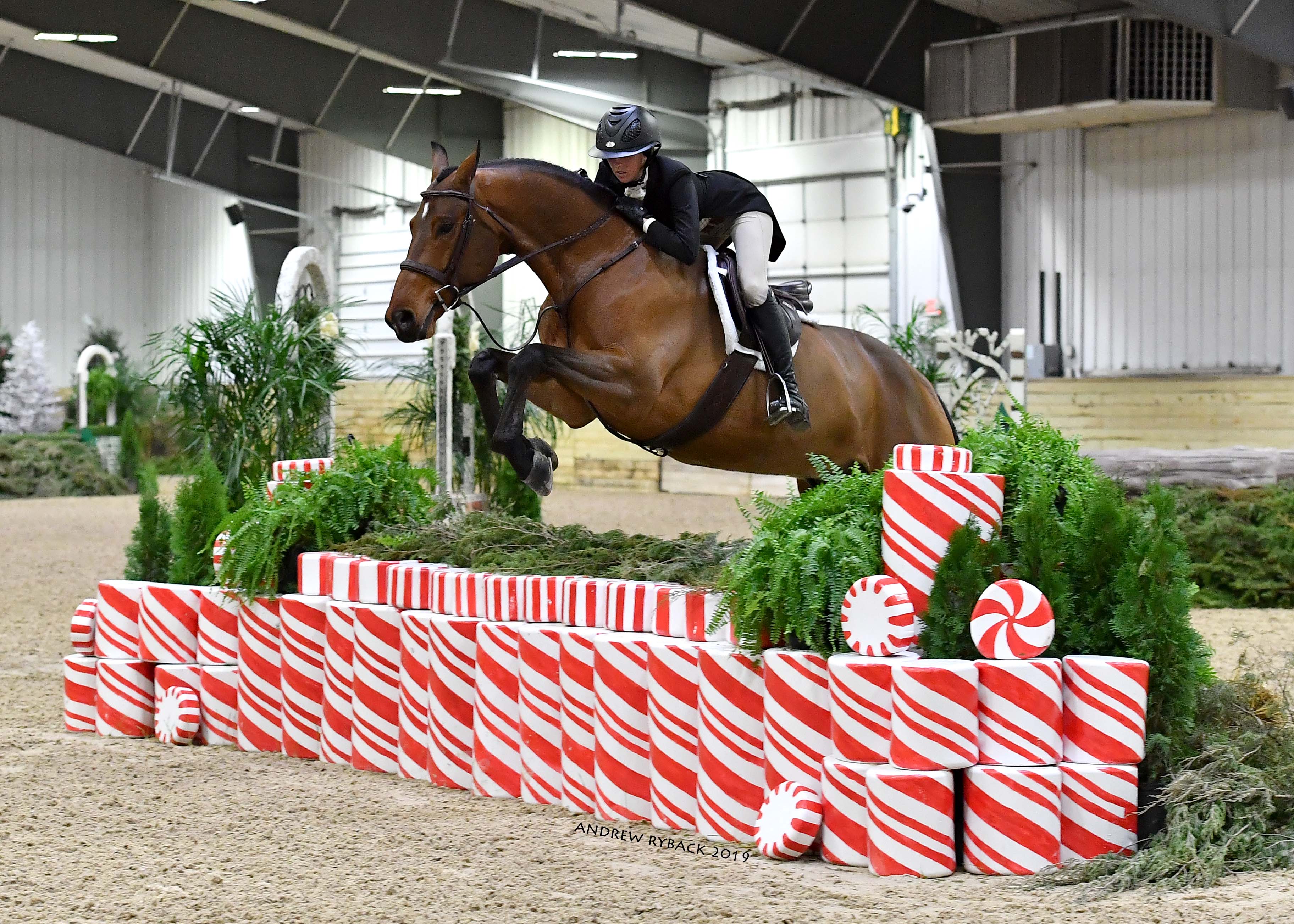 Taylor Willever and Barbara Brungess's Cornetto (Cayton x Madame Shutterfly) had an impressive first round, taking all four high options for a score of 88. The pair regularly stay in the tricolors in the USHJA 3′ Hunters and Cornetto also competes successfully in the Adult Amateur Hunters with Brungess. Willever and the eight year old Warmblood gelding earned the highest score of the first round in this afternoon's derby.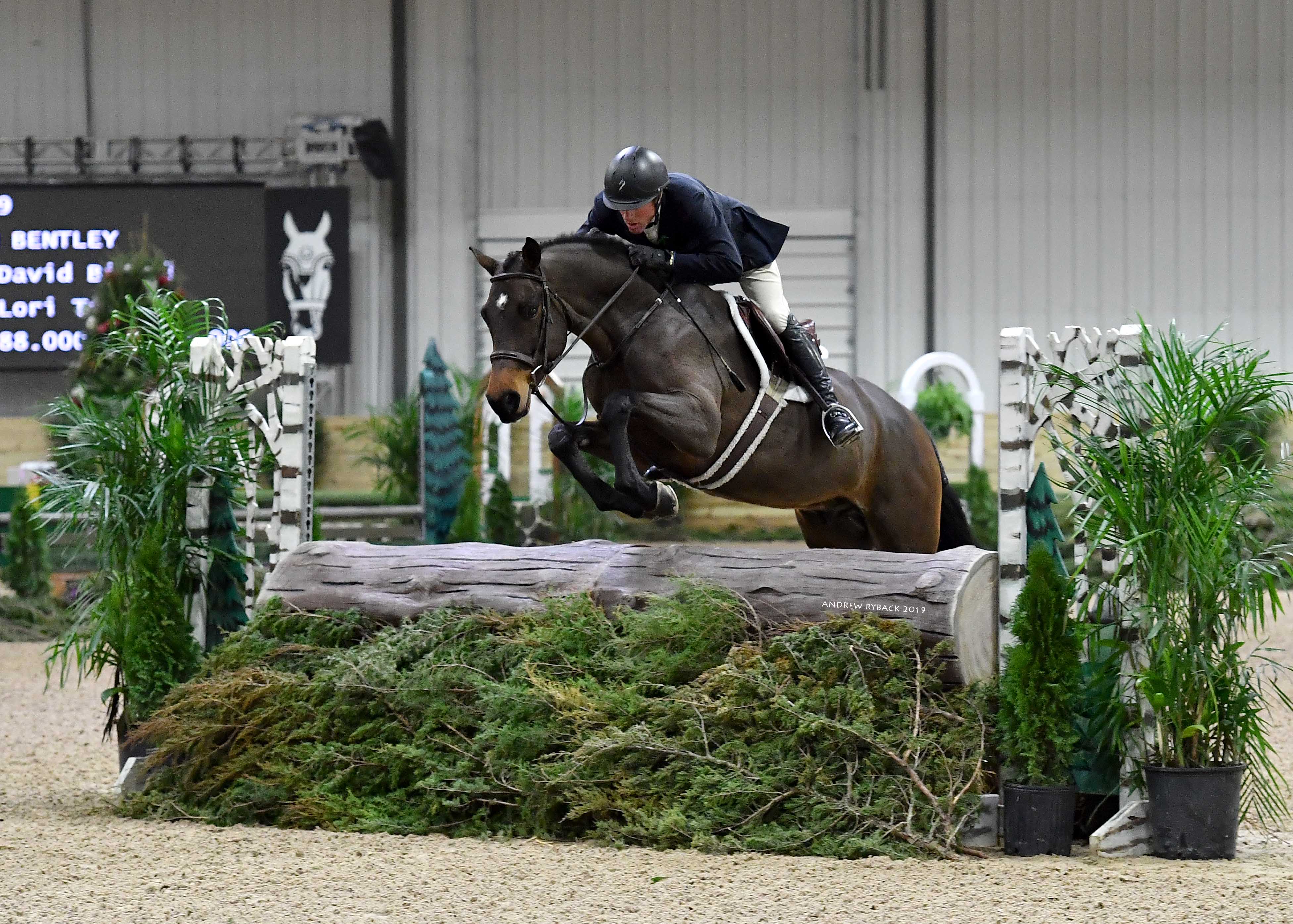 David Beisel and MTM Bentley take a high option.
David Beisel also had a fantastic first round aboard Lori Taylor's MTM Bentley (Bonaparte Z x Hot Cherie P). The pair compete often in the Baby Green Hunters, regularly taking top placings together. Beisel and the six year old Danish Warmblood gelding also took second place in last week's Open $10,000 USHJA National Hunter Derby. This afternoon, the stylish pair chose to take all four high options, earning a first round score of 87.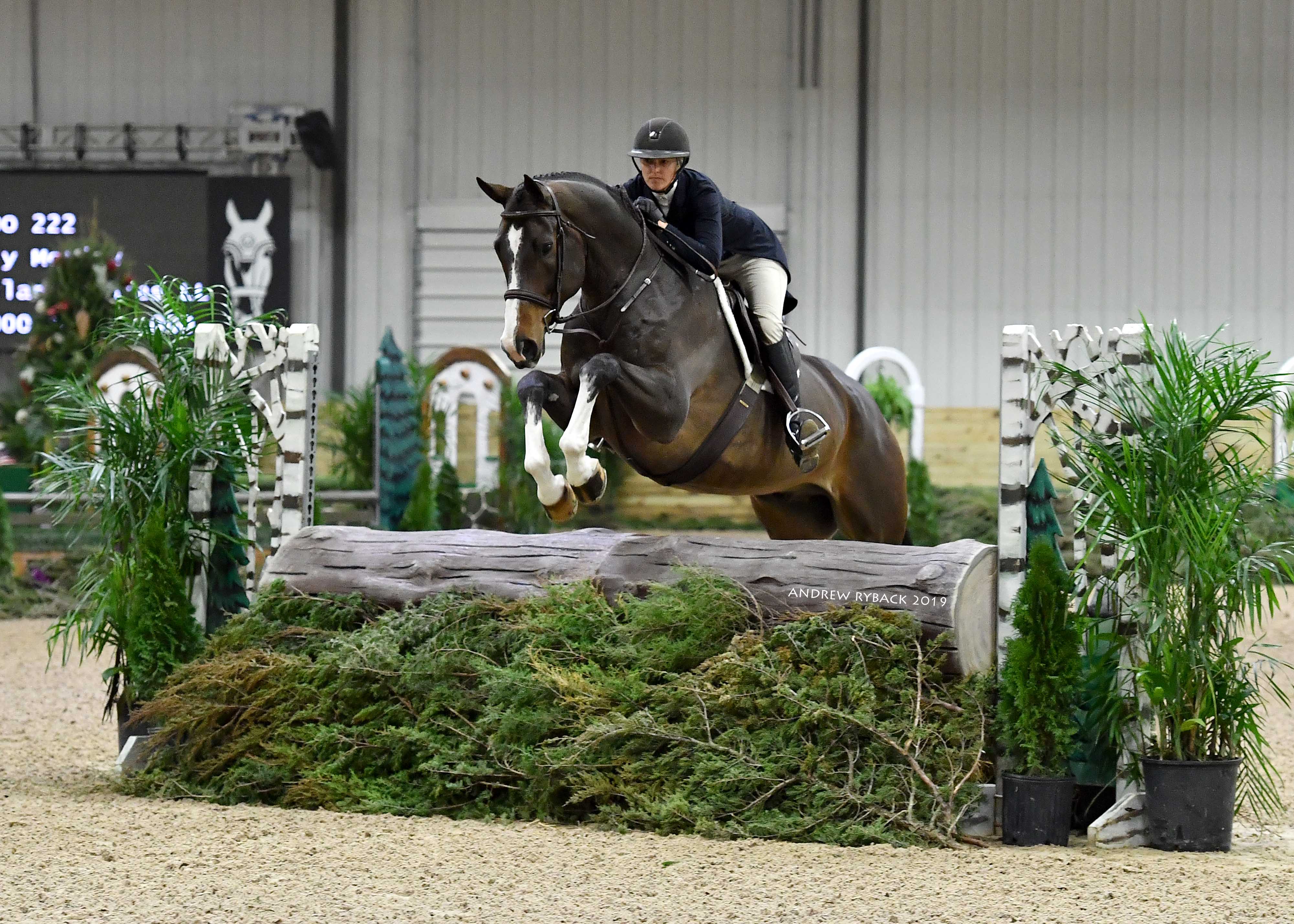 Molly McAdow and Emellar Stables LLC's Colorado 222 (Cornado I x Apria) held their own in this afternoon's derby. The pair often take top placings in the Green Hunter division. This afternoon, McAdow and the flashy eight year old Westphalian gelding took all four high options for a score of 87.5.
The ring was refreshed and the top twelve entries returned for the handy round. Beisel and MTM Bently returned late in the order, taking inside turns to fence one, two, three, four, seven and eight. The pair also opted for all four high options, earning an impressive score of 92 for a two round total of 179. Next to return was McAdow and Colorado 222. The pair took inside turns to fences one, two, four, seven and eight, earning a score of 85 for an overall total of 173.5, moving into second place. Last to return was Willever and Cornetto. The pair mimicked McAdow and Colorado 222's track, taking all four high options for a score of 91.5, bringing their overall total to 179.5 for the win in the class, moving Beisel adn MTM Bentley into second place and McAdow and Colorado 222 into third.
Willever took a moment to chat with us ringside after the awards presentation, "I thought it was good. Cornetto's a little bit green at the handy so I did a little bit safer of an option for the handy. It worked out well and he thought about it well. He's such a good boy; he's only eight years old. This is all new to him but he's been a really good boy about it. He won at World Equestrian Center last year. He's won a few other ones, but he's definitely still new on the scene. The course rode really well today. It was a really nice class."
When asked about Cornetto's personality, Willever replied, "He's the sweetest horse ever; he's a love. His barn name is Waffle. He has an amateur mom and he's really great for her, too. I actually picked him out as a five year old in Europe. It's been fun to develop him over the past three or four years. He's just a good horse."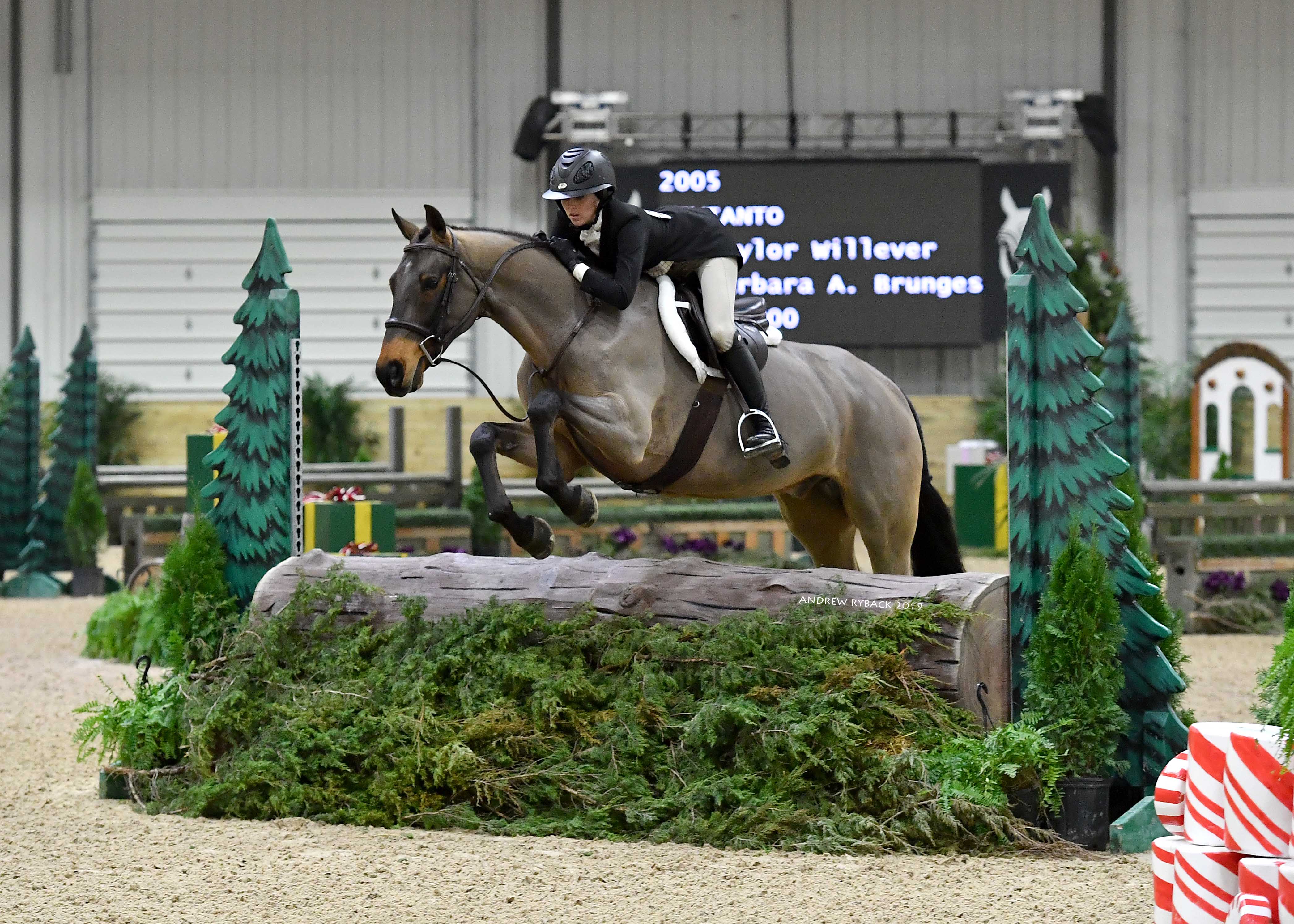 Willever also commented on fifth place finisher Levianto's (Landkoenig x Coco Chanel Z) personality, "That one was good as well. That horse is a little bit more seasoned, so he was just a really good boy. He's a little tired so we had a few rubs. He's also owned by Barbara Brungess. It's nice that I get to show both of them. At this point he's more handy than Cornetto."
Willever also told us about her background, "I am from the eastern side of Pennsylvania. My mom is a professional, so I grew up riding since I was two years old. I have been riding with Troy Hendricks since I was twelve years old and now I'm twenty five, so it's been a long time. It's been a group effort between him and my mom and my sister, who is a professional as well. I kind of do double duty at both barns. These horses are at Kimber-View Stables."
Cornetto and Levianto's owner Barbara Brungess also commented on her horses' rounds, "Cornetto has been a really special horse that Troy and Taylor found in Germany. They brought him along. He's really cool because he tolerates me showing him in amateur classes and Taylor's also had a lot of success on him in professional divisions and in derbies. We have a lot of fun with him. Levianto is also mine. He's a really fun horse, too. I show him in the amateur divisions as well. We let them both have a little fun with Taylor; they're both very capable horses."
Brungress also added, "Both horses really like derbies. I love this class because it lets you showcase a hunter in ways that normal hunter divisions don't provide the opportunity for. You can show their athleticism and how ride-able they are as well. We really appreciate World Equestrian Center putting on the derby classes every week. I love to go to horse shows that have a derby because it makes it more fun for everyone."
$5,000 USHJA National Hunter Derby
Cornetto, Taylor Willever – 88 | 91.5 | 179.5
MTM Bentley, David Beisel – 87 | 92 | 179
Colorado 222, Molly McAdow – 87.5 | 85 | 173.5
Kayto, Sam Pegg – 83 | 88 | 171
Levianto, Taylor Willever – 86 | 82 | 168
Roc Hunter 18, Molly McAdow – 74 | 87 | 161
All In, Jacquelynn Christenson – 78 | 75.5 | 153.5
Carabano, Rachel Kotowicz – 77 | 76 | 153
Commendable, Emily Reed – 80.5 | 72 | 152.5
V. Cassaro, Lisa Campbell – 81 | 71 | 152
Photos courtesy of Andrew Ryback Photography.