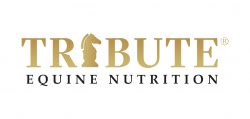 WILMINGTON, Ohio – November 10, 2017 – The World Equestrian Center (WEC), Wilmington and Tribute Equine Nutrition are proud to announce a new partnership that designates Tribute Equine Nutrition as the "Official Feed" of the World Equestrian Center. Tribute products will be available for purchase year-round at WEC, giving competitors easy access to a complete line of Tribute's feed products while they are competing at the Wilmington, Ohio, venue.
"The World Equestrian Center strives to be the best in the United States and Tribute does the same," said Vinnie Card, General Manager of World Equestrian Center, Wilmington, Ohio. "Our partnership and shared goals will benefit the exhibitors and the horses that compete here."
"We are thrilled to be partnering with the World Equestrian Center!" said Melissa Drew, Equine Specialist with Tribute Equine Nutrition. "We love working with leaders in the industry who share common goals of assisting equestrians enjoy competition on healthy horses."
About Tribute Equine Nutrition
Tribute Equine Nutrition products have been designed and approved by Ph.D. Equine Nutritionists with decades of experience developing state-of-the-art, innovative diets. Tribute's Fixed Formula products are based on the latest research and are manufactured under strict Quality Control standards. Tribute offers competitively priced products designed specifically for your horse(s) whether a backyard friend, growing, breeding, or performance horse, from the show pen to the race track. For more information about how Tribute can help you create your champion, visit TributeEquineNutrition.com.
About World Equestrian Center – Wilmington, Ohio
Driven by a passion for horses and a commitment to supporting equestrian sports in the United States, the World Equestrian Center aims to return horse showing to its former grandeur while incorporating an element of fun reminiscent of the horse shows of the past. The World Equestrian Center in Wilmington, Ohio now offers 26 weeks of USEF 'AA' rated Hunter / Jumper competition. Located in Ohio's 'Golden Triangle' the venue is less than one hour from Cincinnati, Columbus and Dayton airports. Coming Soon – World Equestrian Center, Ocala, Florida. For more information, please visit www.WEC.net
*Media Contact:
Candace FitzGerald
Dobbin Group LLC
603-738-2788
candace@dobbin-group.com
*Web or high res images and / or video available upon request.