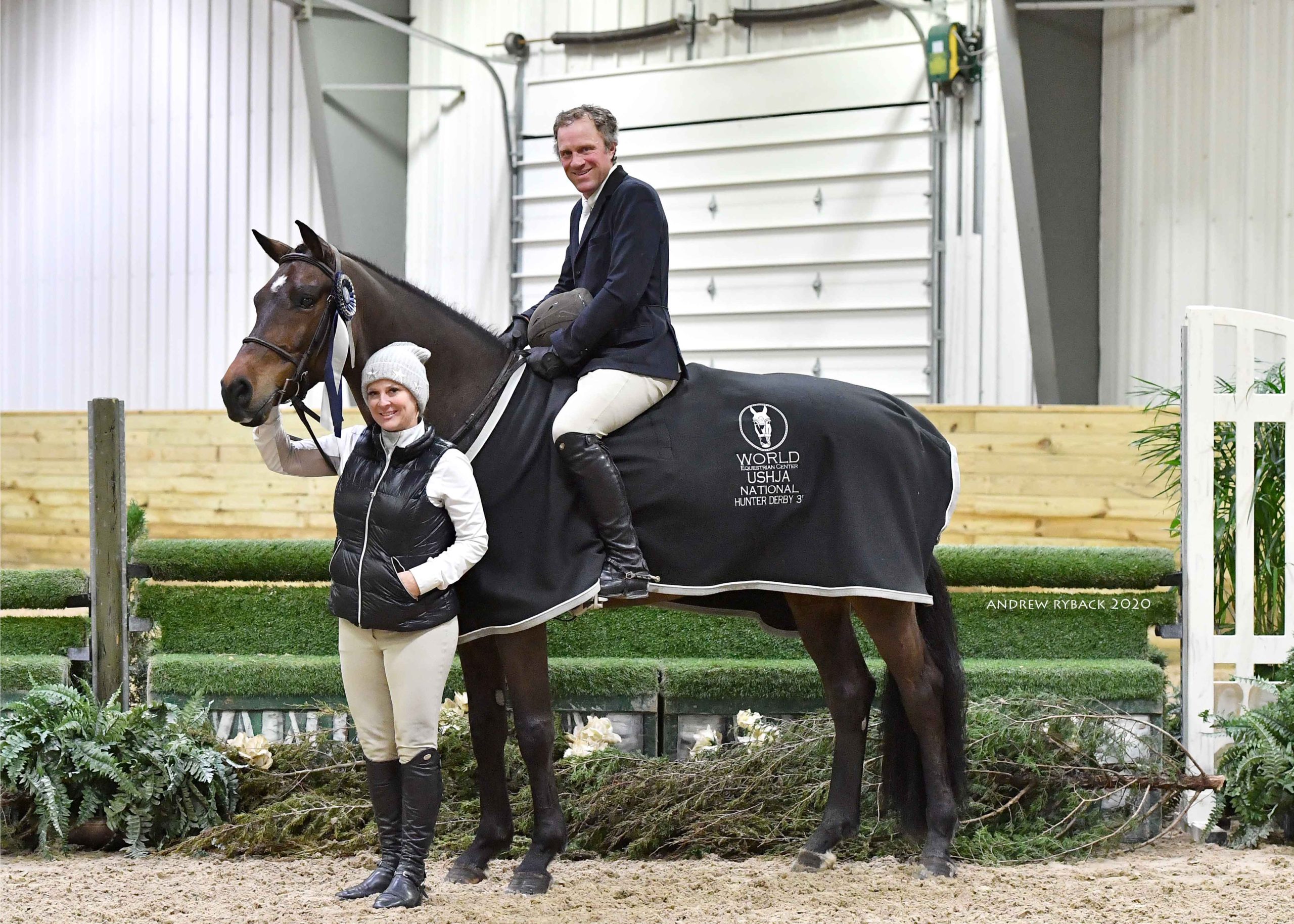 David Beisel and Lori Taylor's MTM Bentley (Bonaparte Z x Hot Cherie P) topped the $5,000 USHJA National Hunter Derby this afternoon for the second consecutive week. The pair bested a field of 31 stunning hunters for the win, many of whom scored well into the high 80s and low 90s. The course for this afternoon's class was designed by Robert Barton and emulated the hunt field with natural obstacles, plentiful cedar brush and forward flowing lines which set the stage for fantastic hunter derby competition.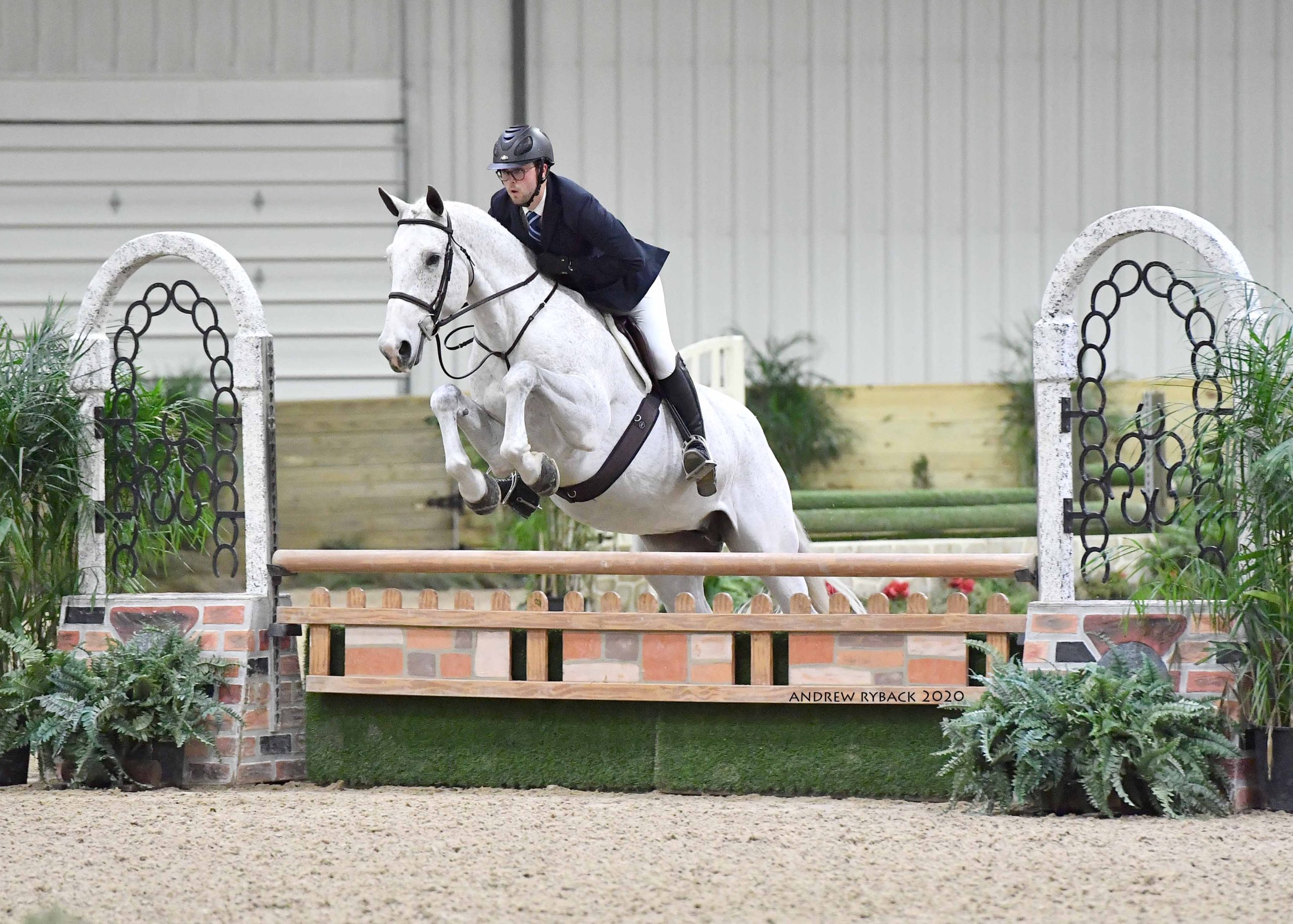 A high standard was set near the top of the order by Sam Berry and Dell Kelly's Corallo Z. Corallo Z took top honors in the $5,000 USHJA National Hunter Derby during Week 6 of 'Winter in the Midwest' at World Equestrian Center, and earned a seventh place finish with Berry in last week's very competitive hunter derby out of nearly forty entries. Berry and the 11-year-old Warmblood gelding were on form this afternoon, laying down a flawless first round and taking all four high options for a score of 89.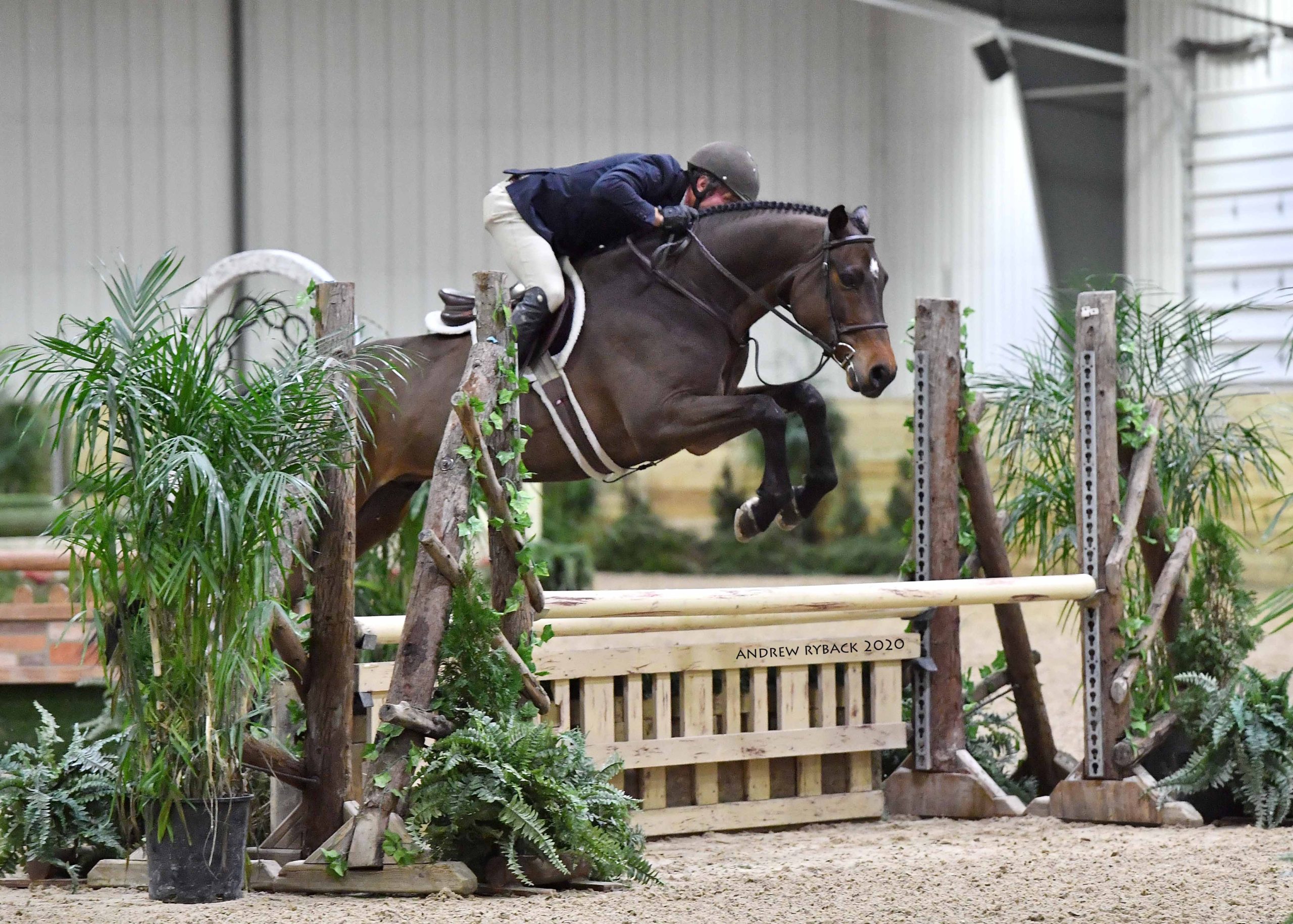 Berry and Corallo Z held the top score in the class until late in the order when David Beisel and Lori Taylor's MTM Bentley (Bonaparte Z x Hot Cherie P) took to the course. The pair topped last week's $5,000 USHJA National Hunter Derby at World Equestrian Center by eight points, signaling that they would be tough to beat this afternoon. Beisel and the six-year-old Danish Warmblood gelding delivered a foot-perfect first round, taking all four high options and wowing the judges with MTM Bentley's brilliant style for a score of 90.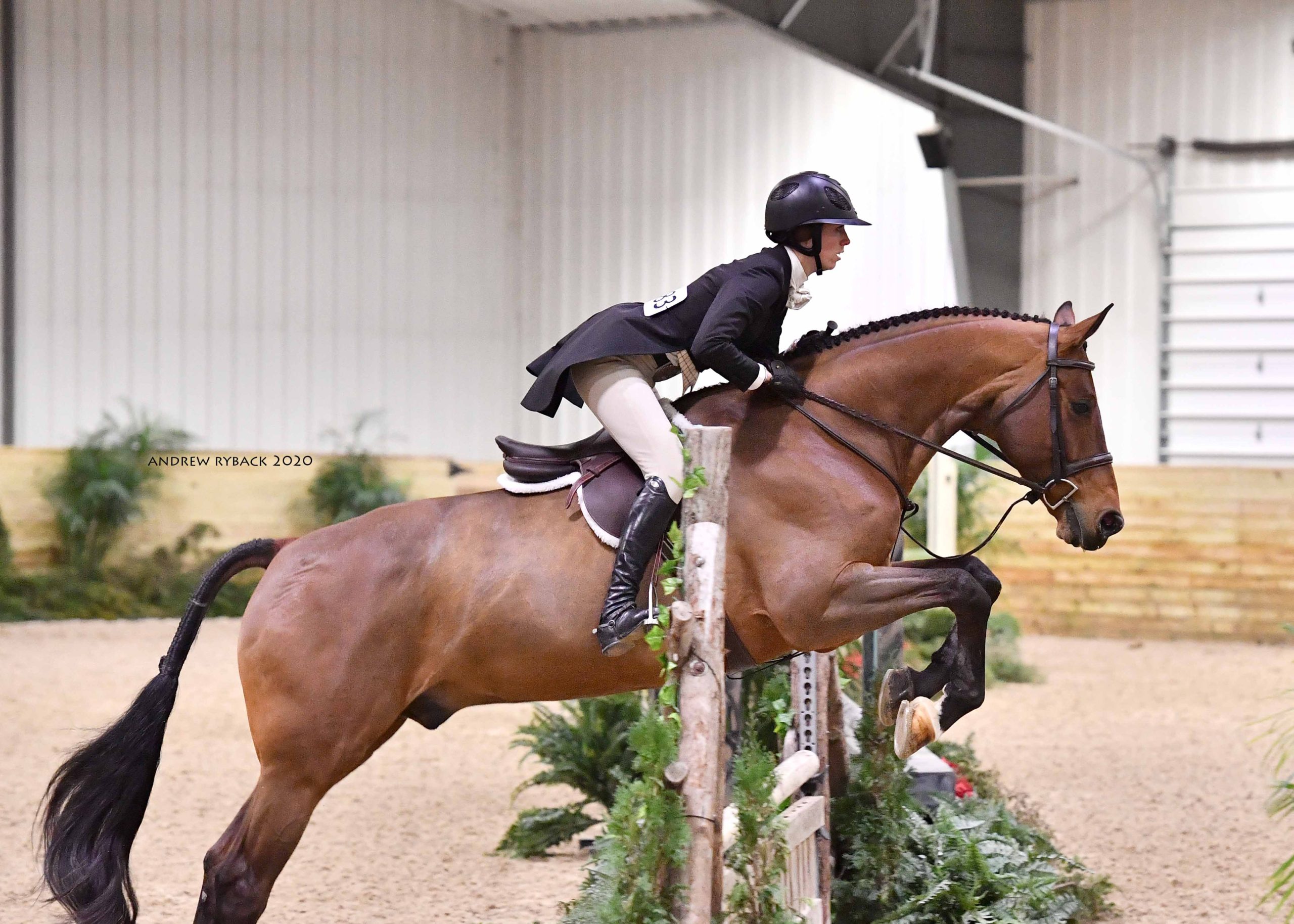 Shortly after, Katherine Schmidt Butler and Agnes Hahn's Cansas tried their hand at the course. The pair earned a fifth place finish in last week's hunter derby at World Equestrian Center against tough company and returned to the R+L Arena tonight in hopes of claiming a top prize. Schmidt Butler piloted the 13-year-old Warmblood gelding through a lovely, consistent round, showing off the gelding's stylish jump over three high options for a score of 90.
The ring was refreshed and the top 12 entries returned for the handy round with a cut-off score of 79.5. Berry and Corallo Z returned late in the order, taking tidy inside turns to fences 1, 2, 3, 6 and 8. They were rewarded with a score of 90 for their efforts, bringing their overall score to 179, which became the new leading score. Next in the ring were Beisel and MTM Bentley. The pair chose impressive inside turns to fences 2, 3, 4 and 8, earning a score of 92, bringing their overall score to 182 and moving them into first place. Last to return was Schmidt Butler and Cansas. The duo chose to only take inside turns to fences 2, 3 and 8, maintaining their rhythm throughout the course. They earned a score of 88, bringing their overall score to 178, just behind Berry and Corallo Z for a third place finish.
Beisel of David Beisel Stables in Goshen, Ohio took a few minutes to chat with us ringside about his win, "Bentley was really fun today. He was more settled in this afternoon than he was last week. The course had a nice flow to it. I was debating about a few of the high options in the corner, especially the oxers where you land near the rail. Then, I got to thinking about it and he's a lovely lead changer, so if he didn't land on the inside lead we had a very low chance of him missing his change, so I thought we should go for a good score with the high options."
He also described the handy round, "In the handy there weren't a ton of inside turn options, but there were a few turns to make. It was a little tough slipping inside to the two-stride line, but luckily he's a very nimble horse and did that well. I think that got a few people because it looked like there was a lot of room, but when you actually made the inside turn the next jump came up quickly. A few people did the inside turn after the two-stride, but I thought that was just really quick. Instead, I tried to show off a little brilliance with my pace, particularly after the vertical option. I tried to gallop on the long approach to the next fence. The oxer came up really nicely. I was thrilled with the trot jump, then he was so agile and hung out to jump the last jump beautifully. The coolest thing was that he landed and did a fantastic, soft walk transition to exit the ring."
Beisel added, "I'm thankful to Laurie Taylor for letting me show her horse, and to CWD for the great saddles to ride in, and to Antarés for the helmets. I would also like to thank Allie McBreen for preparing all of my horses so well."
$5,000 USHJA National Hunter Derby Results
MTM Bentley, David Beisel – 90 | 92 | 182
Corallo Z, Sam Berry – 89 | 90 | 179
Cansas, Katherine Schmidt Butler – 90 | 88 |178
Vendome DH Z, Summer Hill – 82 | 88 | 170
Primus Rex, Kathleen Caya – 83 | 86 | 169
Famos Amos, Stefanie Portman – 85 | 83 | 168
Charlie Parker, Katie Cooper – 87 | 79 | 166
Rodak, Dana Kurrle – 83.5 | 80 | 163.5
Chemistry, Stefanie Portman – 84 | 78.5 | 162.5
Timeless, Holly Helbig – 81 | 81 | 162
Photos courtesy of Andrew Ryback Photography.