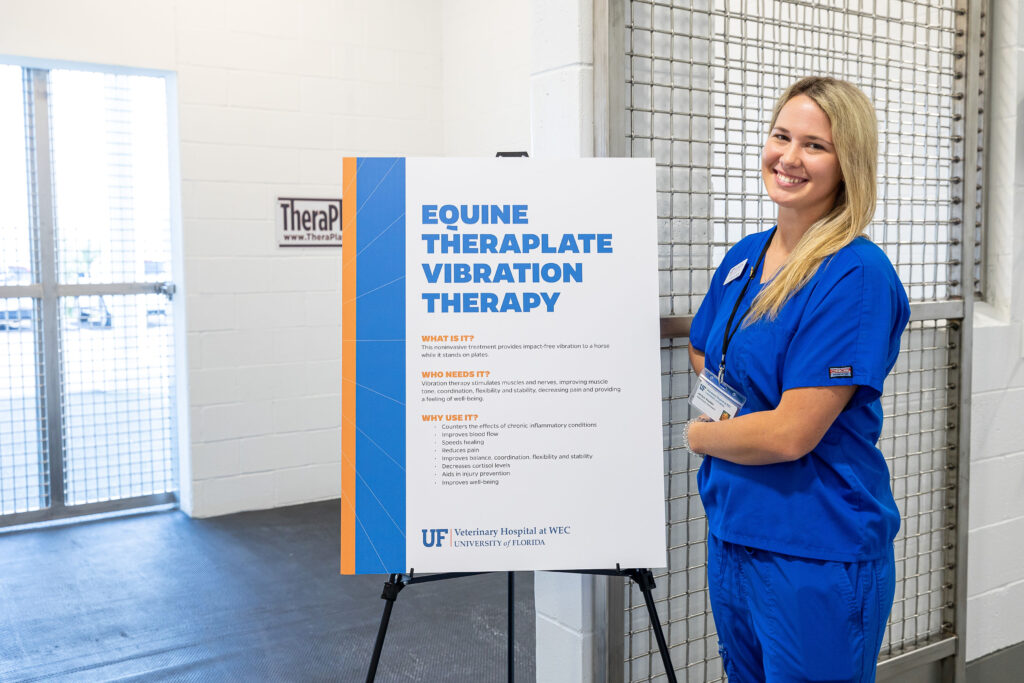 The equine veterinarians at the University of Florida Veterinary Hospital at World Equestrian Center – Ocala (WEC) are board-certified in equine sports medicine and rehabilitation, are well-versed in the demands of each individual sport horse and can provide a range of rehabilitative treatments and programs to ensure your horse performs or recovers at its best.
Rehabilitation therapy may be used to treat a variety of injuries or medical conditions, as well as to improve overall fitness and wellness in horses. We will work with you and your veterinarian to tailor an individualized program for your horse.
A few of the key rehabilitation modalities at the University of Florida Hospital at WEC – Ocala are the underwater treadmill, dry salt room, whole stall Theraplate and the solarium.
We have two cold or warm salt water treadmills available. The use of cold water results in vasoconstriction, reducing inflammation, blood flow and fatigue. Warm water causes vasodilation, which also helps reduce inflammation, but increases blood flow and warms tissue to allow for increased elasticity of muscles and joints, and activates the parasympathetic system, or "relax mode". Water temperature and water height will be tailored to your horse's need and goals. Exercise in water has been shown to increase joint mobility in horses' limbs and back, improve muscle strength and control, and increase aerobic capacity, all while decreasing impact. These treadmills may be useful as part of your horse's regular training schedule; they can add fitness, while limiting the impact on soft tissues, bones, and joints. Horses enjoy the novelty of the experience, as well as the break from their weekly routine.
Dry salt therapy, or halotherapy, is derived from an age-old practice of dry salt cave therapy. It involves the aerosolization of high quality, finely ground salt particles into a specially built low humidity-controlled room. While a new therapy in veterinary medicine, early reports in horses have claimed multiple benefits for conditions as including COPD, equine asthma, sinusitis, scratches, and bacterial and fungal skin infections. For treatment, the horse simply stands in the halogenated room for 20-30 minutes two to three times per week.
In our Theraplate Stall, horses can receive vibration therapy while comfortably munching on hay. Vibration therapy delivers horizontal and vertical oscillations to stimulate continuous small muscle contractions mimicking the horse's natural movement. These muscle contractions improve cardiovascular and lymphatic circulation, resulting in increased tissue oxygenation and removal of metabolic waste. Vibration therapy promotes joint stability and improves balance and coordination. Core strengthening exercises can be combined with vibration therapy to improve musculoskeletal and neurological function. Additionally, vibration therapy has been shown to decrease stress hormones such as cortisol, and, in people, promotes an overall sense of well-being.
In our Solarium stall, horses receive infrared light therapy to increase temperature and blood flow, specifically to the back and hindquarter musculature, allowing for relaxation of tight muscles. This treatment also improves oxygenation of tissue, and increases tissue metabolism and the removal of metabolic toxins, such as lactic acid. Infrared light therapy has also been shown to decrease stress and induce a relaxed state through increases in serotonin and decreases in cortisol.
In addition to these key modalities, we also provide chiropractic manipulation therapy, directed strengthening and flexibility exercise programs with incorporation of use of training aids such as balance pads and the Equiband system, LASER therapy, NMES/TENS, Shockwave therapy, therapeutic ultrasonography, and other integrative approaches to provide the optimal program for your horse.
Our sports medicine specialists also offer evaluations for poor performance, lameness, purchase, neurologic, respiratory, gastrointestinal, cardiac, and other conditions; and our equine diagnostic imaging specialists provide ultimate expertise in interpreting of extensive imaging capabilities including standing MRI, standing CT scan, standing PET scan, digital radiography, and digital ultrasonography.
Walk-in tours of the facility are now available on Tuesdays at 4:30 p.m. All are welcome to take advantage of this opportunity to see our remarkable new 40,000 square-foot, state-of-the-art hospital. No need to make an appointment for the Tuesday tours, but we do ask that you please leave your pets at home when you visit.
Learn more about all of our services at hospitals.vetmed.ufl.edu/wec or contact us at (352) 414-3858 for information and appointments.