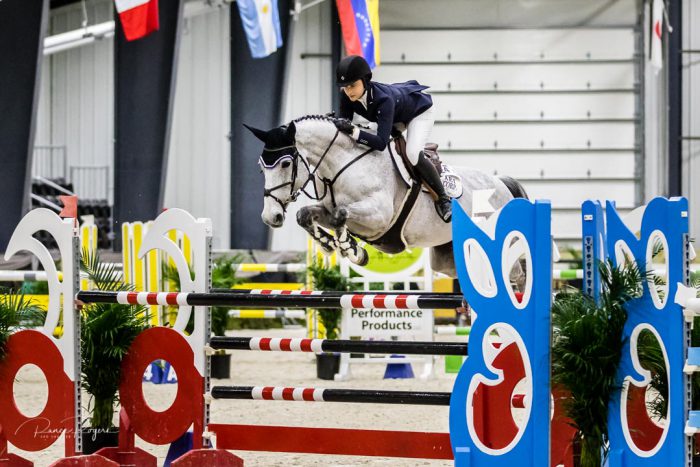 Meet dynamic young Canadian Grand Prix rider Veronica Bot who piloted her 11 year old grey Oldenburg mare, Quidam's Caprice M to the win in the $25,000 Grand Prix at our Winter Classic 8 and Winter Classic 9. Veronica also won our Winter Classic 9 $7,500 Futures Prix with her 11 year old grey Holsteiner gelding, Caluto's Charles. She spoke to us from McMaster University in Canada where she is back at school studying physics.
What were your Junior career highlights?
I won the individual bronze medal and team silver medal at the North American Young Rider Championships in 2017 (at age 21, on Cool Down 3). Also competed in the Canadian Championships twice, in 2015 (at age 19, on Calato's Charles) and 2017 (at age 21, on Cool Down 3). Won the High Jr/Am Canadian Championships in 2014 (at age 18, on Calato's Charles). Those are the major highlights.
My background is somewhat unconventional. I never did equitation, or horse hunters. I did pony hunter, but then transferred to 1.0m jumper when I was 13 on a Thoroughbred eventer. He was not very careful or fancy but I definitely learned how to rip around the jumpers. I know there are a lot of people out there who also don't go through the conventional path that most young riders do on this circuit (the equitation and junior hunters) so I like to be an example that you can achieve your goals regardless of your path getting there.
Are you riding as a pro or amateur now? Are you currently training with someone?
I am riding as an amateur now. I ride under Chris Delia, and we train out of Chris Delia Stables in Burlington, Ontario.
You are in University full time – where are you attending and what are you studying?
I attend McMaster University as a full time student studying physics. I am in a specialized branch of physics that is known as Medical Physics. I will graduate in April of this year (2018).
You have three amazing gray horses – Quidam's Caprice M, Calato's Charles and Cool Down 3. Can you share a bit about each of them?
That's very nice, thank you!
Quidam's Caprice M: an 11 year old grey Oldenburg mare by Quidam's Rubin (we call her Caprice). Caprice was started late by her breeder (at age 6) so we are taking our time on the competitive circuit. I have had her for almost 2 years now and have achieved several successes including: winner of the WEC Grand Prix on 2 consecutive weeks (WEC 8 and 9), she was 3rd place on the Ontario circuit for the High Jr/Am division in 2017. It has taken me a while to figure out how to ride her since she is very sensitive and quick. But it seems that things are coming together and I am looking forward to the 2018 show season. My goals with her are: to become established in the FEI 2*/3* level (1.45m-1.50m) and to be more efficient in jump offs.
Calato's Charles: an 11 year old grey Holsteiner gelding by Calato (we call him Charles). I have hard Charles since I was 17 (in 2014) and he was my first jumper capable of the 1.40m level. The first season I showed him, we moved from the 1.20m division to the 1.40m division and qualified for the national championship and won the division. The following year, we qualified for Young Rider's and were 12th individually. Charles is the most familiar of all my horses and we have a very close bond. He is quite lazy, but he is a very scopey horse. I competed in my first grand prix's on him as well. He had an injury last year and we are just building him back up now. He is currently jumping at the 1.30m level. My goal for the 2018 season is to have him jumping back up to the 1.40m-1.45m level and to compete in FEI 2* events.
Cool Down 3: a 10 year old bay Hanoverian gelding by Chacco Blue (we call him Chacco). I started riding Chacco and Caprice at the same time, approximately 2 years ago. He is very sensitive and strong, but he is extremely brave. We competed at Young Riders in 2017 and won the individual bronze and team silver medal for team Canada. I competed in my first 1.60m grand prix on Chacco at the end of last summer as well. He is definitely the top horse of the 3 right now, and I would select him to take into the bigger grand prix's. We are planning to compete at Spruce Meadows this summer and I am looking forward to entering him in some interesting classes.
What were your impressions of the World Equestrian Center?
I love the World Equestrian Center! It is so homey and comfortable, but at the same time it is a beautiful facility that runs top class competitions. Having the cabins on site is a great feature, since it allows me to remain close to the horses and close to my school work. A lot of the time I wake up, do some homework, come to the barn, compete in a class and come back again. This is convenient for riders who are also attending school and want to minimize travel time to/from the competition. The facility is also different than most because it is entirely inside, which means the weather has no impact on the competition. This is a great design! The arenas are huge, which is beneficial for preparing for the outdoor season, the shops are cute, the food offered at the show is fantastic. It's always a pleasant experience coming to WEC and I am so grateful that I've been able to attend this show.
What are your goals for 2018 and beyond?
For the 2018 competition season, I am hoping to gain more experience at the FEI 2*/3*/4* level, with plans of competing in the 1.40-1.60m divisions. I am no longer eligible for Young Riders due to my age, and therefore I am now setting my sights on new goals. I hope that I will be able to accumulate FEI ranking points to improve my rank in Canada. If I am able to do this, I may one day be selected to be on a Senior Nation's Cup team, which would bring me one step closer to my lifelong goal of competing at the Olympics.
Congratulations Veronica and we wish you continued success as you pursue your goals!