It was a fun filled holiday-themed week at the World Equestrian Center for week two of the Winter Series of the Midwest. The festivities began when exhibitors checked in at the horse show office and collected their ready-to-build gingerbread houses for the decorating contest to be judged Saturday night with $100 WEC Gift Cards to be given as prizes. Exhibitors (and even a few vendors) were seen constructing their creations throughout the show grounds all week. Ornament decorating was held on Friday night in the Paddock Club where all were invited to fill a clear ornament to their heart's content with snow, glitter and various stickers. Also on Friday night was a delicious Christmas Dinner of salad, bread rolls, ham, red skin mashed potatoes, stuffing and pumpkin pie.

Saturday held plenty of Holiday cheer, starting first thing with free coffee sponsored by United Equine Supplements. Horses and ponies paraded through Vendor Village Saturday for the judging of a braiding contest. Exhibitors and braiders were challenged to create themed braids in one of three categories: Most Festive, Most Wintery and Best Use of Holiday Colors. The ladies from the Cutting Room Day Spa had a tough time choosing winners with such gorgeous creations on display. The three winners each received $100 and a gift certificate to the Cutting Room Day Spa!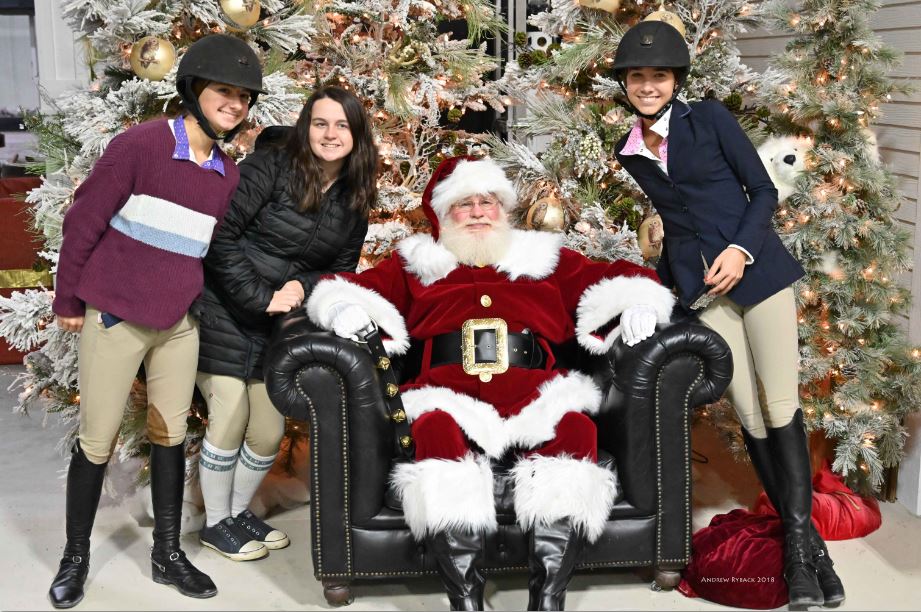 Santa also stopped by on Saturday afternoon to see if all of the horses and ponies (and their riders) were being naughty or nice. Santa had a fantastic time hanging out in Vendor Village, taking pictures with exhibitors, dogs, horses and ponies and taking note of what everyone wants for Christmas. There were plenty of cookies for him to snack on while he was there. Exhibitors had a blast decorating cookies in Vendor Village as they hung out with Santa. Andrew Ryback Photography was on site to capture all of the adorable moments.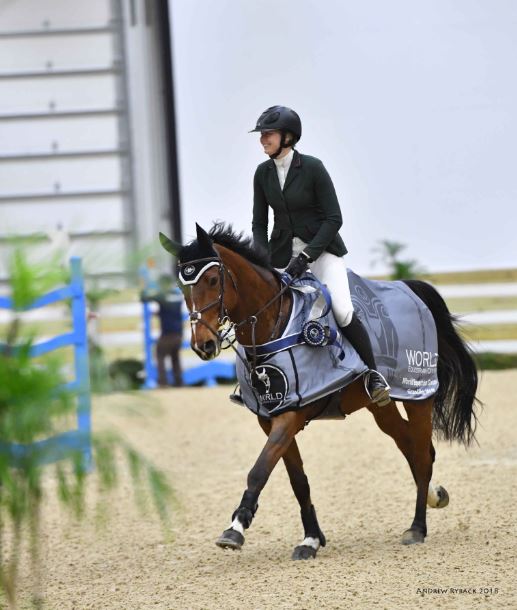 The ladies owned the week during the WEC Winter Classic #1 show, taking top honors in all featured Jumper classes. While everyone rode exceptionally well, it was Michigan-based Paige Matthies that truly stole the show. Fresh off of a third place finish at the prestigious Maclay Finals, Paige piloted her mount Dirkie Z (Dutch Capitol x Brioche V/H Gehucht Z), owned by Barbara Smith, to a first place finish in both the$25,000 WEC Grand Prix on Saturday night and the $5,000 Welcome Stake 1.35 m on Thursday afternoon. The pair proved unstoppable, besting 20 entries in both the Welcome Stake and the Grand Prix, the majority of which being professionals. Matthies' meticulously planned track and spot-on execution were more than enough to send her straight to the win. Matthies also piloted a second mount owned by Barbara Smith, Climbus (Cartani x Santa Fe), to a third place finish in the $5,000 Welcome Stake 1.35 m, further proving her stellar riding abilities. Matthies also had multiple success aboard Conto Blue (Conthargos x Quanda Blue) in the Hunter and Equitation rings this week. Matthies and Conto Blue, also owned by Barbara Smith, competed in the High Performance Green Hunters division where they took top placings, as well as the WIHS Equitation Classic where they took first in both the Hunter and Jumper phases, leading them to a first place finish overall.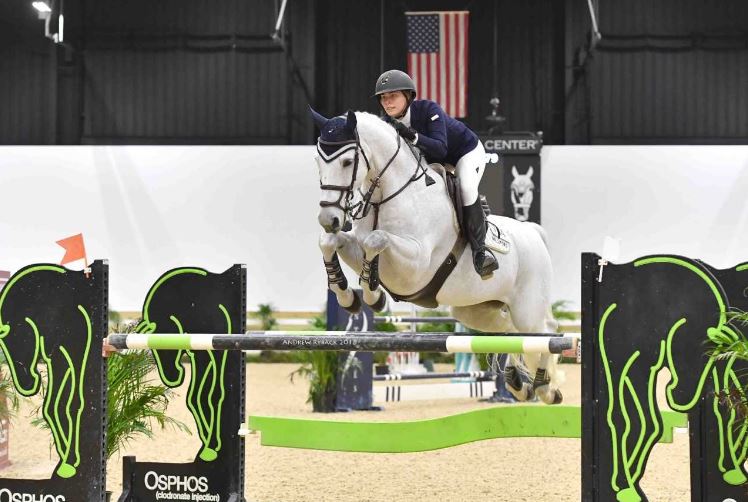 Another stand-out rider this week was twenty year old Julia Curtis of Atlanta, Georgia, who was hot on Matties's trail in both the $5,000 Welcome Stake on Thursday Night and the $25,000 WEC Grand Prix on Saturday night. Curtis rode her own Cornet's Gold 2 (Cornet Obolensky x Dinah L) in both classes, finishing in third place in the Grand Prix and second place in the Welcome Stake. Like Matthies, Curtis also shined in the Hunter ring aboard her own Cassio (Cabardino x Rio Grande). Curtis piloted Cassio to two excellent rounds in the Green Hunter division.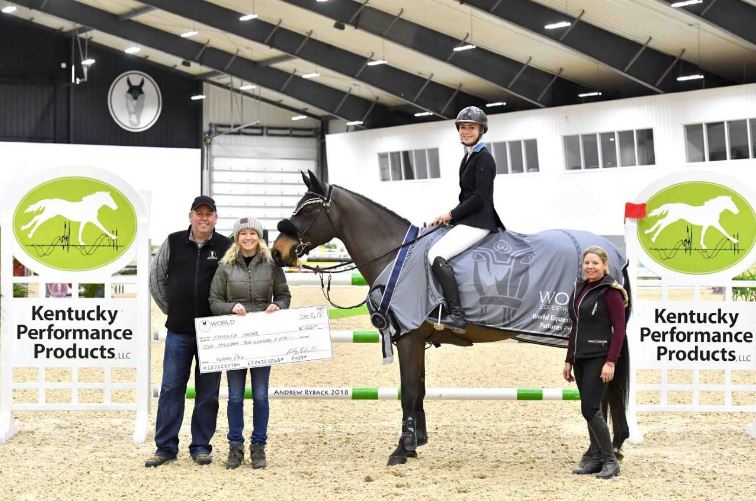 Continuing with the trend of stellar young female riders this weekend was Mackenzie B. Snider of Maple City, Michigan who took home the blue against 23 entries in the $7,500 Futures Prix Saturday night aboard her own Skara Glen's Basel (Quick Star x Jeannette Trefle). Like Matties, Snider rides at Northern Pine Farms with Melissa Hirt. Along with their win in the Futures Prix, Snider and Skara Glen's Basel also took first place this week in the $1,200 1.35 m Jumpers.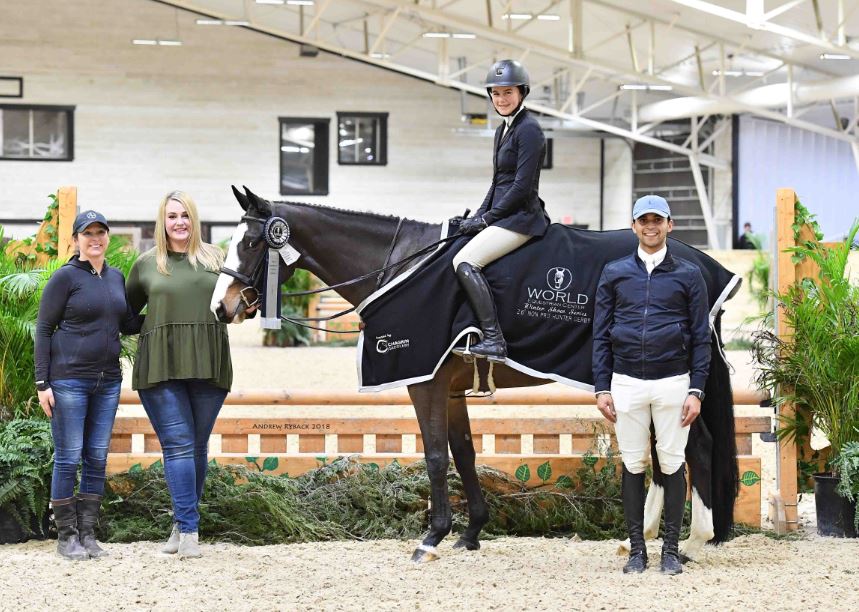 In Hunter ring action, it was Aristea Santoro of Michigan aboard Equinvest Partners, LLC's Caramelo De Roca NPF (Roc USA x Wilma) that took top honors in the $2,000 Non Pro Hunter Derby 2'6″ sponsored by Chagrin Saddlery. The pair bested a field of 22 for their win, earning some of the highest scores in the Derby. The pair scored a 78 in the first round and an 80 in their second round, for an overall total of 158. it was their consistency that earned Santoro and Caramelo De Roca NPF the blue, delivering two impressive rounds where other riders wavered in consistency. Speaking of consistent, Santoro rode many of her trainer's, Melissa Hirt, horses to top finishes in the Intermediate Adult Equitation and various hunter classes.
It has been a spectacular two weeks of horse showing to kick off the Winter Series of the Midwest, and we look forward to seeing all of you again in the new year!