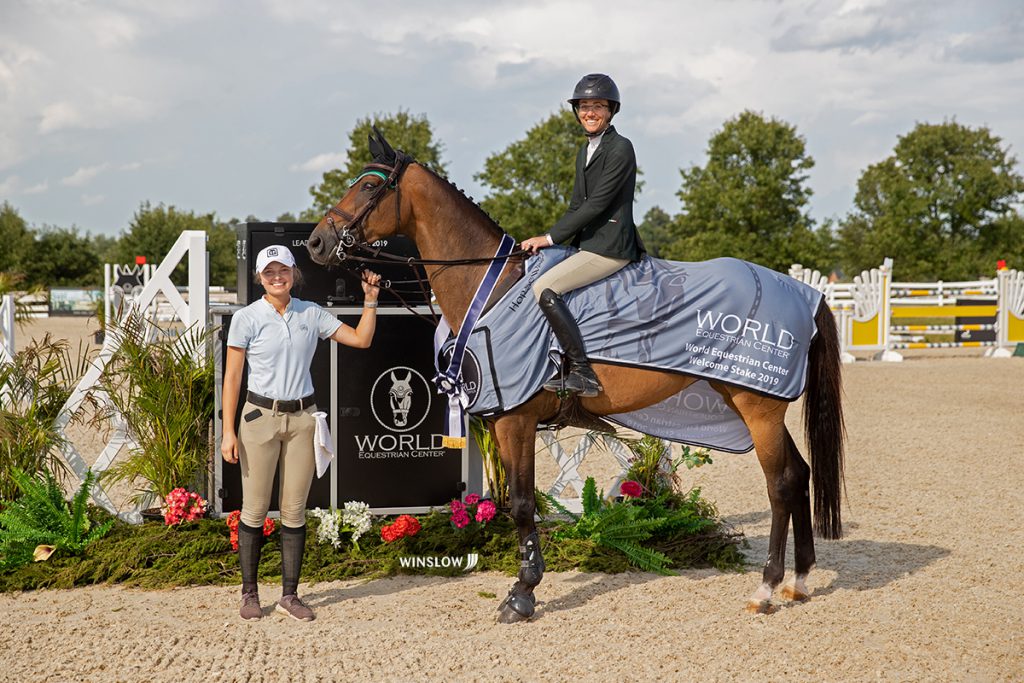 This week marks the final show of the World Equestrian Center Spring & Summer Series and we are sending the Summer off with a bang. Our events calendar encompasses everything from live music, to water slides, an ice cream and pizza party and a Sunday-morning 5K to accompany plenty of thrilling equestrian sport. We kicked off the week's feature classes today with a $5,000 Welcome Stake sponsored by CWD Sellier where seventeen entries contested a 1.35 m track in hopes of taking home the win. The course proved challenging for many entries, but the talented Taylor Kain picked up right where she left off three weeks ago, easily capturing a second Welcome Stake win, this time aboard Eirecon Equine Sales' Gipsy 1134 (Corlensky G x Landina).
The course for this afternoon's Welcome Stake was designed by Tucker Williams of Ocala, Florida and featured two one-stride combinations, several bending lines, multiple changes of direction and plenty of opportunities for inside turns. A few riders were caught on the half stride at the first of the two one-stride combinations where entries were asked to navigate a vertical, then bend to the combination. Others found one or two unlucky rails on course that kept them out of the jump off. By the completion of the class, only two riders managed a clear first round and continued to the jump off.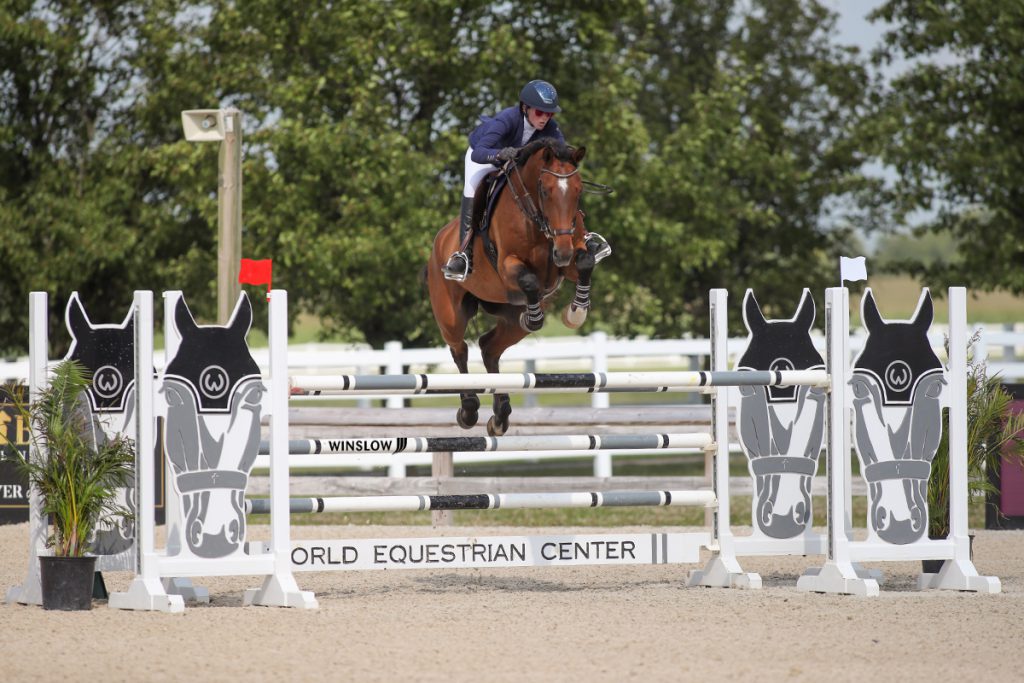 The first of the clear first-rounders was Shannon Clifford aboard RK Vincent Santa Monica. The pair were early in the order and took their time throughout the first course to ensure a clear round. Clifford and RK Vincent Santa Monica crossed the timers with all rails up at 79.695 seconds, about one and a half seconds under the time allowed of 81 seconds, and continued straight to the jump off of the Table II 2b event. The pair kept their focus centered on leaving rails up rather than trying for a speedy time and only had one unfortunate rail in a time of 47.433 seconds.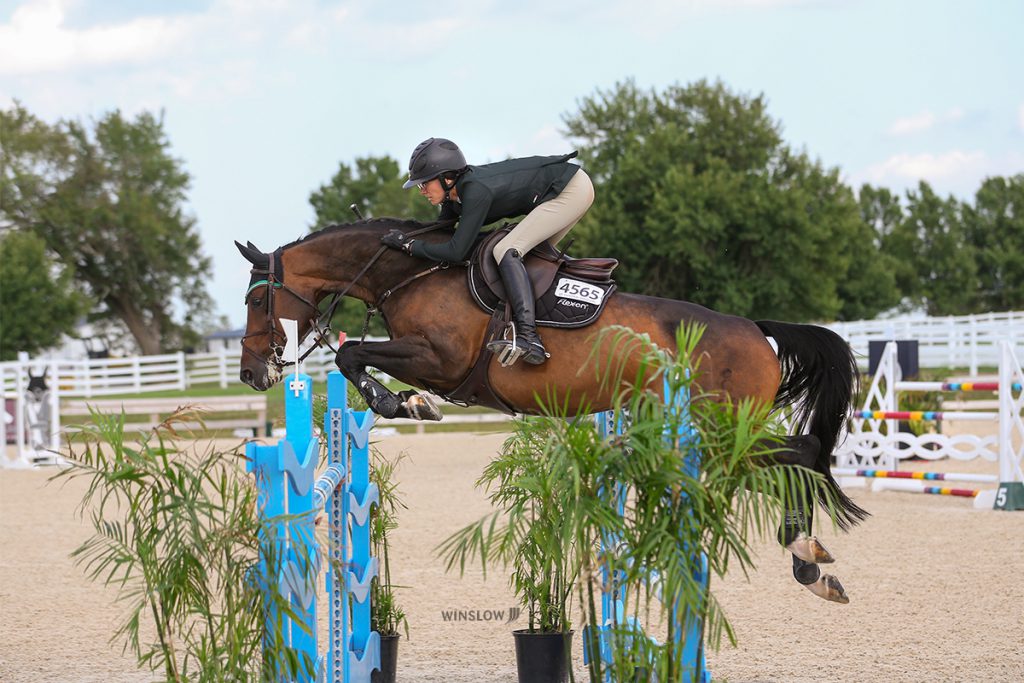 Shortly after, Taylor Kain and Eirecon Equine Sales' Gipsy 1134 (Corlensky G x Landina) took to the course. Kain and the eight year old Oldenburg mare have been on task recently, taking third place in the $25,000 WEC Grand Prix just three weeks ago. The pair were prepared to compete this afternoon, blazing through the first round and soaring over each fence in their usual impressive style, jumping clear in a time of 74.326 seconds. The pair continued straight to the jump off, hugging the inside track and keeping a brisk pace. Kain and Gipsy 1134 pulled one unlucky rail before stopping the clock, but their quick time of 37.632 seconds proved to be more than enough to take the win.
Kain also had a fantastic round aboard The Gelt Group's Shuttergold (Silvio I x Famose), who won the Welcome Stake here at WEC just three weeks ago. The pair were thoughtful and quick, only taking one rail in a time of 75.700 seconds.
Both Taylor Kain and Geoff Case took a moment to chat with us ringside after the class. Case commented, "Gipsy 1134 was great. She was a little fresh, a little quick, but I think she'll jump even better on Saturday (for the Grand Prix). To me, it's always a great result when you can win and get a good rub. It's the perfect mix to get her ready for Saturday. The course was hard enough; only two were clear, no double clear." Kain added, "It was technical, but good. She's a machine. She jumped fabulous and I think she's ready for Saturday. She keeps getting better and better." Case added, "The horse was good. They're both great. They all keep getting better. Gipsy keeps on winning. She's a little machine, that one. We should have named her 'ATM'; I don't think she's had a show bill in 2019. I think she has been paid to horse show every week in 2019. She's just a really good horse. She's going to make someone a fantastic Junior Jumper, Young Riders or first Grand Prix horse." Kain agreed, "I think both her and Shuttergold will."
Kain and Case both commented on the horses' history at World Equestrian Center. Case began, "They had a good start here (at WEC). They've both grown up here," and Kain added, "They started here when we first got them about a year and a half ago and they've been able to grow off of this. To do this, go to other shows, jump bigger, come back and keep rotating this in is great. It's a great place to develop young horses. We love coming here."
Ashley Falk, a student of Kain and Case's, took eighth place in this afternoon's Welcome Stake aboard her own Borsalino Birdavenue (Eros Platiere x Laika De Bloye). Both Kain and Case were thrilled with Falk's ride saying, "It was a great result for her. She and her horse have come a long way in the last eight months. They started with us in the Winter and she was doing the Low Amateurs. One of her goals was to jump the Futures, then we decided to let her jump the Welcome and the Futures, then by her second show with us we told her she was jumping the Grand Prix. She was sixth in the Grand Prix the first time out. They're great. We have a great group of horses and clients."
Several clients of Kain and Case saw great success today, including Vanessa McCaughley, owner of Souvenez Vous (Cheetano x Rayana) who took Champion in the Green Hunter 3'3″ division. Kain said, "It was a good day in the Hunters, too. The McCaughleys are partnered with Gipsy and their daughter, Vanessa, owns Souvenez Vous. It's only his sixth horse show and they were Champion. He's only six. He's really special. It was a great day for the McCaughleys."
$5,000 Welcome Stake 1.35 m Results
Gipsy 1134, Taylor Kain – 0 | 4 | 37.632
RK Vincent Santa Monica, Shannon Clifford – 0 | 4 | 47.433
Light Show, Summer Hill – 4 | 73.613
Lasco 29, Summer Hill – 4 | 73.781
Darius, Sean Jobin – 4 | 74.419
Banco Du Moulin, Sean Jobin – 4 | 75.121
Shuttergold, Taylor Kain – 4 | 75.700
Borsalino Birdavenue, Ashley Falk – 4 | 77.722
Kroner Z, Jennifer Strickland – 4 | 78.511
Voi de Pique, Sara Sprague – 8 | 76.265
Photos courtesy of Winslow Photography.

Get your entries in for the WEC Fall horse shows featuring 5 back-to-back shows with nearly $1 Million in money and prizes offered. Feature classes include two $20,000 USHJA National Hunter Derbies (Open and Non-Pro) weekly. Entries are open now and stall reservations can be made online at www.horseshowing.com