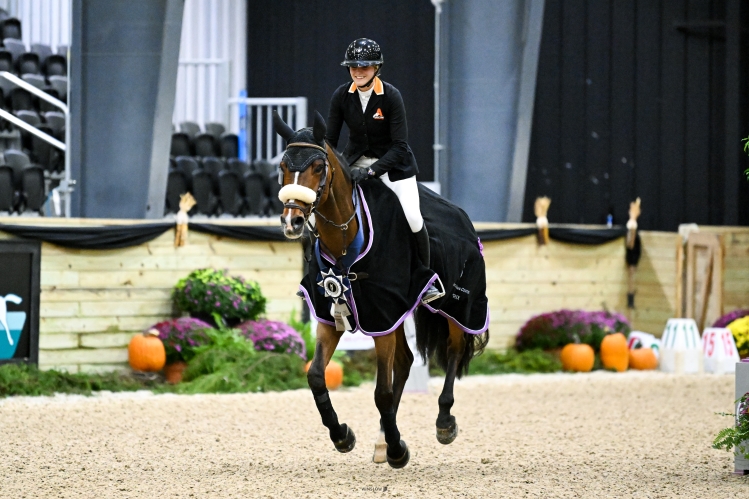 Wilmington, OH – World Equestrian Center – Wilmington's 2022 Fall Classic Show Series is well underway with exciting hunter/jumper action. Highlights include Thursday's $15,000 Welcome Stake in the Sanctuary Arena and Hunter Derby Friday in the beautifully decorated R+L Arena. Saturday is full of exciting equestrian sport with the $10,000 Futures Prix and $75,000 Grand Prix in the Sanctuary Arena. All events are free and open to the public. For estimated start times, counts, orders of go and results visit HorseShowing.com.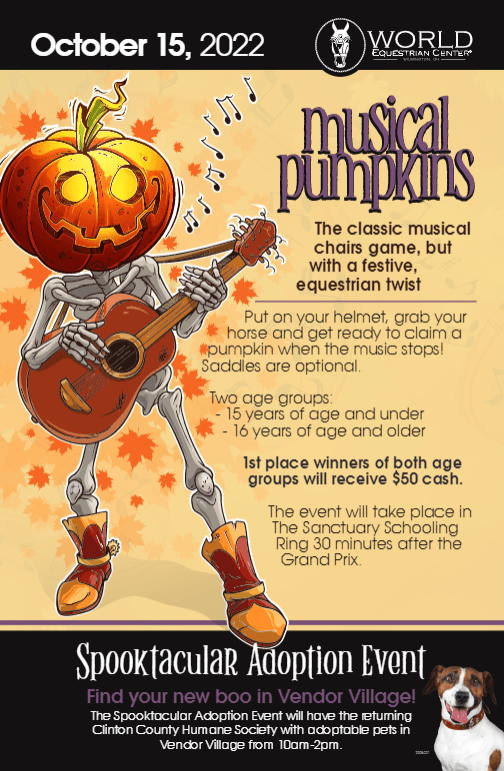 Bring your favorite pumpkin for a frightful night with musical pumpkins! Exhibitors will bring their horse of choice as their teammate and have the option of riding bareback or with saddle. There will be two age groups: 15- and 16+. 1st place winners of both age groups will win $50 cash. If only one age group, then $50 cash to 1st place winner and $25 cash to 2nd place winner. The event will take place in the Bradley Ring 30 minutes after the Grand Prix.
Find your new boo in Vendor Village! For this event, WEC will have the returning Clinton County Humane Society with adoptable pets in Vendor Village from 10am-2pm.
Experience Fall at WEC
The 2022 Fall Classic Show Series features five-weeks of USEF rated hunter/jumper competition through October 30. The five-week series showcases Premier Hunter competition with Jumper Level 4 during weeks 1 and 2 and Jumper Level 5 for weeks 3 through 5. The 2022 WEC Fall Series features three new $75,000 WEC Grands Prix and more than $1 million in prizes and prize money awarded.
Jumper Highlights:
$50,000 Grand Prix – Weeks 1 and 2
$75,000 Grand Prix – Weeks 3, 4 and 5
$15,000 Welcome Stake – All weeks
$10,000 Futures Prix – All weeks
All Grand Prix's are American Standard
Hunter Highlights:
$20,000 WEC Hunter Derby 3'6″-3'9″ Week 1 and 5
$10,000 USHJA National Hunter Derby 3′ – Open – All Shows
$10,000 USHJA National Hunter Derby 3′ – Non Pro – All Shows
$2.500 WEC Pony Hunter Derby – All Shows
$3,500 Non Pro Derby 2'6″ – All Shows
What to Watch: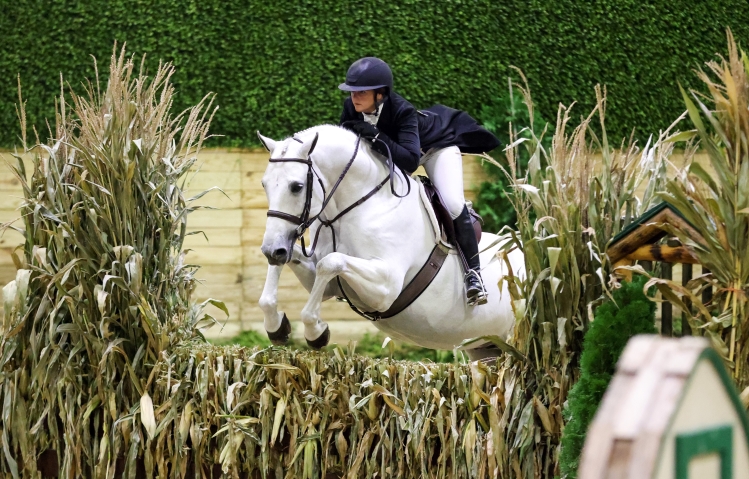 Thursday:
$15,000 Welcome Stake | Sanctuary Arena
Friday:
$10,000 USHJA National Hunter Derby 3' – Non Pro Sponsored by Shoo-Fly | R+L Arena
$10,000 USHJA National Hunter Derby 3' – Open | R+L Arena
$2,500 Pony/Children's Pony Hunter Derby | R+L Annex
Saturday:
$10,000 Futures Prix | Sanctuary Arena
$75,000 National Grand Prix | Sanctuary Arena
$3,500 Non-Pro Derby 2'6" | R+L Annex
Shopping
A Bit of Class Salon and Day Spa
It's no secret that every equestrian could use a little pampering during their downtime at horse shows – treat yourself! Join us at A Bit of Class Salon and Day Spa located in Vendor Village. The salon offers a wide selection of services – everything you would find at a traditional salon!
When it comes to products, The Apothecary offers everything, both prescription and non-prescription, needed for the horse, small animals and even humans. For equines, medical supplies are abundant. They also offer services like pre-purchase exams, lameness exams, digital radiographs, ultrasonography, shockwave treatment and emergency care.
Your sweet tooth at the World Equestrian Center! Visit The Sugar Shack to satisfy all of your sweet cravings.
Dark Horse Coffee Co. is now serving up all of your favorite Starbucks creations! Completely customize-able hot, iced and frozen beverages. Quick snacks can also be purchased here. They even have popular fall flavors like Pumpkin Spice and Caramel Apple!
The Pet Parlor features a state-of-the-art iClean Dog Wash, plenty of dog treats and stacks of fluffy towels for furry friends to dry off after their baths.
Get your WEC merchandise at this charming boutique featuring clothing, insulated drinkware, jewelry and more. A Sudden Impulse meets all of your on-site customization needs with our full-service monogramming and engraving services as well.
That's Invintage is a multi-faceted fashion and design influencer and creator of one-of-a-kind pieces of jewelry, apparel, home decor, and extravagant displays. Our designs are created for individuals who are seeking the out-of-the-ordinary piece that can highlight their desired expression of unique style and individuality or define their space making it their own.
Winslow Photography is the OFFICIAL show photographer. You may recognize owners Josh and Karrin Winslow and their fantastic team of photographers from the various shows held at our facility. Visit their booth located in the R+L Hallway.
Dr. Saeks of Saeks Chiropractic, L.L.C. is a familiar face at World Equestrian Center. Visit his tent booth in the R+L arena to make sure you are feeling your best!
The Custom Fox has all you need to survive a horse show! Their mobile trailer offers a plethora of products for both the horse and rider, each hand-selected and tested by Beth's family of horsemen. This store is conveniently located in their mobile tack shop outside the R+L Hallway.
Where to Eat
Open to exhibitors every day at 4 p.m. during horse show days, The Paddock Club is one of the family-friendly, World Equestrian Center restaurants as well as a gathering place featuring a full bar, flat-screen TVs, free WiFi and multiple comfortable seating areas. Stop in to dine or enjoy a hand-crafted cocktail.
For a quick grab, The International Café at the World Equestrian Center is conveniently located outside the Roberts Arena and next to the Horse Show Office. The International Café opens at 7 a.m. on show days. The cafe features a classic on-site dining menu consisting of full breakfast, lunch and dinner options. We offer daily specials and a selection of beer and wine.
Worship
Larry the Preacher Guy provides weekly services at World Equestrian Center. You can attend a 15-minute service on Sunday at 7:30 a.m. at the in-gate of the Sanctuary Arena. All are welcome: people, dogs and horses. A second service will take place later that day at 11:00 a.m. in the Vendor Village chapel. For those unable to attend, please visit WEC.net to listen to Chaplain Larry's sermons available as weekly podcasts.
Lodging at World Equestrian Center – Wilmington
Guests are advised to make lodging reservations at their earliest convenience to ensure they secure accommodations close to the showgrounds. Reservations can be made at wec.net or by calling 937.382.0985 ext. 3
World Equestrian Center – Wilmington has myriad on-site lodging options for guests:
The Wilbur Estate – The Wilbur Estate is a stunning, plantation-style mansion with five elegant luxury suites. Accommodations are centrally located on the horse showgrounds, just steps from arenas, stabling and the Paddock Club. Free Wi-Fi and VIP parking are included in your stay at The Wilbur Estate.
Cabins – Each of our cabins sleep up to six guests and is within walking distance from our arenas and barns. Two of our cabins are handicap accessible. Free Wi-Fi included.
Home Away from Home Park – Directly across the street from our horse show entrance, our 130 Home Away from Home units have two or three bedrooms with a fully equipped kitchen and living and dining room area. Free Wi-Fi included.
Camping Sites – World Equestrian Center has many camping sites equipped with electric, water and sewer for $225 per week (or any portion thereof), you must reserve these on your entry form or stall reservation form. Please check-in at the horse show office for a pass prior to parking your RV.
Special Thanks to Our Generous Sponsors
Interested in sponsorship or advertising? Contact adam.bray@wec.net.
About World Equestrian Center
World Equestrian Center features two premiere equestrian and multidisciplinary venues in Ocala, Florida, and Wilmington, Ohio.
These exclusive facilities comprise state-of-the-art arenas, expansive stadiums, versatile outdoor space, sporting fields and well-appointed exposition centers. An abundance of lodging options and luxury accommodations are conveniently located on-site, along with shopping and dining throughout each property.
Dedicated to offering great sport and fun in a family-friendly environment, World Equestrian Center promises an unparalleled experience for exhibitors, spectators, vendors, sponsors and retailers built on three core values: Quality. Class. Distinction.