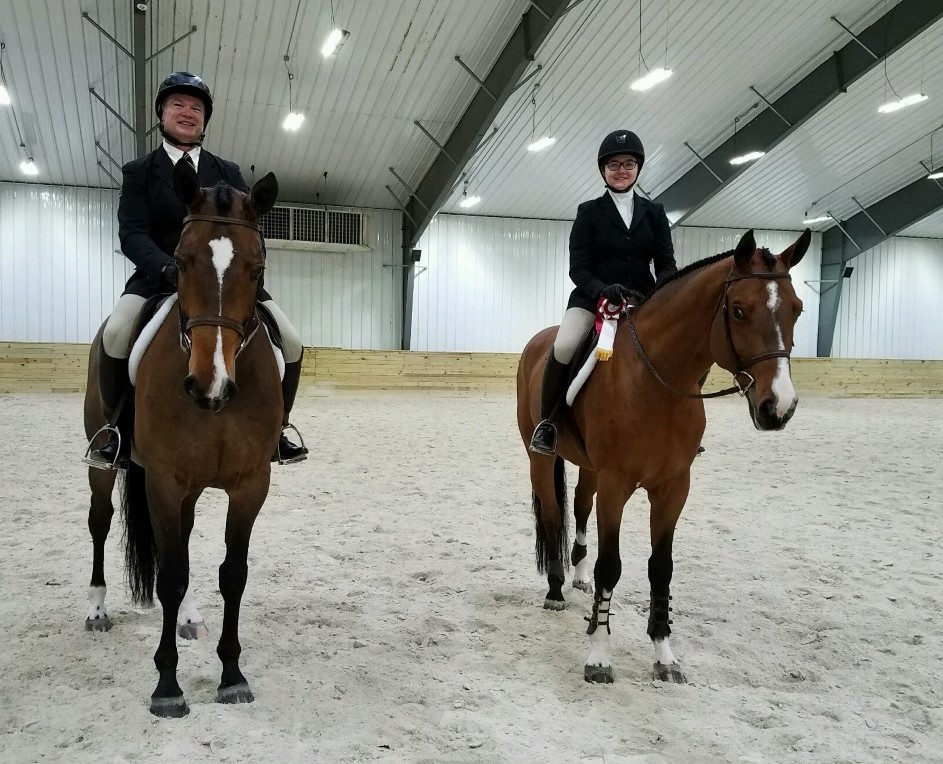 Wilmington, Ohio – This week's Wilmington Sunday Spotlight shines on the father-daughter amateur duo, Barney and Olivia Jacob. The Jacobs, originally from Lake Angelus, Michigan, share a growing love for the sport and continue to show alongside each other throughout the competition season. Olivia, a recent University of Kentucky graduate, rides and trains out of Indigo Show Stables in Lexington, Kentucky while Barney rides and trains out of Hillside Farm in Bloomfield Hills, Michigan. The Jacobs met up at World Equestrian Center – Wilmington for Winter Classic #7 and we sat down with them to learn more about their unique riding journey.
WEC: How did you get started riding?
Barney: I grew up in 4H. In 2009, my daughter wanted to learn how to ride horses so, we got our first pony in 2010. As soon as Olivia was old enough and could do most of it on her own, I took her old hunter and did Low Adult Hunters. Olivia went with equitation horses and a jumper horse, and I just really enjoyed riding with her! Then she decided she wanted to go to the University of Kentucky, and I kept her two horses [Southside and Quite Lady] and sent her to college. I moved up to the Amateur-Owner Hunter's 3'3" with Quite Lady in 2018.
Olivia: I started riding because my grandmother, my dad's mother rode. She did dressage, and I started doing dressage lessons in grandma's backyard. They let me tack up, and my dad would walk me up and down the path. And that's how I started! I eventually got lessons, I got my pony, and it took off from there. When I was 12, I moved to Hillside Farm. I started my junior career with them with my multiple mounts. Then I went to college and I continued riding when I came home. My college friends who continued showing would always laugh and see my dad at the show without me. I was very lucky that my last semester, I got myself in a really good place, mentally and physically. I decided that I was ready to invest in my first project by myself. So, I went over to Europe, and I purchased my first project, and he's been here officially a year as of this week. His name is Svalegards Gold Crelido aka Gus.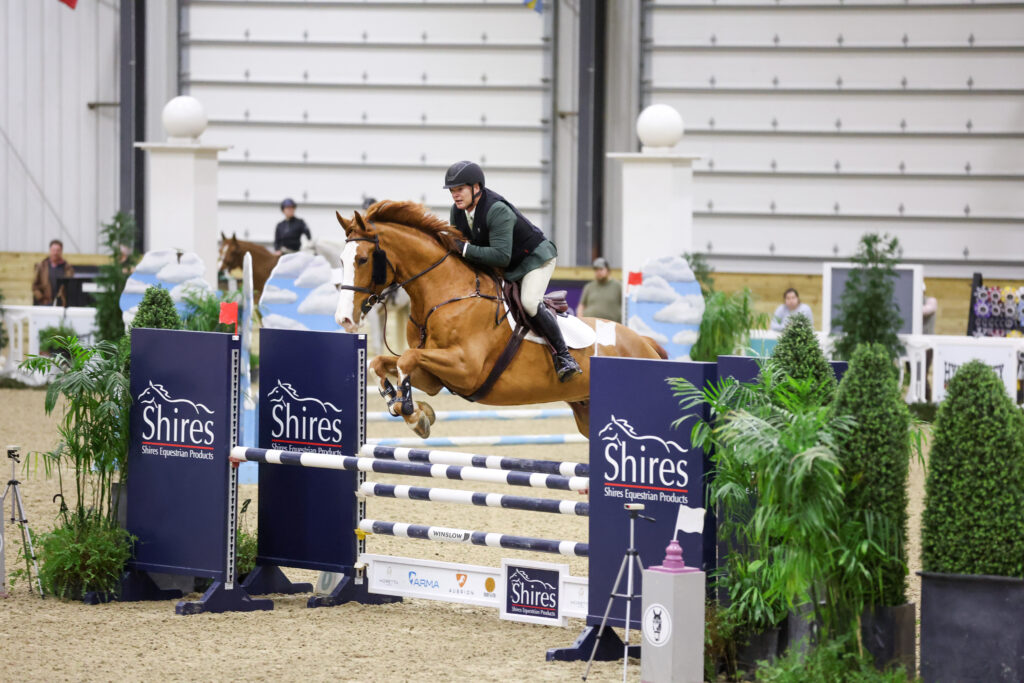 WEC: How do you juggle your careers and horses?
Barney: In 2008, I sold a company to Illinois Tool Works and retired, and became a stay-at-home dad. I've been doing that, and my wife works full-time at a 100-year-old family sausage business in Hamtramck called Kowalski Sausage. So, she works full time, and I trucked the girls around to all their lessons growing up. It was a beautiful time for us because it was a stay-at-home dad and full-time working mom and the hardest part was juggling the horses with my other daughter's hobbies, so it was a little difficult there. But it all worked out and that's where we're at today! As soon as Olivia could start doing most of the work on her own and she started driving was when I felt more comfortable doing more on my own and developing my own love for the sport. I'm just so privileged to be able to be healthy enough to get on and participate – it's awesome.
Olivia: I just graduated college, which is another big change. I have a full-time position at Gluck Equine Research Center at the University of Kentucky where I work in research science. Through multiple labs, they're doing vast amounts for all horses, which is really cool. For now, since my schedule is kind of unsure, I'm very lucky that my barn helps me out a lot. But it's just nice to go to work and actually work on stuff that benefits our industry and then I get to ride and take a bit of a break. It's nice to say that this is why I'm doing what I'm doing. I hope to go to grad school this year.
WEC: Tell us about the horses that you have here this week.
Barney: This week, I will have two horses that I just imported. They've been with us less than a year. One is a five-year-old and his name's Academy Boy. The next one's coming tomorrow and he's also a jumper. I have another horse, Fred, and he is currently rehabbing from an injury.
Olivia: I have Gus, we found him in Denmark when we went to horse shop. He's really taking the hunter life by storm and he has been doing the Adult Amateur Hunters and the Adult Equitation. I also visit Lady and Southside who are now retired in Lexington.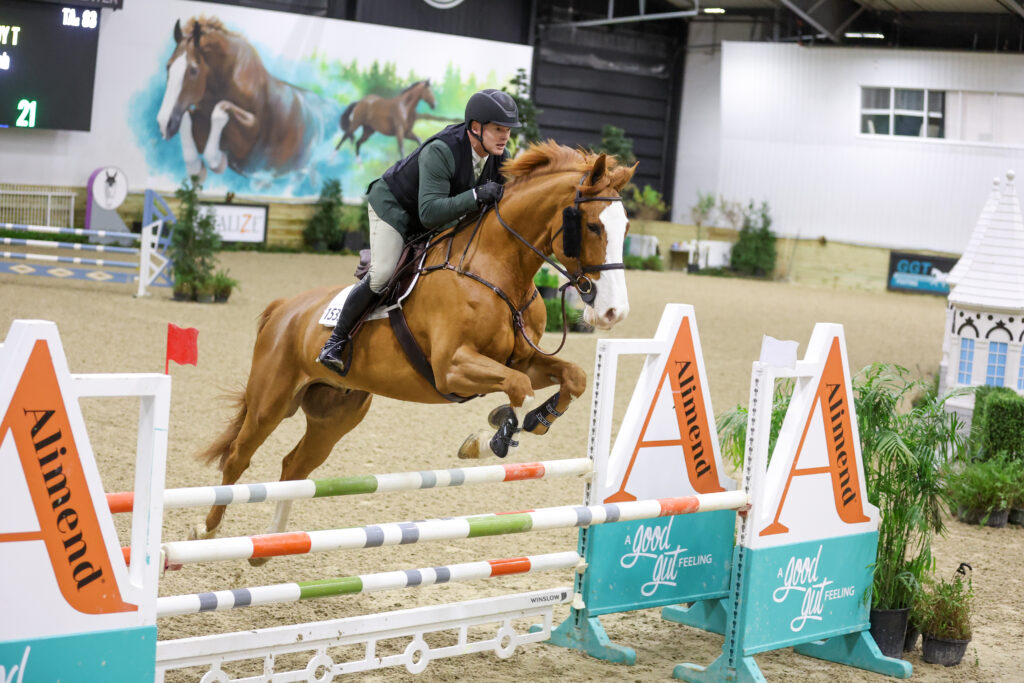 WEC: What are your future riding plans?
Olivia: For right now I'm just developing and seeing how far it goes and taking it all in. I am just enjoying it because I'm not a junior anymore. It's really eye-opening and it's fun to do with my dad and to see him bring along a five-year-old is quite impressive. I'm very lucky that I get to go home and ride them and experience it. Grad school is the first step to hopefully put me in a position where I can continue doing this. I love coming to shows and having fun. I am continuing to learn how to balance real life and fun.
Barney: We will plan to ride together when we can because it's a wonderful time. I plan to participate as long as I'm healthy!
WEC: How has WEC Ohio been significant in your riding career together?
Barney: Well, back in 2010 when we first started coming here it was brand new. With the facility continuously growing it has allowed thousands of people to continue their training careers whether they are an amateur, junior or professional. It's been great for the town here and employing people, but it's really been great for people who love horses, love showing and it's really such a wonderful place.
Living in Michigan, World Equestrian Center is just wonderful for us because it's only four hours away. Now here we are in 2023 and she just graduated from college and we're meeting halfway! Olivia brings her horses up from Kentucky and I bring mine down from Michigan and we still get to show together here.
The staff is kind here, too. They leave the rings open at night so if you have a young horse, you need to, or you want to ride at night you don't have to frantically pack up and get here by three in the afternoon. They still let you ride so not only is it been good for the community here in Ohio, but it's also good for the horse community. I said that and it's such a blessing to be able to show here.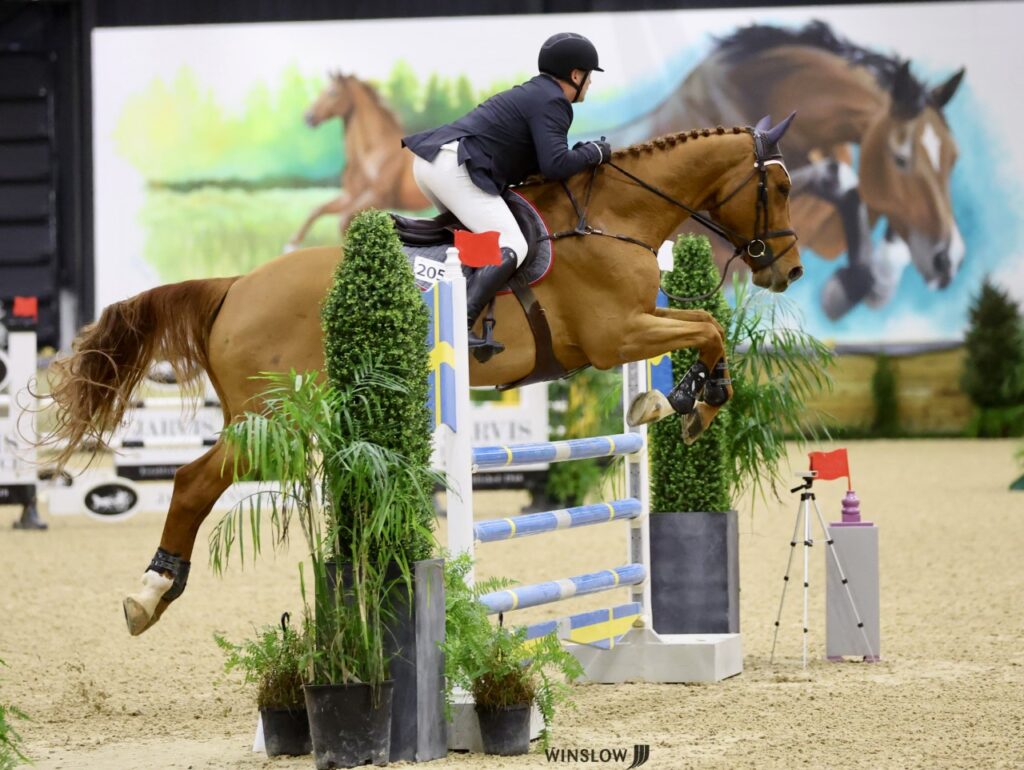 Olivia: It was really fun for me as a junior, because it was the first time out. I got all the kinks out and learned so much. My equitation horse and I did our first rounds here and had no clue what we were doing, but by the end of the winter we worked it all out. It's a base point for us now. We don't do a lot of indoor shows because I live in Kentucky, so we mainly stay down there. So, it's nice to have this as a great option to come to. You are always going to have a good experience here, even if it's not the one that you want, you will always leave with a positive learning experience. WEC has taught me all of the ins and outs. I remember Julie Agar in the office teaching me how to do my entries and work my USEF. Everyone is willing to help you learn here, and it is really awesome.
Thank you Barney and Olivia for taking the time to speak with us! We wish you continued success as you move forward in your riding career.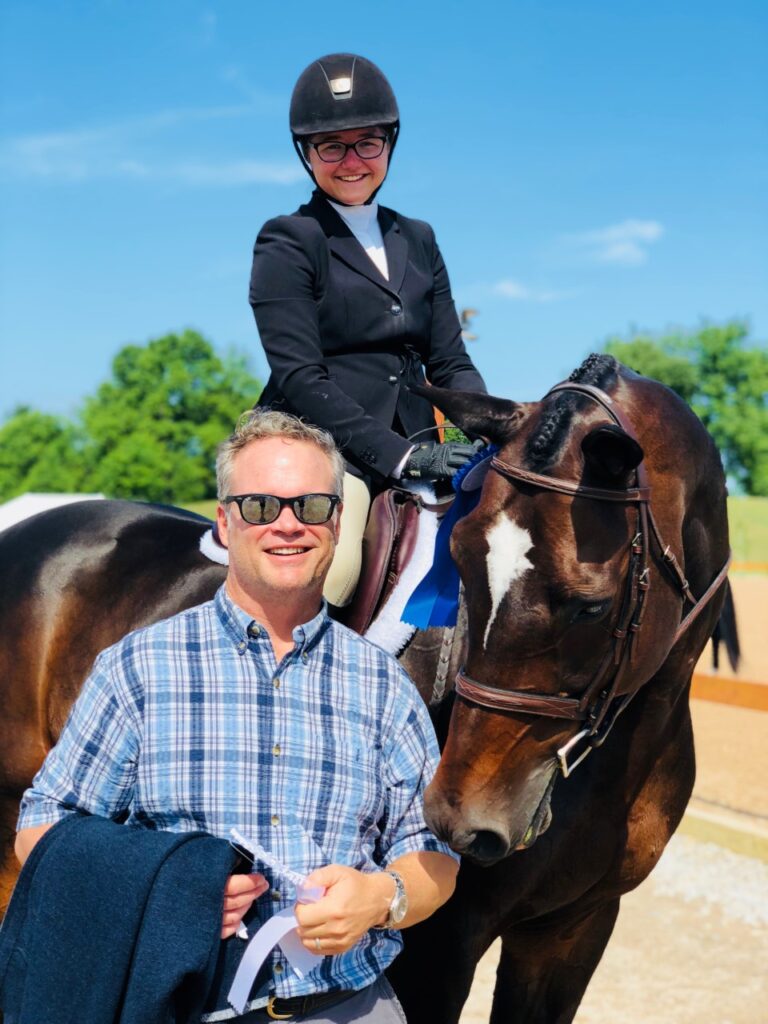 Make sure to visit the WEC Blog and follow us on social media @worldequestriancenter for full coverage on all feature classes!
Results can be found at HorseShowing.com.
All horse show images are provided by Winslow Photography and can be purchased onsite at WEC – Wilmington or online through their website.