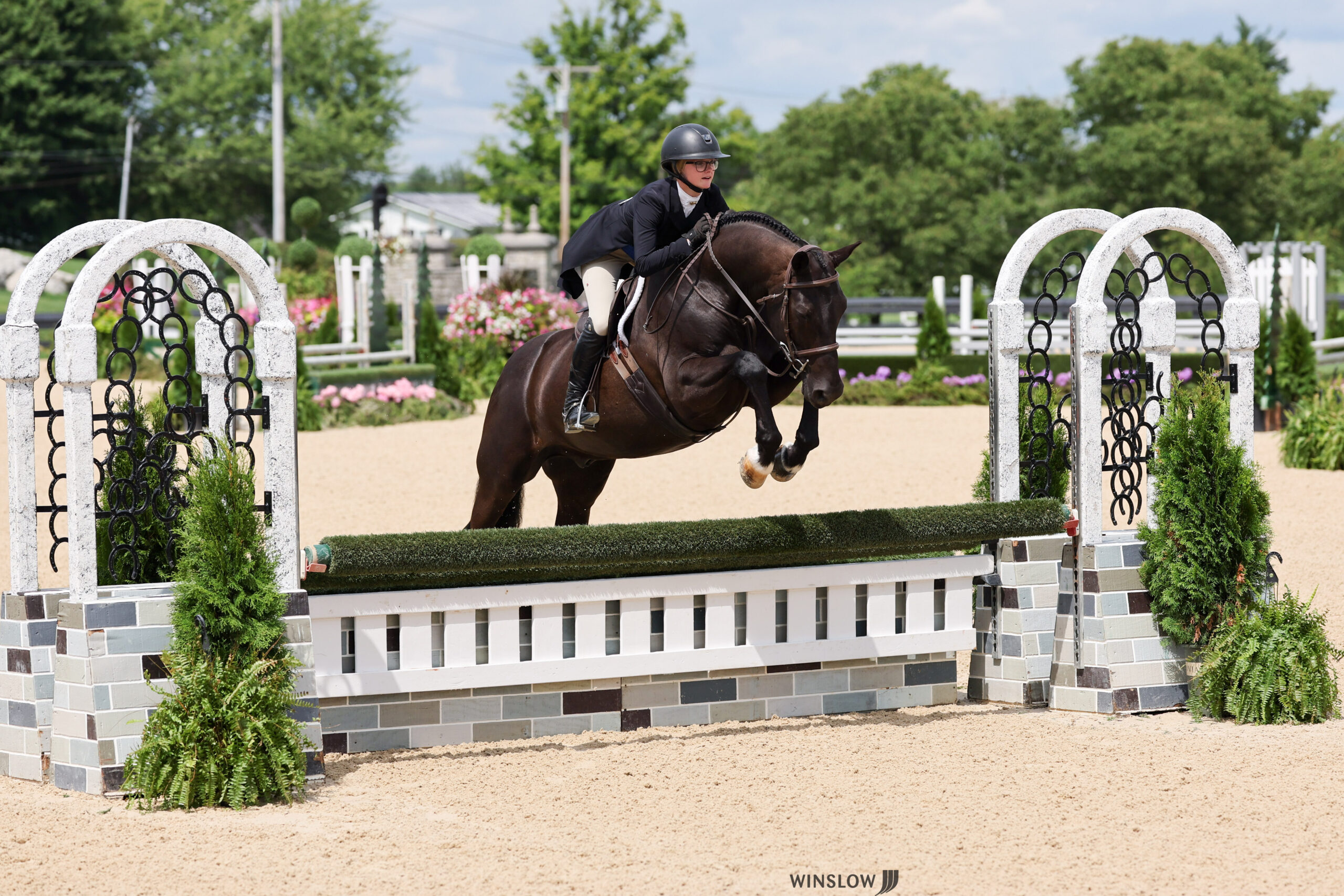 Wilmington, Ohio – This week's Wilmington Sunday Spotlight shines on Finley Scheffel of Georgetown, Kentucky. Growing up riding out of her family establishment, Scheffelridge Farm, the dedicated junior athlete has spent countless hours in the barn with her string of young ponies and her top mount, Artano G. Starting with ponies at just three-years-old, all the way to her 17-year-old mount, Finley can be found in every arena at WEC – Ohio with a smile from ear to ear. We caught up with Finley to learn more about a typical day in her life and her unparalleled love for the sport.
WEC: How did you get started riding?
I ride with my mom Nori Scheffel at Scheffelridge Farm, and my dad's a farrier. So, I get the best of both worlds. I love it. I have a children's Hunter and I have a large green that are showing right now.
I just basically just grew up in it. My mom has ridden since she was 10 and now she's a trainer. We have a huge training program at home. My dad team ropes so horses have always been in the family. It's funny, because neither of my parents came from horses and now, I just fell into the perfect spot. I am super, super fortunate for it.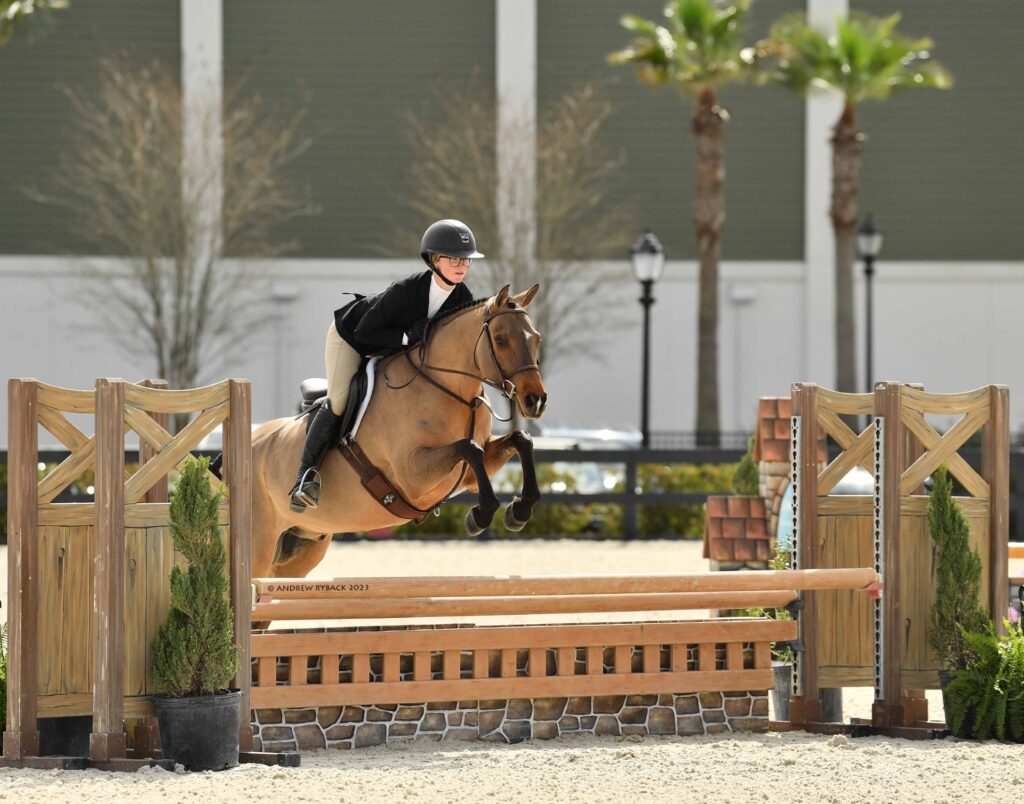 WEC: How do you juggle school and riding?
It is really hard! I am a junior and school actually starts on Wednesday. I miss a lot of school for riding, but I have a 4.3 GPA, so my teachers usually sign off on things. The only reason I don't do online school is because I like the separation between the barn and school. I really like the separation and I don't feel guilty when I'm riding like I could be doing schoolwork! My teachers are pretty understanding. I just make sure to just stay on top of it when I can, if I get a little far behind and fill the gaps.
I ride before school. So, I start at four o'clock in the morning. I get two done usually, three if I hustle, and then I go to school at 7:30am, and then I ride three or four after school is over. I am tired, but happily tired!
WEC: How has WEC played a role in your riding career growing up?
This is by far my favorite show because the people are so nice and it's always run so well. There are so many classes here as far as young horses and the big equitation. There's endless opportunities for the horses and for us. There are always so many vendors and there is always something to do. I am so fortunate because it is so close for us, so we've been coming up here more and more. I remember when the ponies were still in the Roberts Arena. I had my small pony and I was 10 and just starstruck to be coming to World Equestrian Center! It is crazy to think now that this is our most frequent show.
I also love the Starbucks, I ride all of my horses and ponies through it. My pony was a little skeptical of the window at first, so one day I took the barista a bag of peppermints to give the horses when they came through so they weren't afraid of it!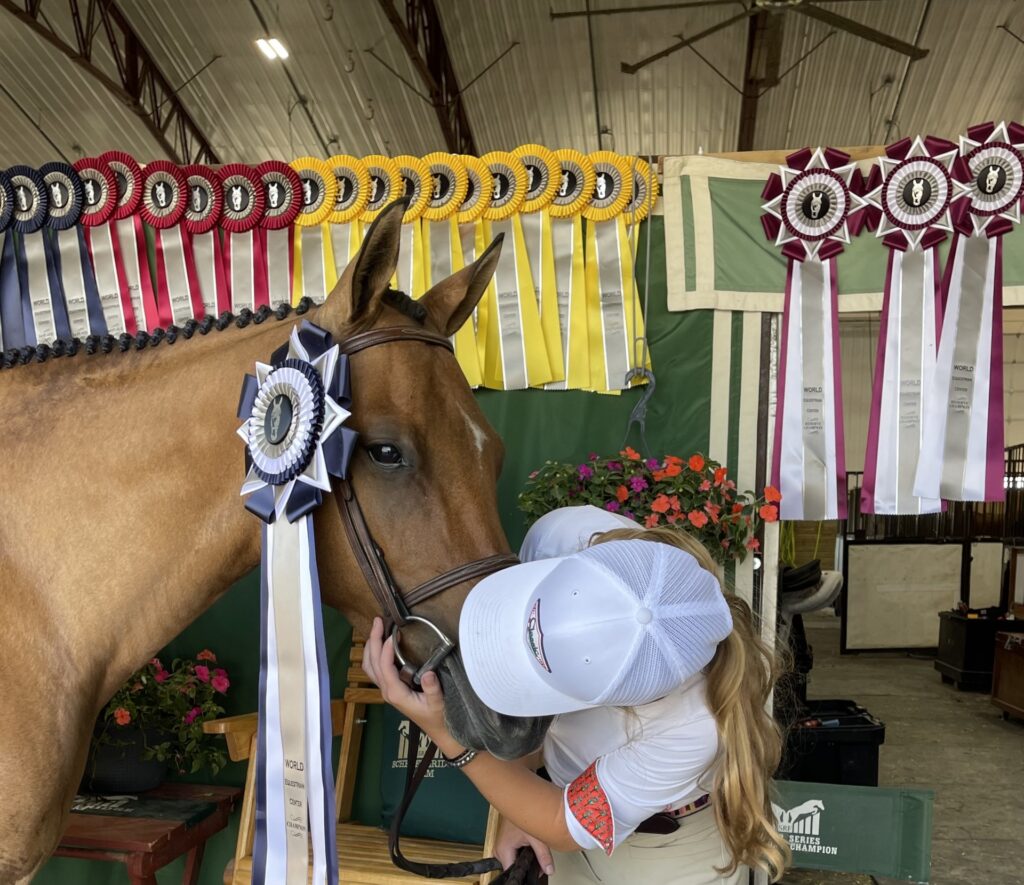 WEC: Tell me about your current string of horses and ponies.
I have Artano who is 17 this year, even though he acts like a six-year-old sometimes! He certainly does not feel his age. He did the meter 1.45m back in the day. I am so fortunate to have him now and he's teaching me so much because he's a really difficult ride. My mom even says I fit in better than anybody that's ridden him. We just click. I have to put up with his shenanigans sometimes on the first day of the show but he's done so much for me and I just I love him. My mom has had him for so long so at first I was nervous that I wouldn't get along with him because he has been ridden by so many people, but we get along so well and I love him so much.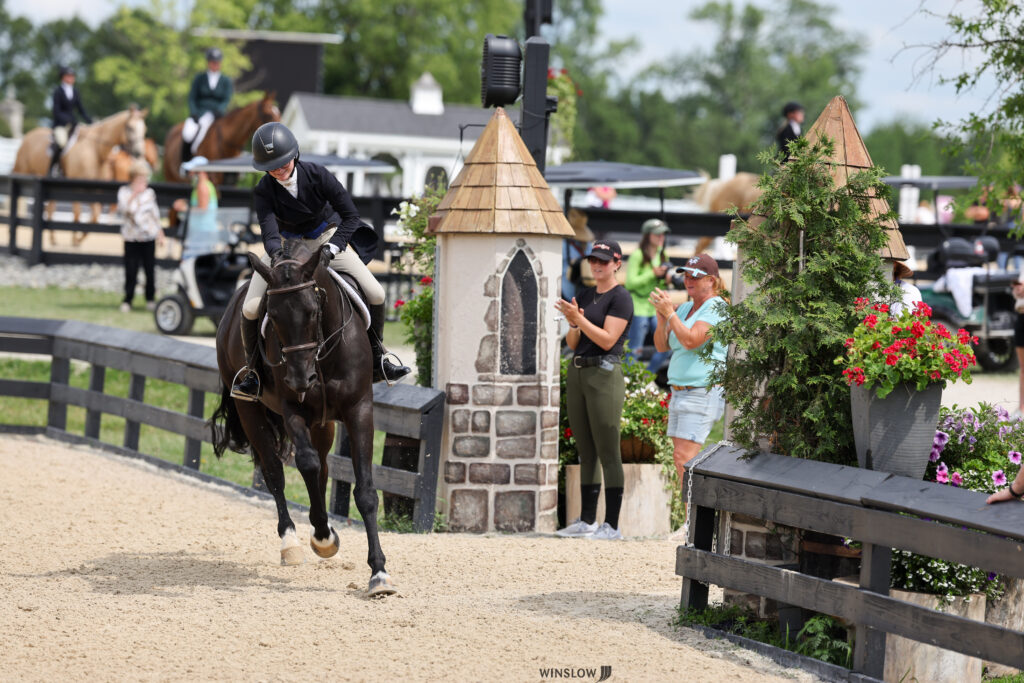 My large green pony, Custom Vibes, we actually broke. I started him as a late two-year-old. We took him to Arizona, and he got to go to the roping, he got to go chase cows, and go through the riverbed, so he's pretty bomb proof! He'll do pony finals next year. We have a bunch of young ones at the farm was well. There are about ten Welsh ponies all under the age of three at the farm. So I love to break them and bring them along, that is my favorite thing to do.
My heart pony is actually here this week, and his name is Touched By An Angel. He's doing the short stirrup. I've done everything from winning the KHJA Medal Finals three times on him, winning the non-pro derby here, and the next day winning the jumper classic! I would take a bullet for that pony in a heartbeat, he's my everything! So, it's really cool to see him doing the short stirrup with a little kid in our barn and that I still get to go to all the shows with him.
WEC: What does the rest of your 2023 show plan look like?
I work really hard through the year to go to shows. WEC is pretty much our main show through the year. I showed at Kentucky Summer a few weeks ago too. I'm taking my large green and my three-year-old to young pony championships in two weeks. I have a Quarter Horse as well and I did that whole circuit last year and was Reserve World Champion. I might do Congress as well. My biggest goal for this year, if all goes well, is to go to Vegas with a Artano, because I want to do one more big thing with him before he gets a bit too old and he is really dominating the children's right now, so that would be the hope.
I also did EAP this year so I'm waiting to find out if I made it to Nationals, which is the week before Vegas. I might not go to Vegas because of that because that's such a great opportunity and that takes priority since I worked really hard for it! My main focus for next year will be to hopefully get into some big equitation and I would really love to have a jumper next!