Wilmington, Ohio – This week's Wilmington Sunday Spotlight shines on Australia's Samuel Overton of Overton Showjumping. The hardworking professional athlete juggles his incredible showjumping career while also running a business designing, manufacturing and installing sleeper cab air conditioners on the road. He stopped at World Equestrian Center – Wilmington with his 14-year-old Warmblood gelding, Oaks Cassanova, to jump indoors and prepare for their debut at the FEI™ World Cup™ Finals in Omaha, Nebraska. After claiming second place in Saturday evening's $30,000 Grand Prix, we caught up with Overton to learn more about his career.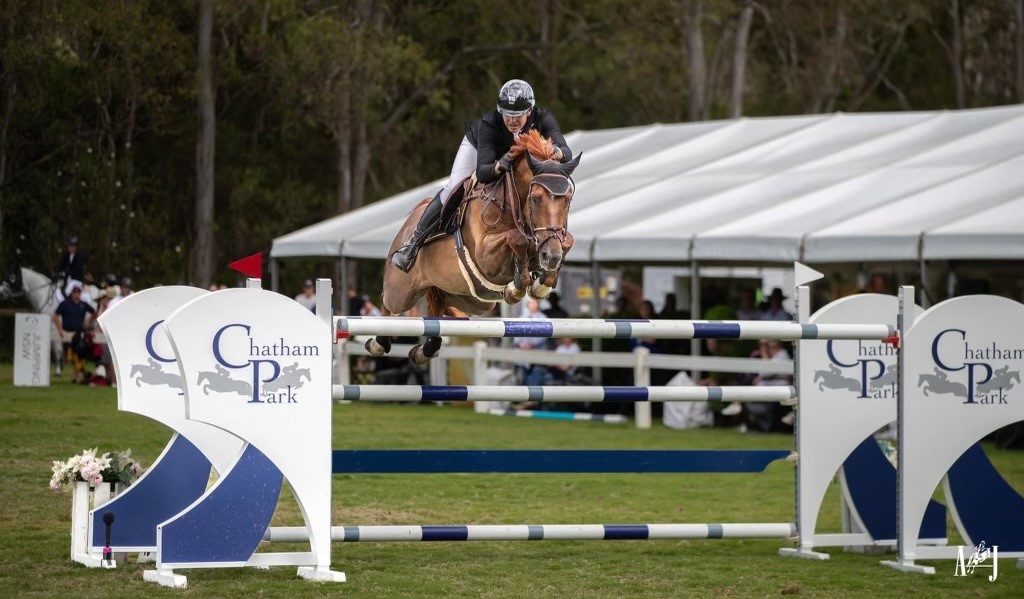 WEC: Tell us about your riding career.
I started riding at 15, my sister Kate rode and wanted a second horse. So, she talked me into saying that I would ride her old one so our parents would let her keep both. Our parents caught onto our plan, in short, they made us stick to the story!
I rode on and off while completing high school and then a mechanical engineering degree. I was fortunate to have some cool junior and young rider horses and even won a few state titles along the way. Then, after a five-year hiatus from riding whilst starting our own business, Carly talked me back into riding again. It's really only been the last 5 or 6 years that I have had a real interest in competing at a higher level. I am now really keen on becoming a better rider and producing better horses.
WEC: Tell us about your top mount, Oaks Cassanova.
We purchased Ed as a very green and cheeky five-year-old, he is 14 now. He is by a very successful stallion that also jumped World Cup classes in Australia, Ego Casablanca (Carthago x Argentinus). His mother Oaks Alto was imported in utero by Alice Cameron of Oaks Sporthorses. This mare has been an amazing producer of many quality jumping horses. (Dollar de la Pierre x Darco)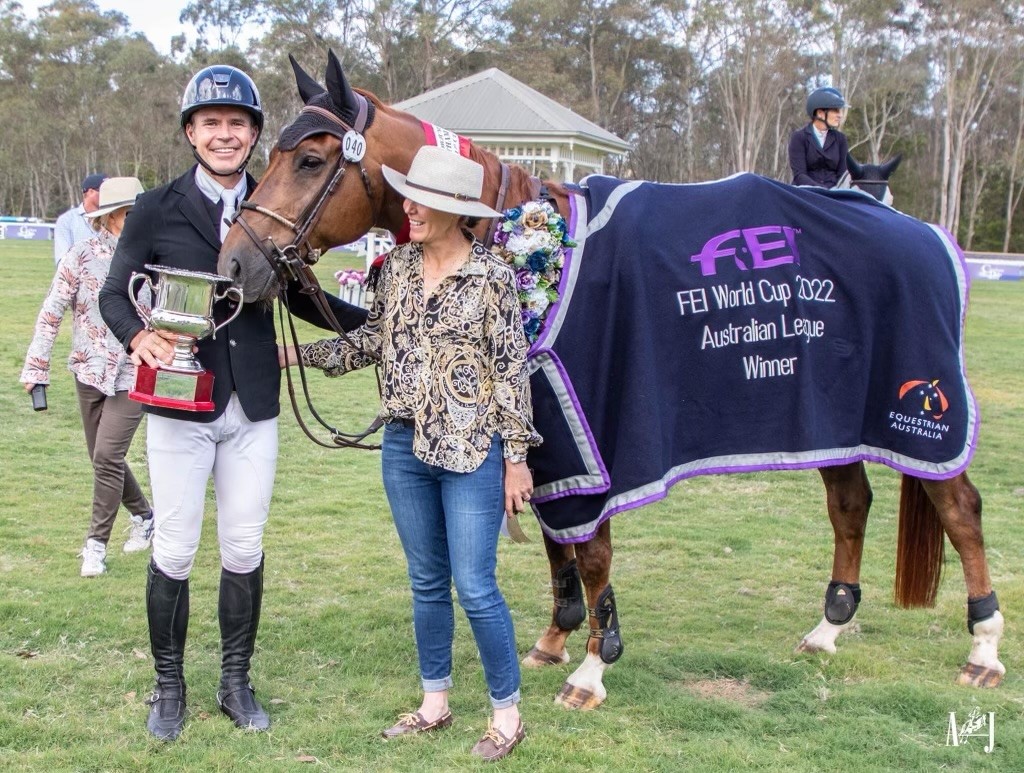 Ed hasn't always been the easiest horse, you'd think at only 15.3h that he'd be easy to train, but he was very spooky, careful and strong – and he spent a lot of time going around the jumps rather than over them! Once we gained mutual respect for one another, things progressed relatively quickly. Ed always gives so much of himself every round, he's just the coolest and smartest horse we've ever owned. He only jumped his (mine also!) first World Cup™ Qualifier in June 2021 where we placed 10th. We didn't do another one until February 2022. In that season he placed 2nd in three qualifiers and 1st in one – earning us the Australian League title. Around the stables, he's a huge character, like a big playful dog. I think he's already earned himself a few fans here in Wilmington!  
We have a pretty nice team of horses back home including a ten-year-old Contendro I that also jumps the big Grand Prix and World Cup classes. We also have a pretty serious eight-year-old Chacco Blue and a number of nice younger horses. It would've been great to bring one or two more with us here. Maybe next time!
WEC: What has the ride to Omaha looked like for you? What do you do to prepare?
The ride has been a long one! Ed started his journey with a 1,200-mile truck ride to Melbourne from home. Then 14,000 miles on a plane to New York followed by 7 days in quarantine, and then finally 600 miles to Wilmington. Given the logistics and timing, it was a long 5 weeks apart.
To prepare, we jumped one last Grand Prix in Australia at the end of January, and now we are showing lightly here at WEC for these three weeks in March. Having had a lot of stall rest during quarantine plus a bunch of vaccinations on arrival, I am mindful of building his fitness back up without pushing any possible fatigue issues. So far he's on a good trajectory, he's usually quite a handful and we are starting to see that bit of spark come back. We head off for Omaha on 31st March and our daughters Grace and Hannah will be joining us.
Our plan after the World Cup™ Final is all a bit up in the air – but we are considering a trek further north for Thunderbird and maybe the early Spruce Meadows shows. Who knows where Ed will take us!
WEC: What does a typical day in the life look like at your farm?
Both my wife Carly and eldest daughter Grace ride, so we usually start in the morning and work six or more horses. Carly and I both work in our own business, ICEPACK, which manufactures and installs sleeper cab air conditioning systems for long-haul trucks. So, we try to get into the office by mid-morning most days. We are lucky to have a great management team and are also able to work remotely these days, hence being able to be on the other side of the world!
WEC: How was your first experience at WEC Ohio?
We are really enjoying our time here. The facility is simply amazing. The level of organization is very professional, yet accommodating. We are still meeting new people every day, and we thank you all for making us feel welcome.
We are also so grateful for having a home away from the show for Ed with David Beisel Stables. They are a lovely group of people and Ed is relaxed and happy which is so important to us!
Thank you, Sam, for taking the time to speak with us! We wish you and Ed the best of luck in Omaha and continued success in your show-jumping journey!