In an unprecedented collaboration, the World Equestrian Center and Kentucky Horse Shows LLC partnered during the 2017 horse show season to present an 11-show USHJA National Hunter Derby Series and $30,000 Rider Bonus based on accumulated points.
The series culminated on Sunday, October 29 at the World Equestrian Center Invitational with a $30,000 National Derby and a $30,000 Series Finale awards presentation, including leading rider bonuses awarded to a Pro, and Amateur and a Junior rider.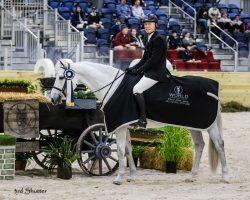 Wilmington, Ohio-based Jeff Gogul won the lionshare of the events, earning more than 2,000 points and the $20,000 Professional Rider Bonus, while Nicole C. Lyvere won the $5,000 Amateur Rider Bonus and MacKenzie E. Hogan won the $5,000 Junior rider bonus.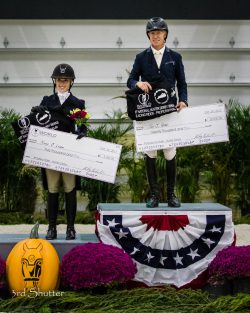 World Equestrian Center General Manager, Vinnie Card, developed the concept for the Series in conjunction with Kentucky Horse Shows Manager, Robby Murphy. "I'm excited about this Hunter Derby series collaboration because I have a lot of respect for Hugh (Kincannon) and Robby, and I truly believe that by working together we will create something very special for the industry," said Vinnie Card, World Equestrian Center GM. "Whether you are a professional, an amateur or a junior rider, this series recognizes the many nice horse and rider combinations at the three-foot level who want to compete at beautiful venues for some really nice prize money."
As part of the collaboration, there were ten USHJA National Hunter Derby held at the Kentucky Horse Park and the World Equestrian Center between May and October.

The 11 part series included 3 foot National Hunter Derbies at the following horse shows:
Kentucky Spring: May 10-14, 2017
Kentucky Spring Classic: May 17-21, 2017
WEC Summer Series I: May 24-28, 2017
WEC Summer Series II: May 31-June 4, 2017
Kentucky Summer Horse Show: July 26-30, 2017
Kentucky Summer Classic: August 1-6, 2017
WEC Summer Series III: August 9-13, 2017
Bluegrass Festival Horse Show: August 15-20, 2017
KHJA: August 23-27, 2017
Kentucky National: September 20-24, 2017
WEC Invitational: October 24-29, 2017