December 1, 2022 – WILMINGTON, Ohio – World Equestrian Center – Wilmington is pleased to welcome exhibitors back this December to kick off USEF Premier Level 4 competition. With a weekly $30,000 Grand Prix on Saturday evenings, National Hunter Derbies on Fridays and a weekly $3,500 Non-Pro 2'6 Hunter Derby, WEC Wilmington welcomes riders of all levels and ages.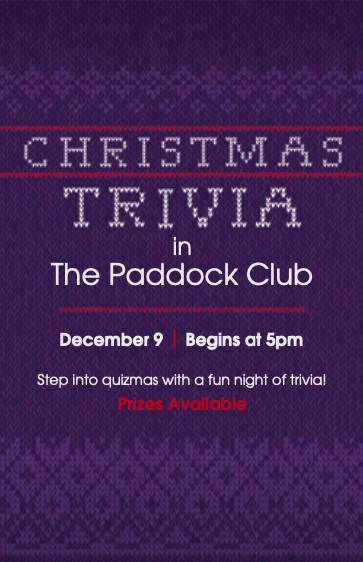 Winter Classic #2
The Paddock Club will host Christmas Trivia at 5pm Friday, December 9 where exhibitors can step into Christmas by participating in a fun night of trivia.
Horses will be welcomed to parade into Vendor Village to show off their festive braids for the Holiday Braiding Contest from 11am-4pm Saturday, December 10.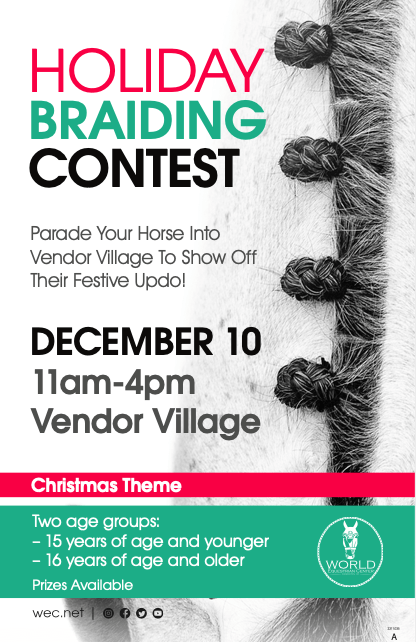 Winter Classic #3
Returning to WEC Ohio, the popular blue ribbon Christmas tree!
Returning to WEC Ohio, the popular blue ribbon Christmas tree! For every blue ribbon in a regular class (excluding Table II jumpers) competitors will be invited to pick a gift from underneath the Christmas tree.
Gifts will include prizes such as gift cards, tack, free stalls for the 2023 show season, lodging discounts, and sponsor items! Exhibitors will also be invited to participate in WEC's Annual Gingerbread Decorating Contest.
The $10,000 WEC Futures Prix will take center stage in the Sanctuary on Friday evening.
Saturday night will feature two new additions to the schedule, a $3,000 Gambler's Choice .90m-1.0m and a $3,000 Gambler's Choice 1.05m-1.15m.
Additionally, World Equestrian Center – Wilmington will be presenting a gift of WEC Annual Calendars. Grab a copy to see if you and your horse made it into the calendar!
We wish all competitors the best of luck and we look forward to having you at World Equestrian Center – Wilmington for the winter series!
About World Equestrian Center
World Equestrian Center features two premiere equestrian and multidisciplinary venues in Ocala, Florida, and Wilmington, Ohio.
These exclusive facilities comprise state-of-the-art arenas, expansive stadiums, versatile outdoor space, sporting fields and well-appointed exposition centers. An abundance of lodging options and luxury accommodations are conveniently located on-site, along with shopping and dining throughout each property.
Dedicated to offering great sport and fun in a family-friendly environment, World Equestrian Center promises an unparalleled experience for exhibitors, spectators, vendors, sponsors and retailers built on three core values: Quality. Class. Distinction.
Learn more at wec.net
Media Contact
Candace FitzGerald
603.738.2788