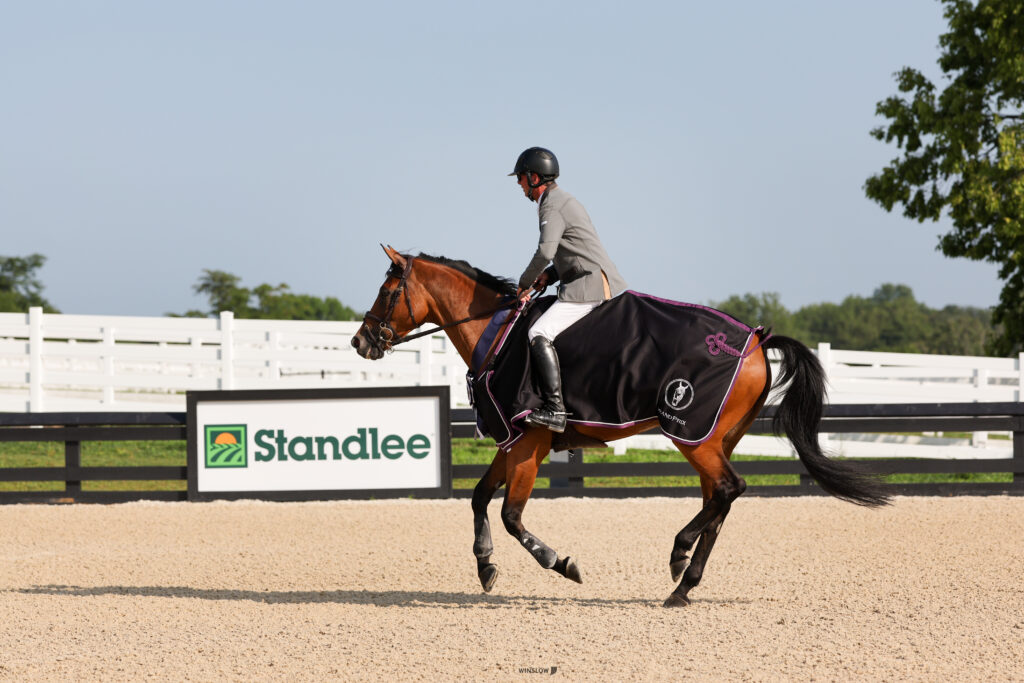 July 27, 2023 – Wilmington, OHIO – World Equestrian Center – Wilmington is pleased to recognize Standlee as a supporting sponsor. Along with the renaming of the iconic indoor arena to The Standlee Sanctuary Arena, Standlee has also joined forces with WEC to sponsor weekly feature classes.
Standlee partnered with facility during the Summer II horse show to sponsor the $25,000 Grand Prix and the $2,500 Non-Pro Hunter Derby. World Equestrian Center – Wilmington is proud to affiliate with brands that promote the delivery of proper nutrition to the equine athlete and to foster high quality animal care.
"Congratulations to Richard and Alexander winners of the Grand Prix and Non-Pro Hunter Derby. We are proud to support these competitors and equine athletes who participated in Saturday's events." said Jessica Wright, Standlee's Director of Marketing.

About Standlee®
Standlee® puts the health and well-being of the animals you love first by delivering the best nutrition through premium forage and highest-quality animal care products.
Founded in 1981, Standlee has carefully grown and manufactured sun-cured forage to ensure high-quality and consistent nutrition. Their finished products are managed to ensure year-round supply and are delivered to customers by the largest distribution network of forage products in the United States. They provide premium forage in a variety of types and in a wide range of product formats, including pellets, cubes, chopped, and bales – To keep your animals at peak health and performance throughout the year Standlee forage is the perfect nutritional solution for horses, livestock, small animals, and poultry.
Standlee has committed to providing a premium experience when purchasing their products. You can trust it was made with the same dedication as if they are caring for your own animals. Standlee is Grown for the Life We Love®.
Learn more at: standlee.com
About World Equestrian Center
World Equestrian Center features two premier equestrian and multidisciplinary venues in Ocala, Florida, and Wilmington, Ohio.
These exclusive facilities comprise state-of-the-art arenas, expansive stadiums, versatile outdoor space, sporting fields and well-appointed exposition centers. An abundance of lodging options and luxury accommodations are conveniently located on-site, along with shopping and dining throughout each property.
Dedicated to offering great sport and good fun in a family-friendly environment, World Equestrian Center promises an unparalleled experience for exhibitors, spectators, vendors, sponsors and retailers built on three core values: Quality. Class. Distinction.
Learn more at wec.net
Media Contact
Candace FitzGerald