Wilmington, Ohio – World Equestrian Center – Wilmington is pleased to welcome The Ohio State University College of Veterinary Medicine Galbreath Equine Center to its family of sponsors. WEC – Wilmington is thrilled to partner with premier facilities that are dedicated to the health and wellness of the equine athlete.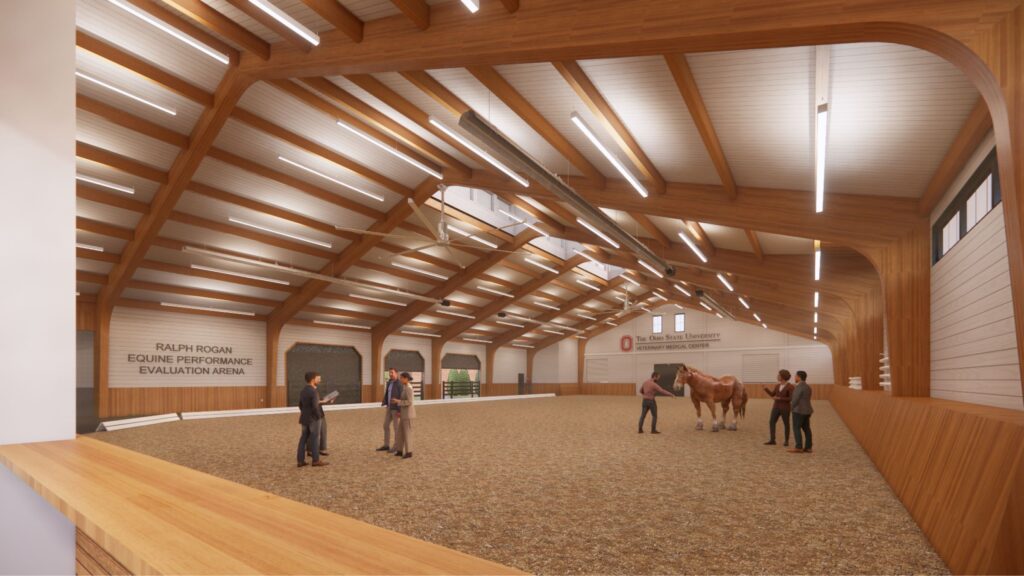 "Partnering with the World Equestrian Center – Wilmington creates the perfect trifecta of excellence, combining a world-class equestrian center, with world-class participants, and our Galbreath Equine Center's world-class veterinary specialty and ambulatory care services," said Mary Spittler, a spokesperson for The Ohio State University Veterinary Medical Center hospitals.
The Ohio State University Veterinary Medical Center will join forces with the facility for the remainder of the 2023 show season to sponsor a $30,000 Grand Prix, a $10,000 Welcome Stake and $15,000 USHJA National Hunter Derby. WEC – Wilmington looks forward to working with the veterinary facility to promote education with proper care in the industry.
About The Ohio State University College of Veterinary Medicine
Ranked third in the nation and a top-five ranked veterinary college for nearly two decades, Ohio State's College of Veterinary Medicine, founded in 1885, is one of the nation's oldest and largest veterinary colleges. Admitting up to 165 veterinary students per class and boasting a strong alumni presence across all 50 states and 40 countries, the college is known for its world-renowned history and tradition of excellence and innovation in education, research, outreach, and patient care programs. Its Veterinary Health System is the only academic comprehensive tertiary referral center in the state and region, providing cutting-edge care to over 80,000 canine, feline, equine, and farm animal patients annually in its six hospitals and farms across Ohio. One of the few campuses in the country where seven health sciences colleges coexist on one university campus, veterinary medicine students, researchers, and faculty collaborate closely with partners in Dentistry, Medicine, Nursing, Optometry, Pharmacy, and Public Health. The college offers a comprehensive graduate program in Veterinary and Comparative Medicine and a unique master's degree in veterinary public health in partnership with the College of Public Health. Learn more at http://vet.osu.edu.
About World Equestrian Center
World Equestrian Center features two premier equestrian and multidisciplinary venues in Ocala, Florida, and Wilmington, Ohio.
These exclusive facilities comprise state-of-the-art arenas, expansive stadiums, versatile outdoor space, sporting fields and well-appointed exposition centers. An abundance of lodging options and luxury accommodations are conveniently located on-site, along with shopping and dining throughout each property.
Dedicated to offering great sport and good fun in a family-friendly environment, World Equestrian Center promises an unparalleled experience for exhibitors, spectators, vendors, sponsors and retailers built on three core values: Quality. Class. Distinction.
Learn more at wec.net
Media Contact
Candace FitzGerald