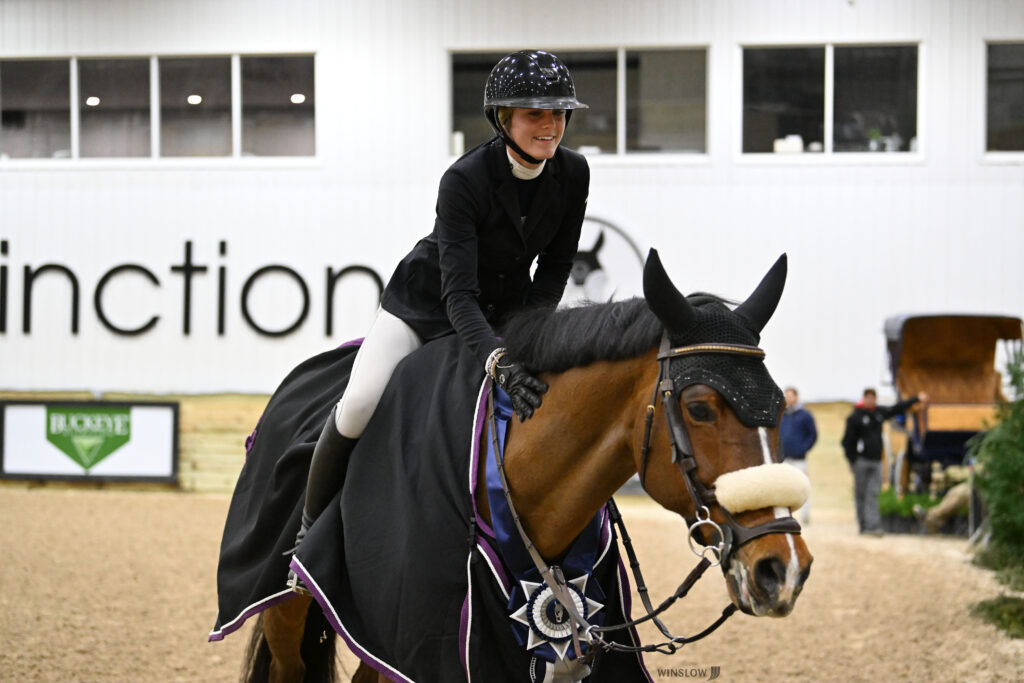 Wilmington, Ohio – Competition for Winter Classic #9 concluded at World Equestrian Center – Wilmington Sunday, February 12. Feature competition reached a crescendo as Izzy Beisel (USA) earned her second grand prix win of her career in the $30,000 Grand Prix Saturday evening in the Sanctuary. While in the R+L Arena, Jennifer Schwartz (USA) dominated the $15,000 USHJA National Open 3' Hunter Derby taking home first and second place in the prestigious class.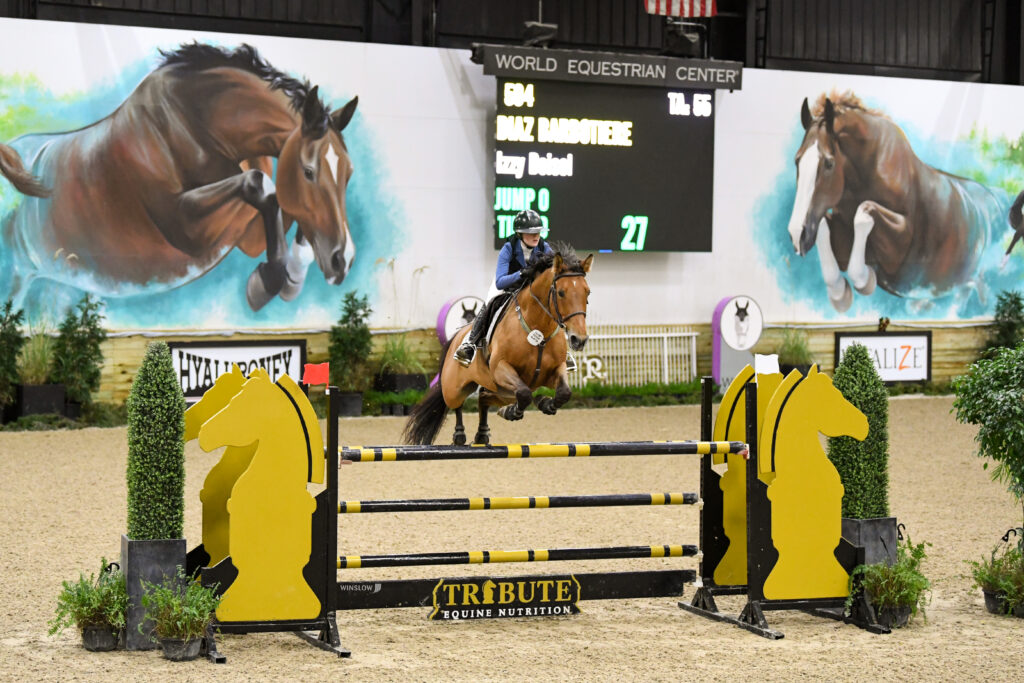 Beisel saw no challenge in the task at hand and her efforts yielded two fluid clear efforts aboard her own Diaz Barbotiere (Messire Ardent x Quambera Barbotiere). The ten-year-old Selle Francias gelding was in sync with Beisel every step of the way and carried her to an early lead in the jump-off phase with a time of 38.786 seconds.
On her successful jump-off plan, "Diaz is already naturally really fast. My dad [David Beisel] wanted me to ride it like the first round and have a nice canter to start and find the jumps out of a nice big pace. We went off that plan a bit from one to two. I landed and floated the reins a bit and I saw the distance from far away and he was right with me the whole time. By the end I was planning to just go clear. I got deep to the skinny in the corner and he backed off so nicely. I landed and saw it, and I knew that he would take his time. He put in a bit of extra effort for me over the last two!"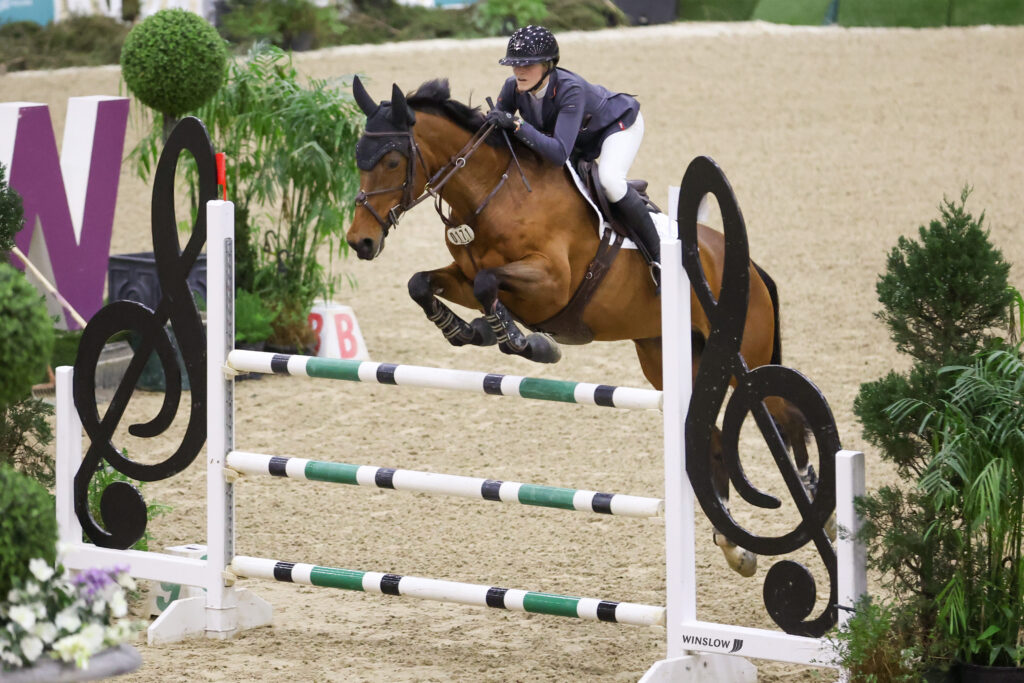 Darby Pease (USA) of Windcrest Farm piloted Fenn (Eldorado Van De Zeshoek x Odin) to the win in the $10,000 Futures Prix. The fiery 12-year-old Dutch Warmblood mare owned by Tyson Ziebarth raced around the short-course in careful form to an unbeatable time of 34.025 seconds to sit atop the leaderboard.
"Fenn is full of sass. She likes everything to be done her way and as long as you do it her way, it works out for the best! She has definitely taught me to be patient and cognizant of what the horse wants and what the horse needs. I am very grateful to her owner for letting me continue working with and figure out what makes her happy and what makes her thrive. Tyson Ziebarth owns her, and he used to ride with Teri [Knowlton] a long time ago when he did the junior jumpers in California. He fully trusts us with her which is so cool and Fenn is so fun," Pease shared about her winning mount Fenn.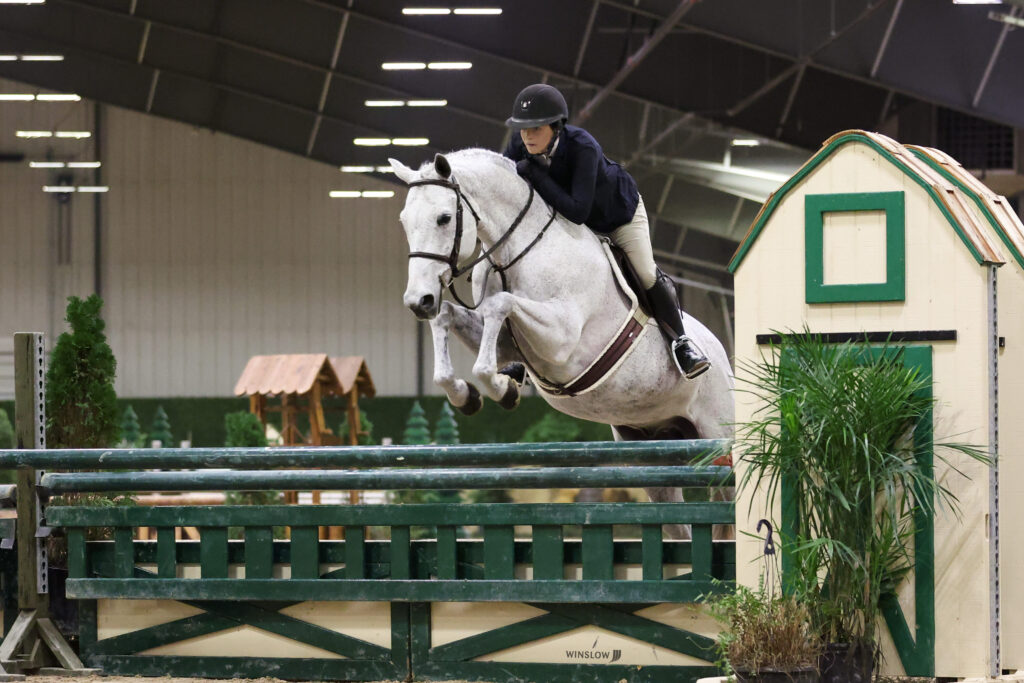 Of the sixteen seasoned professionals in the $15,000 USHJA National Open 3' Hunter Derby, it was Jennifer Schwartz that posted four scores in the 90s to gallop away with first and second place. Schwartz, of Hunt Hill Farm in Chester Springs, Pennsylvania, dominated the class earning first place honors aboard the longtime Hunt Hill resident, Esperanza (Verdi) and second place on her home-bred six-year-old Victory Gold (Vallado x Golden Siren HU).
"I wanted to do all of the inside turns on both of them. The younger horse [Victory Gold] landed wrong after the trot jump, so I didn't accomplish all of the inside turns on him once since I needed the lead change. Esperanza is very handy and landed every lead. He felt really confident today," shared Schwartz on her handy performances.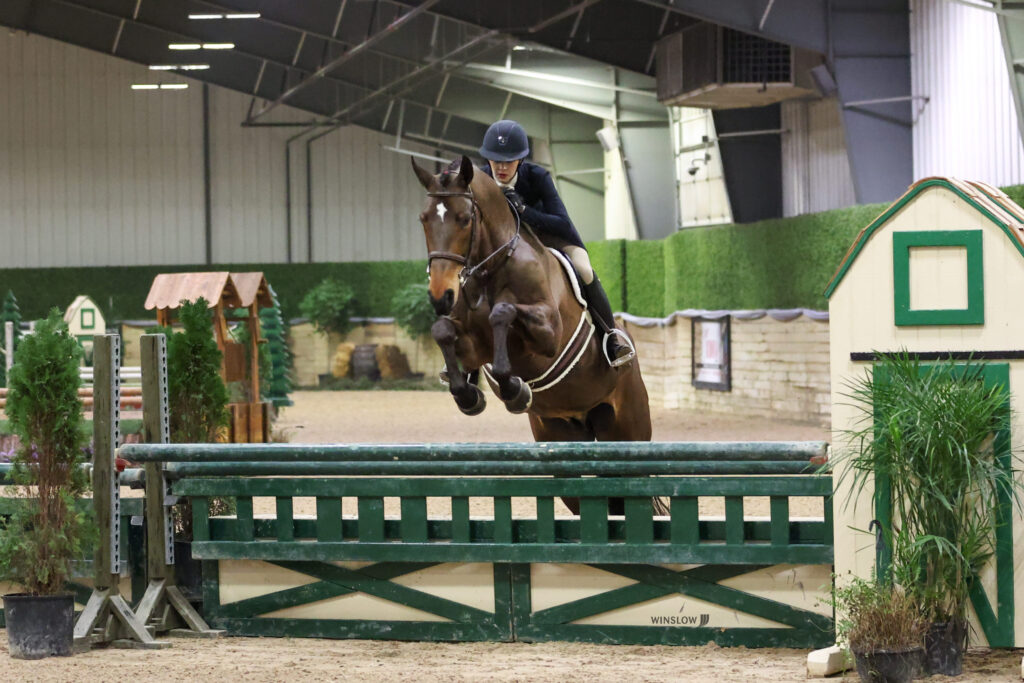 Amanda Wildauer and C Major (C Waterford x Nienke) scored a major win in the $15,000 USHJA National Non-Pro 3' Hunter Derby. Wildauer training out of Hunt Hill Farm and her own nine-year-old American Warmblood gelding earned two scores of 88 for a two-round total of 176 to notch the win.
Wildauer returned for the handy phase sitting in second place and looked to ride her way to the top of the leaderboard. "We just wanted to be as handy as we could be. If there was an inside track, I took it. We practiced a few roll backs and tight turns in the schooling ring. I worked on getting him to land his leads and he was awesome coming back for the second round," shared Wildauer.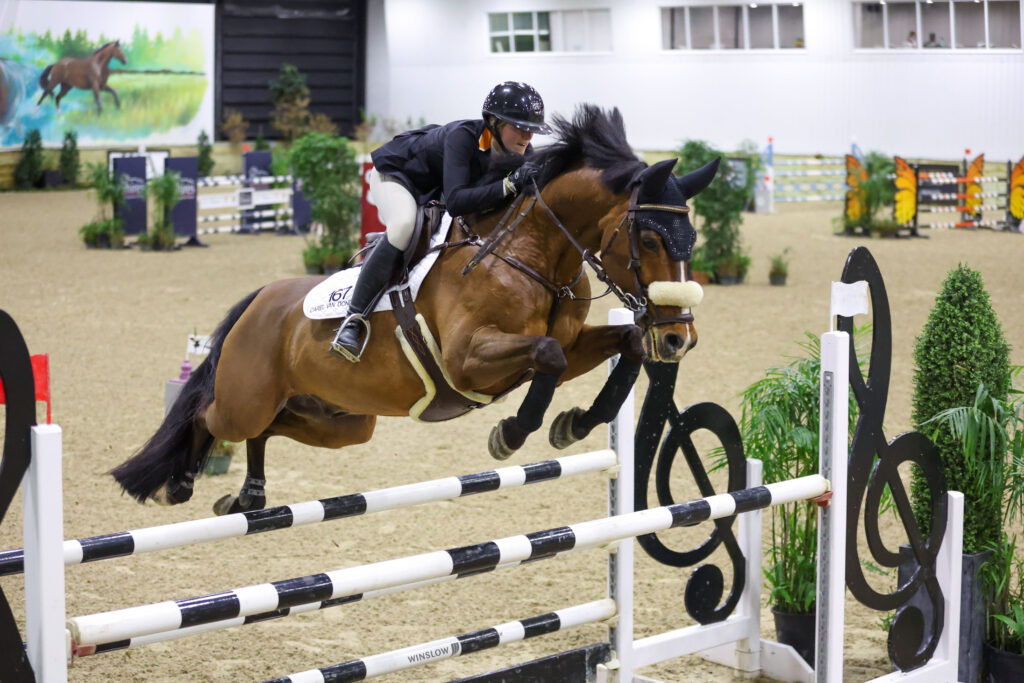 It was another strong showing by Darby Pease (USA) who piloted Carel Van Donderen (Acolino x Terania Die Hoeghte) to the $10,000 Welcome Stake win besting a field of 13 athletes. Pease of Windcrest Farm, mastered the jump-off track making all of the inside turns aboard her 16-year-old Dutch Warmblood gelding to post a winning time of 35.492 seconds.
"The course was really nice, I really liked it. I watched a lot of people have the last vertical down in the first-round so I rode super carefully to that. I didn't see anyone else do the jump-off, but I walked all of the inside turns, so I thought I might as well go for it since Carl [Carel Van Donderen] is always game," Pease shared of her winning performance.
Make sure to visit the WEC Blog and follow us on social media @worldequestriancenter for full coverage on all feature classes!
Results can be found at HorseShowing.com.
All horse show images are provided by Winslow Photography and can be purchased onsite at WEC – Wilmington or online through their website.