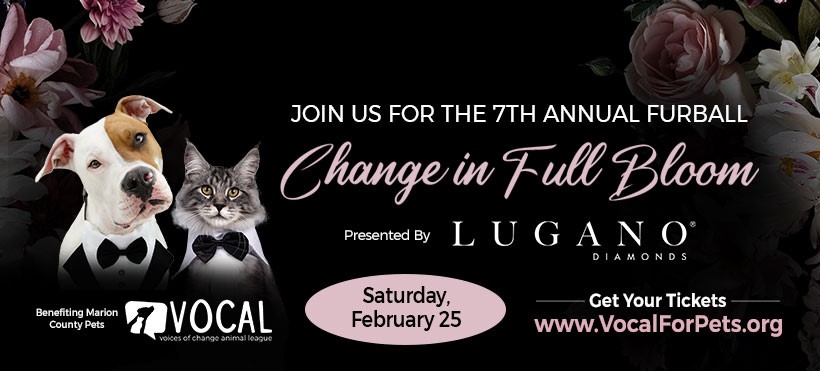 Ocala, FL – As a canine's age multiplies by seven years to just one year for humans; the successful growth of VOCAL can be measured in much the same manner as the organization hosts its signature fundraiser to continue the mission of helping homeless animals in Marion County.
The 7th Annual Furball gala – "Change in Full Bloom" presented by Lugano Diamonds, gets underway on Saturday, February 25, 2023, at World Equestrian Center – Ocala in Expo Center 1. The event's purpose is to raise awareness of homeless animals in the area and to raise funds to support VOCAL's programs that serve the local community.
VOCAL, which stands for Voices of Change Animal League, started in 2015 as a solution to address the growing homeless pet population with a four-prong approach of prevention, community outreach, adoption and collaboration. Now, seven years later VOCAL has expanded its reach to offer low-cost spay/neuter, drive-thru vaccination clinics, low-cost veterinarian procedures, a pet food bank, adoptions and a network of additional resources in the community.
The Furball is the signature fundraiser event for VOCAL each year. The proceeds in 2019 helped complete construction of the VOCAL Community Clinic & Resource Center. The fundraising goal for 2023 is $125,000 which will be allocated to support VOCAL's mission of solving the homeless pet problem.
Event Sponsors include: Presenting – Lugano Diamonds; Platinum – Ocala Horse Properties, Solar Trek, Penn Flooring; Gold – Florida Express Environmental, Gold's Gym, Freedom Nissan, Ocala Fence; Silver – ClosetMaid, Easy Green Services, Furlong Financial Group, PLLC, Sullivan Cadillac, Ocala Periodontics & Dental Implants, Cone Distributing, SouthState Bank, First Federal Bank and Sabal Direct Primary Care.
VOCAL's Tammy Green Daniels Fix the Future Fund is another part of VOCAL's approach to solving the homeless pet problem. Too often, owner's are faced with having to surrender their pets or leaving their pets to suffer when they cannot afford care. The Tammy Green Daniels Fix the Future Fund subsidizes veterinarian services for pet owners who may not be able to afford the care for a pet and at the Community Clinic & Resource Center. The fund is named in honor of Tammy Green Daniels, one of the group's earliest volunteers who was passionate about the care of animals.
"Our Furball is the most important fundraiser we have each year. There is nothing like sharing our mission, in person, with so many people who care about the pets in Marion County," said Kate Rengel, VOCAL co-founder. "Having the event in February really sets the tone of VOCAL's whole year. Our team leaves the Furball so inspired, knowing that we have a community behind us who believes in us and will help us preserve and hit our goals throughout the year. We are so grateful for the generosity of this community."
In past years, the gala was hosted at Golden Ocala Golf & Equestrian Club, however the Furball has grown in popularity which made it necessary to locate to a larger venue at World Equestrian Center – Ocala in order to accommodate more guests. The event draws local animal lovers, with many attending the gala year after year along with a number of local businesses who have signed on as supporting sponsors.
"The Furball is an event for anyone who loves animals and wants to support our local community. All funds raised at the event help animals in Marion County," said VOCAL Vice President/Founder Lauren Carpenter.
Although the Furball is a formal, black-tie optional event, Carpenter explained that it is a fun, friendly atmosphere and the attire is not something to stress over. The evening will include entertainment by The Stagers performing a wide selection of music from pop, rock, R&B/soul, Latin and swing to get the crowd moving.
Guests arriving when the doors open at 6 p.m. will be treated to an open bar cocktail hour along with an array of hors d'oeuvres that will later be followed by a delectable 3-course dinner prepared by the talented culinary staff at World Equestrian Center – Ocala. The open bar cocktail hour is generously sponsored by Bill & Cheryl Findlay.
Throughout the evening, guests will have opportunities to help VOCAL exceed the fundraising goal by participating in the Silent Auction and the 50-50 Raffle. A Cuddle Lounge will also be on site where guests can donate to the 50-50 raffle in return for an opportunity to visit with the Furball Ambassador and take a selfie. This year the Cuddle Lounge ambassador will feature one of VOCAL's adoptable dogs, Mermaid. Mermaid is an amazingly friendly tri-colored tri-pod who steals the hearts of everyone she meets.
Tickets to attend the 7th Annual Furball are $150 and are available for purchase online at https://vocalforpets.org.