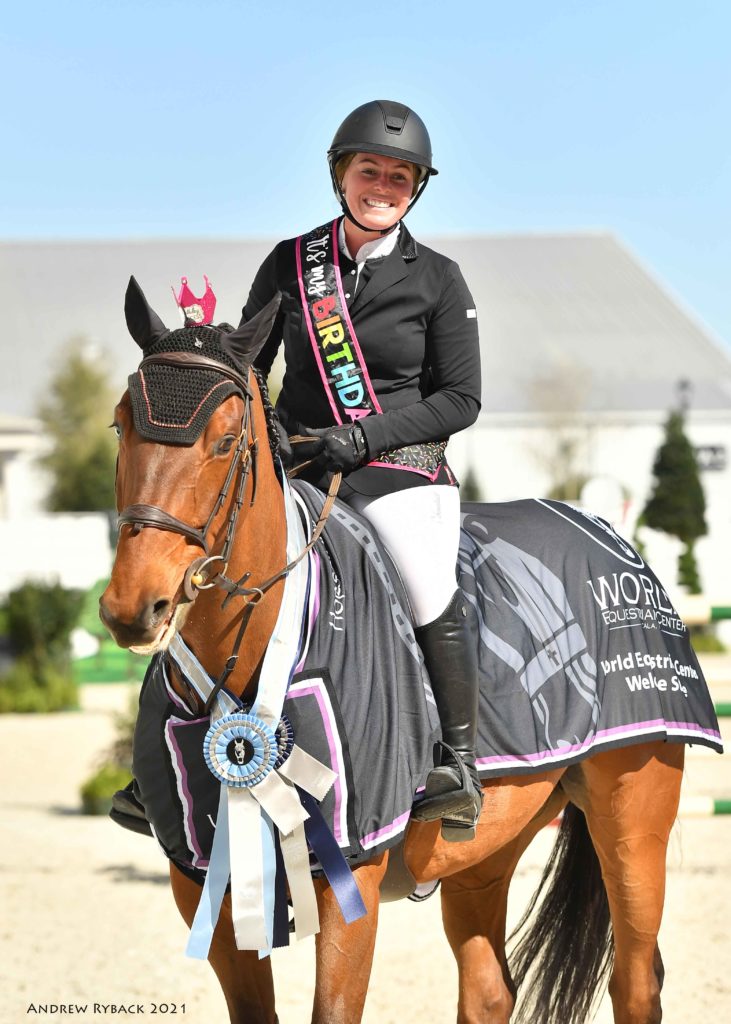 Feature classes for Week 9 of the World Equestrian Center – Ocala Winter Spectacular kicked off this afternoon with 22 entries vying for the win in the $20,000 WEC Welcome Prix. The course for the class was designed by Catsy Cruz of Mexico and featured a winding track that included a triple bar and two combinations. Just three entries managed to jump double clear with 1st and 2nd place separated by just four hundredths of a seconds, but it was Kady Abrahamson aboard Sharn Wordley and Steve Tinti's Banco Du Moulin (Popstar Lozonais x Gerboise Du Moulin) that claimed the victory. The exciting win was magnified by the fact that today is Abrahamson's birthday, and she led the victory gallop adorned with a birthday sash, while Banco Du Moulin wore a tiny pink crown to celebrate.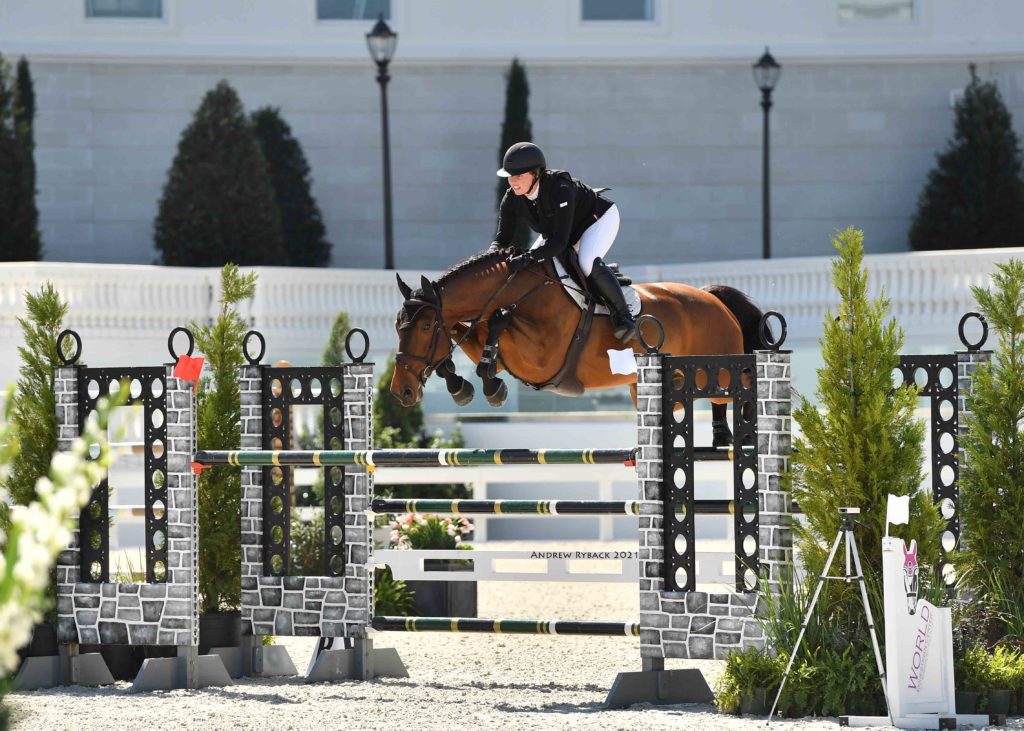 Abrahamson and the 10-year-old Selle Francais gelding have collected several ribbons in the high amateur classics throughout the season and stepped up to the 1.45m height this afternoon for the $20,000 WEC Welcome Prix. The pair took to the course about halfway through the order and managed one of the fastest first rounds of the class, jumping clear in 76.611 seconds, well within the time allowed of 80 seconds. They continued straight to the jump-off and, though there were no obvious inside turn options, Abrahamson and Banco Du Moulin hugged the inside track. They raced through the timers at 39.873 seconds, moving to the top of the leaderboard where they remained throughout the class. Abrahamson also earned 10th place aboard Abrahamson Equestrian's Castello D (Caplan x Nanook). The pair had one unlucky rail in the first round, but their time of 78.733 seconds was enough to keep them in the ribbons.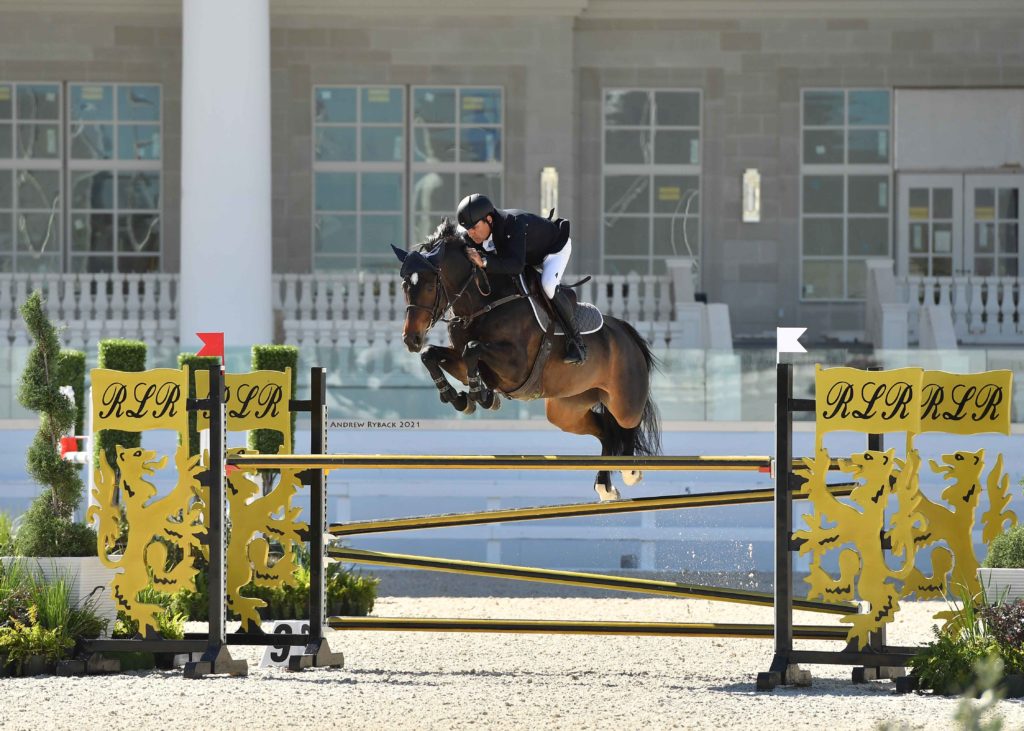 Santiago Lambre and his own Easy Girl (Conthargos x Nanina) gave Abrahamson and Banco Du Moulin a run for their money. Lambre and the 10-year-old mare have earned several top placings in the $20,000 WEC Welcome Prix and $75,000 WEC Grand Prix this winter and returned to the WEC Grand Arena this afternoon in search of a win. The duo navigated a clear first round in 79.871 seconds, just within the time allowed, conserving plenty of energy for the short course. They advanced straight to the jump-off, taking an unexpected and tough inside turn to fence 10, shaving crucial seconds off of their time. The pair stopped the clock at 39.914 seconds, just four hundredths of a second behind Abrahamson and Banco Du Moulin for 2nd place.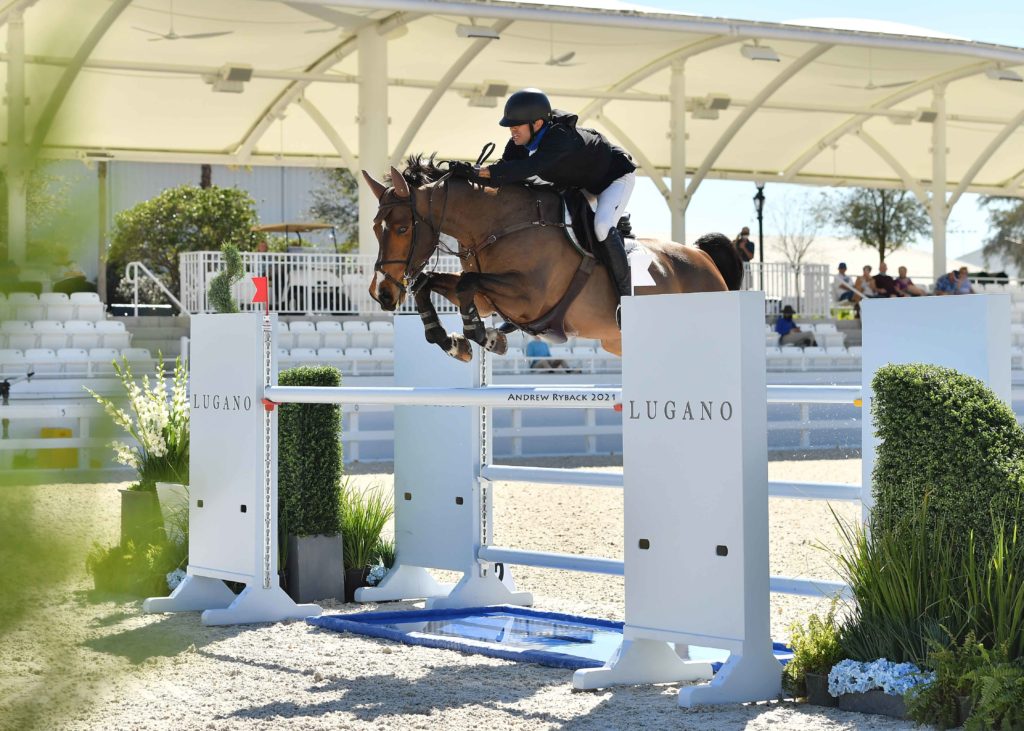 The only other entry to jump double clear in this afternoon's class was Chase Boggio and his own Copilot (Coney Obellnsty x Pauline). Boggio and the Westphalian gelding have earned ribbons in several prix classes and were on form this afternoon. The pair jumped a clear first round in 79.501 seconds before continuing straight to the jump-off. On the short course, Boggio and Copilot chose to stay slightly more conservative to ensure that they kept all rails up. Their plan succeeded and the pair crossed the timers at 43.119 seconds with a second clear round for a 3rd place finish.
Abrahamson took time to chat with us ringside about her win, "Riding both Banco Du Moulin and Castello D in this class was kind of a last minute decision. They are both just moving up with me. Castello D is very green and this was his second welcome prix class, and this was actually my first welcome prix with Banco Du Moulin. He is owned by Sharn Wordley and Steve Tinti, and I just got the ride on him a few weeks ago. I've been showing him in the highs and he won one of the classes. He wasn't going to show this week, but we decided to try to move up this week, and that ended up being a good plan!"
When asked about her plan in the jump-off, Abrahamson replied, "I didn't want to go too fast in the jump-off because he's naturally a really fast horse. I knew that if I kept him at his medium pace, he would still be quick. I just wanted to give him a good ride."
Abrahamson described Banco Du Moulin, "He is 10 years old, this year. Steve Tinti imported him and Sean Jobin rode him as an 8 and 9-year-old, and I recently got the ride on him. he is super easy-going and very game. He is always looking ahead in the jump-offs and he is super careful, so I know that I can take a bit of a chance here and there. He does not want to touch the jumps. He gave me a great birthday present with today's win!"
She also added, "Thank you to Steve and Sharn for allowing me to ride Banco Du Moulin, it's been really fun."
$20,000 Welcome Prix Results
Banco Du Moulin, Kady Abrahamson – 0 | 0 | 39.873
Easy Girl, Santiago Lambre – 0 | 0 | 39.914
Copilot, Chase Boggio – 0 | 0 | 43.119
Essince W, David Beisel – 0 | 4 | 38.536
Arpeggi, Brooke Kemper – 0 | 4 | 40.213
Cinven CR, Bryn Sadler – 0 | 4 | 40.901
Rocket J Squirrel, Brooke Kemper – 4 | 75.947
MTM Kappa Kappa, Brooke Kemper – 4 | 76.743
Felex, Tom Foley – 4 | 77.945
Castello D, Kady Abrahamson – 4 | 78.733
Photos courtesy of Andrew Ryback Photography.