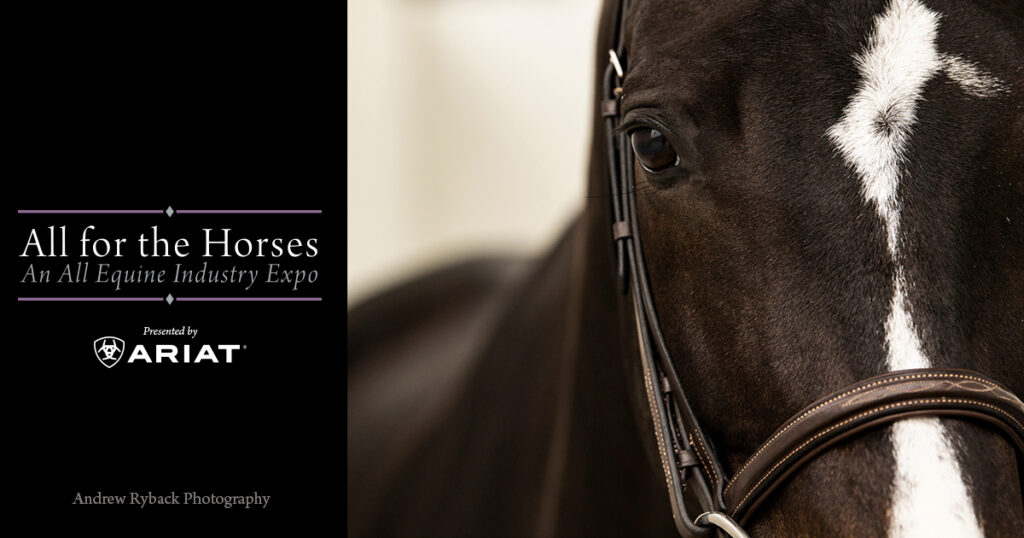 January 25, 2023 – Ocala, Fla. – The All for the Horses Expo, an all-equine industry tradeshow presented by Ariat International, Inc. will be held on March 3-5, 2023, at World Equestrian Center – Ocala and feature a carefully curated collection of equestrian and lifestyle vendors selling items from tractors, jewelry, home furnishings, apparel, equine products, and more. The expo will be open to spectators from 9 a.m. to 6 p.m. each day. General admission and parking are free.
The inaugural expo will welcome more than 150 vendors to Exposition Center 1.  The concurrent timing of natural horsemanship legend Pat Parelli's horsemanship class on March 4-5 in Arena 5 and the first Fédération Equestre International (FEI) CSI3*-rated show jumping competition at the Winter Spectacular Show Series, will ensure record attendance for the inaugural event. If you are a horse lover it is a weekend not to miss!
Vendors such as Ariat, Mare Modern Goods, Redingote Equestrian, Wildheart Leather, Pup and Pony Patisserie, Florida Coast Equipment, A Sudden Impulse Boutique, IDA Development, Grey Fox Design, Billie's Western Hats and many more will be there.
Once you have shopped at the expo, stick around on Friday, March 3 at 1pm, see bluegrass band Florida Flatlanders and Saturday, March 4, at 1pm. to see the country duo Martin & Kelly perform.
Vendor applications must be sent to Christy Baxter at Christy.Baxter@wec.net by February 3, 2023.
About World Equestrian Center
World Equestrian Center features two premier equestrian and multidisciplinary venues in Ocala, Florida, and Wilmington, Ohio.
These exclusive facilities comprise state-of-the-art arenas, expansive stadiums, versatile outdoor space, sporting fields and well-appointed exposition centers. An abundance of lodging options and luxury accommodations are conveniently located on-site, along with shopping and dining throughout each property.
Dedicated to offering great sport and good fun in a family-friendly environment, World Equestrian Center promises an unparalleled experience for exhibitors, spectators, vendors, sponsors and retailers built on three core values: Quality. Class. Distinction.
Media Contact:
Candace FitzGerald
candace.fitzgerald@wec.net