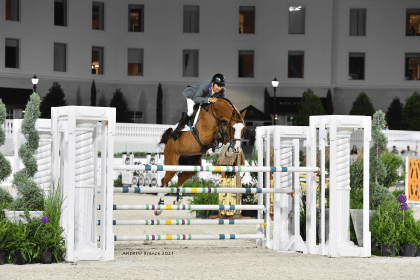 The WEC Grand Arena hosted thrilling equestrian sport today for the $75,000 Calluna Spa Grand Prix and the $10,000 WEC Ocala Futures Prix. A familiar face in the winner's circle, Aaron Vale of Williston, FL, once again led the grand prix victory gallop with Major, owned by Sleepy P Ranch LLC. Earlier in the day, Erato M and Carlo Graziani were awarded winners in the Futures Prix.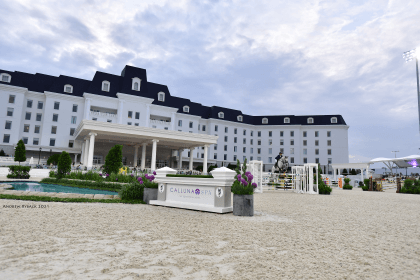 $75,000 Calluna Spa Grand Prix
This evening's $75,000 Calluna Spa Grand Prix hosted 52 entries under the lights in the WEC Grand Arena. 2016 Olympic Games course designer Guilherme Jorge of Brazil designed a technical track that included a triple bar to a narrow triple combination, as well as a double oxer combination which challenged riders. Sixteen entries advanced to the jump-off but it was Vale and Major who found the key to victory.
Vale produced a clean first round on all four horses that he entered in the class, qualifying all of his mounts for the jump-off. Three of Vale's horses were awarded in the top 10 honors, with Major taking the victory.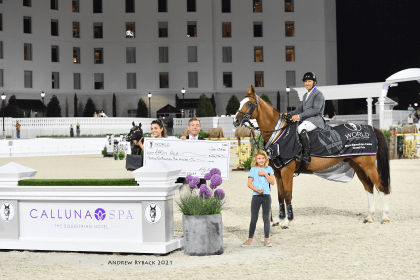 Vale brought his A-game once again tonight, piloting the 13-year-old Danish Warmblood gelding through a clear first round and stopping the clock at 37.527 seconds as the fastest time in the jump-off. He described, "I took eight strides back to the Tribute jump, but it was wide, so it was a very fast eight. On my first horse I got eight and thought, darn, I could have done seven but with Major, the stride out on the first line carried me wide which gave me a ton of momentum so even though I didn't leave out, it was still really fast."
Vale and Major (Carmargue x Pinot) won two grand prix classes during the winter circuit at World Equestrian Center – Ocala.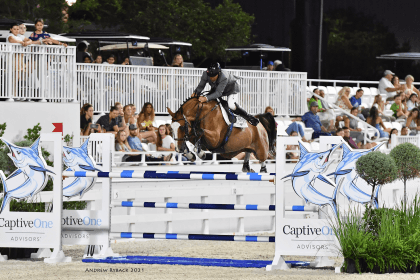 "Major is an experienced horse," said Vale. "I have to be careful with him in certain places but once in a while the class set up doesn't allow you to be careful. Luckily, he is a natural bloody horse, so it was enough to get the job done.
"He was second twice, then third, fourth, and sixth place the last week," said Vale, who won five of the 12 grand prix classes offered during the Winter Spectacular. "He showed here about seven times and was in the money every time."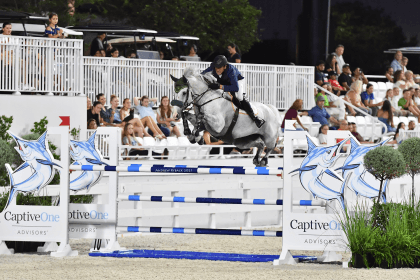 Just behind Vale and Major were Rowan Willis of Ocala, FL, and his own Ashton Dakota (Lupicor H x Pomina M). Willis and the 13-year-old SHBGB gelding were clear in the jump-off and just off the winning mark in 38.176 seconds to earn the second-place finish.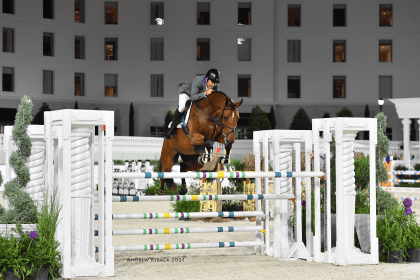 Vale rounded out the top three on his other mount, Prescott, a nine-year-old Holsteiner gelding by Lordanos owned by Thinks Like a Horse. Vale and Prescott delivered a fast and flawless first round stopping the clock at 78.078 seconds, earning Vale his fourth spot in the jump-off. The pair navigated a fast and clear jump-off in 38.235 seconds, just 0.059 seconds behind Willis and Ashton Dakota.
"This is his first year in the bigger classes," said Vale of his young horse. "I went quick with him, but I knew that I already had the class win and there are still many more weeks of shows left. I don't want to burn all the rubber off the tires."
An additional $5,000 was awarded to the fastest four-faulter of the $75,000 Calluna Spa Grand Prix. It was Tracey Fenney of Flower Mound, TX, and MTM Dolce Vita, who received a very fast first-round time of 73.219 seconds, 1.475 seconds faster than the second fastest four-faulter in the first round, Johan Kachelhoffer of Wellington, FL, and Cosmona.
$75,000 Calluna Spa Grand Prix Results:
1. Major, Aaron Vale (USA), Don Stewart Sleepy P Ranch LLC: 0 | 0 | 37.527
2. Ashton Dakota, Rowan Willis (AUS), Rowan Willis: 0 | 0 | 38.176
3. Prescott, Aaron Vale (USA), Thinks Like a Horse: 0 | 0 | 38.235
4. ABC Quantum Cruise, Diego Billbao (ESP), Wyndmont Inc.: 0 | 0 | 39.573
5. Diamant's Legacy, Jordan Petersen (USA), Derek Petersen: 0 | 0 | 39.741
6. MTM Reve Du Paradis, Tracy Fenney (USA), MTM Farm: 0 | 0 | 40.263
7. Gatsby, Sharn Wordley (NZL), Sharn Wordley: 0 | 0 | 40.468
8.Koblenz Van De Vinusakker, Samuel Prot (CHI), Samuel Prot: 0 | 0 | 40.658
9. Chaccman, Aaron Vale (USA), Thinks Like a Horse: 0 | 0 | 40.883
10. Cinderella Z, Shawn Casady (USA), Caroline's Kids LLC: 0 | 0 | 42.132
Carlo Graziani and Erato M Conquer the $10,000 WEC Ocala Futures Prix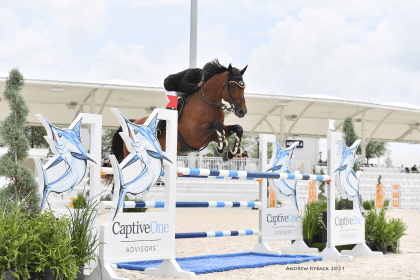 Earlier this afternoon, 32 entries took to the WEC Grand Arena to contest the $10,000 WEC Ocala Futures Prix, which featured another technical course designed by Guilherme Jorge. Just seven pairs qualified for the jump-off, with only Carlo Graziani of Wellington, FL, and Erato M going clear in the second round, earning the first-place finish.
First on course, Graziani, who rides for Puerto Rico, and his own Erato M (Cardento x Nadia) produced a first clear round and headed straight for the jump-off. "I think staying in is better because this horse takes a little bit to warm up," explained Graziani. "I don't consider him a speed horse, but he is very consistent, very careful, very scopey and jumps a lot of clean rounds."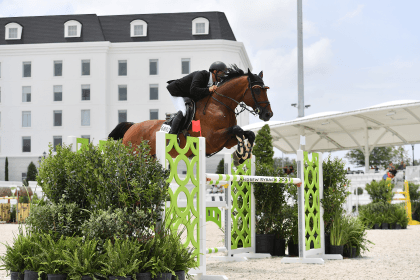 Graziani and Erato M, a 12-year-old Dutch Warmblood stallion produced a clean and smooth jump-off round, leaving a stride out from the Lugano fence to the tall vertical coming toward The Equestrian Hotel, stopping the timers at 38.456 seconds for the win.
"I always have a plan to be as quick as we can," said Graziani. "The jump-off worked for us because the jumps were pretty spread apart so there wasn't a whole lot of tight turns. It worked out to our advantage because I could just use his stride and open him up to just let him canter."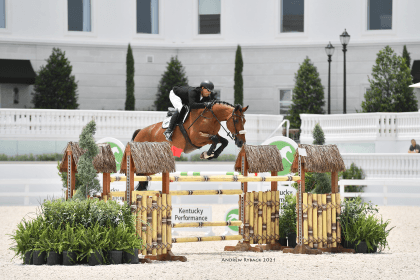 Karl Beyer of Ocala, FL, who won the $10,000 WEC Ocala Futures Prix last week on Emerado, captured the second-place finish this afternoon on I Adermie R 4, an eight-year-old Dutch Warmblood mare by Den Ham Blue R owned by Sabrina Lefebvre. Beyer and I Adermie R 4 produced a fast clean first round, stopping the timers at 74.442 seconds well under the time allowed of 81 seconds. After completing his first-round course, Beyer and I Adermie R 4 jumped off immediately, to earn second place in a fast time of 35.356 seconds with four faults.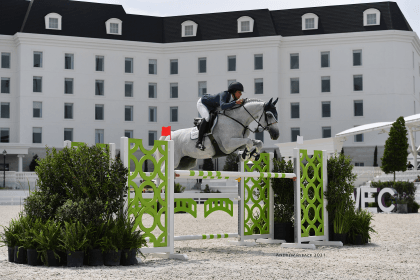 Samantha Senft of Lake Worth, FL, and her own Desperado (Up to Date x Unity Grace), a 13-year-old KWPN gelding by Up To Date, stopped the jump-off clock at 36.118 seconds with four jumping faults to secure a third-place finish.
$10,000 WEC Ocala Futures Prix Results:
1. Erato M, Carlo Graziani, Carlo Graziani: 0 | 0 | 38.456
2. I Adermie R 4, Karl Beyer, Sabrina Lefebvre: 0 | 4 | 35.356
3. Desperado, Samantha Senft, Samantha Senft: 0 | 4 | 36.118
4. Cerati, Juan Jose Bancalari, Juan Jose Bancalari: 0 | 4 | 36.937
5. MTM Through The Looking Glass, Dorothy Douglas, Davenport Farms: 0 | 8 | 33.749
6. Con Thargos, Gianni Gabrielli, Perla Boord: 0 | 8 | 37.052
7. Univers d'Or, Angela Covert, Angela Covert: 0 | 8 | 40.416
8. Itile Horta, Heather Steinmen, Livhaven Stables: 4 | 72.440
9. Skyfall, Camille Maddrix, Caroline Michele Dugas: 4 | 74.752
10. Canaan, Jenna Friedman, Oakridge Farm Performance Horses, LLC: 4 | 75.358
Photos courtesy of Andrew Ryback Photography.