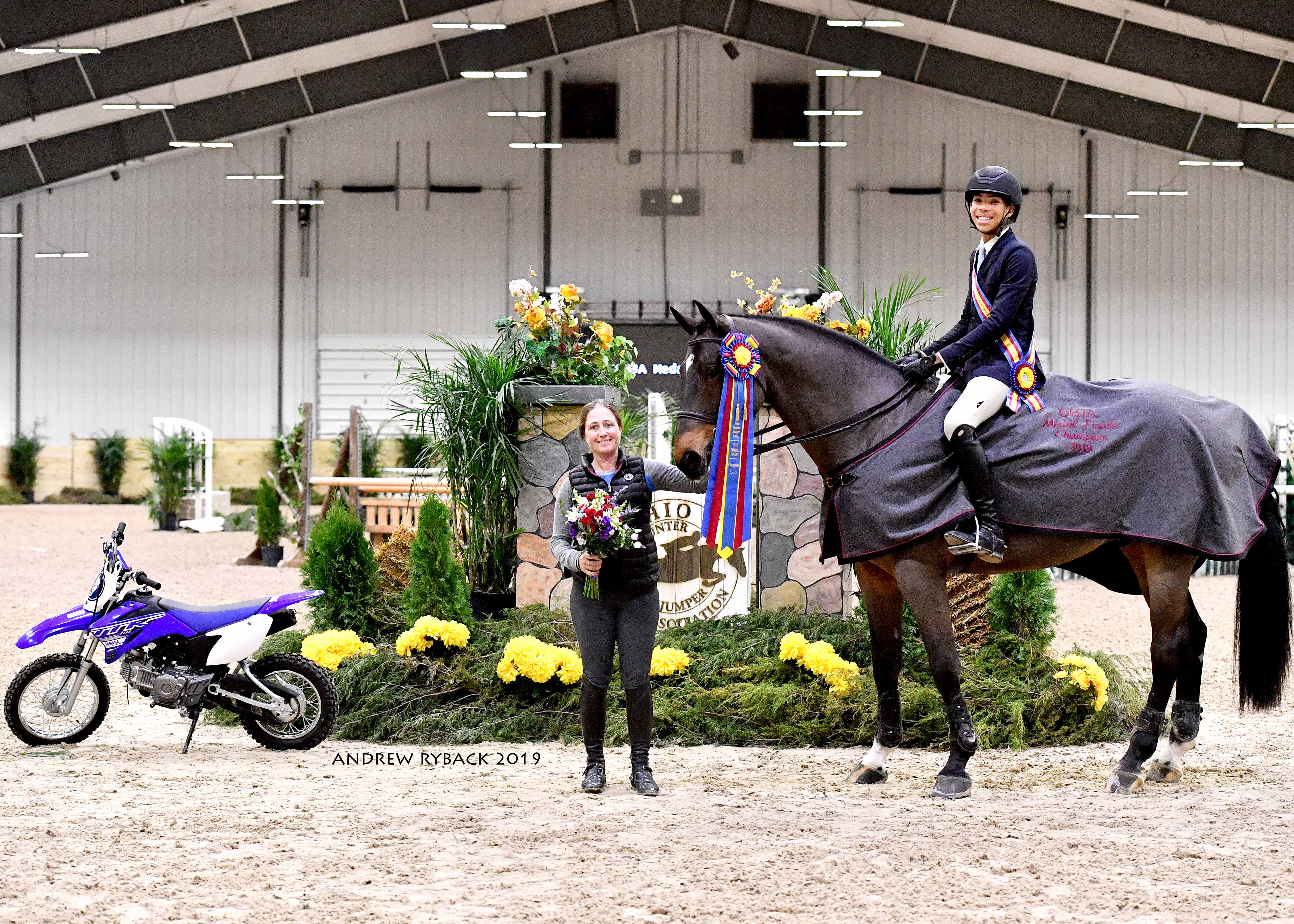 The R+L Arena played host this evening to nineteen accomplished horse and rider combinations vying for top honors in the highly anticipated Ohio Hunter Jumper Association (OHJA) Medal Final 3′-3'6″. Spectators enjoyed a lovely exhibitor party dinner at the ingate while they watched all of the action unfold. Entries worked throughout the year to qualify and prepare for tonight's Medal Final and competition was fierce, but it was Alexander Alston and Alston Alliance, LLC's Ecuador (Applaus x Jalma) that earned top honors and took home a stunning OHJA ribbon and cooler as well as a brand new Yamaha TTR 110E sponsored by World Equestrian Center. Ecuador's groom, Kelsey Sweeney, also received prizes sponsored by World Equestrian Center including a Champion EquiFit backpack.
The course for tonight's OHJA Medal Final 3′-3'6″ featured several bending lines, a one-stride line and a rollback that offered riders a multitude of tracks. We caught up with course designer Joseph Carnicom before the class to hear his thoughts on tonight's course, "Hearing that the riders showing in the OHJA Medal Finals are pretty talented, I tried to give them a nice, challenging course. I tried to keep in mind that the class is a very equitation-type final. There aren't a lot of spots to catch your breath. You jump fence one, then everything after that is pretty related for the remainder of the course. You're right into the course and on your toes for the rest of the class."
Anne Thornbury, Director at OHJA, also commented on both the class and the course, "The kids put in countless hours of preparation for this class at home as well as in the show ring. Practice makes perfect. In OHJA, we try to support the kids and give them a class that's worth working hard for. I think the course is lovely this evening. The prizes look great. World Equestrian Center always does a fabulous job. The dinner looks awesome. We try to put on a great event to reward the kids, trainers and grooms for all of their hard work."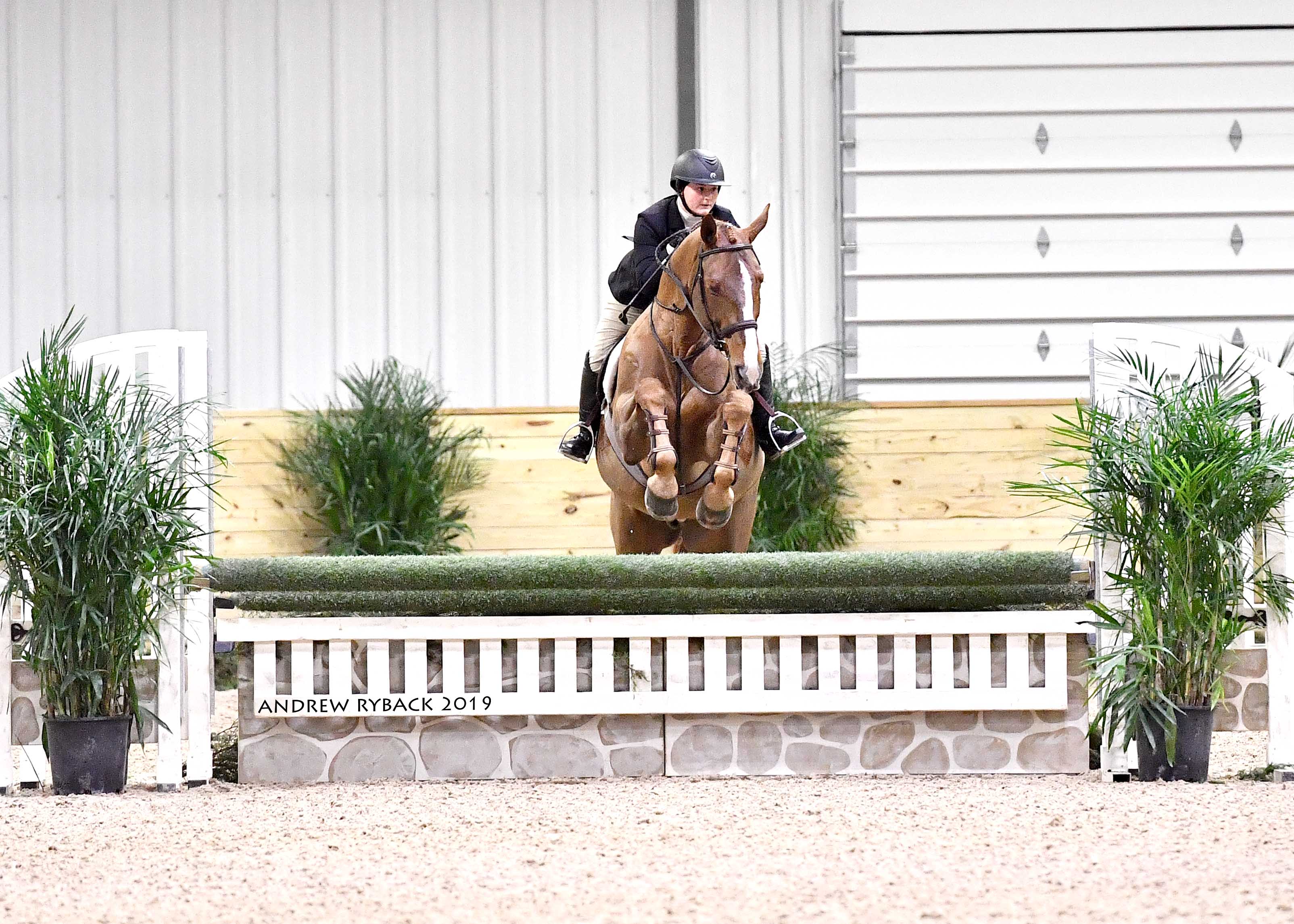 The evening began with the 3′ section of the Medal Final. Near the top of the order, Emily White and her own Scandeek (Quite-L x Smolf) set the tone for the class with an impressive round. The pair took first place in the National Horse Show KHJA Equitation Trophy class just one month ago, preparing them well for tonight's technical course. This evening, White and the fifteen year old Danish Warmblood gelding showed off their handy skills, navigating the course with ease and taking a tight rollback turn to fence eight that just one other entry attempted, upping the ante for the remaining entries.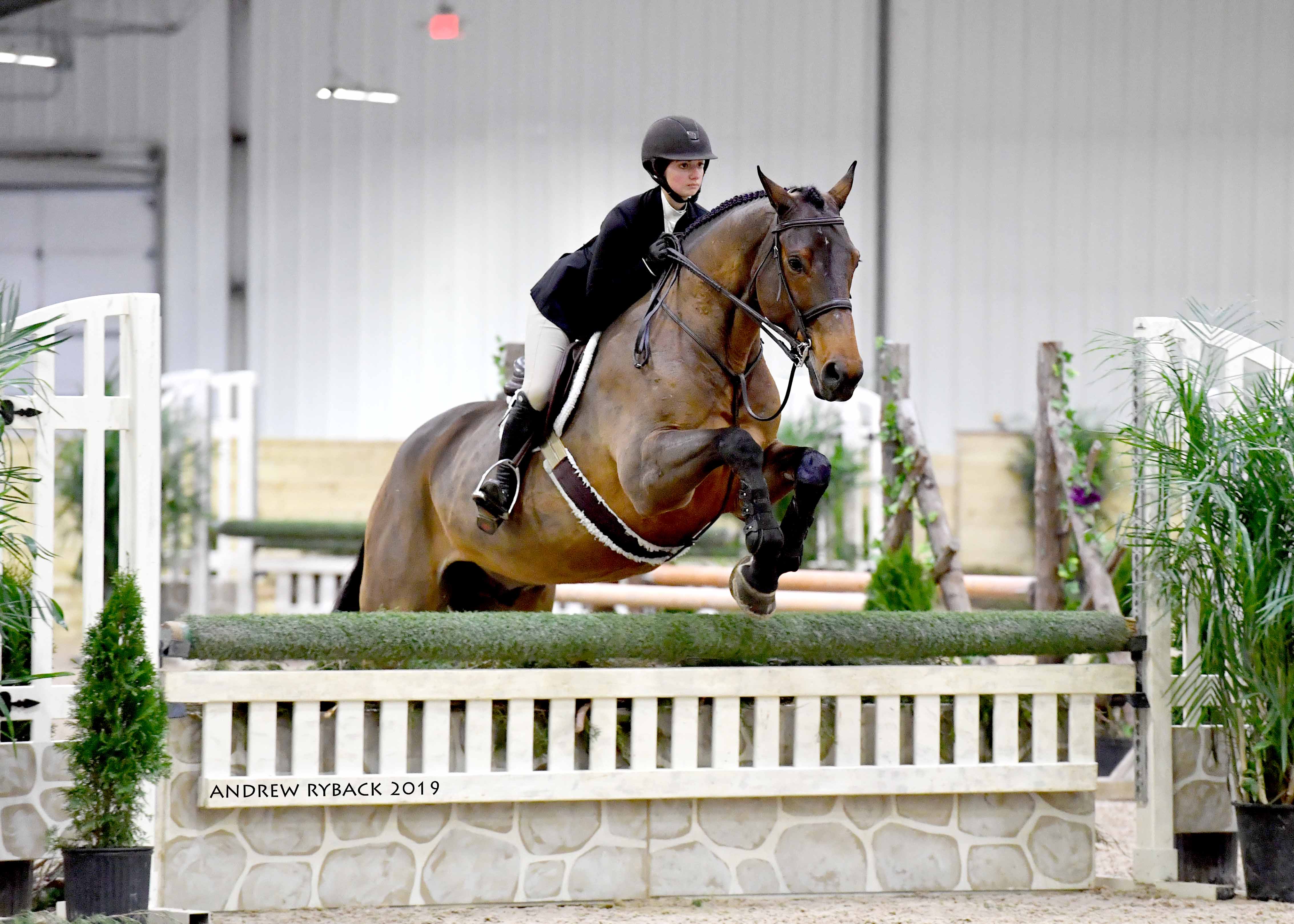 Sydney Walls and Clear Ride LLC's Captain Jack (Chello) were next in the order and were up for the challenge. Captain Jack has competed in his fair amount of medal classes, but this was the first time that he and Walls would contest a medal course together. Walls and the fourteen year old Holsteiner gelding were completely simpatico, finding each fence out of stride and executing a lovely handy inside turn to fence eight.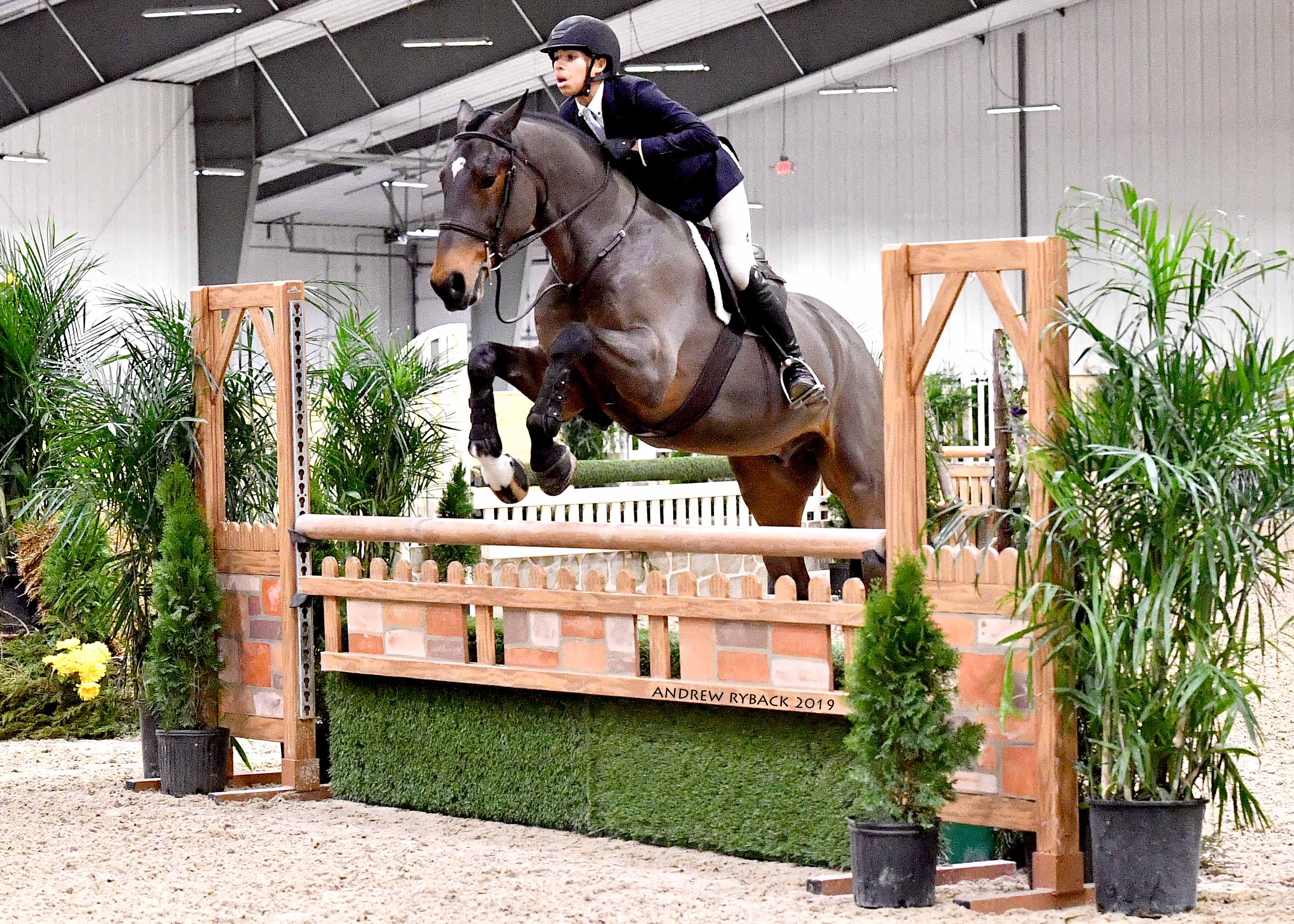 The jump heights were raised to 3'6″ for the final two entries. Alexander Alston and Alston Alliance, LLC's Ecuador (Applaus x Jalma) were first to contest the 3'6″ height, laying down an impressive round. The pair took top honors in several medal classes throughout 2019, preparing them for tonight's OHJA Medal Final. This evening, Alston and the ten year old KWPN gelding navigated a foot perfect round, opting for the wider turn to fence eight.
The top twelve were called back into the ring for the flat phase of the OHJA Medal Final 3′-3'6″. Among the top competitors were White, Walls and Alston. It was no-stirrups November in the ring as the flat phase began with the announcer asking riders to drop their stirrups. The irons remained off for the entirety of the flat section as the judge asked for a sitting trot, rising trot and canter in both directions before calling for entries to line up in the center of the ring.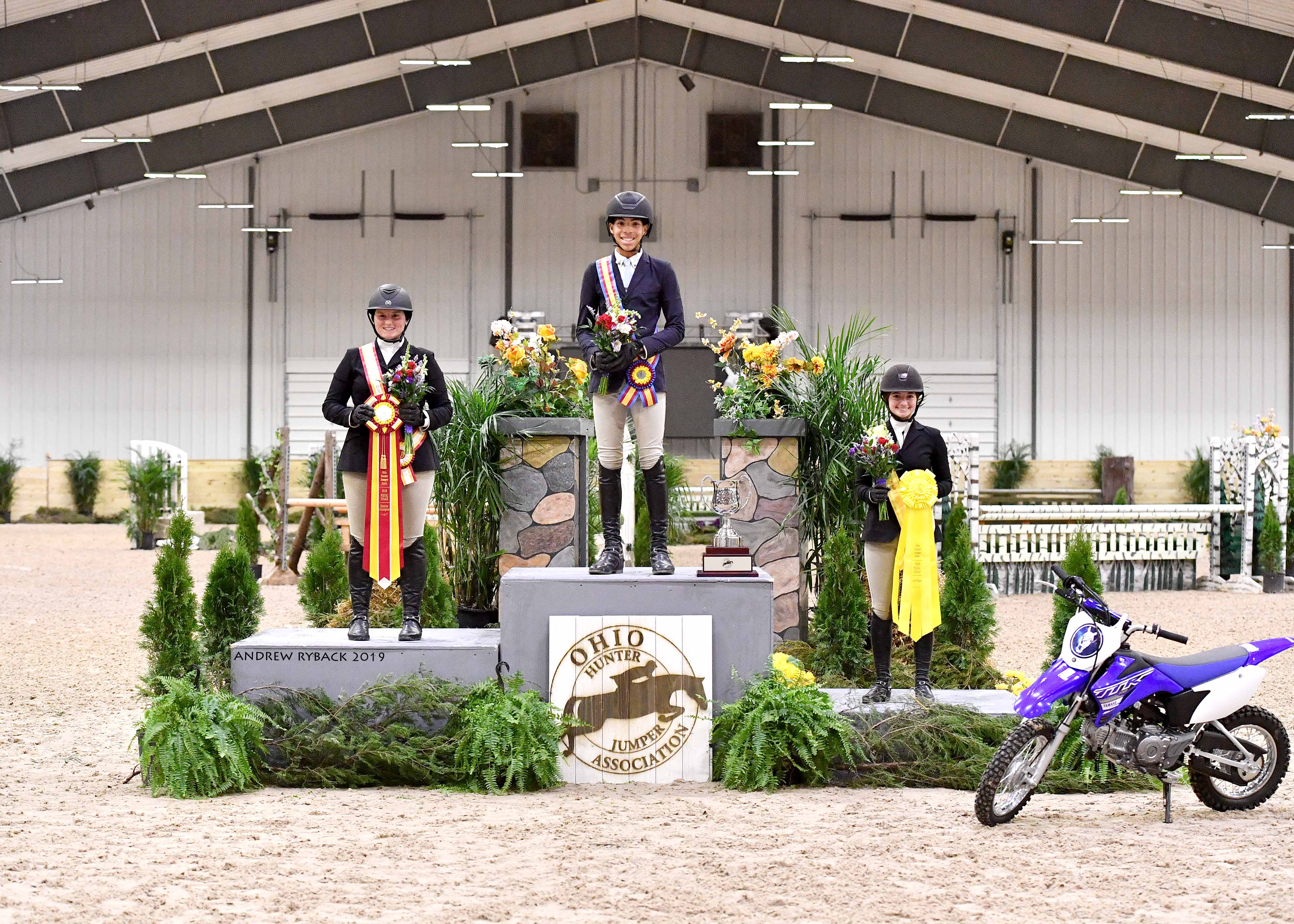 The top ten back numbers were called back into the ring with trainers and grooms joining them. When it was time for the top three results, just White, Walls and Alston remained. There was no shortage of smiles as Walls and Captain Jack were awarded third place, White and Scandeek were awarded second place and Alston and Ecuador were crowned champions of the OHJA Medal Final 3′-3'6″.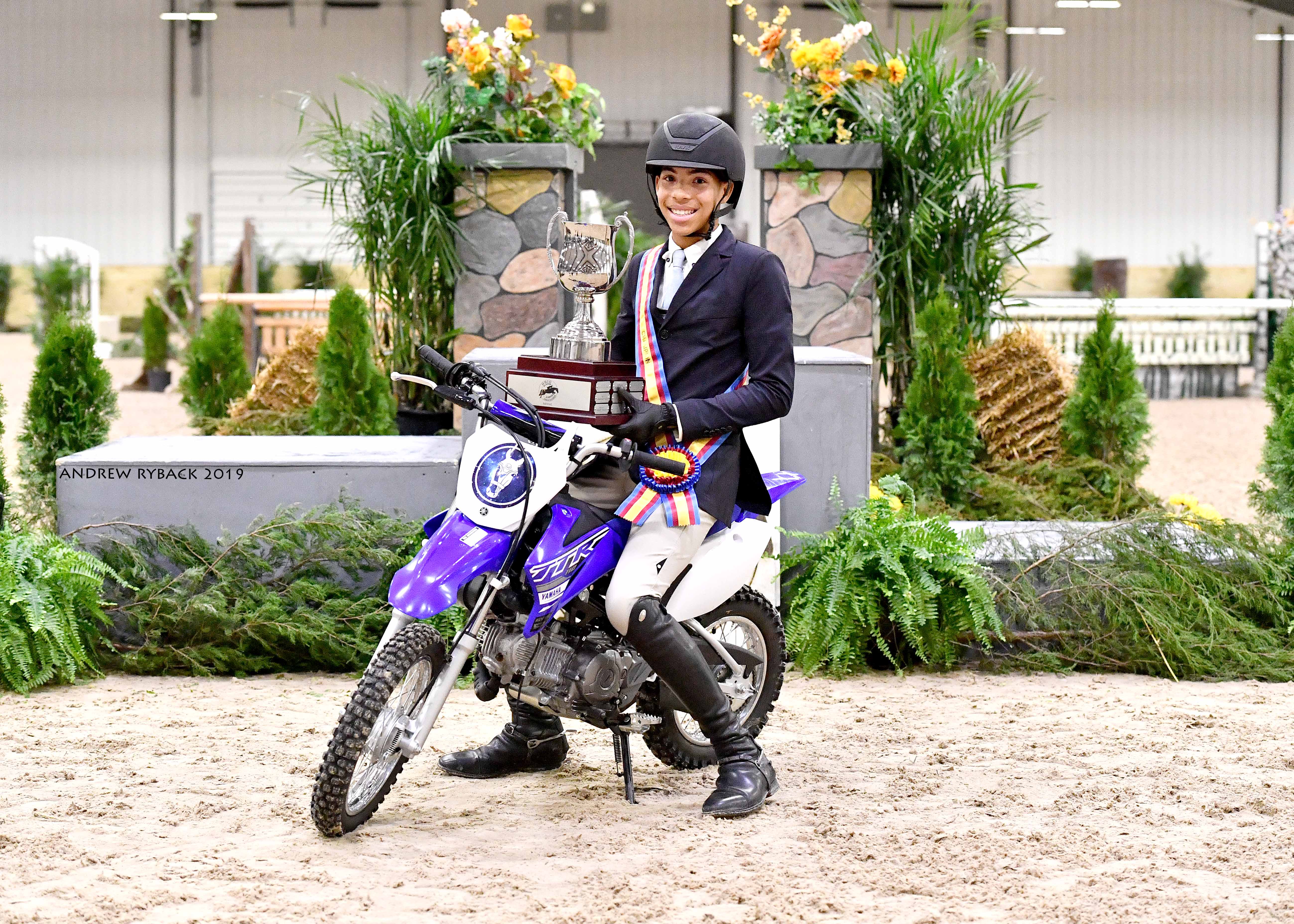 Alston took the time to chat with us ringside after the awards presentation. He began by explaining his thoughts on the course "I thought my round was pretty good, I just tried for a nice, consistent round to hopefully make it back in the top twelve. My plan was to get a nice canter, because once I pick up a good canter it kind of just all shows up. I decided not to take the tight inside turn to fence eight because I wanted to play it safe. I wanted a good round."
When asked how he felt about winning the OHJA Medal Finals and a Yamaha TTR 110E, Alston commented, "This is one of my biggest wins. I was sixth at the USHJA Hunterdon Cup Equitation Classic over the Summer, so that was another big one. I'm very excited to win the dirt bike, it will be great to have around the horse show!"
When asked about where he is heading next, Alston replied, "I'm heading to the Winter Equestrian Festival for the Winter."
Alston also added, "I'd just like to thank my horse. He's perfect. He's nine and he has the soul of a twenty year old. He's so easy going and he's easy to be around and to get into a ring. I'm lucky to have him."
Alston's trainer, Lindsay Yinger, also took a moment to chat with us about her student's win, "I think that Alex rode great tonight. I think the course was very suitable for the class and it rode well. Alex followed his plan exactly as we had discussed in the course walk. He's been putting a lot of practice in. He's a working student, so he's been riding a lot, particularly this Fall with his successful Indoors season. That practice prepared him to excel tonight."
OHJA Medal Finals 3′ – 3'6″ Results
Ecuador, Alexander Alston
Scandeek, Emily White
Captain Jack, Sydney Walls
Cassinir, Maggie Jacobs
Coveted, Melodie Robitaille
Parat, Ava Fisher
Celebration, Aidan Placek
Wingman, Lilli Power
Just Magic, Carly Haimerl
Lukelele, Rachel Kolar
Photos courtesy of Andrew Ryback Photography.