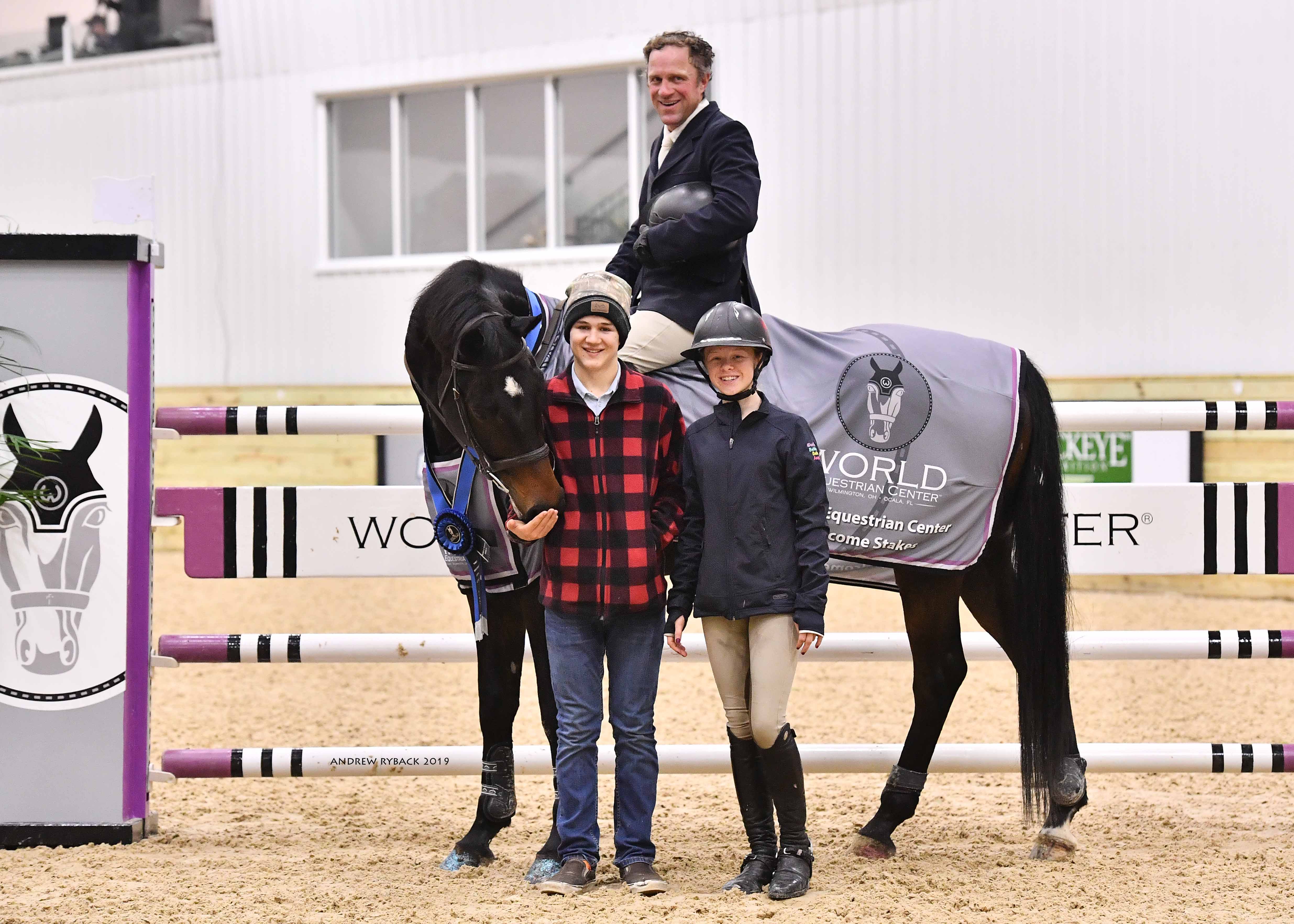 We kicked off the second week of the Midwest Indoors shows tonight with a thrilling $5,000 Welcome Stake 1.35m sponsored by CWD Sellier. Nineteen entries contested a course designed by Keith Bollotte that favored those who executed tight rollback turns off of the rail to galloping lines. Competition was tight with six entries managing double clear rounds and three entries incurring just one time fault in the first round, but it was David Beisel and Maarten Huygen's Angelo (Conthargos x Grand Ronja) that nabbed the top spot with impressive speed about midway through the class.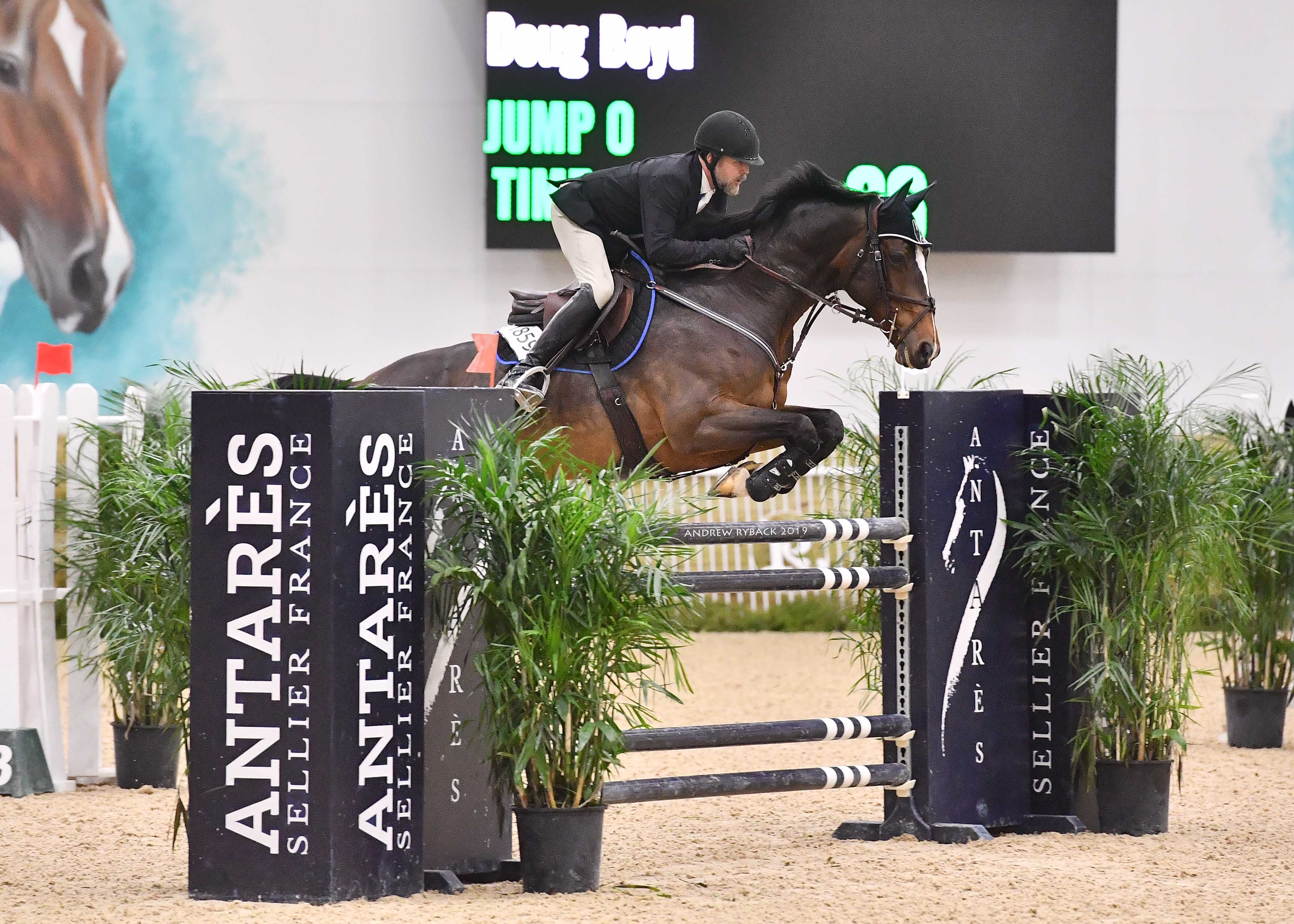 Three entries near the top of the order fought for the lead, all managing clear jump off rounds in the 47 second range. Doug Boyd and Sapphire Riding Academy's Berkley III (Pall Mall H x Resina) were the quickest of the three with a time 47.079 seconds. Boyd and the Dutch Warmblood gelding took first place in the $5,000 Welcome Stake at World Equestrian Center in January, creating a reputation for blazing jump off rounds, signaling their time tonight would be tough to beat.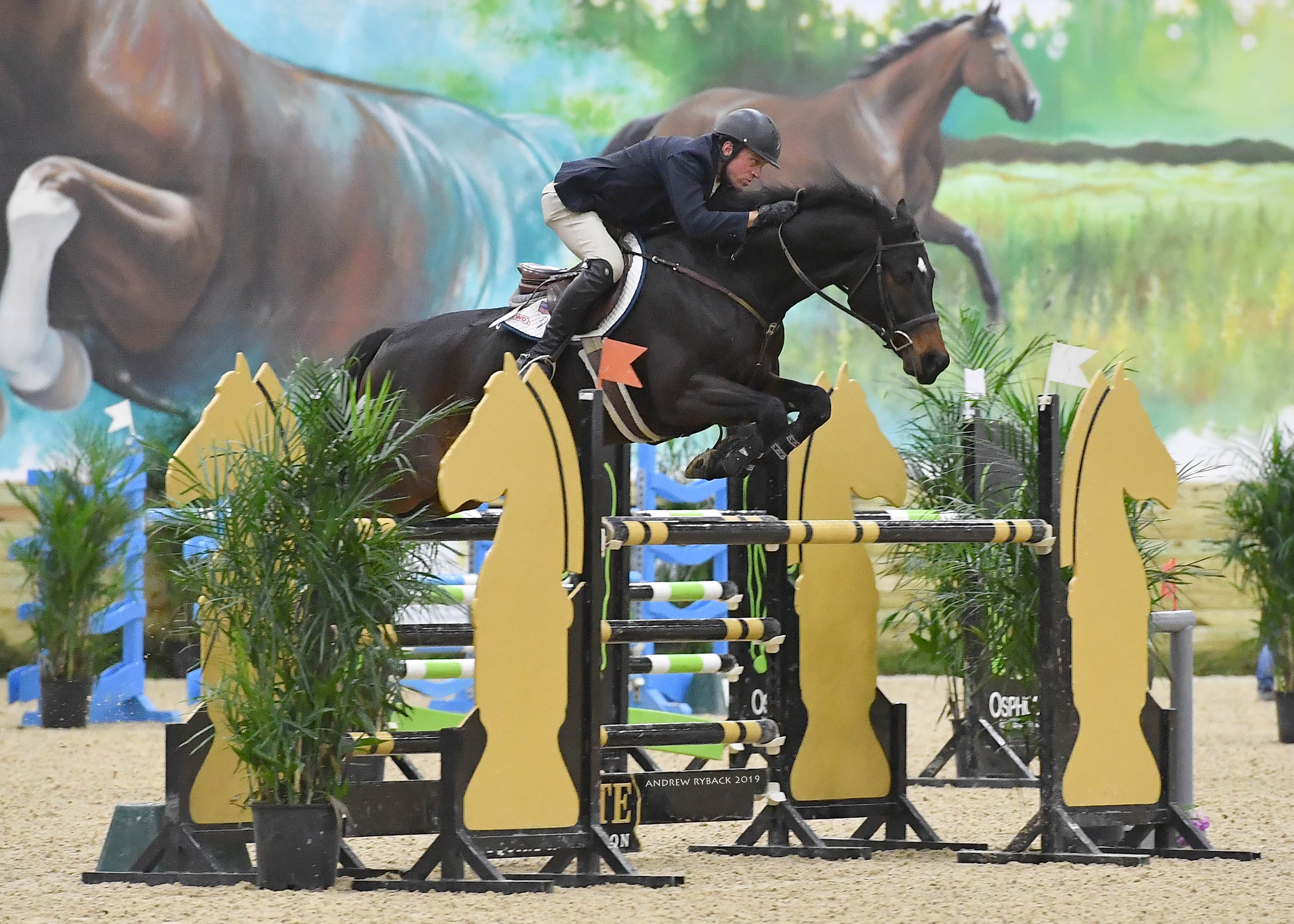 Shortly after, David Beisel and Maarten Huygen's Angelo (Conthargos x Grand Ronja) took to the course. The pair won the $5,000 Welcome Stake at World Equestrian Center in early October and have stayed on trend since with quick times and clear rounds. Tonight, Beisel and the the eight year old Mecklenburg gelding were on their game, jumping a clear first round in 86.330 seconds, well under the time allowed of 92 seconds. The pair continued straight to the jump off of the Table II 2b event, keeping their turns tidy while still galloping up the lines. Beisel and Angelo crossed the timers at 44.299 seconds, moving to the top of the scoreboard.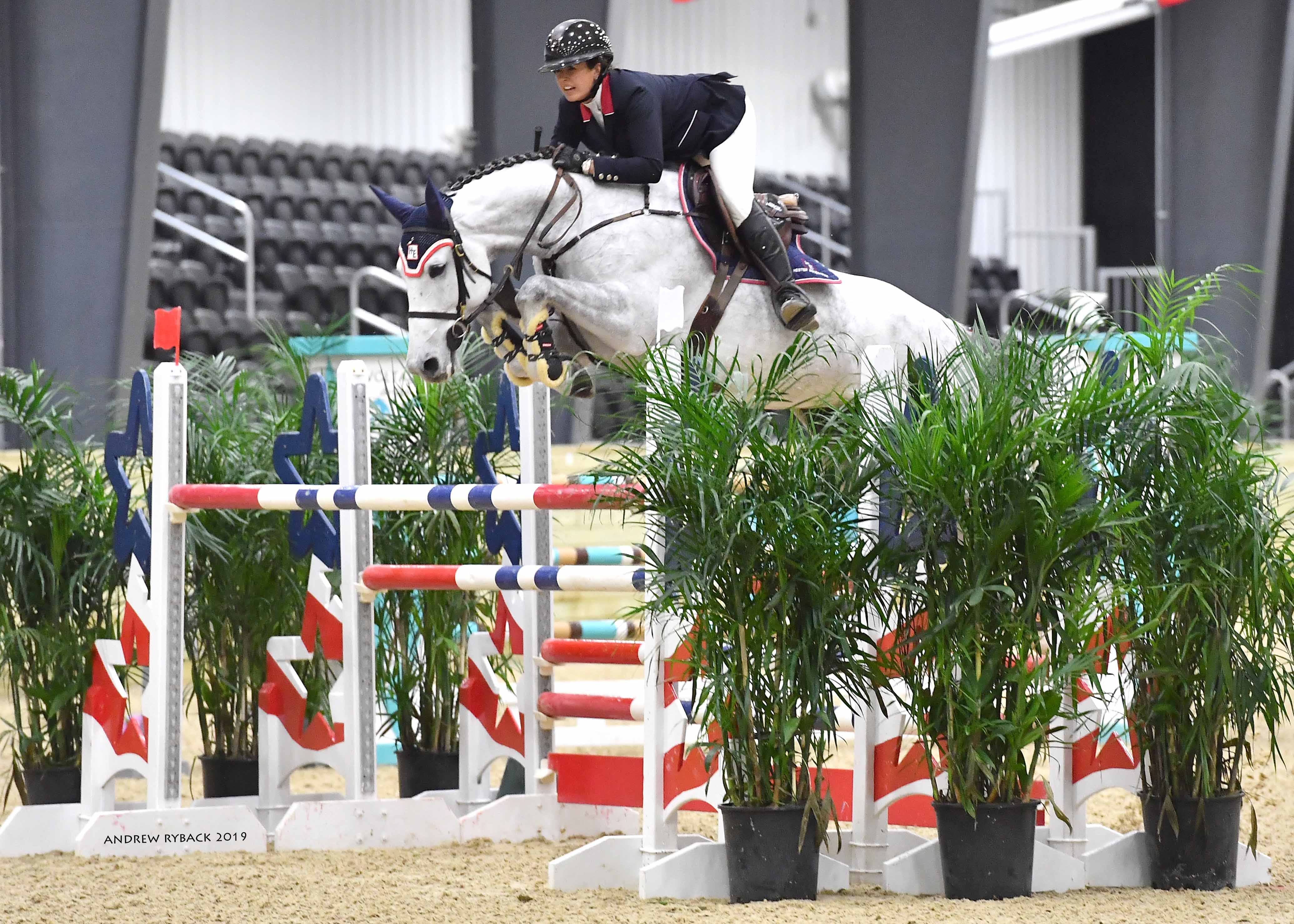 Near the bottom of the order, last week's $25,000 World Equestrian Center Grand Prix winners Lauren Hester and Hester Equestrian LLC's Happy Feet B (Zacherov x Daronka) tried their hand at Bollotte's course. The pair have been on a winning streak, also taking first place in the $25,000 Brownland Grand Prix in September. Tonight, Hester and the seven year old Dutch Warmblood mare found a clear first round with ease in 87.662 seconds, then continued straight to the jump off. The pair sped through the short course, leaving all rails up in a time of 45.455 seconds for second place, leaving Beisel and Angelo in first and moving Boyd and Berkley III to third.
Beisel took a few minutes to chat with us ringside about all of his rides in tonight's class after the awards presentation, "My first horse Essince W (Chacco Blue x Rossan) went really nicely in the first round. I wanted to let him go a little for the jump off, but I wasn't planning on really trying to win it on him because I went really early in the class. Being third in the order, I thought just putting in two clear rounds would be good. Also, I was afraid that if I ran him too hard tonight trying to be super fast, I wouldn't have any ride-ability for Saturday night's Grand Prix."
Beisel then commented on first place mount, "Angelo, who I rode second, is very nimble, so I thought the course suited him to take a shot and turn really tight back in the jump off to number two. I thought he galloped away nicely up to the skinny, then turned back super quick. I knew I could run like crazy to fence nine. The faster you run him, the more careful he gets. Even though he landed flying off of that fence, he still turned really neat back around. At that point I thought I had been really fast. Some people did six up the next line and I think he could have done it easily, but I held up and let him do the seven, then jumped the last jump."
When asked about his third mount, Beisel replied, "My last ride, Bipper Du Libaire, was just a little unlucky. He's a young horse and a newer horse to me. He's going to be great- he's knocking on the door."
Angelo was sporting some very special sparkly blue toes tonight. When asked about his stylish manicure, Beisel laughed, saying that his daughter Izzy, who also shows Angelo, had done his hooves for the class.
Beisel also added, "My student Heren Lee jumped around great, so it was fun to watch her. I'd like to say thanks to my wife, Paige, for letting me show my horse and thanks to Maarten Huygens for letting me show Angelo. I'd also like to thank CWD for the great saddles to ride in and Antarés for the great helmets."
$5,000 Welcome Stake 1.35m Results
Angelo, David Beisel – 0 | 0 | 44.299
Happy Feet B, Lauren Hester – 0 | 0 | 45.455
Berkley III, Doug Boyd – 0 | 0 | 47.079
Cooper 166, Lauren Hester – 0 | 0 | 47.342
Essince W, David Beisel – 0 | 0 | 47.665
Lorstakov, Lauren Hester – 0 | 0 | 49.250
Don Gerhard, Madeline Dunlap – 1 | 92.238
Everyday Hero, Heren Lee – 1 | 92.678
Clash II Heldenlaan Z, Lauren DiTallo – 1 | 92.857
Apollo Z, Lauren DiTallo – 4 | 86.771
Photos courtesy of Andrew Ryback Photography.