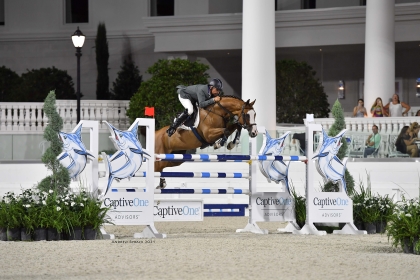 OCALA, Florida, July 26, 2021 – World Equestrian Center – Ocala welcomes CaptiveOne Advisors LLC as an Official Sponsor. CaptiveOne is a family of companies that offer captive assessment, formation, and management services. As part of the agreement, CaptiveOne Advisors becomes The Official Naming Rights Sponsor of Indoor Arena One at the multidisciplinary equestrian and multipurpose event venue.
World Equestrian Center – Ocala is a year-round equestrian and sports venue with indoor arenas and multipurpose buildings for vendors. Two Expo Centers may host tradeshows and conventions, as well as weddings and automobile, art and antique shows. CaptiveOne Advisors will be featured prominently in the signage and branding of Indoor Arena One, as well as throughout the facility.
"This unique venue is sure to become one of the most recognized in the world and we are happy to be part of it. Our commitment to World Equestrian Center stemmed from our passion and love for the equestrian sport, but we are equally as thrilled to be supporting the other events that will take place in this arena, creating lifelong memories for visitors all around the globe." Wayne Jenkins, CaptiveOne CEO.
"We are grateful for the support of CaptiveOne Advisors," said Roby Roberts. "Their partnership and investment in our facility with the naming of Arena One gives them a unique opportunity to educate and interact with our guests and exhibitors, and that's a win-win."
CaptiveOne offers unprecedented supplemental insurance opportunities for businesses, regardless of industry. Its team focuses on developing captive insurance companies, which are owned by the businesses they insure, to maximize risk management opportunities and cash flow protection benefits. CaptiveOne implements an individualized approach to each business that, along with its attention to detail, is designed to best meet the needs of each and every one of its loyal clients. For more information on CaptiveOne and the services it offers, visit captiveone.com.
Given CaptiveOne's commitment to equestrian sport in the State of Florida, where one of its offices is located, CaptiveOne feels blessed to be able to sponsor World Equestrian Center, particularly as we all start coming out of the past year's pandemic.
About World Equestrian Center
World Equestrian Center features two premiere equestrian and multidisciplinary venues in Ocala, Florida, and Wilmington, Ohio.
These exclusive facilities comprise state-of-the-art arenas, expansive stadiums, versatile outdoor space, sporting fields and well-appointed exposition centers. An abundance of lodging options and luxury accommodations are conveniently located on-site, along with shopping and dining throughout each property.
Dedicated to offering great sport and fun in a family-friendly environment, World Equestrian Center promises an unparalleled experience for exhibitors, spectators, vendors, sponsors and retailers built on three core values: Quality. Class. Distinction.
Media Contact:
Candace FitzGerald
603-738-2788