The inaugural WEC Premier Championship Cup competition kicked off tonight with the first of three exclusive classes reserved especially for Junior and Amateur riders at WEC Fall shows. The WEC Premier Championship Cup features one Equitation and two Hunter Classic classes with heights ranging from 3′ – 3'6″, presenting a multitude of riders with the chance to compete and awarding three separate trophies and 2019 Chevrolet Blazers to class winners.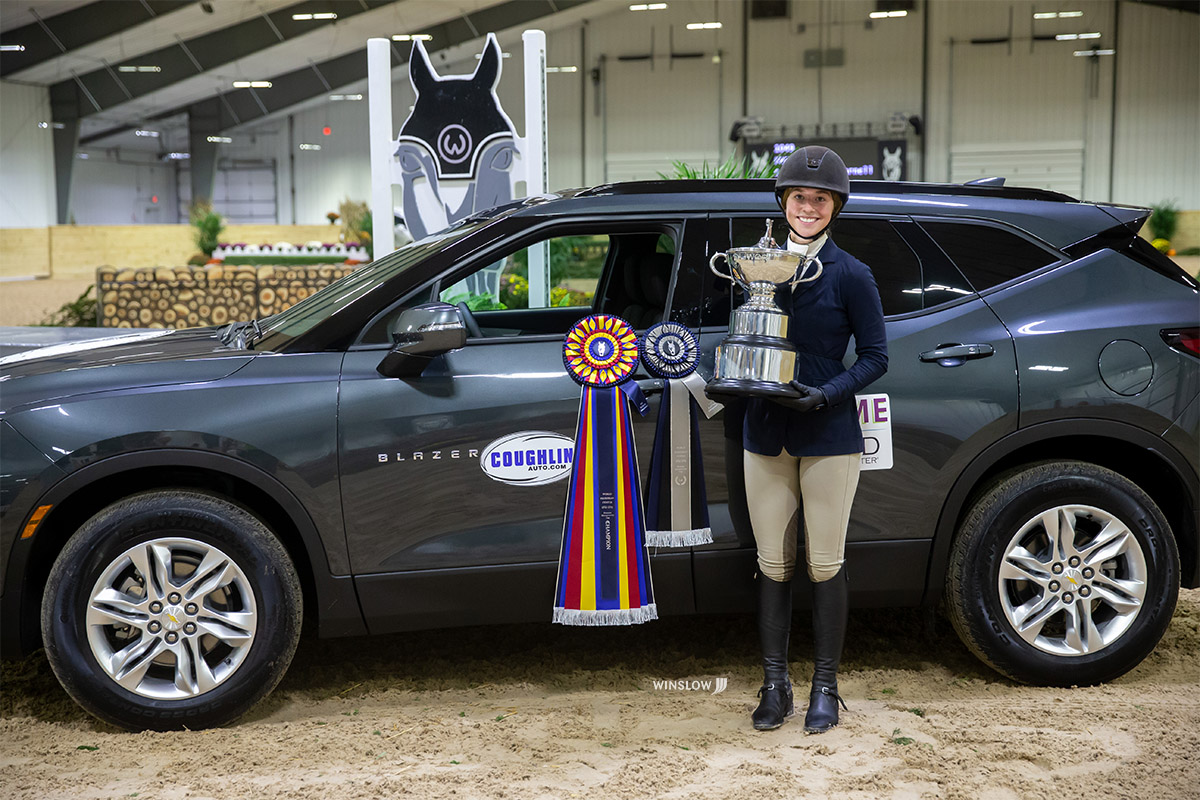 The WEC Premier Championship Cup 3'6″ Equitation class was held in a traditional three-phase Equitation format with jump heights set at 3'6″. Competition was tough, but ultimately it was catch rider Olivia Darnell aboard Lily Beck's Freakfeld (Tangelo Van De Zuuthoeve x Mikina Field) that prevailed to earn the stunning trophy and her very own shiny new 2019 Chevrolet Blazer.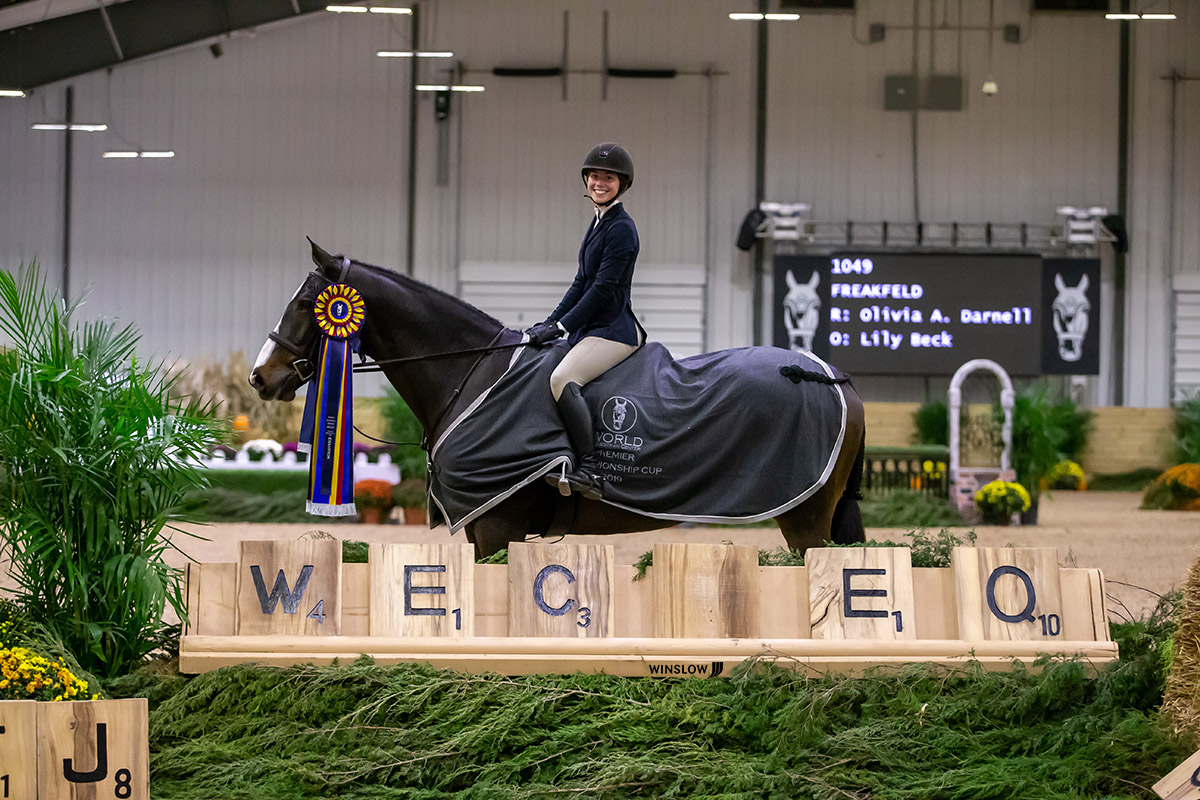 The course for tonight's WEC Premier Equitation Championship featured stunning fences including a WEC-themed Scrabble fence, brush obstacles and natural log jumps. Course Designer Bobby Murphy of Lexington, Kentucky gave us some insight into the design of tonight's course, "You look at Equitation classes and compare it to Maclay Finals or Harrisburg or Washington. Now that WEC is trying to develop their own flavor, I asked myself what's their Equitation Championship look like? My first thought was to design something that would be unique to WEC. Whatever WEC does is magnificent, whether they're decorating an entrance way or creating a new class or having a dinner before the class, it's five star. So I needed a five star idea. That idea actually lies in the hands of TJ Campbell and what he has done to pull all of the resources together to produce the class. Of course when I'm thinking of designs, I have to play off of what is available and TJ has done an amazing job to pull together all of the materials to create the image of a true WEC Equitation Championship. What you see out in the ring is more magnificent than you would see at any of the other Equitation Finals in any given year. It's a premier-level event that has created a phenomenal feeling in its inaugural year."
WEC Horse Show Manager TJ Campbell also commented on tonight's class, "It's a blessing that the Roberts family gives us the opportunity to create new unique classes like the WEC Premier Equitation Championship and the two WEC Premier Cup Classics coming up in week five of the Fall Horse Shows. It's great to find something different that we can do in the industry. It's always tough in the inaugural year to know how a new class will go, but it helps to have the support of such a good staff and to have Bobby Murphy here, who is one of the best course designers in the country. Bobby brings his energy, passion for the sport and technique into the course design, which allows us to execute this level of event. We were able to give away fantastic prizes like the 2019 Chevrolet Blazer, a new opportunity for junior and amateurs not seen at any other horse shows. We set a new standard tonight that I believe is better than a lot of the Medal Finals you see around the country."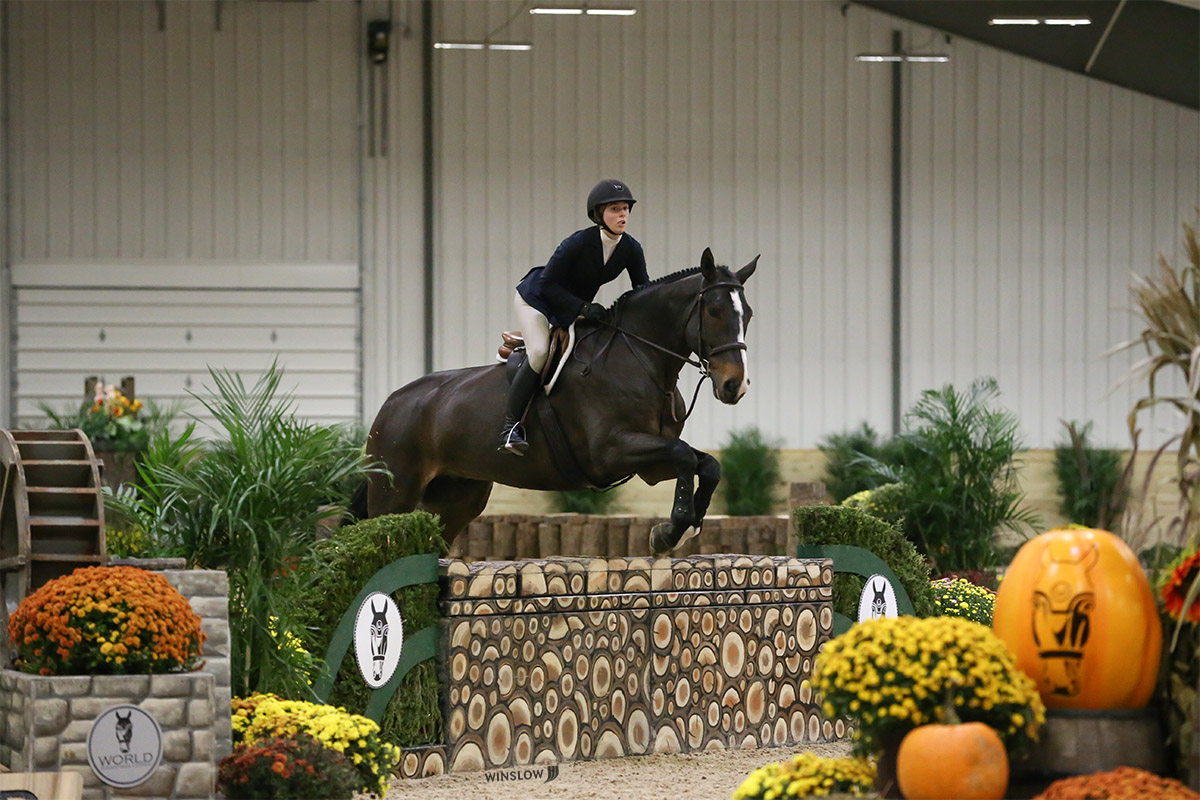 The WEC Premier Equitation Championship began with an over fences phase that featured a more classic hunter course, but riders like Olivia Darnell made sure to put their own spin on the track. Darnell was first in the order, piloting Lily Beck's Freakfeld (Tangelo Van De Zuuthoeve x Mikina Field) through an inside turn to fence number two. Beck rode a foot-perfect round, nailing each distance with meticulously planned precision. With her stunning course, Darnell appeared to be the front-runner of the first round, but Christopher Coberley aboard Henry Pfeiffer's Brownie (Butler x Hyazinthe) and Jada Fuleky aboard Fox Meadow Farm's Albert V (Argentinus x Cinderella L) were not far behind, also riding lovely, consistent rounds.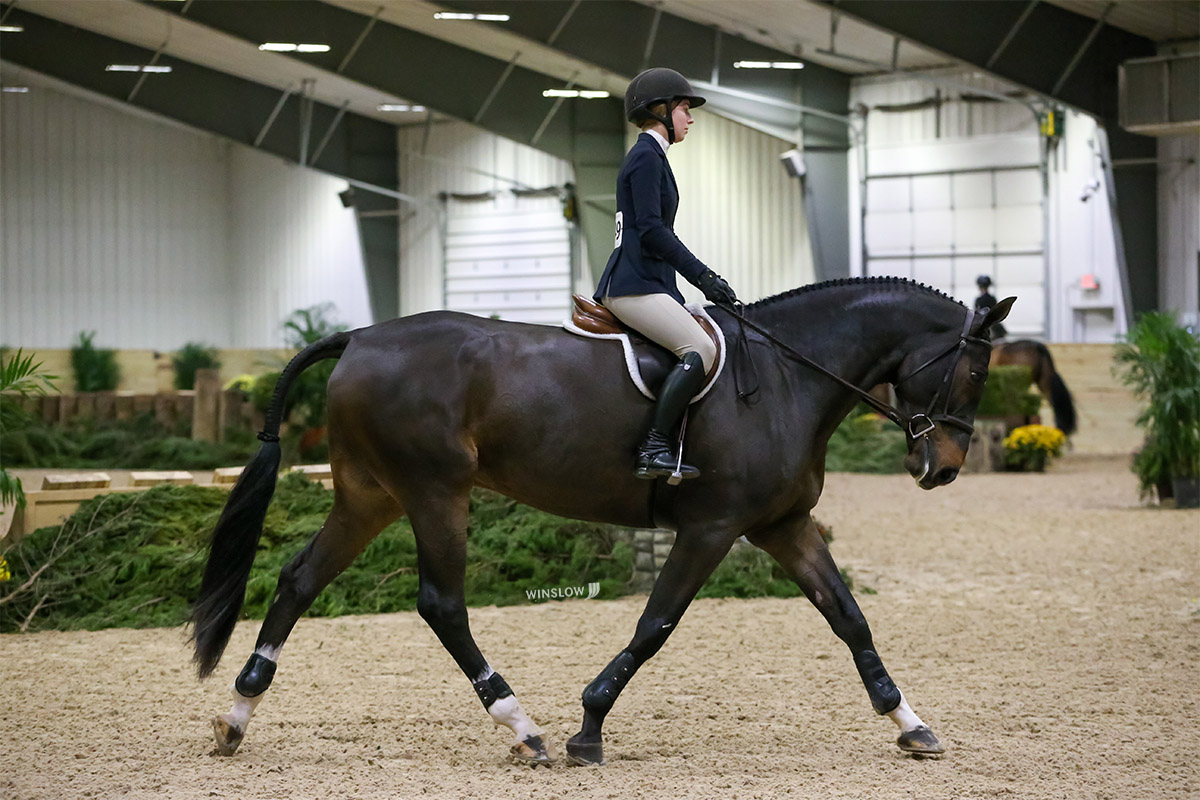 The class advanced into phase two of the competition: the flat phase. Riders took to the rail to show off their best Equitation, and were asked for a working sitting trot, working rising trot, working walk, working canter, and counter canter in both directions. Darnell continued to stand out among the crowd at each gait.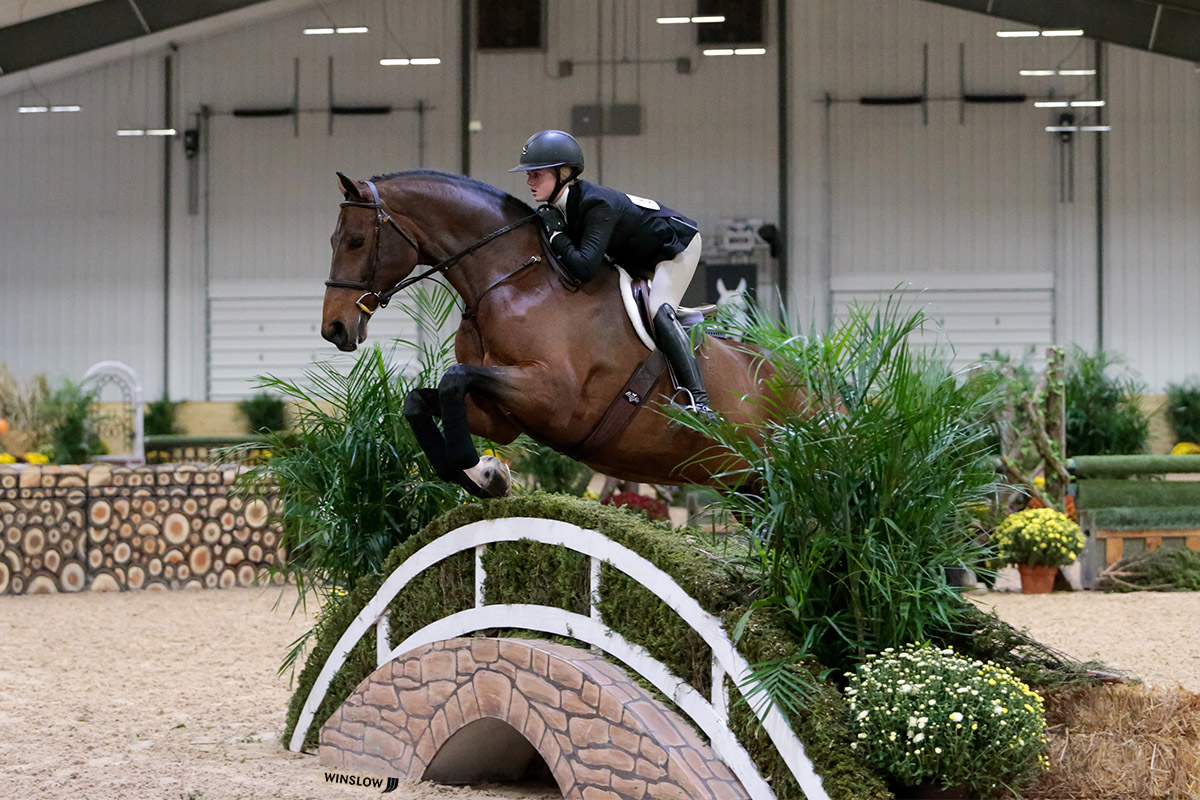 The class then entered its final phase: a more technical course that presented opportunities for inside turns and asked rider to demonstrate advanced skills like trotting into a line, halting, then cantering out of the line. Entries were called back in reverse order based on current class standings and Fuleky was first of the top three to return, navigating an inside turn to the first two fences and riding the trot fence, halt, then canter fence line beautifully.
Next to return was Coberley, who also chose the inside turns to fences one and two aboard his mount Brownie. Coberley rode a fantastic round, but pulled an unfortunate rail after the mid-line halt to canter transition.
Last to return was Darnell, who negotiated a flawless inside track to the first two fences. Darnell continued through the course, halting early in the line after the trot fence and cantering out with ease. The crowd erupted in applause after Darnell's final fence, showing their approval for her second incredible round.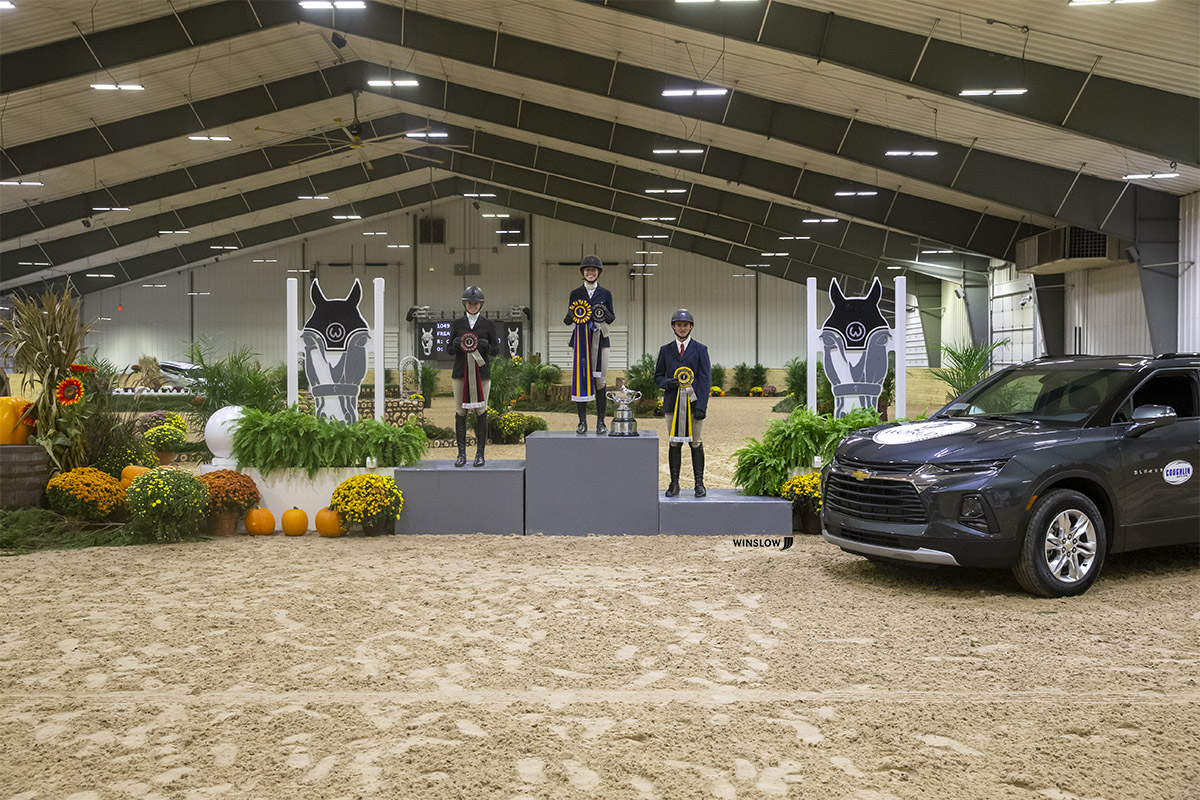 The top rider were called back into the arena for the awards presentation with Darnell taking first place, Fuleky taking second place and Coberley taking third place. The top riders enjoyed a victory gallop followed by a trip to the podium for a celebratory photo as Darnell's newly-claimed charcoal grey 2019 Chevrolet Blazer was driven into the arena.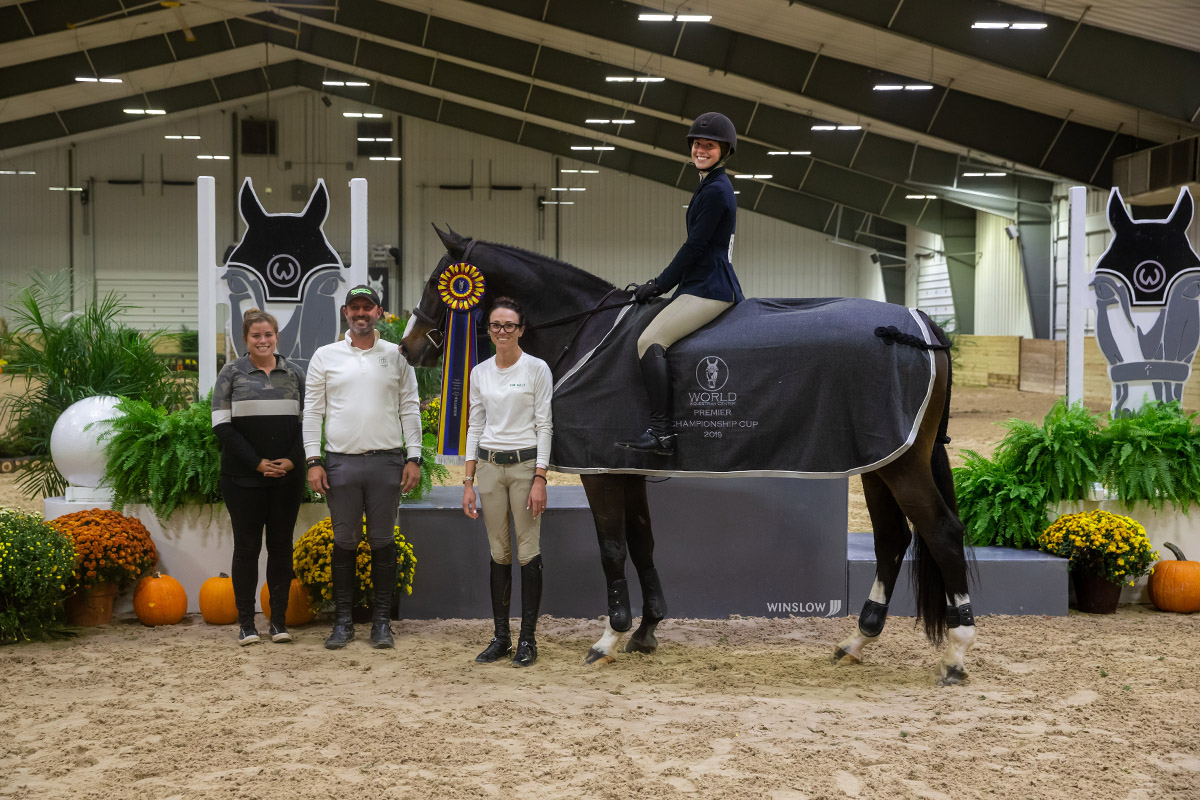 Darnell stuck around after the awards presentation to chat with us ringside about the class. "Tony (Freakfeld) was great, he rode beautifully. He warmed up really well, but we weren't sure how he was going to be because the jumps here this week were pretty strong. But he rode so well and I'm really proud of him. Since he is so big, the turns are usually a little bit harder for us. Tonight he just moved so beautifully with me and did everything I asked of him. Geoff Case helped us this week a lot as well as my sister Victoria McEwan and his owner, Lily Beck. They helped with warming up, getting the flatwork together and getting the jumps and the turns right."
When asked about her typical riding schedule, Darnell replied, "I ride with a lot of different barns depending on who I can get a catch ride with. Everyone is super flexible and I'm lucky to have that. Tony is owned by Lily Beck and my sister Victoria trains Lily. I've been lucky enough to get to ride Tony more than once. I've had really consistent rides on him. But, most of the time, I love catch riding and being able to ride a variety of horses. I've been trying lately to get into the Big Eq like the Maclay, but I do get jumper and hunter rides here and there."
Darnell also added, "I'm so excited to win a car. I turned seventeen in July and I have a car, but we've been car shopping, which I now don't need to do! That was perfect timing. I'm really happy about it…so is my Mom. It's a great night, I'm incredibly happy."
The WEC Premier Championship Cup will be back in two weeks at the WEC Fall Classic II show with the Junior Amateur Hunter WEC Cup Classic (3'3″ & 3'6″) and the Child/Adult Hunter WEC Cup Classic (3′). Click here for more information and to learn how to qualify.
WEC Premier Equitation Championship Results
Olivia Darnell, Freakfeld
Jada Fuleky, Albert V
Christopher Coberley, Brownie
Izzy Beisel, Favoriet
Photos courtesy of Winslow Photography.