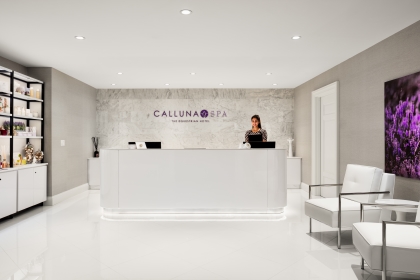 Treat yourself or someone you love to a day at the luxurious Calluna Spa this holiday season. Located on the second floor of The Equestrian Hotel, the full-service Calluna Spa menu includes multiple massage treatments, body wraps, facials, manicures, pedicures and hair styling for men and women.
Spa director, Kendra Rice is dedicated to making each guest's experience unforgettable, "Calluna Spa is a place of complete relaxation and wellness for everyone. Our mission is to provide an atmosphere of deep calm and mindfulness, so that each guest can indulge themselves in a relaxing and joyful day."
Calluna Spa boasts 7,000-square-feet with four beautiful treatment rooms, including one couple's massage room and a hair salon. All Calluna Spa providers are licensed and registered in the state of Florida, each one specialized in a specific area of expertise.
The products at Calluna Spa are unique in that they are all inspired from different countries around the world. For example, Natura Bissé is a luxury skin and body care line out of Barcelona, Spain. Calluna Spa's body care line, Bellsol is inspired by the creators travels to Dubai and Qatar.
Calluna Spa offers special and unique treatments such as the Vita-C Anti-Aging body treatment that infuses the skin with a vitamin-c based scrub and includes a hydrating soufflé mask.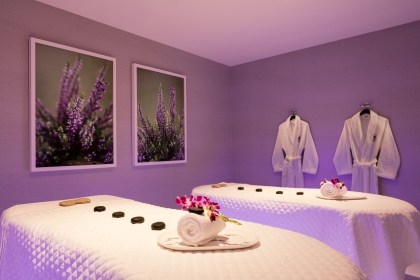 Calluna Spa has a beautiful selection of gifts and believes that gift giving should be a relaxing and rewarding experience. Throughout the month of November and December, Calluna Spa will be offering multiple unique gift options, including luxurious gift baskets and a "Holiday Glow" package. In December, the spa will also feature a complimentary Holiday Mimosa & Custom Coffee Bar for any guest having a spa treatment.
The luxurious gift baskets include:
Butterfly Farmhouse Box ($175): Fluffy Bunny Scented Candle, Fluffy Bunny Shea Butter Body Cream, Whipped Honey Fine Sea Salt Body Scrub, Blown Glass Decorative Bird
Dog Treat Box ($125): Sundae Best Chocolate Mask, Pajama Paste Yogurt Mask, Mighty Tighty Turmeric Mask, Sweet Cream Body Milk Lotion, Ceramic Dog Figurines
Honeybee Box ($200): Bellsol Body Oil, Bellsol Deep Buff Scrub, Bellsol Frosted Body Butter, Beehive Mini Facial Soap Bars, Decorative Honeybee Trinket Box
Bedtime Box ($175): Lavender & Hibiscus Bath Soak, Lemongrass Ocean Mineral Bath Soak, Sleepy Loose-leaf tea, Detox Loose-leaf tea, Ceramic Mug
The Holiday Glow spa package will leave you feeling ready to attend any holiday festivity. This lovely package includes a 50-minute HyrdaFacial, a Steamed Lavender Milk Manicure and Pedicure, followed by a blow-out and style for $399, plus 20% gratuity.
Call 352.414.7862 to book an appointment today. For more information about Calluna Spa, click here.
Calluna Spa is open daily from 9a.m.-7p.m. on Monday through Saturday and from 10a.m.-5p.m. on Sunday.
Follow Calluna Spa on Social Media:
Instagram: @callunaspa
Facebook: CallunaSpa