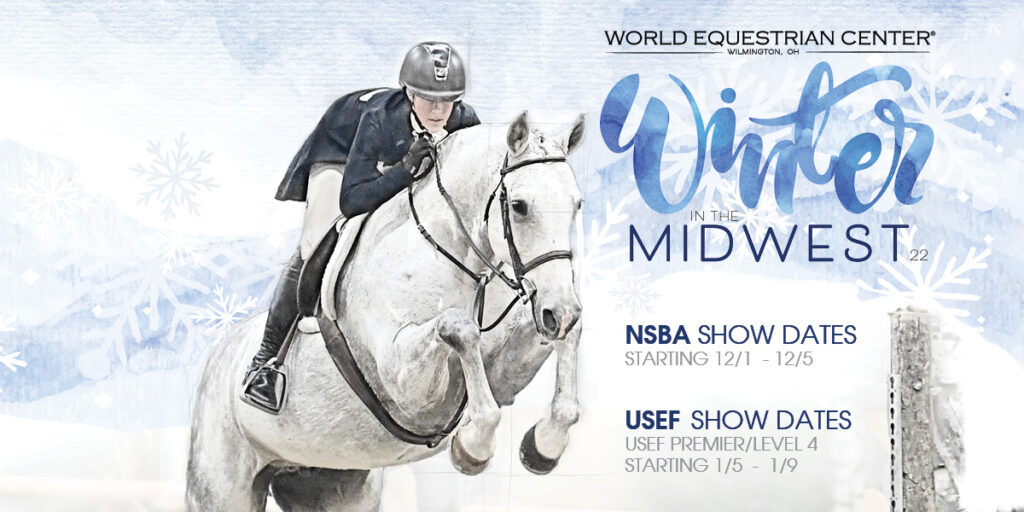 Join Us for 17 Weeks of USEF and NSBA rated Hunter/Jumper Competition and $2.42 million in Prize Money
WILMINGTON, Ohio – November 5, 2021 – Entries and stall reservations are now open for World Equestrian Center Winter in the Midwest indoor circuit, featuring a combination of premier USEF and NSBA sanctioned hunter/jumper horse shows.
Exhibitors will escape harsh winter conditions when showing in our 200,000-square-foot, climate-controlled indoor facility, where they will enjoy 17-weeks of competition at all levels. Winter in the Midwest circuit runs from December–April and offers more than $2.42 million in prize money and prizes.
NSBA Winter in the Midwest 2022 indoor circuit prize list is available online at
USEF Winter in the Midwest 2022 indoor circuit prize list is available online at
Experience heated stabling and wash racks, with indoor walkways to all schooling, warmup and competition spaces. Stall reservations are $175 per week, $250 for tack stalls. Stall reservations can be made online at
NSBA Show Dates 2021
WEC Winter 1 – Dec. 1-5
WEC Winter 2 – Dec. 8-12
WEC Winter 3 – Dec. 15-19
USEF Show Dates* 2022 – USEF Premier/Level IV
WEC Winter 4 – Jan. 5-9 – A World Championship Hunter Rider (WCHR) Week
WEC Winter 7 – Jan. 26-30
WEC Winter 8 – Feb. 2-6
WEC Winter 9 – Feb 9-13
WEC Winter 11 – Feb. 23-27
*See USEF prize list.
NSBA Show Dates 2022
WEC Winter 5 – Jan. 12-16
WEC Winter 6 – Jan. 19-23
WEC Winter 10 – Feb. 16-20
WEC Winter 12 – Mar. 2-6
WEC Winter 13 – Mar. 9-13
WEC Winter 14 – Mar. 16-20
WEC Winter 15 – Mar. 23-27
WEC Winter 16 – Mar. 30-April 3
WEC Winter 17 – April 6-10
Exhibitors will find classes for every level and exciting feature hunter and jumper action each week, Thursday–Sunday including:
Weekly Jumper Highlights
$10,000 Futures Prix
$10,000 Welcome Stake
$30,000 Grand Prix
Weekly Hunter Highlights
$5,000 Derby 3' Non Pro
$2,000 Pony/Children's Pony Hunter Derby
$2,000 Non-Pro Hunter Derby
Enjoy Unique Amenities at World Equestrian Center – Wilmington
Experience the very best in amenities at World Equestrian Center – Wilmington. Work out at our new Fitness Center, satisfy cravings at the Sugar Shack candy store, pamper yourself at A Bit of Class Salon & Day Spa, or, your canine friend at Shaggy Chic Pet Parlor dog spa. Rev up with Dark Horse Coffee, featuring Starbucks ride-thru coffee shop, and shop the eclectic offerings of our many vendors in Vendor Village and throughout the facility.
Check out the brand-new menu at the charming Paddock Club restaurant or opt for grilled favorites, taco bar and grab n' go options ringside at the International Café.
Stay with Us! Four Convenient On-Site Lodging Options
Guests are advised to make lodging reservations at their earliest convenience to ensure they secure accommodations close to the showgrounds. Reservations can be made at wec.net or by calling 937.382.0985 ext. 3
World Equestrian Center – Wilmington has myriad on-site lodging options for guests:
The Wilbur Estate – The Wilbur Estate is a stunning, plantation-style mansion with five elegant luxury suites. Accommodations are centrally located on the showgrounds, just steps from arenas, stabling and the Paddock Club. Free Wi-Fi and VIP parking are included in your stay at The Wilbur Estate.
Cabins – Each of our cabins sleeps up to six guests and is within walking distance from our arenas and barns. Two of our cabins are handicap accessible. Efficiency kitchen with microwave, flat-screen TVs and free Wi-Fi included.
Home Away from Home Park – Directly across the street from our horse show entrance, our 130 Home Away from Home units have two or three bedrooms with a fully-equipped kitchen and living and dining room area. Flat-screen TVs and free Wi-Fi included.
RV Sites – World Equestrian Center has many RV sites equipped with electric, water and sewer for $175 per week (or any portion thereof). You must reserve these on your entry form or stall reservation form. Please check in at the horse show office for a pass prior to parking your RV.

Special Thanks to our Generous 2022 Sponsors
The 2022 Winter in the Midwest circuit is generously sponsored by Alltech, Antares Sellier, Buckeye Nutrition, C. Jarvis Insurance, CWD, Kentucky Performance Products, R+L Carriers, Shoo-Fly, Tribute, Triple Crown, Voltaire.

About World Equestrian Center
World Equestrian Center features two premiere equestrian and multidisciplinary venues in Ocala, Florida, and Wilmington, Ohio.
These exclusive facilities comprise state-of-the-art arenas, expansive stadiums, versatile outdoor space, sporting fields and well-appointed exposition centers. An abundance of lodging options and luxury accommodations are conveniently located on-site, along with shopping and dining throughout each property.
Dedicated to offering great sport and fun in a family-friendly environment, World Equestrian Center promises an unparalleled experience for exhibitors, spectators, vendors, sponsors and retailers built on three core values: Quality. Class. Distinction.
Learn more at wec.net.
Media Contact
Candace FitzGerald
candace.fitzgerald@wec.net
603.738.2788