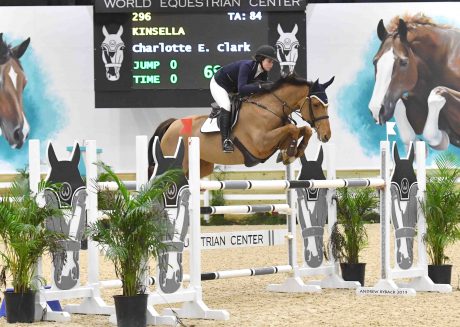 An enthusiastic crowd filled the stands in the Sanctuary Arena tonight as riders prepared for both the $25,000 WEC Grand Prix and the $7,500 Futures Prix 1.30 m. Tonight's courses featured multiple combinations, flowing lines, and plenty of inside turn options, all designed by Bobby Murphy of Lexington, Kentucky. The stars of the show this evening were Charlotte E. Clark and Kinsella, who skillfully negotiated the track to take the win in the $25,000 WEC Grand Prix, and Michael D. Burnett and Iron, who stole the win by just fractions of a second in the $7,500 Futures Prix 1.30 m.
$25,000 WEC Grand Prix
Tonight's $25,000 WEC Grand Prix saw 17 entries competing head to head for a piece of the prize. The first clear round of the night was ridden by Michael Grinyer aboard Dr. Sarah Feaver's Elation, who took home fifth in the $5,000 Welcome Stake 1.35 m earlier this week. The pair jumped a consistent round, stopping the clock at 81.416 seconds, two and a half seconds under the time allowed of 84 seconds. The fastest clear first-rounder was Charlotte E. Clark aboard her own Kinsella (Capitalist x Jerpoint Mist). The pair soared through the course, crossing the timers at 78.065 seconds. Three more horse and rider pairs delivered a clear first round, sending a total of five to the jump off.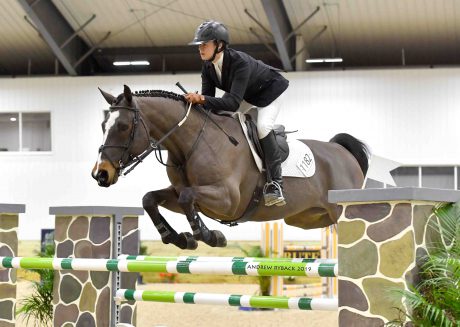 In the jump off, Michael Grinyer and Elation repeated their performance from the first round, jumping clear in a time of 45.333, again just about two and a half seconds under the time allowed of 48 seconds. Charlotte E. Clark and Kinsella rode into the ring with determination, jumping a second clear round in a speedy time of 39.019 seconds. Rounding up the double clear rides for the night was Dorna B. Taintor and Bel Mont Farm's Luca Toni (Luxius x Hauptstutbuch Mary Lou), who made it through the first round clean, just a half of a second under the time allowed. The pair stopped the timers at 42.284 seconds, sending themselves to second place and bumping Grinyer and Elation to third.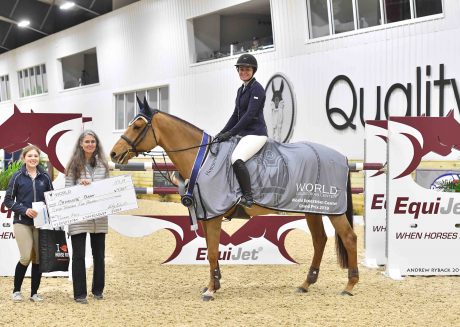 Coming off of their win in the $7,500 Futures Prix 1.30 m in early December at World Equestrian Center, Charlotte E. Clark could not have been more thrilled with Kinsella's performance in tonight's $25,000 WEC Grand Prix. "She just keeps impressing me," beamed Clark when asked about her win tonight, "She's been a consistent young horse and I'm grateful to have her." Clark goes on to explain that this is Kinsella's first Grand Prix win of the season, but that she is no stranger to the winner's circle. "I've owned her since she was a 5 year old and she was really successful in the young jumpers, and every year she does a little more. She has done the Grand Prix [at World Equestrian Center] before, but not since last year, so it was her first one of the circuit and she jumped amazing. She felt fresh, like she could go do it again." With so many success at just 8 years old, Clark looks forward to the future with Kinsella, "She owes me nothing, so whatever height she wants to jump [in the future] is fine with me. I'll be happy with whatever she wants."
$25,000 WEC Grand Prix Results
Kinsella, Charlotte E. Clark – 0 | 0 | 39.019
Luca Toni, Dorna B. Taintor – 0 | 0 | 42.284
Elation, Michael Grinyer – 0 | 0 | 45.333
Oliver's Army, Lauren E. DiTallo – 0 | 4 | 38.625
Isarus, Julia Curtis – 0 | 8 | 43.442
With A Little Help Sir, David Q. Beisel – 4 | 75.415
Rodeo VDL, Liz Atkins – 4 | 77.498
Call Me Hannes, David Q. Beisel – 4 | 80.165
Essince W, David Q. Beisel – 4 | 81.207
Wadisson, Lauren E. DiTallo – 4 | 81.649
$7,500 Futures Prix 1.30 m
The $7,500 Futures Prix 1.30 m held plenty of action tonight, with half of the riders jumping a clear first round and four jumping double clear. Tonight's Futures Prix was run in a Table II format, with entries heading straight to the jump off after their first round. Setting the pace this evening was Michael D. Burnett and his own Chagrand (Chacco-Blue x Centogrina), jumping a clear first round in a time of 87.576, just under the time allowed of 88 seconds. Mirroring their first round, Chagrand did not touch a single rail, easily clearing each fence and stopping the clock at 38.682 seconds.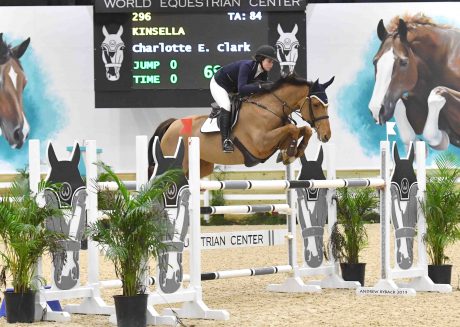 Burnett and Chagrand sat comfortably in first place throughout the first half of the class, until David Q. Beisel and Maarten Huygens's Angelo (Conthargos x Grand Ronja) entered the arena. The pair also never touched a rail, riding a clean first round in a time of 79.472 seconds. They continued into the jump off in the same fashion, jumping a second clear round in a quick 33.853 seconds, knocking Burnett and Chagrand into second place.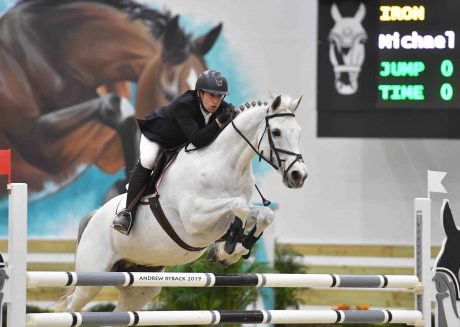 However, Burnett came back with a vengeance aboard his own Iron (Iroko x Ikurrina Timbera), foresaking inside turns for pure speed, jumping a clear first round in an impressive time of 77.105 seconds. Burnett knew the time he had to beat. He and Iron were a powerhouse, surging through the course, again opting for longer routes, and still beating Beisel's time by mere fractions of a second, leaving all of the rails up and stopping the timers at 33.848 seconds, sending the pair into first place.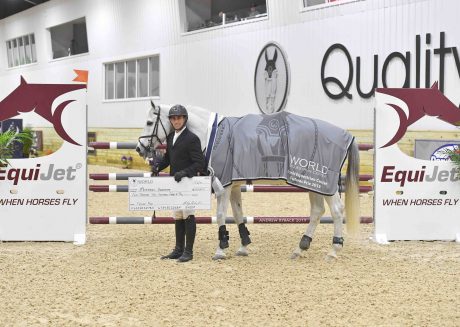 We caught up with Michael D. Burnett of Burnett Farms, Lebanon, Indiana later in the evening to chat about his impressive win. "We were just out there doing what we've done for eleven years," Burnett laughed, "Putting in double clears!" Burnett and Iron share an 11-year-long partnership, and they have gotten to know what works for one another. "I use a strategy with him where I stay out rather than turning tight, then I make up time with speed. With a small horse and a wide fence on a short turn, it's hard to cover the widths, so I like to get a little bit of a start for [the fence] and give him at least three strides." The pair made it clear that their well-thought-out strategy is successful for them, as they have in many other classes. Burnett and Iron took home second in a $100,000 class last April at the Omaha International Horse Show, and have countless other wins under their belt. "The horse is a very seasoned horse," Burnett explained, "I got him when he was four from Argentina with my trainer. He brought us both up from the 1.00 m jumpers to the 1.50 m." Though he is now 17 years old, Burnett explained that he's not ready to retire, but he also doesn't need to jump the Grand Prix. "I do whatever class the horse should do," said Burnett, "He's comfortable at [the 1.30 m] level, and I love that this series offers these classes. They're great for horses that are coming down and still want to jump something competitive – it's a lot of fun!"
$7,500 Futures Prix 1.30 m Results
Iron, Michael D. Burnett – 0 | 0 | 33.848
Angelo, David Q. Beisel – 0 | 0 | 33.853
Cosmea Z, Taylor A. Flury – 0 | 0 | 34.340
Chagrand, Michael D. Burnett – 0 | 0 | 38.682
Strawberry, Molly Kindness – 0 | 4 | 36.667
Johnny Bravo, Liz Atkins – 0 | 4 | 36.742
Diesel, Paul Halpern – 0 | 12 | 42.997
Zero Gravity, Lauren E. DiTallo – 1 | 88.628
Cassius 74, Stephen C. Foran – 4 | 74.542
Five Star, David Q. Beisel – 4 | 78.413
A True Honor
We also took a moment tonight to honor artist Kristi Rauckis for her extraordinary donation to World Equestrian Center, a 155′ x 20′ mural aptly named '4 Horses' that now graces the far end of the Sanctuary Arena. Kristi, a 25 year old, self-taught equestrian artist, worked tirelessly throughout the Holiday break to complete her colorful celebration of equine athleticism as her own way of "giving back" to the place where she has established herself as an artist and has felt an atmosphere of support that has enabled her to grow creatively.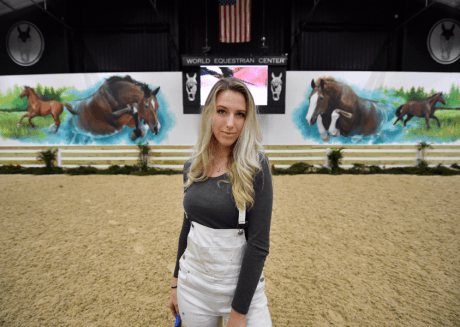 Driven by her lifelong passion for horses, Kristi's work is truly awe-inspiring, capturing the soulful expressions of each and every horse she paints. She attributes this talent to the special connection she has felt to horses throughout her life, and her goal in each piece of art is to convey the horse's unique personality.
Kristi brings her passion to every aspect of her life, saying, "The world is my canvas and my life is my masterpiece." We thank you, Kristi, for sharing your masterpiece with us.
Photos courtesy of Andrew Ryback Photography.