This week's Sunday Spotlight lands on Georgina Lockwood-Taylor, a talented amateur jumper rider, passionate animal lover and determined Pre Veterinary Medicine student who loves nothing more than spending time with her beloved horses Cha Cha and Luxella. At just twenty years old, Georgina balances an eighteen-credit-hour neuroscience-based schedule at Ohio State University in Columbus, Ohio, riding her two horses three times per week, volunteering at the Ohio State University Small Animal ICU/Oncology ward, and still saves time for one of the most important things in her life: her family.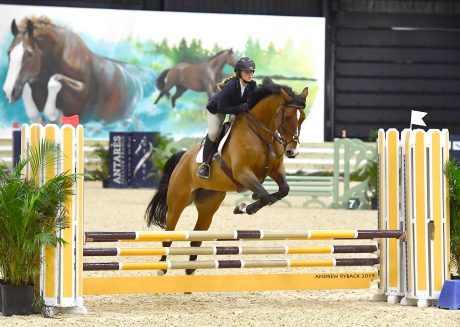 Georgina's love for riding lies in the jumper ring, stemming from her early years of riding off the track thoroughbreds in Malaysia and Singapore, where she lived for several years growing up. "I grew up riding the craziest horses [in Malaysia and Singapore]," Georgina says, "If you didn't have your own horse, which we didn't because we never knew when we were next moving, you rode the stable's off the track Thoroughbreds. If you didn't fall off in a lesson, it was a miracle." She goes on to explain that the OOTBs from her early riding career were what shaped her preference for hot jumpers.
Currently, Georgina owns two horses: Luxella and Cha Cha. She describes the newer of her two mounts, Luxella, a nine year old Irish mare, as a powerhouse who has challenged her as a rider to find a different approach that works for them both. "I have had to change the whole way I ride," Georgina says. "We're still learning each other, but we have really gotten it down at home, and we're getting better at horse shows."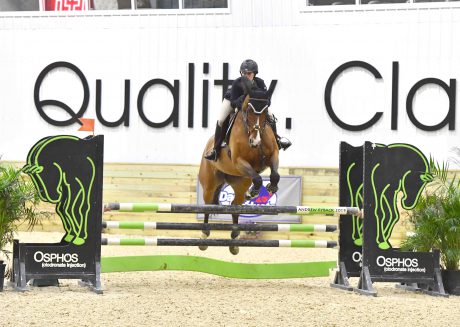 Georgina shares a special bond with her second mount, Cha Cha, who she describes as the love of her life, her rock, and her horse of a lifetime. "Our partnership is so strong. For instance, if I'm sad, I'll go sit in her stall and she'll just nuzzle my head…she just knows," Georgina explains. Cha Cha's heart stretches into her jumping as well, being described as a horse that has a passion for her job. "She's your team player," Georgina says, "Even when I mess up she is right there with me." Cha Cha has plenty of talent to go along with her heart of gold, and has jumped 1.45 m with ease.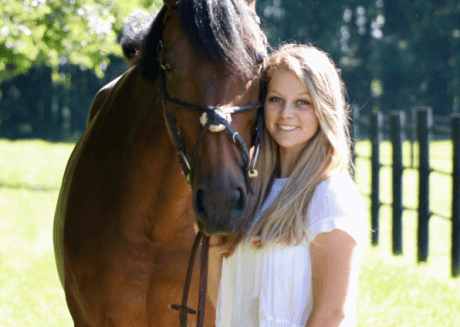 Along with Cha Cha, Georgina also describes her Mother, artist Sarah Lockwood-Taylor, as her rock. "My Mom is my absolute best friend. She is the most wonderful woman and my biggest support system. I would not be the person I am today without her. She is my everything. She's the most humble and genuine woman…she's my best friend. I have great parents and they're really supportive. I'm really lucky to have them. I owe everything to my parents and I am so very blessed."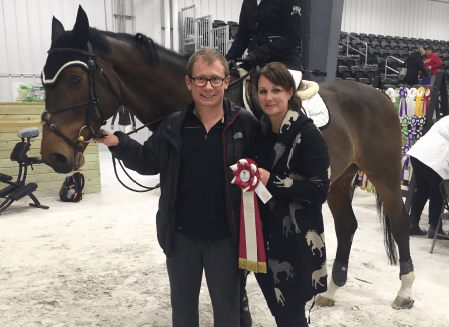 Being away at college at Ohio State University, Georgina says it's hard to be away from her Mom who lives an hour and a half away in Cincinnati, Ohio and her horses that are also in Cincinnati with Anne and Skip Thornbury, but that surrounding herself with animals makes her feel at home. "My name is Georgina, which literally means 'farmer's daughter', so I think I've always been a farmer's girl. My life has always revolved around animals, whether it's having pet mice, fish, horses or dogs," Georgina explains. In her spare time, Georgina volunteers at the Ohio State University Small Animal ICU/Oncology ward. "My favorite part is probably giving back. I know that sounds so cliche, but if I can do something to help someone else, it's what I want to do," she says.
While her studies and volunteer work keep her busy, Georgina still makes the trip home to Cincinnati each weekend to ride her horses and see her Mom. "My horses are my best friends and I think the fact that you can build relationship with an animal completely built on trust and no words…that's the beauty of this sport. Yeah, it's about winning and going fast but at the end of the day it's about the relationship you have with your horse and the love for the creature, and that's why I love this sport."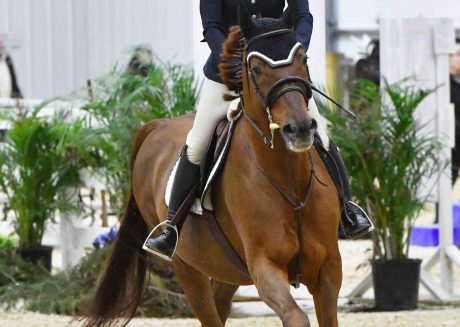 Georgina showed at World Equestrian Center this week during the WEC Winter Classic #2 show with Luxella in the .80-.85 m Jumpers. She also showed Sly Fox for for Christine Clawson-Judd in the .80-.85 m Jumpers. Though she hadn't shown in about eleven months, Georgina took home first place on both of her mounts this weekend. "They were both great," says Georgina, "Riding Sly Fox was so much fun, he's much more point-and-shoot than Luxella." It was smiles all around for a great week of showing at WEC!