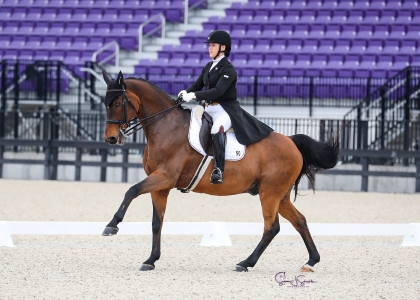 Ocala, Fla. – December 12, 2021 – The World Equestrian Center Dressage V CDI-W concluded on Sunday, December 12, 2021, and it was a sweep in the small tour classes for Chloe Fullar (USA) and her own Farley 4. After winning Friday's Prix St. Georges and Saturday's Intermediate 1 classes, Fullar and Farley 4 returned to the Derby Stadium at World Equestrian Center – Ocala to contest the Intermediate 1 Freestyle, taking home a third win in a row with a score of 70.733%.
The pair have only been together since July 2021, and this is Fullar's first CDI as a rider. Commenting about her victories, she said, "You train, and you dream about things that you can win and make a hat trick like this, but I didn't know what to expect coming here. I just wanted to absorb the experience and learn from it and love it. You ride of course wanting to win every time. Could I expect this? No, I only hoped for it. It's a way to encapsulate an incredible year."
Fullar designed the choreography for her freestyle herself and used music that was put together years ago by one of her clients, Breezy Freestyle Dressage, from the Hamilton Original Broadway Cast Recording. "It was for my assistant's horse, but we've utilized it over the years with different choreography for different horse and rider combinations," said Fullar. "I like the Hamilton music. I like that you can design your own choreography to go with it. I was really grateful for that.
"I like how simple it is," she continued about her test. "The requirements all fit in there, it's not lengthy, it doesn't repeat itself. For some horses and riders that could be a detriment, but in our case it highlights everything, and it's simple and sweet. The steepness of some of the half-passes are a degree of difficulty. I really like doing the two-tempis in between the pirouettes and the two-tempis straight toward the C judge. I just like the cleanliness of it."
Fullar and Farley 4 have scored consistently over 70% with this freestyle, and she hopes to adjust it for next year to increase the difficulty in order be competitive and qualify for the U.S. Dressage Festival of Champions.
Farley 4, a 21-year-old Hanoverian gelding by Fabriano x Woodstock, is "a lovebug," said Fullar. "When he's really happy he will make these little grumpy faces and then little baby smiles. He is a sweetheart, and he's really good friends with a couple of my other students' horses. He's just a ham. He likes his own space and wants to make sure he's always number one."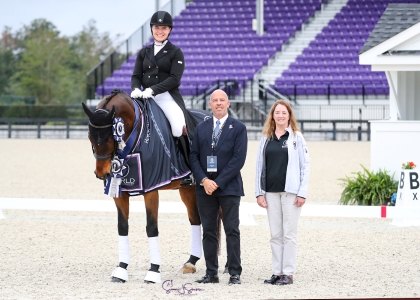 Fullar and a friend brought horses all the way from Michigan to compete at World Equestrian Center – Ocala. "I'm grateful to be at this facility and have such an incredible first experience in the CDI ring," she expressed. "What a blessing to have not only won three classes but I met a requirement for Festival of Champions for the I-1 score. Hopefully we have another great season next year."
Daphne, ridden by Eline Eckroth (USA) and owned by Connie Wise, were second with a score of 69.883%. Ivo Juhrend (NED) and Black Diamond, owned by Savannah Show Stables LLC, were third with 69.633%.
Competition at the World Equestrian Center – Ocala will continue in 2022. Hampton Green Farm is the Title Sponsor of the 2022 & 2023 Dressage Series at World Equestrian Center – Ocala. To see the event calendar, go to www.worldequestriancenter.com/events. For more information, visit www.wec.net.
Final Results: Intermediate 1 Freestyle
Yuri Romanov at E score, Peter Storr at C score, Maribel Alonso de Quinzanos at M score, Total Score

1 Farley 4: 2000 Hanoverian gelding by Fabriano x Woodstock owned by Chloe Fullar
Chloe Fullar (USA): 70.125%, 71.625%, 70.450%, 70.733%

2 Daphne: 2011 Oldenburg mare by Diamond Stud x De Niro owned by Connie Wise
Eline Eckroth (USA): 70.000%, 69.125%, 70.525%, 69.883%

3 Black Diamond: 2014 Hungarian Sport Horse gelding owned by Savannah Show Stables LLC
Ivo Juhrend (NED): 73.250%, 68.625%, 67.025%, 69.633%