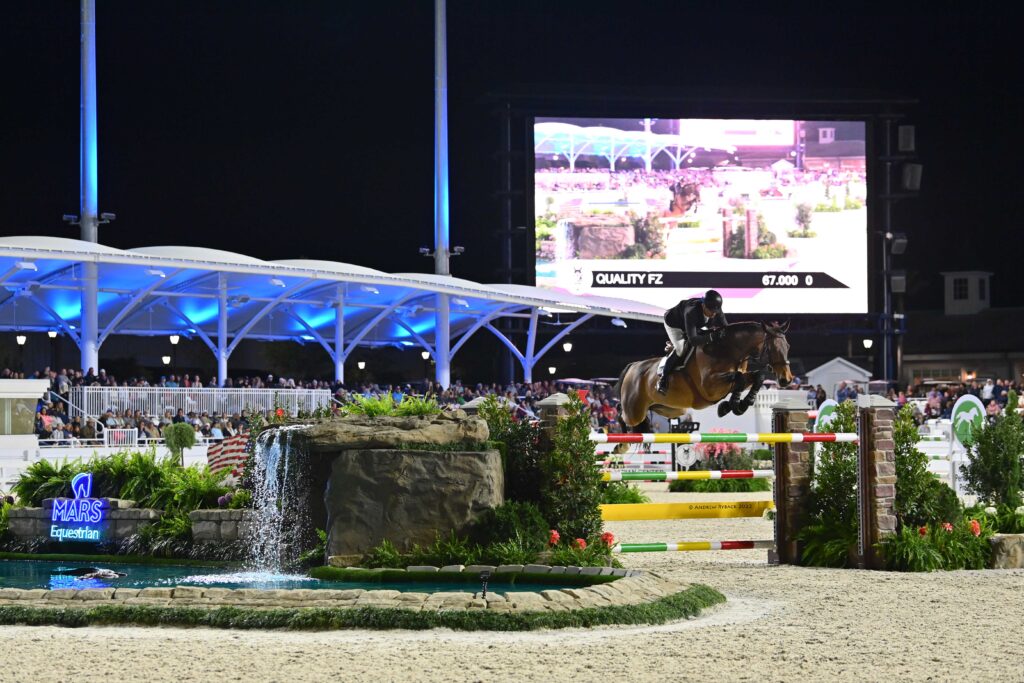 Ocala, FL – The 2023 Winter Spectacular Show Series is right around the corner! Spectators can enjoy 12 weeks full of top-level hunter/jumper action with competition Wednesday through Sunday. The 12-week series runs consecutively from January 4, 2023 through March 26, 2023. On Saturday nights, exhibitors and spectators alike can experience elite equestrian sport in the WEC Grand Arena.
On February 11, watch junior athletes compete for a brand-new car during the WEC Premier Equitation Cup Championship powered by Gary Yeomans Ford or catch international show jumping action on March 4. Don't miss the finale of the 2023 Winter Spectacular Show Series, the $250,000 MARS Equestrian Grand Prix on March 25.
View the 2023 Winter Spectacular Show Series Saturday night lineup:
January 7 | $100,000 Coors Light Grand Prix
January 14 | $100,000 Coca-Cola Beverages Florida Grand Prix
January 21 | $100,000 IDA Development Grand Prix
January 28 | $100,000 UF Health Grand Prix
February 4 | $100,000 Alltech Grand Prix
February 11 | Premier Equitation Cup Championship powered by Gary Yeomans Ford
February 18 | $100,000 Florida Coast Equipment Grand Prix
February 25 | $100,000 Hampton Green Farms Grand Prix
March 4 | $140,000 Lugano Diamonds FEI CSI3* Grand Prix
March 11 | $100,000 CaptiveOne Advisors Grand Prix
March 18 | $100,000 Wheels Up Grand Prix
March 25 | $250,000 MARS Equestrian Grand Prix
An exclusive Viewing and Dining Experience is available every Saturday night during the 2023 Winter Spectacular Show Series. Enjoy show jumping action from the terrace of The Equestrian Hotel while indulging in a three-course Chef's dinner with beer and wine courtesy of Stirrups Restaurant. A cash bar will be available for spirits and bottles of wine from sommelier's selections.
Circuit tables can be purchased through January 5, 2023. Weekly tables become available on December 16. Priority seating will be given to holders who book early.
Lodging at World Equestrian Center – Ocala
Make your reservations now to stay in comfort and elegance at The Equestrian Hotel, featuring 248 rooms and suites, multiple restaurants, luxury shopping and a full-service resort spa.
Choose to reserve a charming Home Away from Home rental unit or an RV space in our conveniently located park that includes a fuel station and general store with Starbucks and laundry, just steps away.
About World Equestrian Center
World Equestrian Center features two premier equestrian and multidisciplinary venues in Ocala, Florida, and Wilmington, Ohio.
These exclusive facilities comprise state-of-the-art arenas, expansive stadiums, versatile outdoor space, sporting fields and well-appointed exposition centers. An abundance of lodging options and luxury accommodations are conveniently located on-site, along with shopping and dining throughout each property.
Dedicated to offering great sport and good fun in a family-friendly environment, World Equestrian Center promises an unparalleled experience for exhibitors, spectators, vendors, sponsors and retailers built on three core values: Quality. Class. Distinction.