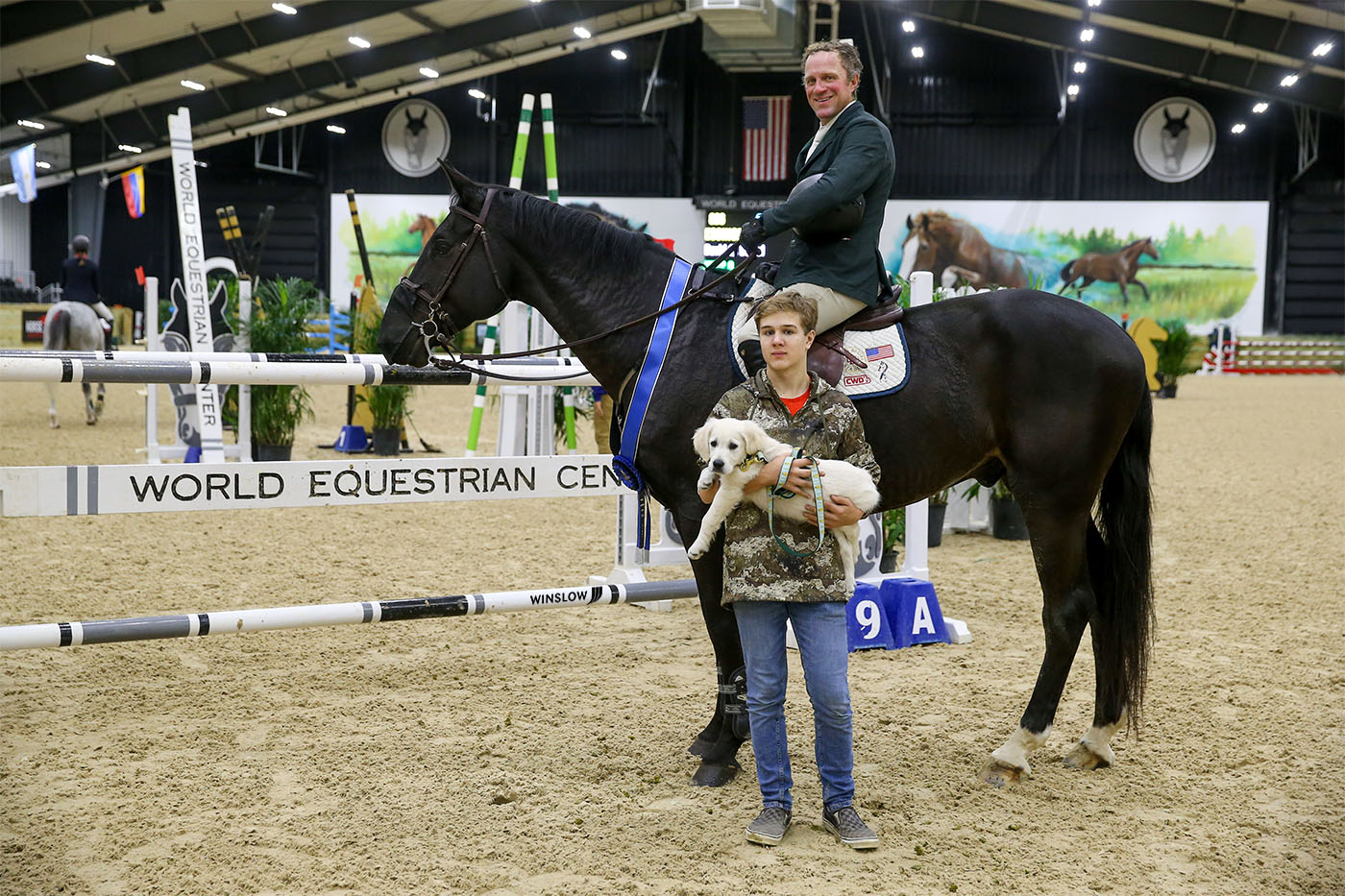 Winter weather moved in this week as we kicked off two weeks of Midwest Indoors shows. Exhibitors took a break from the single-digit temperatures, staying cozy and comfortable in World Equestrian Center's climate controlled barns, walkways and arenas. Things heated up this afternoon with thrilling jumper action in the Sanctuary Arena for the $5,000 Welcome Stake 1.35m sponsored by CWD Sellier. It was a tight race as just two-tenths of a second separated the top two placings but it was David Beisel and his own Essince W (Chacco Blue x Rossan) that blazed through the timers, ahead by a nose, to take the blue ribbon.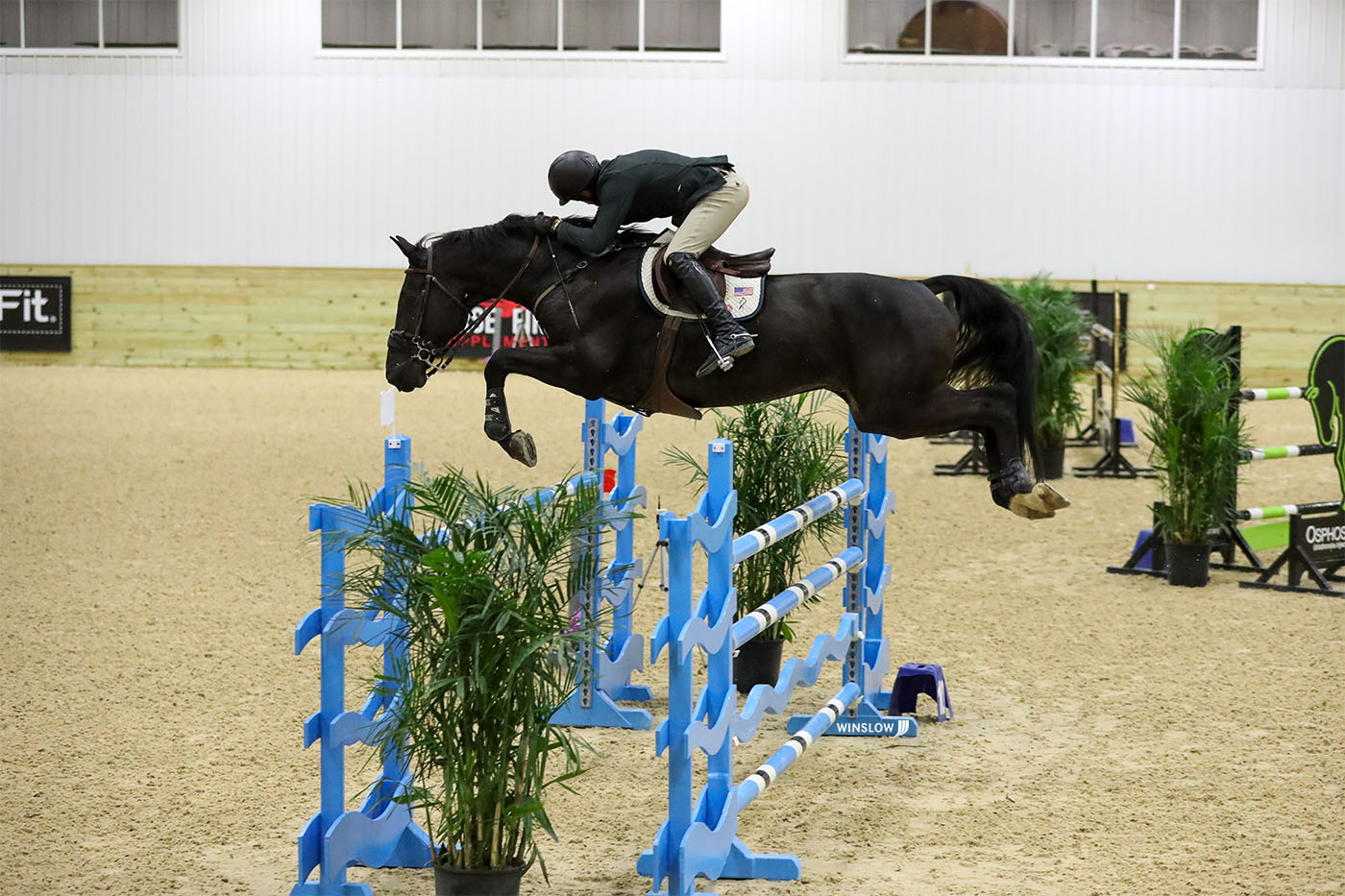 The course for this afternoon's Welcome Stake was designed by Tucker Williams of Ocala, Florida and featured several forward bending lines, two one-stride combinations and a liverpool. The jump off allowed entries to make up time between fences, both with speed and tactical turns. Beisel and Essince W were first to contest the course and remained atop the leader board for the entire class. The pair have a fantastic rapport at World Equestrian Center, consistently remaining in the tricolors in Welcome Stakes and Grand Prix. This afternoon, Beisel and the ten year old KWPN gelding navigated a foot-perfect first round in 79.003 seconds, well within the time allowed of 84 seconds. The pair continued straight to the jump off of the Table II 2b event with Essince W clearing each fence with room to spare in his signature style. The pair stopped the clock at 34.048 seconds, setting the pace for the remaining entries.
Beisel returned to the ring shortly after aboard Maarten Huygen's Angelo (Conthargos x Grand Ronja), besting his time in the jump off aboard Essince W at 33.048 seconds, however the pair had an unfortunate rail at the in of the combination, keeping them out of the top spot.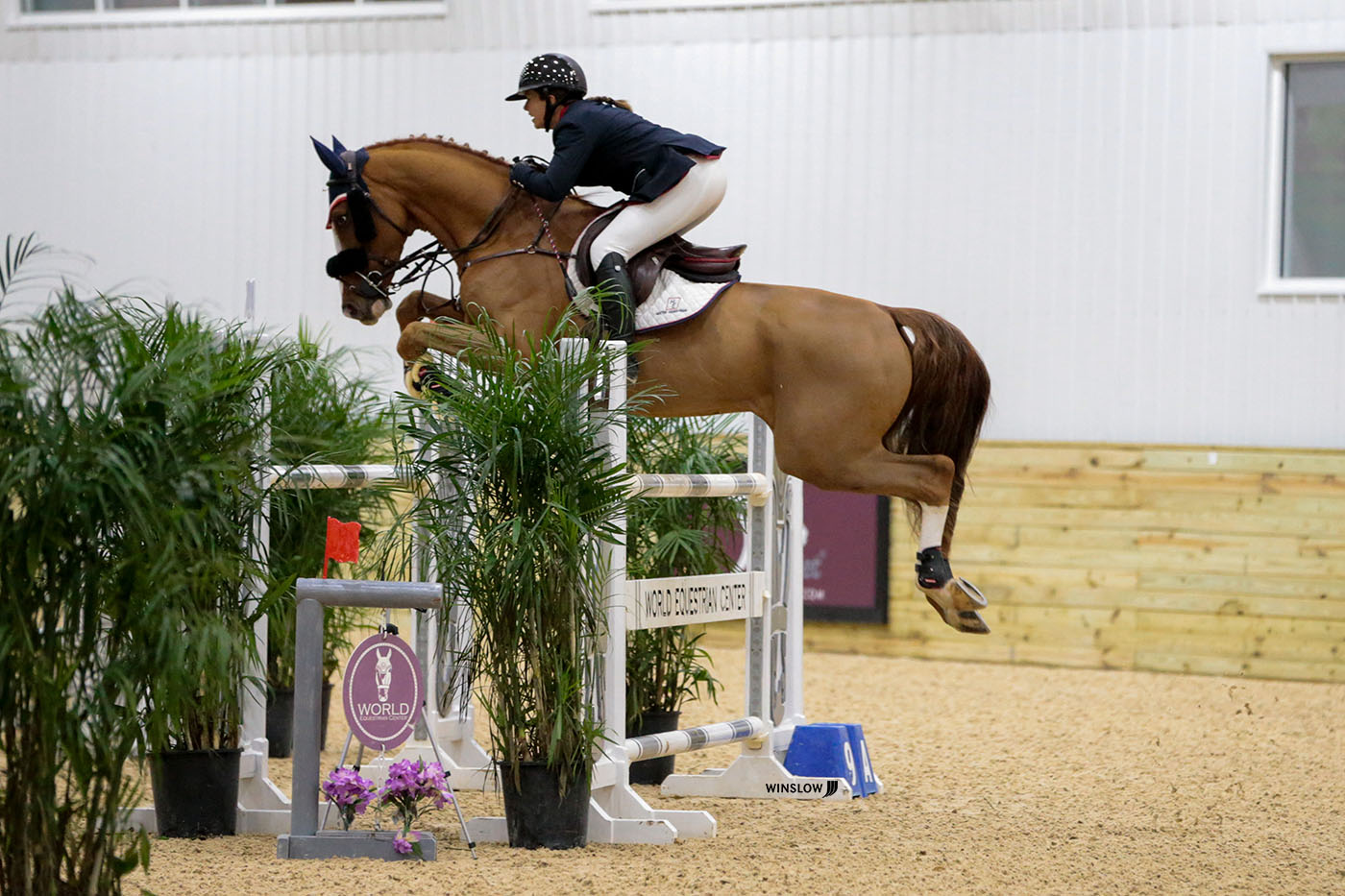 Next in the ring was Lauren Hester aboard Hester Equestrian LLC's Cooper 166 (Cancara x Trixi). The pair just returned form Tryon International Equestrian Center where they took third place in the CSI3* FEI $5,000 Power/Speed 1.40m, signaling that they would be tough competition in this afternoon's class. Hester and the nine year old Holsteiner gelding were quick in the first round, jumping clear in a time of 77.910 seconds. The pair advanced straight to the jump off, staying slightly more conservative on speed to ensure a clear round. Their strategy paid off as the pair crossed the timers with all rails up at 38.423 seconds, moving them into second place.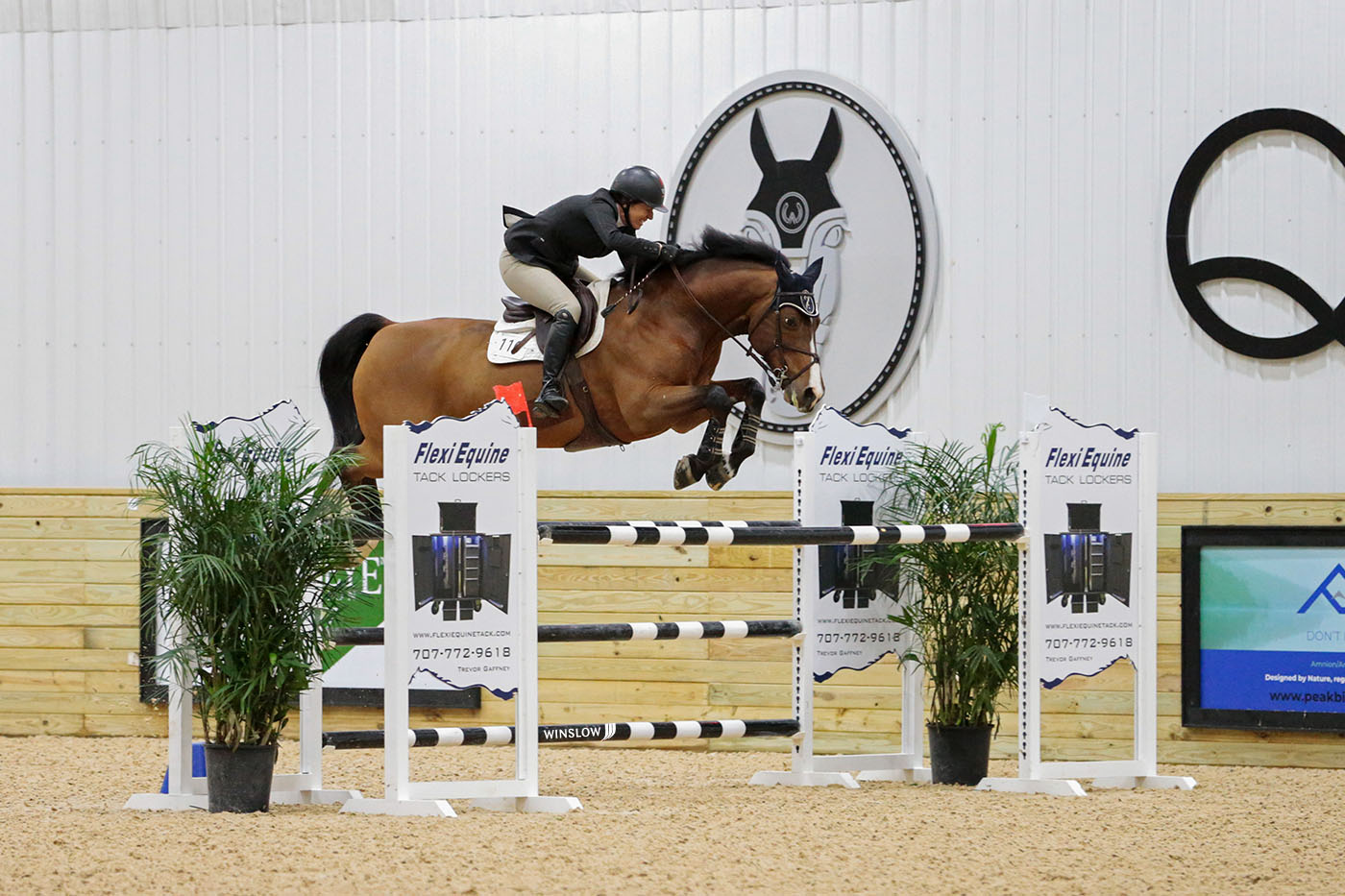 Tammy Provost was next to attempt the course aboard Moyer Farm LLC's Beorn (Douglas x Paola W). The pair have consistently taken top placings in the 1.25-1.40m jumpers, preparing them for this afternoon's class. Provost and the twelve year old Dutch Warmblood gelding took their time in the first round, ensuring that all rails were left up in a time of 82.093 seconds. The pair picked up the pace on the short course, mimicking Beisel and Essince W's inside turns. The pair galloped through the timers at 34.248 seconds, just two-tenths of a second slower than Beisel and Essince W, sliding into second place and moving Provost and Beorn to third place.
Hester nearly stole the win with the final ride of the class, Hester Equestrian LLC's Happy Feet B (Zacherov x Daronka). The pair delivered the fastest first round of the class in 74.630 seconds, then advanced to the jump off, stopping the clock at an incredible 31.864 seconds. The pair had an unlucky rail at fence one in the jump off, but still managed fourth place with their impressive round.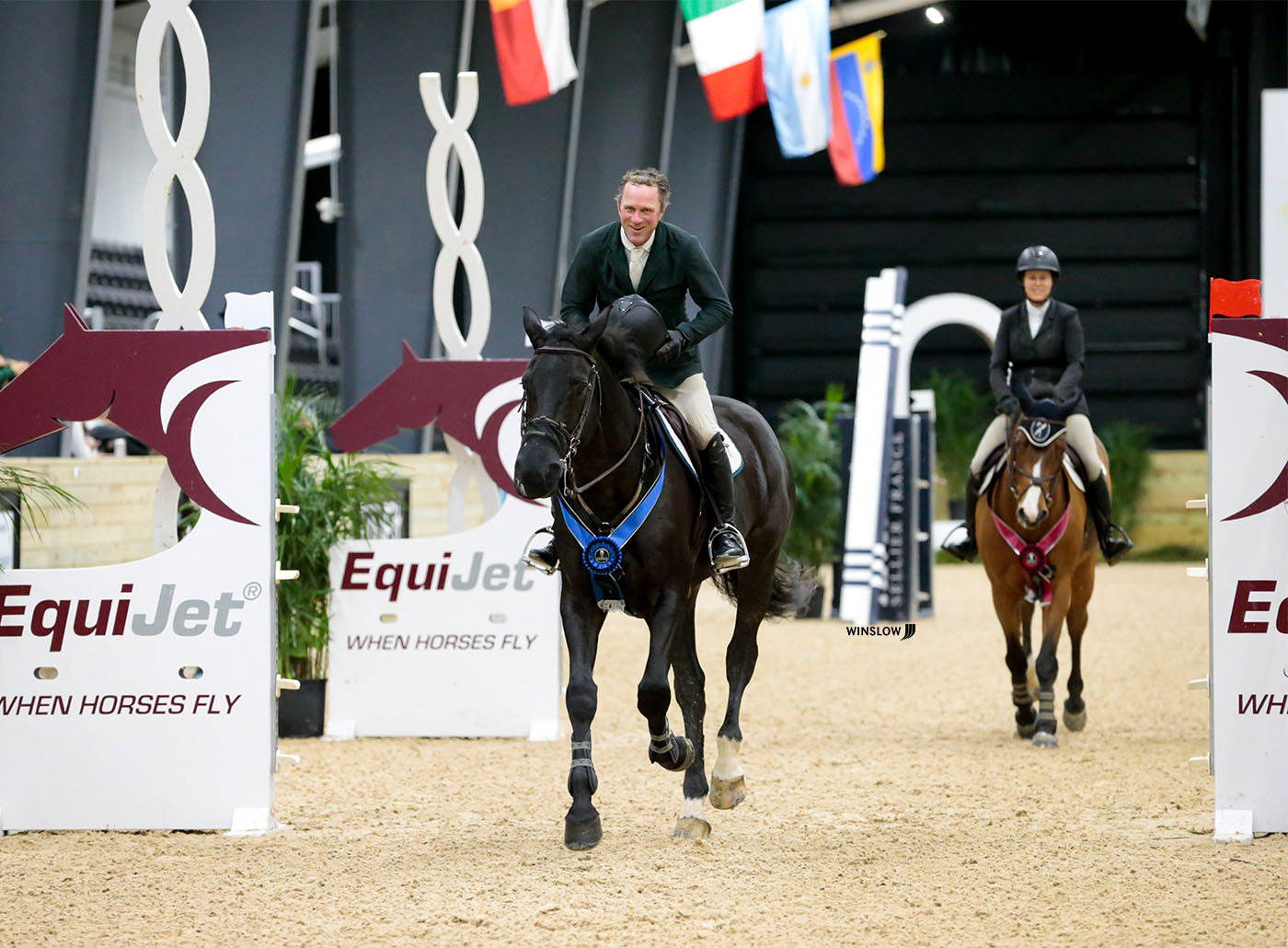 We caught up with Beisel after the class to hear about all three of his mounts, starting with first place finisher Essince W, "Essince has had a couple of weeks off and I hadn't jumped him much. We did one little course on Saturday at 3′ just to have some fun. So yesterday I did a 1.35m warm up and he was maybe a little too excited; he had one down. Then he came out today and was really nice and relaxed in the first round. I've had a little trouble with him in the past with focusing on the correct jump. He'll get looking around and not looking at the right jump, so I was trying hard to make sure he knew which one we were going to. It was nice because he didn't get lost and didn't get distracted by the jumps. It was a nice course but the jumps were in close proximity to each other, so that could have been a problem for Essince. At 9ab, there was an oxer next to it and he could have gotten distracted, but he did a nice job focusing on 9ab. Since he was so great in the first round, I thought I would try to turn tight to 9ab in the jump off. He was beautiful there and I think that's what won it for us. He was so quick to 9ab and the rest was lovely."
Beisel next commented on his ride aboard Angelo, "Angelo was great. I kind of lost him on the turn and had the rail down, but he did a nice job."
Though Bipper Du Libaire had four faults, Beisel was still thrilled with his performance, "I hadn't ridden Bipper for about a month until yesterday. He was great, he just ticked fence one. The rest of it was really nice. It was fun."
Beisel also added, "Thank you to Laura Stern for letting me ride her nice horse Bipper and to Maarten Huygens for letting me ride Angelo. Also thank you to my wife (Paige Beisel) for letting me have my horse!"
$5,000 Welcome Stake 1.35m Results
Essince W, David Beisel – 0 | 0 | 34.048
Beorn, Tammy Provost – 0 | 0 | 34.248
Cooper 166, Lauren Hester – 0 | 0 | 38.423
Happy Feet B, Lauren Hester – 0 | 4 | 31.864
Angelo, David Beisel – 0 | 4 | 33.867
Colour Your Day, Derek Braun – 0 | 10 | 52.152
Chanel, Sarah Meier – 4 | 80.354
Bipper Du Libaire – 4 | 82.163
Lorstakov, Lauren Hester – 4 | 82.496
Photos courtesy of Winslow Photography.