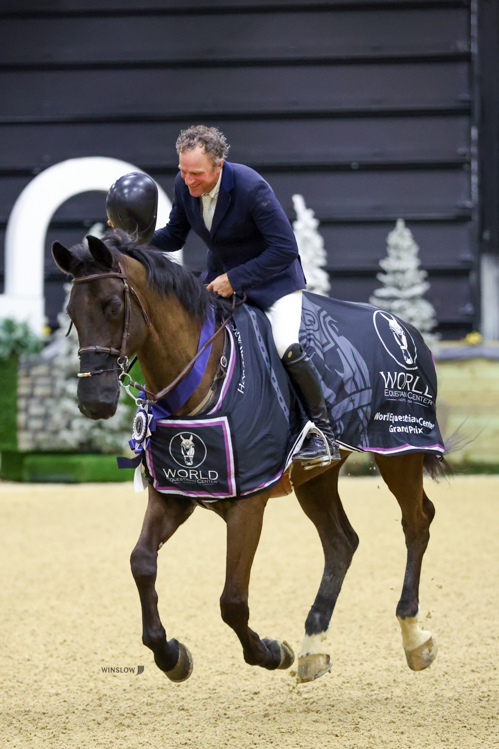 Wilmington, OHIO – David Beisel and his own Essince W rode to the top of the leaderboard once again during tonight's $30,000 WEC Wilmington Grand Prix. The team from David Beisel Stables in Goshen, Ohio won on the track designed by Robert Barton, which featured several tight inside turns, a triple bar and a liverpool. Seven entries jumped clear in round one, with just three going double clear through both rounds.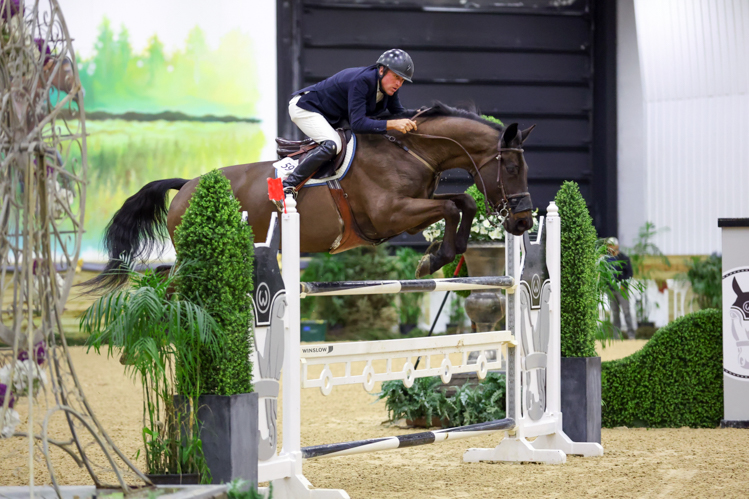 "With the way the second jump was set in the jump-off, some people went for the inside turn but I didn't see it fit for any of my horses. The turn to the vertical and then the in-and-out certainly wasn't easy and actually, my younger horse handled it the best! Luckily, Essence has a lot of heart, jump, and try and he got us through it. He gave it his all! Many of the jumps came in fast with just a little room to breathe. I was a little hurried when walking the course because I was in the hunter ring coaching. On my first horse, I realized how short the combination was. All of my horses handled it course great."
David and Essince W were the second-fastest time in round one, stopping the clock in just 72.154, well under the 81 second allowed time. Beisel and the thirteen-year-old Dutch Warmblood gelding later returned and completed the jump-off in 42.222 seconds to take home another well-deserved WEC Grand Prix win.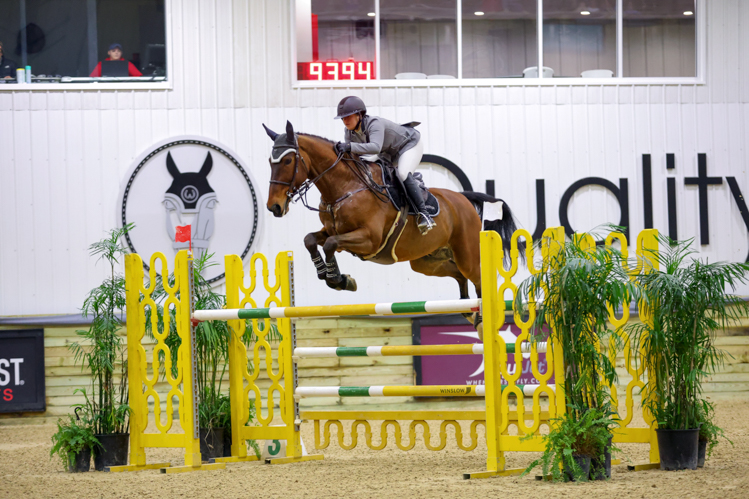 Nicole Loochtan of Stone Creek Stables in Lexington, Kentucky, and the accomplished Caiman des Sequoias (Radco d' Houtveld x Sublime de la Cour) rode clear in each round. Loochtan and the fourteen-year-old Belgian Sporthorse claimed second place honors with times of 74.087 in the qualifying round and 43.925 seconds in the jump-off.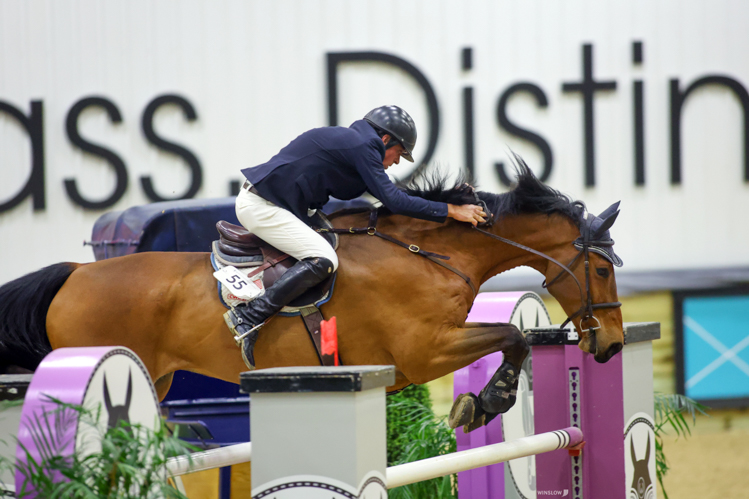 David Beisel and Vegas H (Valentino x Cobrah), a nine-year-old Hanoverian gelding, captured the third-place podium finish. The pair stopped the clocks in 75.651 seconds in round one and 46.160 seconds on the short course, remaining clear throughout.
$30,000 WEC Wilmington Grand Prix Results:
Essince W, David Beisel : 0 | 0 | 42.222
Caiman des Sequoias, Nicole Loochtan: 0 | 0 | 43.925
Vegas H David Beisel : 0 | 0 | 46.160
Kinsella, Charlotte Clark: 0 | 4 | 39.232
Z Diamanty, Megan Bash: 0 | 6 | 50.143
Jackson VDL, Megan Bash: 0 | 17 | 61.715
Catch a Star HSS, Kevin McCarthy: 0 | EL
Cumbaya W, Darby Pease: 4 | 75.015
Hendrik, David Beisel: 4 | 76.728
Fawkes, Lindsay Lyden: 4 | 77.101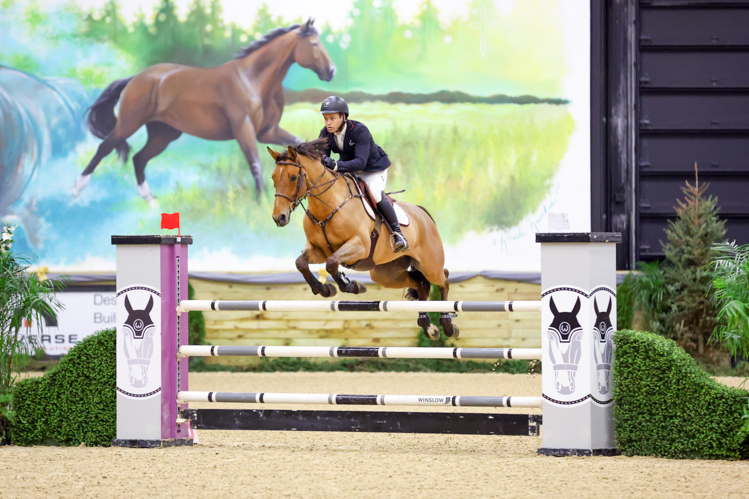 David Arcand and his own Diaz Barbotiere (Messire Ardent x Quambera Barbotiere) galloped through each round in foot-perfect form, jumping double clear, to win the $10,000 WEC Futures Prix 1.30m.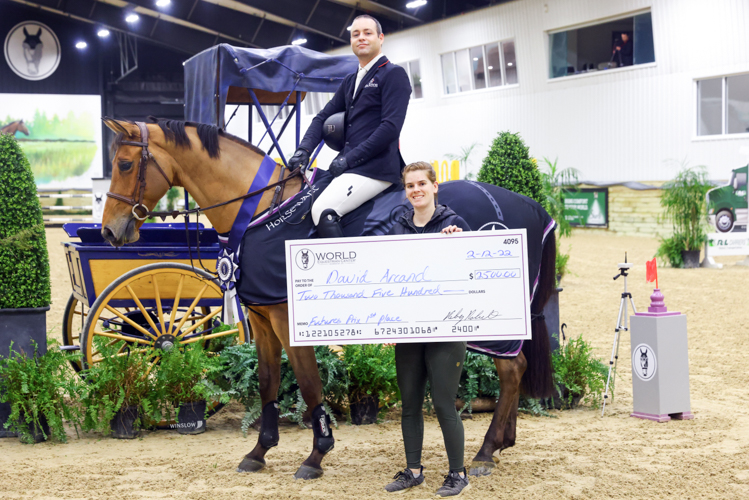 Arcand of Santos Stables in Quebec, Canada, and the nine-year-old Selle Francais gelding jumped to victory, completing the qualifying round in 70.157 seconds and immediately returning to combat the jump-off. The short course came up nicely for the pair, they kept a speedy forward pace and wasted no time to cross the timers in 30.056 seconds, to ultimately win the class.
"I bought this horse and my other one at the same time – I call them brothers!  Diaz Barbotiere stayed in Europe a year after I bought him, so he is newer to me but he has been so easy to bring along. Getting him into the ring and trying our best is the most important thing. The time was a bit tight and the jumps were coming up quickly, which could be why fewer riders went clear in the first round.", Arcand added.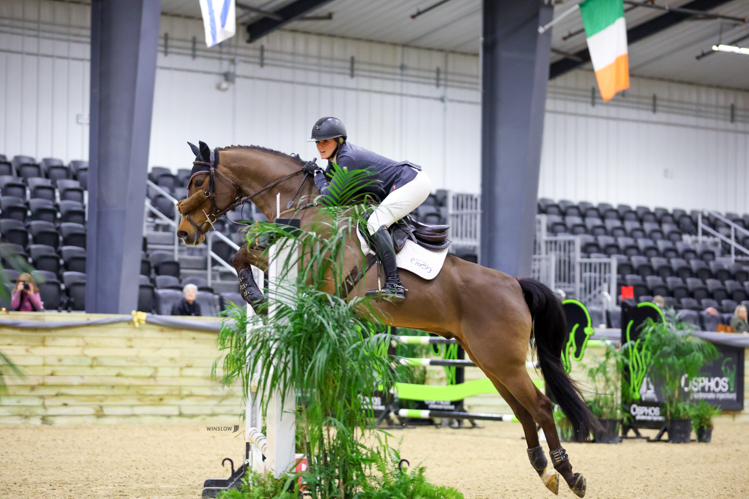 Darby Pease of Windcrest Farm in Lexington, Kentucky, and Three-Eight Properties Carel Van Donderen (Acolino 4 x Terania DIe Hoeghte) took home the Futures Prix victory last week and tonight they jumped into the second-place spot. Pease and the fifteen-year-old Dutch Warmblood gelding went clear in round one, stopping the clock in 68.811 seconds, followed by a 35.589 second and four-fault finish over the jump-off track.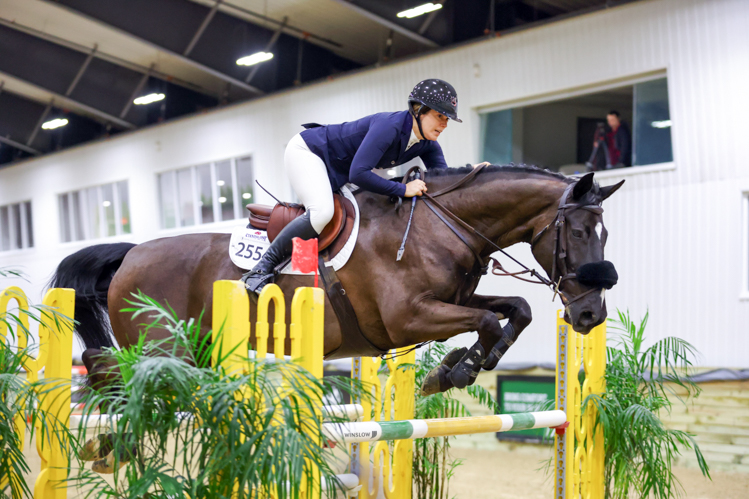 Rounding out the top three were Lanie Thomas and Neil Badcock's Oz Royale who finished round one in a fast 70.949 seconds. The pair, unfortunately, knocked an unlucky rail, leaving them out of the jump-off.
$10,000 Futures Prix Results 1.30m:
Diaz Barbotiere, David Arcand: 0 | 0 | 30.056
Carel Van Donderen, Darby Pease: 0 | 4 | 35.589
OZ Royale, Lanie Thomas: 4 | 70.949
Oliver, Whitney Taylor: 4 | 73.020
Another Never, Lanie Thomas: 8 | 73.241
Matinee BSH, Shawn Butler: 8 | 77.281
In Private, Lindsay Lyden: 12 | 74.680
Ammeretto, Izzy Beisel: 12 | 78.396