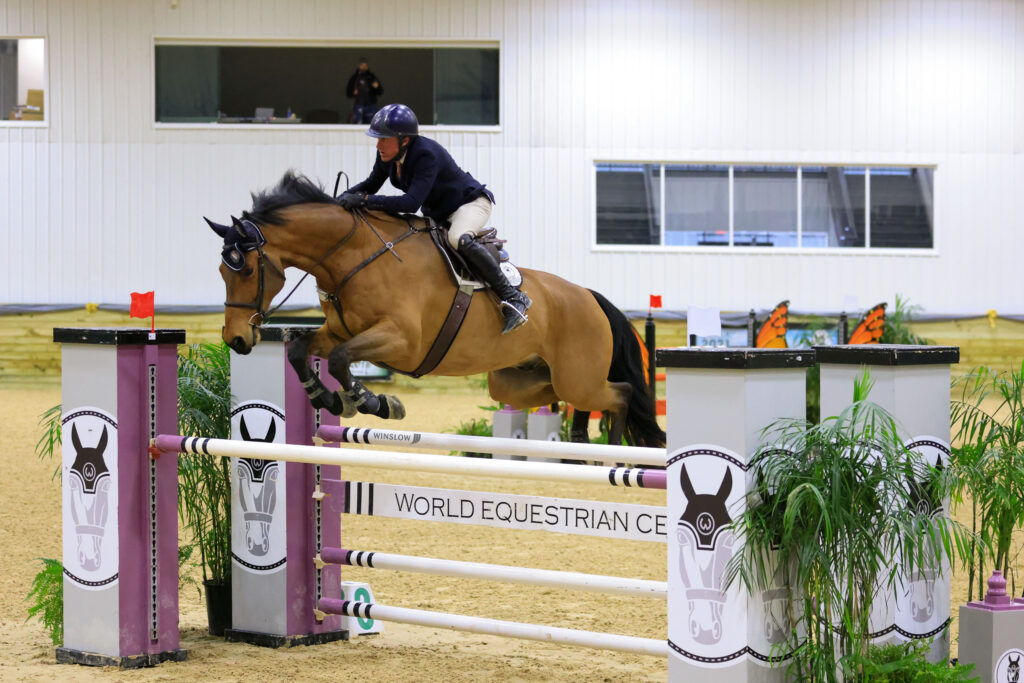 Wilmington, OHIO – Week six of the Winter in the Midwest 2022 kicked off with feature jumper class action in the Sanctuary Arena where seventeen athletic horse and rider combinations contested the $10,000 Welcome Stake 1.35m. Course designer Keith Bollette laid the track for the class, which saw thirteen pairs go clear and inside the time allowed of 84 seconds to advance to the jump-off. Nine pairs went clear over the short course, but it was David Beisel (USA) and his longtime partner Vegas H (Valentino x Cobrah) who prevailed, stopping the jump-off clock in just 37.717 seconds.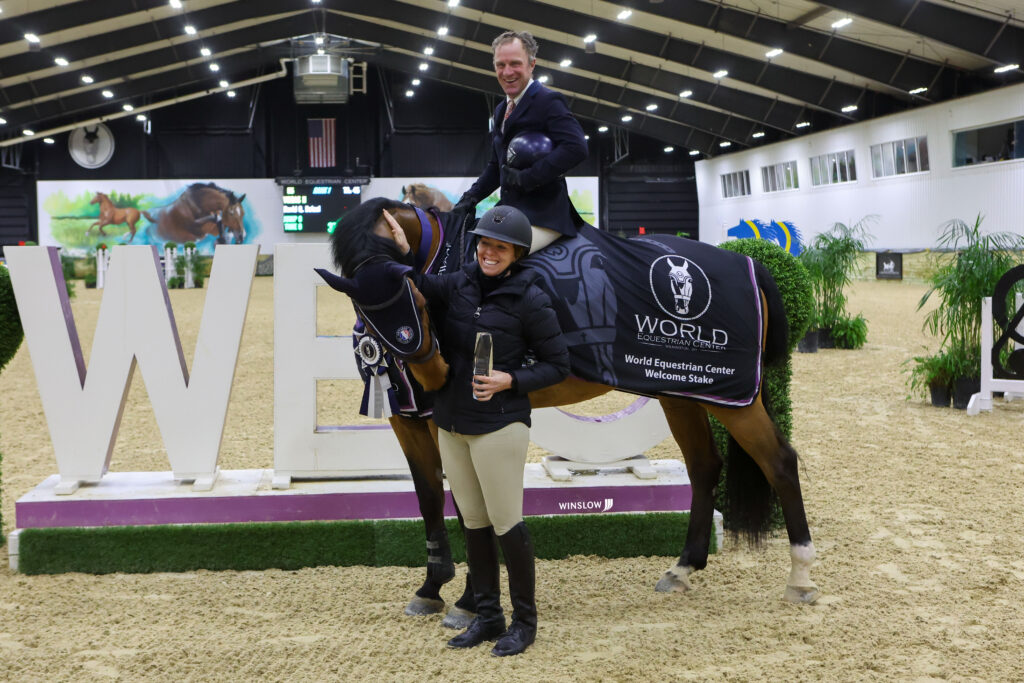 Although other top finishers opted for near impossible inside turns, Beisel of David Beisel Stables in Goshen, Ohio opted for a longer route in the jump-off, depending instead on Vegas H's massive stride to make up time. Beisel noted that although he walked the course intending to take the inside turns, he decided to leave them out and focus more on the areas where the pair could fully gallop.
"I don't know my other horse quite as well as Vegas, and last week we got into a little bit of trouble in the Futures Prix taking an inside turn. As for Vegas, if I can really get him galloping, then I think he is in the clear. I probably galloped faster in a few places, because of his huge stride, compared to other riders. That really helped me maintain a good pace and time. Even though I took a few more steps, he felt like he was at a much higher rate of speed."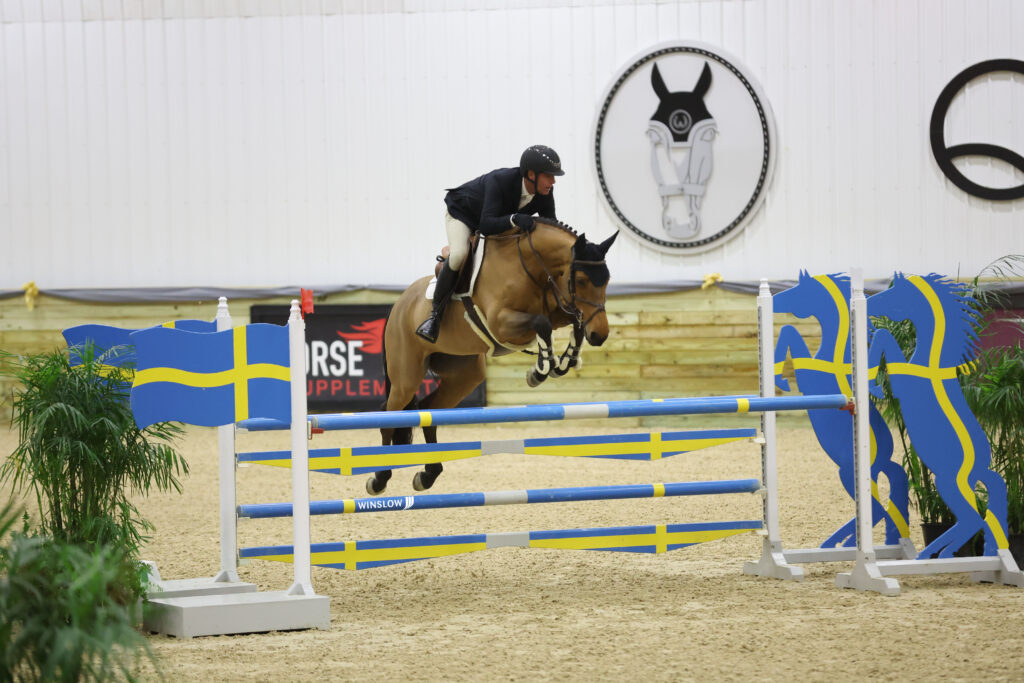 Paul Halpern (CAN) and Vanessa Lee's Esra (Bratt Z x Ulibra) missed the mark by just fractions of a second to take second place. Round one went smoothly for Halpern, stopping the clock at 80.394 seconds. Upon returning for the jump-off, the pair followed a similar strategy of third-place finisher Kevin McCarthy, and managed a risky inside turn just after the first jumping effort. The remainder of their round was smooth and the pair crossed the timers in 37.937 seconds.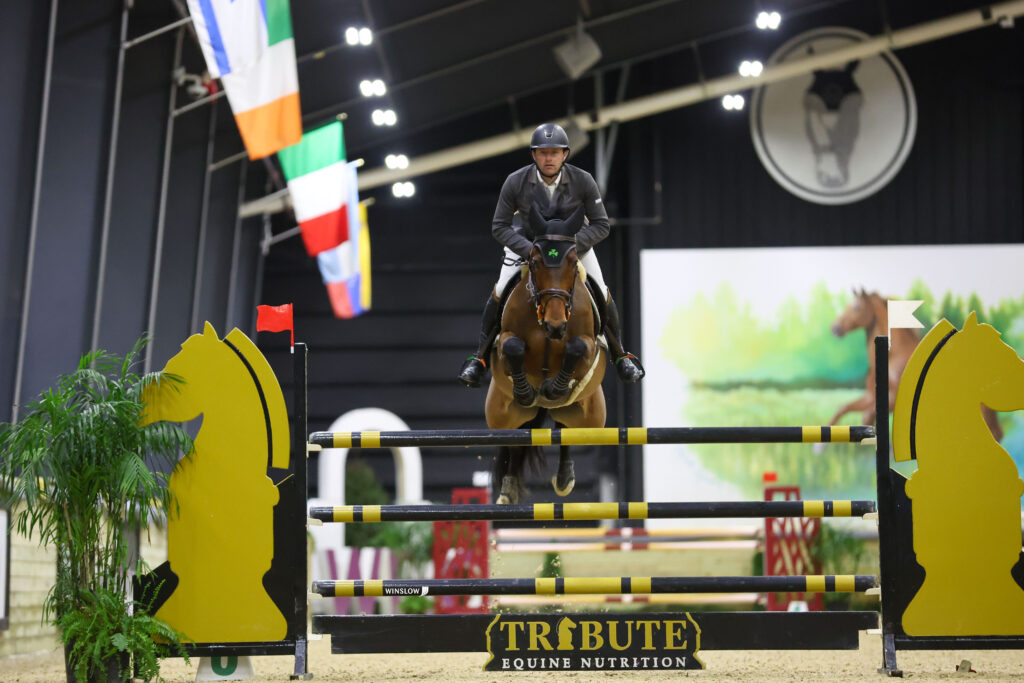 Kevin McCarthy (IRL) of K&K Sporthorses in Lexington, Kentucky and his own Catch a Star HSS paved the way for inside turns on today's course. Intending to shave off precious time, McCarthy turned left immediately after the first jump a move that allowed him to hold first place on the leaderboard for several rides after their round. As the class progressed Halpern claimed the spot, which would later be stolen by Beisel. McCarthy and the bay Swedish Warmblood finished the first round in 78.460 seconds and stopped the clock in 38.562 seconds in the jump-off round.
$10,000 Welcome Stake 1.35m Results:
Vegas H, David Beisel: 0 | 0 | 37.717
Esra, Paul Halpern: 0 | 0 | 37.937
Catch a Star HSS, Kevin McCarthy: 0 | 0 | 38.562
Vincent, Richard L. Rinehart: 0 | 0 | 38.609
Dollar Del Colle, David Arcand: 0 | 0 | 39.287
Summersby, Doug King: 0 | 0 | 39.385
Z Diamanty, Megan Bash: 0 | 0 | 39.537
BSS Isa, Darby Pease: 0 | 0 | 39.849
Hendrik, David Q. Beisel: 0 | 0 | 40.038
Diaz Barbotiere, David Arcand: 0 | 0 | 35.810