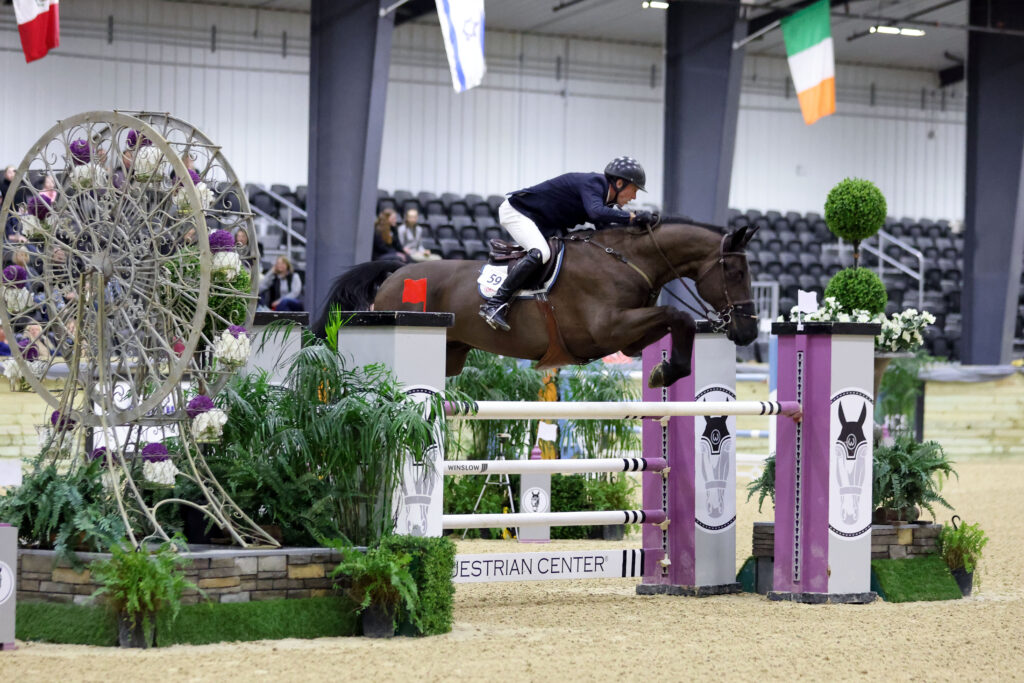 Wilmington, OHIO – Winter Classic week seven's $30,000 Grand Prix drew in quite the Saturday evening crowd to the Sanctuary Arena. Cheering fans flocked to survey top feature jumper action over the technical course designed by Bobby Murphy of Lexington, Kentucky. The challenging course allowed only four pairs to advance to round two, with only two teams jumping double clear.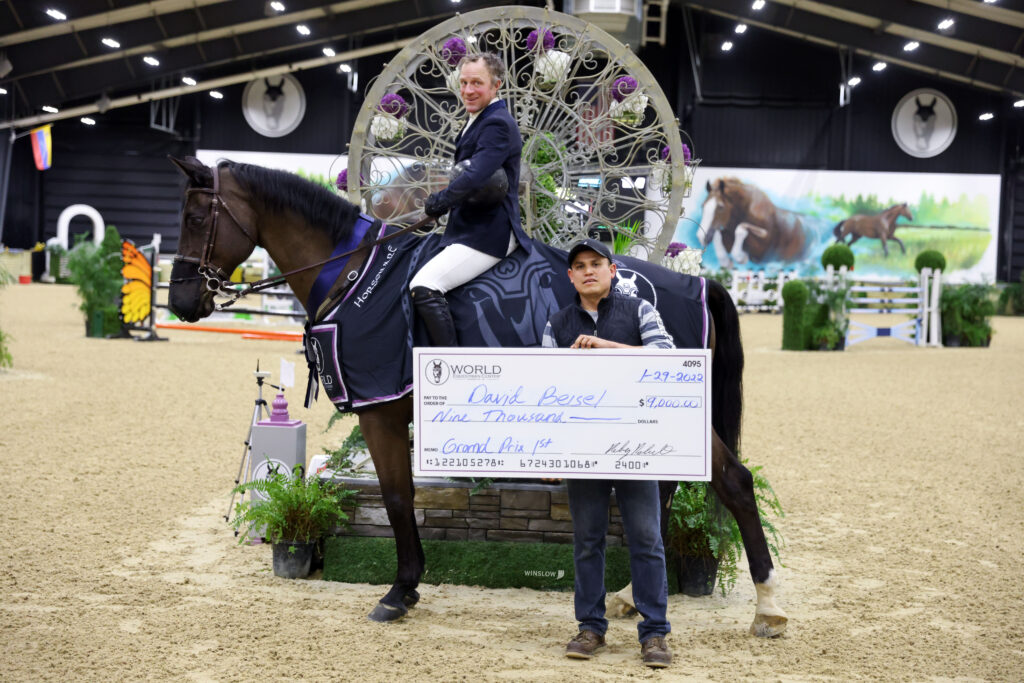 David Beisel of David Beisel Stables in Goshen, Ohio, and his own Essince W owned the night, laying down two fast and furious rounds on the testing track. Their efforts consisted of a clean first-round finish in 73.778 seconds, which earned the duo an invite to the jump-off round. Beisel and the thirteen-year-old Dutch Warmblood tackled the short course stopping the timers in just 37.317 seconds to ultimately win the class.
Beisel noted that he counted on Essince's galloping speed and quick-footed turns to take them to the top. "I ideally would have been smoother in our first round. Our two to the three was certainly not the most beautiful, but thanks to him, he saved us. Up the last line, I anticipated that I would have too much horse so I bowed out to six, but then I went way too wide and was forced to fly into the combination. He handled it wonderfully. I was telling David Arcand that he is getting so fun to ride and compete on. Compared to a year or two years ago, he has really learned how to gallop, jump and then turn. I had a hard time being competitive with him… he would always be sure to jump clear but wouldn't turn as quick and would jump too high, which left us in the air. He now can measure the jumps so he spends less time over the jumps."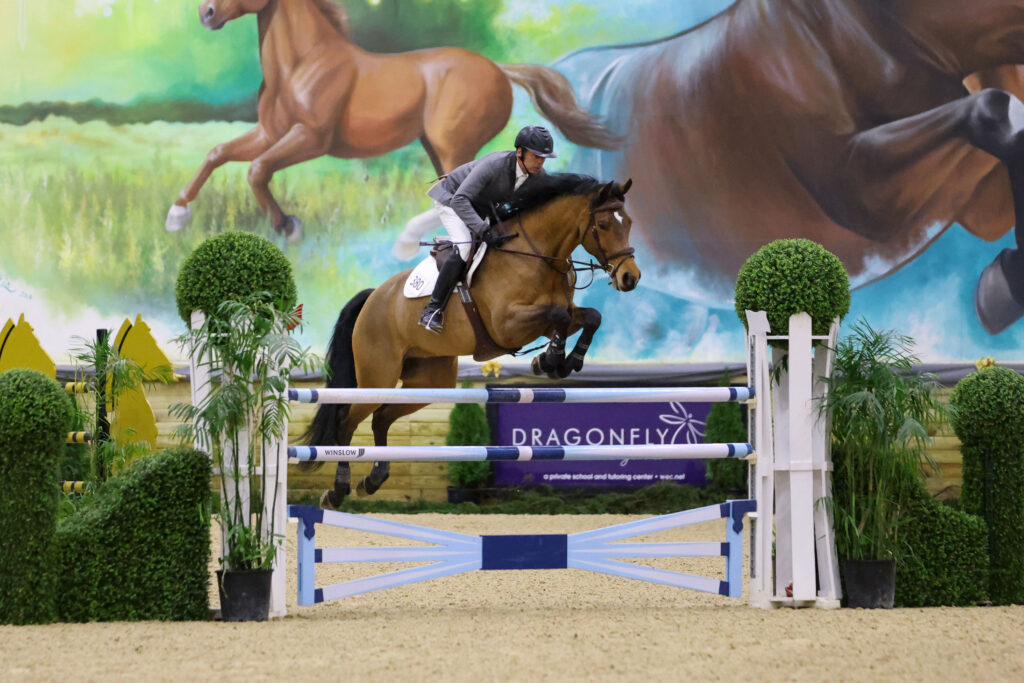 Richard Rhinehart of Rhinehart Farm in Westfield, Indiana captured both the second and third place spots piloting Vincent and La Dolce Vita VDL, respectively.
Rhinehart galloped Ron Caraway's Vincent through two speedy rounds, missing the mark by less than one second. They took their time in round one, making sure to remain clear and stopping the clock in 78.277 seconds to reserve a spot in the jump-off. During the short course, Rhinehart did not hold back as he expertly jockeyed Vincent to stop the timers in only 38.647 seconds for a red ribbon finish.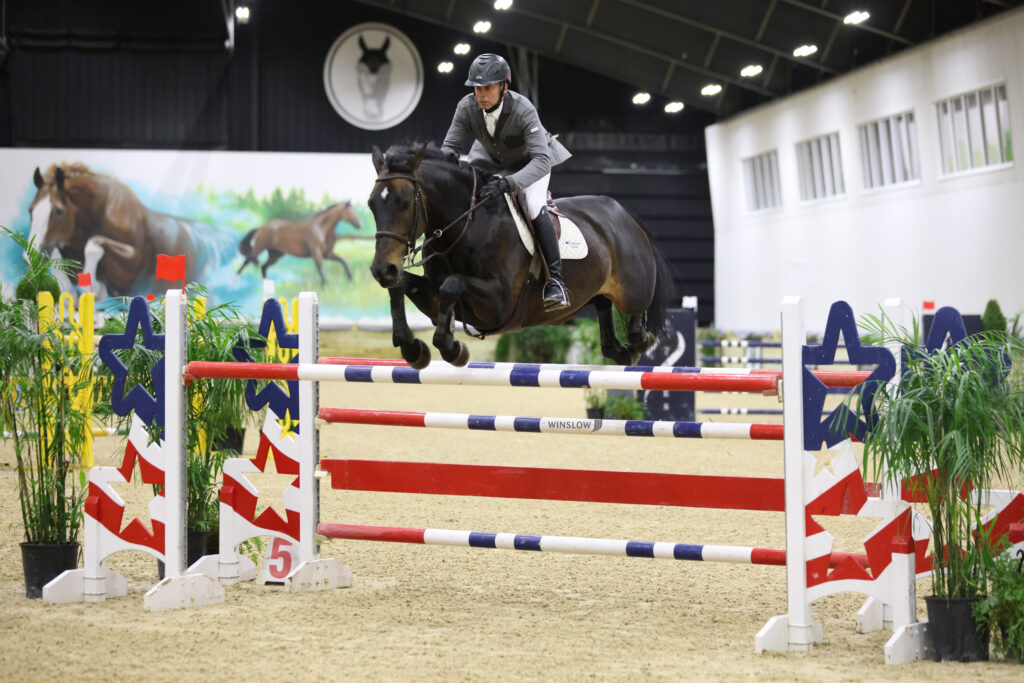 Allison Vinatieri's La Dolce Vita VDL (Zapatero VDL x Tilly) and Rinehart rounded out tonight's top three podium placings in the $30,000 Grand Prix. The twelve-year-old Dutch Warmblood stopped the clock at 76.354 seconds in round-one and 36.093 seconds with an unlucky rail to finish in third place. 
$30,000 WEC Grand Prix Results:
Essence W, David Beisel: 0 | 0 | 37.317
Vincent, Richard L. Rinehart: 0 | 0 | 38.647
La Dolce Vita VDL, Richard L. Rinehart: 0 | 4 | 36.093 
Dollar Del Colle, David Arcand: 0 | 4 | 42.592
Kinsella, Charlotte Clark: 4 | 73.867
Cumbaya W, Darby Pease: 4 | 74.322
Vegas H, David Beisel: 8 | 78.226
Cinna HP, Brian C. Shook: 17 | 87.373
Ammeretto, Izzy Beisel: 20 | 71.417
Fortysix & 2, Lyriss Jaeger: 20 | 77.599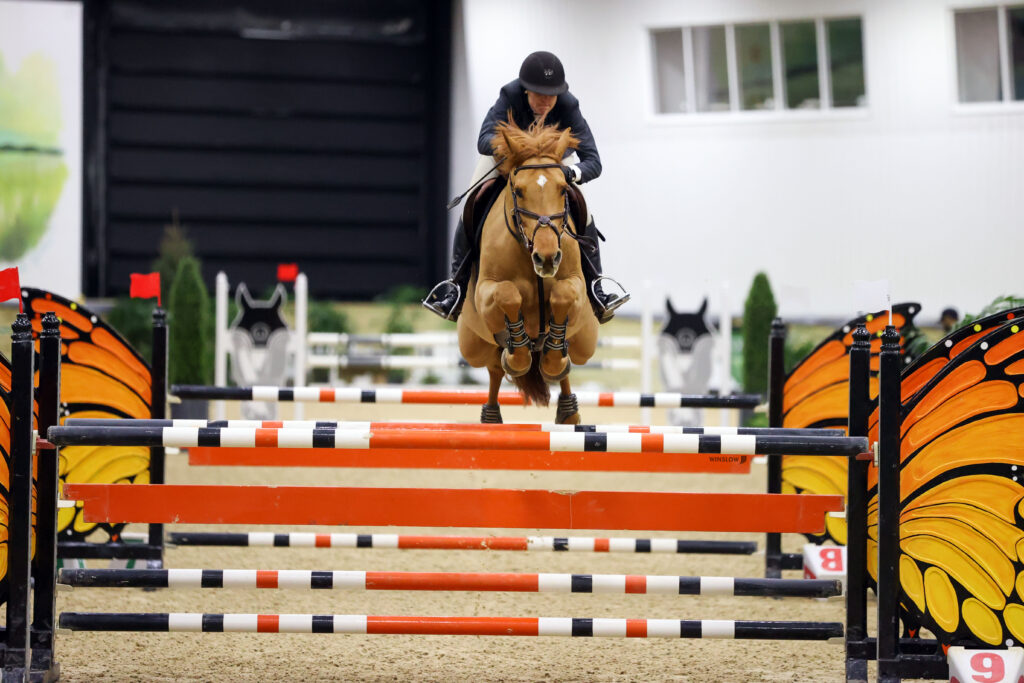 Amatuer Lindsay Lyden & Fawkes Grab $10,000 WEC Futures Prix 1.30m Win
Amateur owner Lindsay Lyden of Brecksville, Ohio and her own Fawkes (Carthino Z x Tisral) had a remarkable win in today's $10,000 WEC Futures Prix 1.30m. Lyden chose to take a bold approach to the first round with the twelve-year-old Dutch Warmblood gelding. The pair went for it, galloping through the course and leaving all rails up in 73.775 seconds. They continued straight to the jump-off, riding fiercely and stopping the clock at 32.997 seconds to secure the blue ribbon.
Lindsay noted how she used her horse's natural ability to take advantage of the winding course. "The nice thing about Fawkes is that he is extremely scopey and blazingly fast…especially when his rider stays out of his way. The goal was to get a good gallop, keep the gallop, find our turns and ride him every stride. I believe I was the only one to do the six from jumps four to five. His speed is so nice to have and because he is so relaxed, leaving out a stride here or there is not a big deal."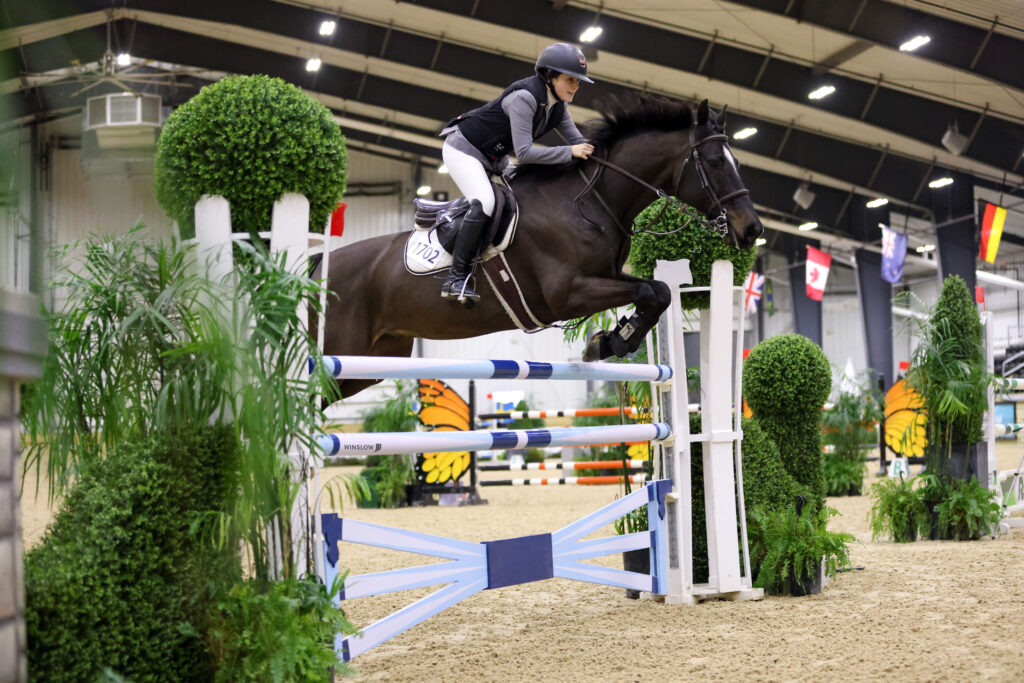 Jumping into the second-place spot was Rebecca Gutstein and her own Completely Nuts (Cormint x Lioba). The beautiful dark brown Oldenburg gelding finished the first round course in 75.565 seconds. The jump-off timers were stopped in 34.194 with all rails left up for a second-place podium finish.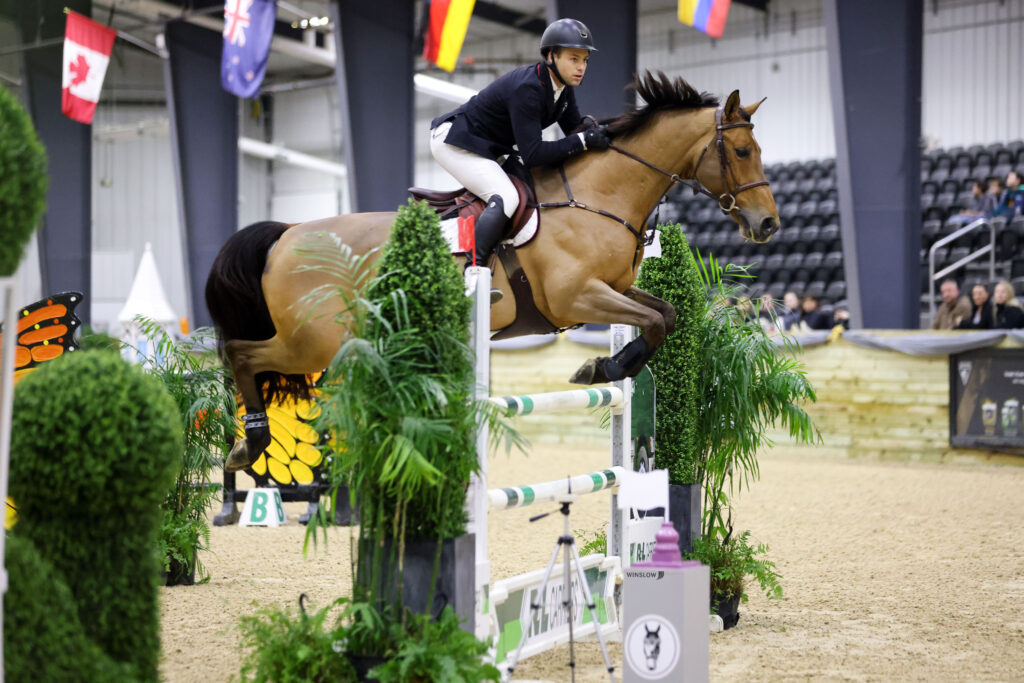 Rounding out the top three were David Arcand (CAN) and his own Diaz Barbotiere. Arcand and the talented Selle Français stallion captured second in last week's Futures Prix. They returned to the arena today completing the long course in 77.813 seconds, followed by a jump-off time in 34.423 seconds to finish in third place. 
$10,000 WEC Futures Prix 1.30m Results:
Fawkes, Lindsay Lyden: 0 | 0 | 32.997
Completely Nuts, Rebecca Gutstein: 0 | 0 | 34.194
Diaz Barbotiere, David Arcand: 0 | 0 | 34.423
Balugata, Liz Hutchinson: 0 | 0 | 35.082
Montendro 5, Owen Gajoch: 0 | 0 | 35.712
El Classico, Caroline Nadalin: 0 | 0 | 36.364
Captain America, Richard Rinehart: 0 | 0 | 37.032
Harley David, Rebecca Gutstein: 0 | 4 | 32.447
Bradley, Sarah Sturges: 0 | 4 | 34.871
Ismeal, Ashley Stumm: 0 | 8 | 36.685