A winter storm surged through Southwestern Ohio today, but exhibitors and spectators alike at World Equestrian Center's Winter Series of the Midwest were unfazed, thanks to perfect indoor conditions throughout the facility. A large crowd filled the stands in the Sanctuary Arena tonight to watch the $25,000 WEC Grand Prix and the $7,500 Futures Prix 1.30 m, sponsored by Voltaire.
$25,000 WEC Grand Prix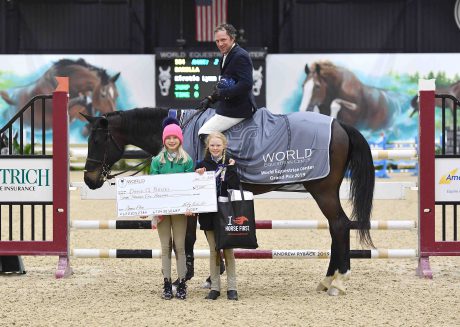 Tonight's $25,000 WEC Grand Prix course challenged riders to pilot their horses with precision, with plenty of combinations, turn options and a few fences by the ingate, which proved to be tough for horses that were easily distracted by the ingate, with a change in pace leading to a downed rail. However, Kirstie Lynn Dobbs and Treesdale Farms' Barilla (Casco x Kemarilla) made the course look simple, taking their time and jumping a clear round in 89.337 seconds, well within the time allowed of 92 seconds.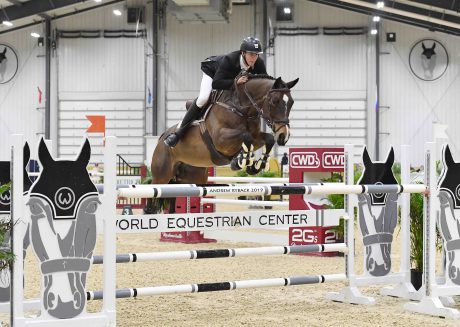 Michael Kocher and Altezza Du Jardin jumped clear and stopped the clock at 86.631 seconds to earn the next spot in the jump off. The final clear first round of the $25,000 WEC Grand Prix was executed by David Q. Beisel aboard his own Essince W (Chacco Blue x Rossan). Like Dobbs and Barilla, the pair took a little extra time to ensure a clean round, but still finsihed within the time allowed at 89.096 seconds, securing their spot in the jump off.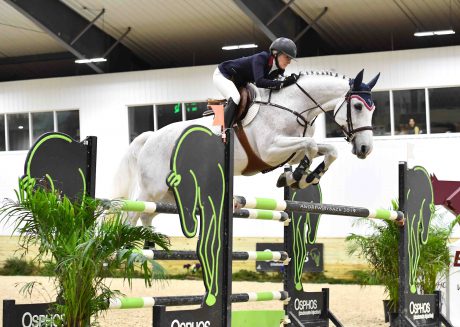 With just three to ride in the short course, it was a true head-to-head competition. Dobbs and Barilla were first to return,taking the speedier approach, but taking one rail, crossing the timers at 40.524 seconds. Next in was Kocher and Altezza Du Jardin. The pair also took the speedy approach, riding the jump off in just 39.637 seconds, but had an unfortunate sixteen faults. Last to ride the jump off was Beisel and Essince W. Knowing that a clear round was more important than speed, the pair took their time, stopping the clock at 45.516 seconds, still within the time allowed of 48 seconds, and leaving all of the rails up.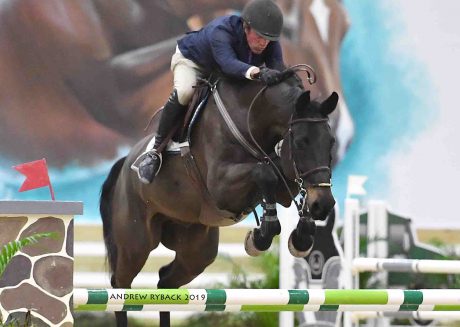 David Q. Beisel of David Beisel Stables in Goshen, Ohio was thrilled to talk to us about his win in the $25,000 WEC Grand Prix tonight. Beisel has owned and ridden Essince W for about a year, and when they began, Essince W was only jumping 1.10 m. Beisel has brought him along, putting in plenty of show miles with Essince W, particularly at World Equestrian Center. "I showed him [at World Equestrian Center] in October and December, and by the end of the Fall Series, he was jumping 1.40 m. We tried the Grand Prix in December, and he was great with just one rail down. He was also great last week with just one down, so I was excited for tonight," explained Beisel.
In preparation for tonight's Grand Prix, Beisel and Essince W competed in a 1.35 m class on Wednesday. "I told my wife (Paige Beisel) when I got home on Wednesday, 'I'm not showing Essince until the Grand Prix; he's ready.' He's ready to go compete, not just do miles," said Beisel, confident in Essince W's abilities.
Beisel's instincts were clearly correct watching Essince W's performance tonight, jumping well above the standards over many of the fences, drawing audible gasps from the crowd. Beisel even heard the crowd gasp from across the ring, "I heard the crowd gasp when he jumped the out of the double in the jump off," said Beisel, "Also, over the oxer by the ingate in the first round when I was looking over my shoulder to the left for the next jump, I saw his hind feet all of the sudden by my eyeballs and I was like, 'What are your hind feet doing there by my head?'"
Despite his wealth of talent, Beisel notes Essince W's lovely personality, "He's just the sweetest horse. When I was leading him around today, every person he saw he put his ears up like, 'Would you like to feed me a treat?' He's so nice and kind. My daughter (Izzy Beisel) even flats him for me at home. He's a fun horse too." However, Essince W was not the only one showing kindness tonight. Before he left the arena, Beisel gave his first place ribbon and cooler to a young, star struck fan, which very clearly made her night.
$25,000 WEC Grand Prix Results
Essince W, David Q. Beisel – 0 | 0 | 45.516
Barilla, Kirstie Lynn Dobbs – 0 | 4 | 40.524
Altezza Du Jardin, Michael Kocher – 0 | 16 | 39.637
Caphur, Taylor Kain – 4 | 84.759
Shuttergold, Taylor Kain – 4 | 87.650
Jordan, Jill M. Gaffney – 4 | 87.662
Quantos, Jason Berry – 4 | 90.831
Kir Royal SCF, David O'Brien – 8 | 84.596
With A Little Help Sir, David Q. Beisel – 8 | 86.133
Call Me Hannes, David Q. Beisel – 11 | 88.809
$7,500 Futures Prix Sponsored by Voltaire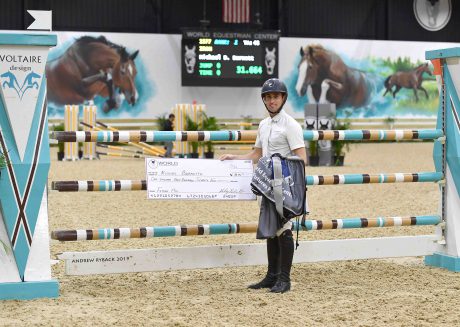 Tonight's $7,500 Futures Prix 1.30 m sponsored by Voltaire featured a similar course to the $25,000 WEC Grand Prix with several combinations and turn options, but with just two jumps by the ingate. The time allowed in the first round of the Futures Prix was 81 seconds, being that the course was a bit shorter than the Grand Prix's course. The Futures Prix was run in a Table II format, seeing riders continuing directly into the jump off after their first clean round.
It did not take long before the crowd saw a clear first round. Third in the order of go were last week's $7,500 Futures Prix 1.30 m winners, Michael D. Burnett and his own Iron (Iroko x Ikurrina Timbera). The pair brought the same power to the arena they did last week, surging through the first course, leaving all rails up in a time of 75.971 seconds. Burnett and Iron continued straight into the jump off, again powering through the course, crossing the timers clear and setting the time to beat at 31.664 seconds.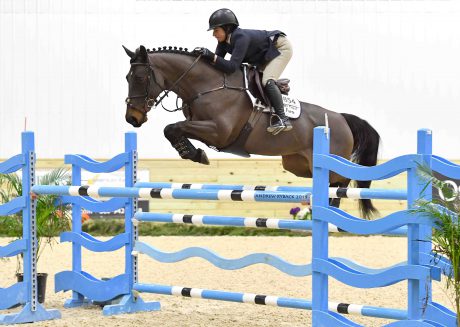 The next clear round of the night was ridden by Jennifer Waxman aboard Spy Coast Farm's Lazuli II SCF (Numero Uno x Lazuli). The pair were careful in the first round, jumping clean in a time of 73.659 seconds. They continued into the jump off, riding a second clear round, but could not catch Burnett and Iron's time, stopping the clock at 33.336 seconds.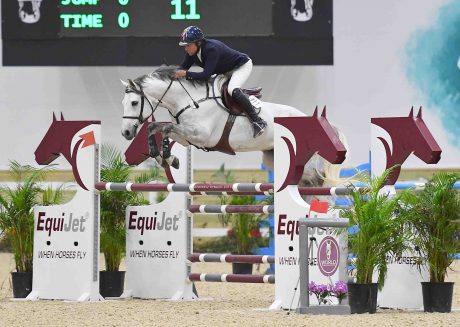 The only pair of the night that came close to Burnett and Iron's time was David Q. Beisel and Rev Media Marketing's Five Star (Oh Star x Pina Colada). Jumping a clear first round in 79.719 seconds, the duo picked up the pace in the jump off. While they were fast, they were not quick enough to beat Burnett and Iron, crossing the timers with all rails up at 32.346 seconds, which was enough to land the pair in second place.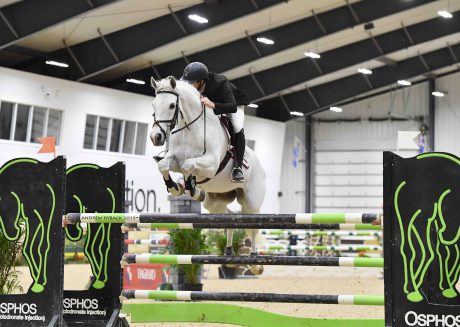 Michael D. Burnett of Burnett Farms, Lebanon, Indiana, took a moment to chat about his winning streak with us. Burnett and Iron have been a team for eleven years, and it truly shows in the arena. Burnett knows Iron like the back of his hand, and can plan meticulously what will work best for Iron on course. "I was a little bit intimidated by the first two big oxers, because Iron is the type that needs a little warm up before you point him at something big," Burnett explained, "Then I thought the rest of the course was super nice. The lines rode great. In the jump off I had planned to do seven [up the last line] because [Iron] would hit it with the right shoulder if I sliced it [to leave a stride out], but the six came up great!" Burnett plans to give Iron some well-deserved rest after his back-to-back Futures Prix wins.
$7,500 Futures Prix 1.30 m Results
Iron, Michael D. Burnett – 0 | 0 | 31.664
Five Star, David Q Beisel – 0 | 0 | 32.346
Lazuli II SCF, Jennifer Waxman – 0 | 0 | 33.336
Angelo, David Q. Beisel – 0 | 0 | 34.753
Strawberry, Molly Kindness – 0| 4 | 36.045
KTS Diregina, Allie L. Mcbreen – 0 | 8 | 35.240
Diesel, Paul Halpern – 1 | 81.694
For Sunday, David Q. Beisel – 4 | 73.275
First Finch, Logan Taylor – 4 | 73.629
Cancun, Kamille H. Marcussen – 4 | 75.971
Photos courtesy of Andrew Ryback Photography.