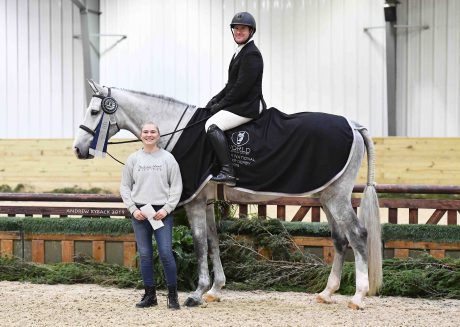 A large crowd gathered this evening in the R+L Arena to watch the $2,500 USHJA National Hunter Derby and enjoy a sumptuous spread of appetizers, sponsored by Dietrich Equine Insurance. Tonight's Hunter Derby course was designed by Keith J. Bollotte, a course designer with over thirty years of experience in the equestrian industry. Bollotte has designed courses across North America at many top shows, including the $100,000 Hunter Classic at the 2005 Queen City Classic in Charlotte, North Carolina. Bollotte's courses tonight both featured obstacles set at 3′, as well as four 3'5″ high options, while the Handy course featured many inside turn options.
The first round in tonight's $2,500 USHJA National Hunter Derby began on a vertical option on the diagonal, then rolled back through the opposite diagonal to a single oxer toward the top of the ring. Riders then rode a bending line to jump a vertical option on the diagonal at the end of the ring headed toward the ingate. From there, riders rolled back to another vertical option across the center of the arena, and continued back up the ring to an oxer. Riders then rode a long approach to a two stride line on the diagonal headed home, rode up the outside line, and finished headed the opposite direction over jump one, a vertical option.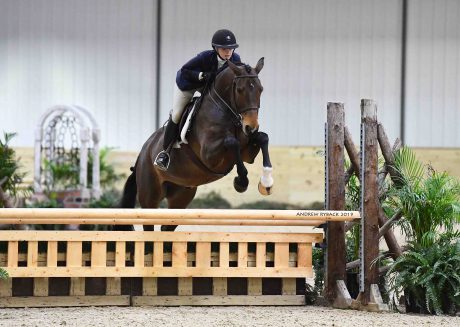 First to attempt the course was Catherine Kramer aboard her own Casares. The pair navigated the winding course with ease, flowing over each fence and taking all four high options, setting a high standard with a score of 88. Only a few in the first round had scores close to Kramer and Casares, beginning with Greg J. Crolick and Renaud Farm, LLC's Alovaro. Crolick and the dappled grey Warmblood rode a seemingly effortless round, taking all four high options in stride. The pair clearly impressed the judge, earning a first round score of 90.
Next in the ring was Alisa C. Berry aboard Michael Cline's Fate (Cosmos x Dolce Vita). With high scores already on the board, the pair knew what it would take to set themselves up for a top finish in the class. Berry piloted the fancy bay Warmblood over all four high options for a score of 91, just one point ahead of Crolick and Alovaro.
Next was the Handy round, which began on the single oxer on the rail headed home, then rolled back to jump one of the first course, the vertical option on the diagonal. Riders continued around the arena and through the two stride line down the diagonal, then rode around to the vertical option across the center of the arena. Next, riders rolled back through the center of the ring to jump what was the in of the line on the rail (now facing the opposite direction), then hand galloped to fence seven, the single oxer on the diagonal, also now facing the opposite direction. To finish the course, riders jumped the vertical option on the diagonal again, this time headed home, then ended on the trot jump option on a diagonal by the ingate.
The first of the top three first round scores to return was Catherine Kramer and Casares. The pair jumped three high options in the Handy round for a score of 72, bringing their overall total to 160, the highest score thus far. Next in was Greg J. Crolick aboard Alovaro. The pair's incredibly consistent round, flawless hand gallop and four high options earned them an impressive score of 92 in the Handy round, bringing their overall total to 182.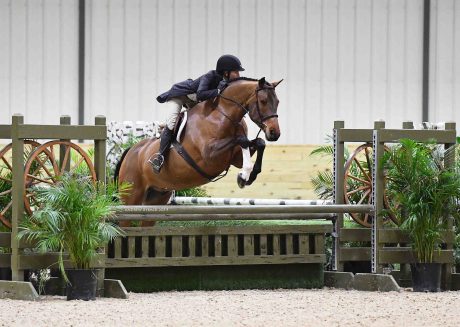 Last to return was Alisa C. Berry and Fate. Their performance was also stunning, and the crowd waited with bated breath to see who the winner would be: Fate or Alovaro. Berry and Fate took all four high options, and finally their score was announced: 88, bringing their overall total to 179, landing them in second place, just three points behind Crolick and Alovaro.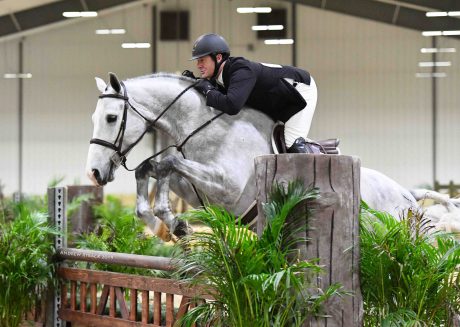 Greg J. Crolick of Greg Crolick Show Stables in Clarkston, Michigan took a moment to chat with us after he and Alovaro's stellar performance. "I was actually a little nervous going into the first round," Crolick laughed, "He's really young; he's only 5." We would have never guessed Alovaro's age, as his presence in the ring is that of a seasoned Hunter. Crolick explained that he has only ridden Alovaro for 4-5 months now, so they two are fairly new to each other. Alovaro spent the beginning of his career as a Jumper in Europe. After he was imported, Crolick bought him from a friend in Pennsylvania and sent him straight to the Hunter ring.
"I was really happy with him today. He was super smooth. He's a really great horse, honest, brave…so it makes him fun to ride," Crolick raved about Alovaro. He explained that this is only Alovaro's second show that he has shown at 3'6″. Previously, Alovaro showed at Capital Challenge in 2018, and then had some time off and came to World Equestrian Center in December. Though Alovaro is just starting his career, Crolick sees a great future for him, saying that International Derbies are definitely on the horizon for him. Crolick also notes that Alovaro is going to make a great Amateur horse for someone.
While Crolick was ecstatic with Alovaro's performance in tonight's $2,500 USHJA National Hunter Derby, he was sure to give credit to his entire team, thanking Alovaro's groom, Claire Harves, who received the Groom's Award tonight for Alovaro's stunning turnout, as they exited the arena after taking their awards photo, noting that "it takes a team". He also asked that Alovaro gets plenty of (well deserved) treats tonight.
Crolick is excited to return home to Michigan in a few days to see his wife and kids, but says that he will be returning to World Equestrian Center next week. "It's a wonderful place to horse show," Crolick says, "The venue is amazing, the footing is great and everyone is so hospitable here. It makes it really fun to come show."
$2,500 USHJA Naitonal Hunter Derby Results
Alovaro, Greg J. Crolick – 90 | 92 | 182
Fate, Alisa C. Berry – 91 | 88 | 179
Casares, Catherine Kramer – 88 | 72 | 160
Kingston Lane, Katie Rankin – 85 | 70 | 155
Persuasion, Melissa P. Donnelly – 75 | 79 | 154
Lex Toccino, Gabriella R. Lewis – 76 | 75 | 151
Majesty, Dana E. Wille – 70 | 74 | 144
Silver Charm, Catherine Kramer – 73 | 70 | 143
Dragonfly's Encore, Cate Crawford – 69 | 54 | 123
Let's Dance HU, Meg McTiver – 72 | 48 | 120
Photos courtesy of Andrew Ryback Photography.