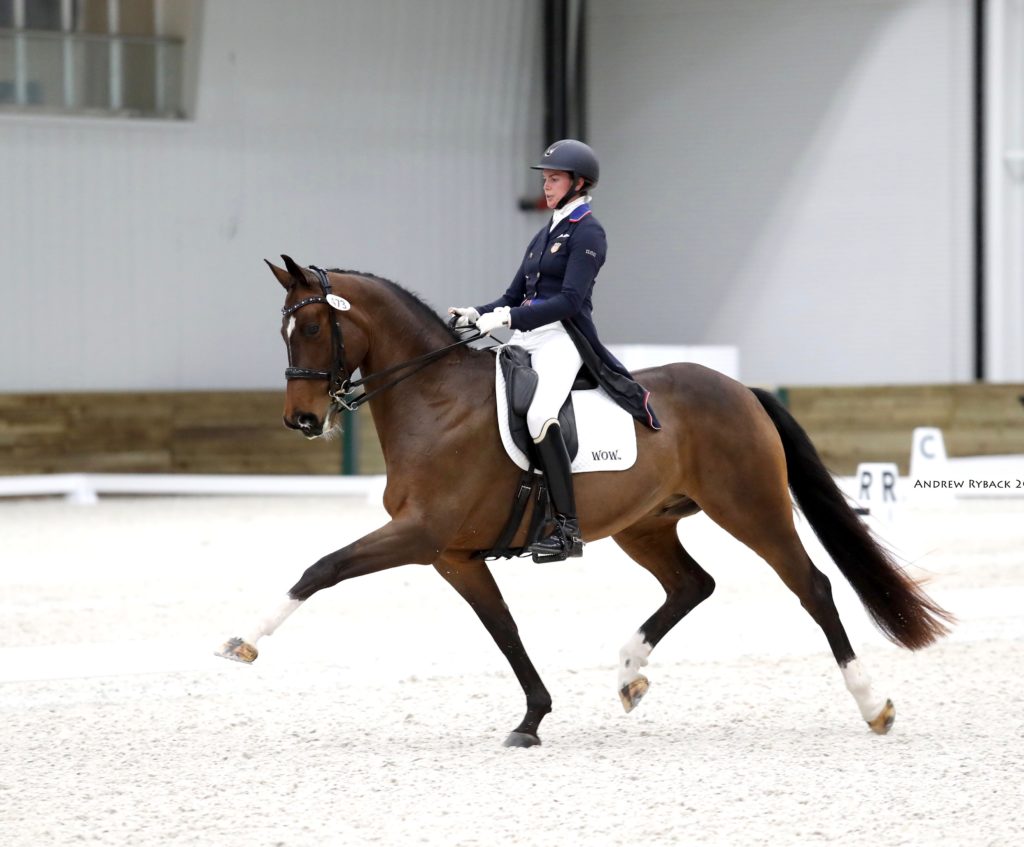 For Immediate Release
January 16, 2021
Ocala, FL – The World Equestrian Center Dressage VI was the first-ever dressage competition at the newly opened, state-of-the-art World Equestrian Center — Ocala facility. The World Equestrian Center Dressage VI show ran January 8-10 and featured competition from USEF Training Level through Grand Prix that offered GAIG/USDF qualifying.
Dressage competition at World Equestrian Center — Ocala continues on January 22-24 and a third show runs on February 26-28; all three shows are Level II. The March 12-14 National show includes qualifying opportunities for the US Dressage Finals. World Equestrian Center — Ocala will host international CDI competitions in April, October and December. The full 2021 competition schedule can be found here.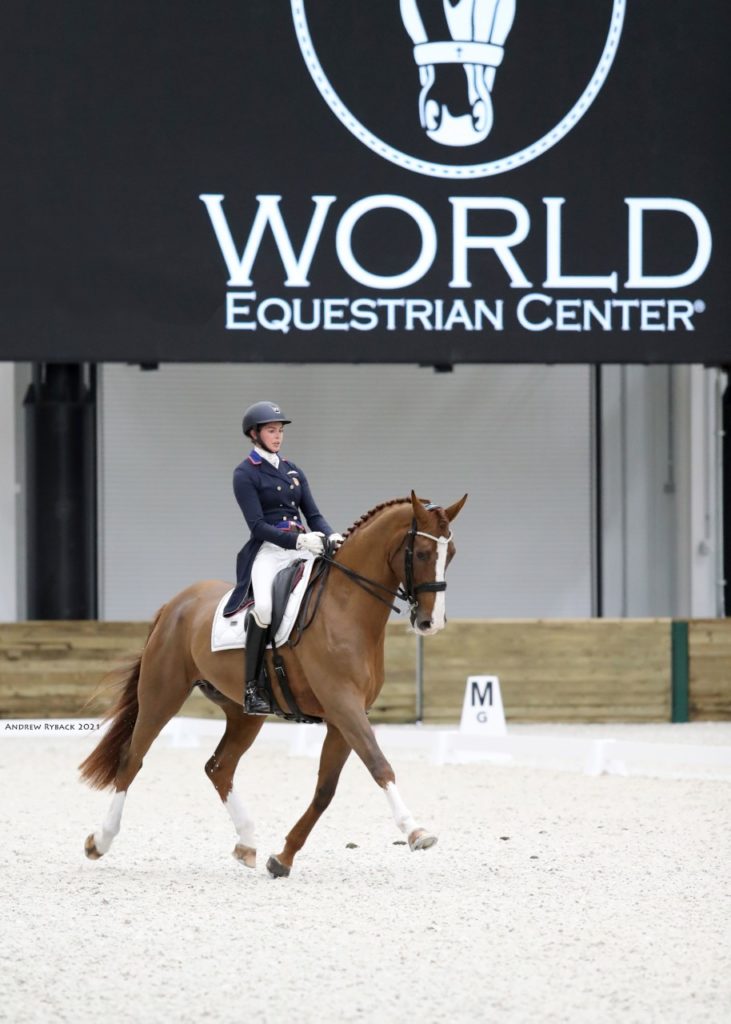 On the opening day of competition, Anna Marek of Dunnellon, FL, and Cynthia Davila's Duvel captured the top spot in the FEI Prix St. Georges class with a score of 72.500%. Coming back on Saturday, the pair increased their score to 73.971%.
Marek has only ridden Duvel, a 13-year-old KWPN gelding by Florencio, for four months and this was their first show together.
"It was quite exciting. He's a super fun horse to ride with a lot of movement and tall enough to make me look like a normal sized person," laughed Marek, who stands at six feet tall. "It was fun to ride a big horse around the show. He is so nicely trained and does that level so well. Duvel makes it feel easy."
Marek returned to the ring on Saturday for a high score of 76.324% to win the FEI Intermediate-I class with her own Holiday. This was only the second time that Holiday has shown at the I-1 level, but Marek has ridden the nine-year-old Dutch Warmblood gelding by Bojengel since it was four years old.
"The Friday test was a little bit rushed," she recalled. "My trainer Anne [Gribbons] and I had a whole different plan for Saturday, and we wanted to see if he could handle the test a couple days in a row. Saturday was awesome."
Marek has lived in the Ocala for 10 years and was very excited to see World Equestrian Center – Ocala built "in her backyard."
"WEC is so gorgeous and like nowhere I've ever competed," said Marek. "Whatever dressage they're planning, we are planning to be there. I'm really excited to have the facility so close to home."
Marek was happy to see that the facility, arenas, and the barns were very horse friendly. "Even the younger ones did well and were relaxed," she said. "The footing was great. The rings were very nice and quiet.
"I think it's very exciting for the growth of the sport," she continued. "It will bring so much to Ocala and even horse sports because the place is friendly for spectators and has more activities outside of equestrian sports. There are wonderful restaurants. I think it will attract a lot of people to become interested in equestrian sports."
Marek will return to World Equestrian Center — Ocala on January 22-24 with a new group of horses.
Additional top results from the World Equestrian Center Dressage VI include:
Audrie Anthony and Things Rafelli captured a score of 80% in the Dressage Seat Equitaton on Friday.
In the FEI Para Dressage Freestyle Test of Choice class on Saturday, Charlotte Merle-Smith and her own Guata posted a score of 74.800%. Cayla van der Walt and Daturo II were close behind with a score of 74.575%.
Winning the USEF First Level Test 3 class open division on Sunday, Malinda Brown and Jewel Cushing's Jupiter received a score of 73.056%.
In Friday's USEF Test of Choice, Lisanne Dorion and Hercules posted a score of 72.931% to win.
With a score of 72.759%, Allison Gerit and Chagall won the USEF Training Level Test 2 on Saturday.
In Sunday's USEF Fourth Level Test 1, Tracey Corey and Sky's The Limit completed their test to a score of 70.769%.
Jaron Verheij and his own Dutch D-Day won the open division of the FEI Grand Prix class on Friday with a score of 69.022%.
It was a tie for the top spot in the FEI Intermediate II class on Saturday, with Kerrigan Gluch and Hampton Green Farm's Mejorano HGF and Ivo Juhrend and Eye Catcher, owned by Karen Young, both scoring 67.353%. Gluch and Mejorano HGF took the win in the I-2 on Friday in the open division with a score of 68.971%.
For full horse show results for the World Equestrian Center Dressage VI, please visit: http://results.horseshowoffice.com/Shows/Classes?sid=1&oid=76
An equestrian lifestyle destination unlike anywhere in the world, the World Equestrian Center — Ocala offers exhibitors, trainers, owners and guests an endless list of Florida horse show amenities and superior customer service.
For more information on World Equestrian Center — Ocala, visit www.wec.net.
About World Equestrian Center
The World Equestrian Center features two premiere multidisciplinary horse show venues located in Ocala, Florida, and Wilmington.
These exclusive facilities comprise state-of-the-art arenas, expansive stadiums, versatile outdoor space, sporting fields and well-appointed exposition centers. An abundance of lodging options and luxury accommodations are conveniently located on-site, along with shopping and dining throughout each property.
Dedicated to offering great spot and fun in a family-friendly environment, World Equestrian Center promises an unparalleled experience for exhibitors, spectators, vendors, sponsors and retailers built on three core values: Quality. Class. Distinction.
Learn more at www.wec.net.
Media Contact:
Candace FitzGerald
candace.fitzgerald@wec.net
603-738-2788