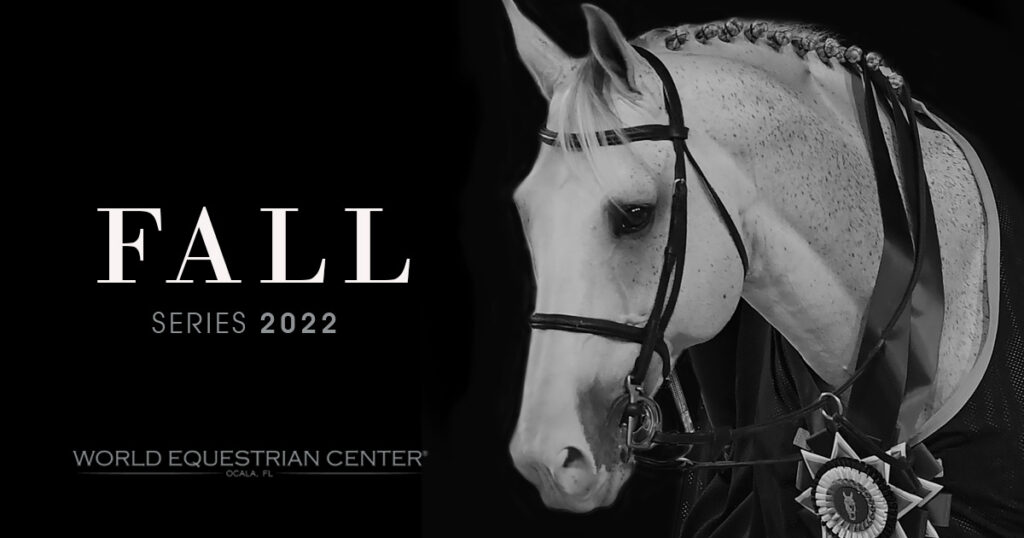 Ocala, FL – World Equestrian Center – Ocala presents the 2022 Fall Show Series featuring United States Equestrian Federation (USEF) Premier Hunters and Level 6 Jumper competition. The 2022 Fall Show Series has been enhanced with two additional weeks in November. The series consists of four-weeks of hunter/jumper competition from November 9 through November 20 and December 7 through December 18. Click the buttons below to view the November and December prize lists (pending USEF approval).
2022 Fall Show Series Schooling Schedule
December II Schooling Schedule
2022 Fall Show Series Tentative Class Schedules
December Tentative Schedule (revised 11.19.22)
View 'How to create a horse or barn account entry in Show Management System' Cheat Sheet
Visit Show Management System for estimated start times, counts, orders of go, live scoring and results.
New Rules for USEF & USHJA Memberships
Health Papers
Please bring to the following to the Show Office:
A 14-day statement of health, certificate of veterinary inspection or a health certificate, required for all horses arriving from instate or outside the state of Florida
Coggins that were taken within the span of 1 year
Vaccine records of Flu/Rhino within the span of 6 months
Click here for equine health and safety protocol details.
2022 Fall Show Series Dates
November Show Series I: 11/09/22-11/13/22
November Show Series II: 11/16/22-11/20/22
December Show Series I: 12/07/22-12/11/22
December Show Series II: 12/14/22-12/18/22
Entries & Stall Reservations
Entries and Stall Reservations can be placed through Show Management System.
2022 Fall Show Series Stall Pricing
Weekly Stall: $300
Weekly Paddock: $350
Please note, Fall Show Series stalls are NOT included in 2023 Winter Spectacular circuit stall pricing. Fall Show Series stalls must be paid separately.
Circuit stalls for World Equestrian Center – Ocala's 2023 USEF Winter Spectacular Show Series open Monday, August 8. The Winter Spectacular Circuit Stall duration begins December 27 and ends March 26.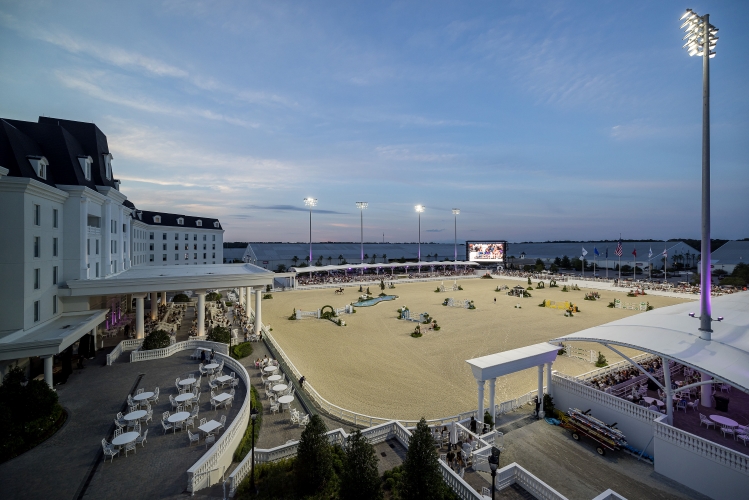 VIP Viewing & Dining Experience
Enjoy Saturday evening Grand Prix action from the terrace of The Equestrian Hotel with an exclusive VIP viewing and dining experience courtesy of Stirrups Restaurant. Each private VIP table overlooking the Grand Arena will include a 3-course Chef's dinner, along with complimentary beer and wine. Cash bar available for spirits and bottles of wine from our sommelier's selections.
World Equestrian Center – Ocala's 2022 Fall Hunter/Jumper Show Series sanctioned by United States Equestrian Federation consists of four-weeks of Premier Hunter/Level 6 Jumper competition from November 9 through November 20 and December 7 through December 18.
During the month of December, World Equestrian Center – Ocala's Winter Wonderland will be in full swing with Christmas décor throughout the Grand Plaza. During the holiday month, the Fall Show Series will showcase the $24,000 C. Jarvis Insurance Welcome Prix as an additional night class that will offer a VIP viewing and dining experience on Thursday, December 8, and December 15.
USEF & USHJA Membership Information
Safe Sport Certification required for all USEF members over 18 years old.
All riders, owners and trainers must have current USEF/ USHJA memberships or weekly show pass fees will be incurred. Amateur exhibitors must be members of USEF. Horses must have USHJA memberships. Horse USEF memberships are necessary to accumulate points.
Go to usef.org for USEF membership information and exceptions.
For USHJA membership information and exceptions visit ushja.org.
Lodging at World Equestrian Center – Ocala
Make lodging reservations now at The Equestrian Hotel, featuring 248 stylishly appointed rooms, restaurants, luxury shopping and a day spa. Exhibitors may choose to reserve a charming Home Away from Home unit, or reserve an RV space in our convenient park that includes a General Store, Starbucks and Laundromat, just steps away. For all lodging reservations, please visit wec.net.
Advertising and Sponsorship
For corporate advertising and sponsorship opportunities, please contact Jim Wolf jwolf@wolfsportsgroup.com or Karla Campbell karla.campbell@wec.net.
Official Show Photographer
Andrew Ryback Photography is the official 2022 Fall Show Series photographer. Visit Andrew Ryback Photography in vendor courtyard or view proofs online at andrewryback.com.
About World Equestrian Center
World Equestrian Center features two premier equestrian and multidisciplinary venues in Ocala, Florida, and Wilmington, Ohio.
These exclusive facilities comprise state-of-the-art arenas, expansive stadiums, versatile outdoor space, sporting fields and well-appointed exposition centers. An abundance of lodging options and luxury accommodations are conveniently located on-site, along with shopping and dining throughout each property.
Dedicated to offering great sport and fun in a family-friendly environment, World Equestrian Center promises an unparalleled experience for exhibitors, spectators, vendors, sponsors and retailers built on three core values: Quality. Class. Distinction.
Learn more at wec.net.