Ocala, FL – Dressage competition at World Equestrian Center – Ocala will take a step up in 2024 with an expanded schedule and new, dedicated facilities on the nearly 400-acre venue. With five-star accommodations, on-site dining options and unparalleled shopping choices alongside the finest arenas and most comfortable stabling available for horses, both dressage competitors and fans will find the best setting for dressage in North America.
WEC – Ocala's 2024 dressage schedule, sponsored by Hampton Green Farm and Discover Dressage is bigger and better in 2024 featuring 15 qualifying opportunities throughout the year. The 2024 calendar includes eight national USEF/USDF-rated events, while those competing at the Fédération Equestre International (FEI) level will have six internationally rated competitions.
The six FEI-rated shows, which have concurrent national shows, include a CDI3* on February 14-18 and a CPEDI for Para Dressage riders on March 28-31. WEC – Ocala will run a CDI4* on April 10-14, and a CDI3* on May 22-26. The 2024 Great American Insurance Group/United States Dressage Federation (USDF) Region 3 Dressage Championships will be held for the first time at WEC – Ocala on September 19-22, and a World Cup qualifier is planned for November 14-17. A final CDI-W on December 11-15 rounds out the exciting 2024 schedule.
The WEC – Ocala 2024 dressage schedule includes:
January 18-21: Two USEF/USDF competitions | Prize List
February 15-18: CDI3*/USEF/USDF competition
March 14-17: Two USEF/USDF competitions
March 28-31: CPEDI/USEF/USDF competition
April 10-14: CDI4*/USEF/USDF competition
May 22-26: CDI3*/USEF/USDF competition
July 13-14: USEF/USDF competition
August 23-25: Two USEF/USDF competitions
September 19-22: Great American Insurance Group/USDF Region 3 Dressage Championships
October 19-20: USEF/USDF competition
November 14-17: CDI-W/USEF/USDF competition
December 11-15: CDI-W/USEF/USDF competition
All systems are go for completion of new facilities to accommodate dressage competitors at WEC – Ocala. The new Arena 6 designed for dressage competition will open in the spring of 2024, while seven additional outdoor arenas will be ready in early 2024. The new indoor arena will offer another spacious, climate-controlled environment with ideal footing for dressage athletes, plus grandstand seating for spectators, all located close to dedicated dressage stabling.
All prize lists, ride times and results will be posted and published on the 2024 dressage schedule page at wec.net. For all questions regarding upcoming dressage competition, contact Teresa.Uddo@wec.net.
---
Come for the Dressage, Stay for the Amenities
While competition is the main focus, those attending shows at WEC – Ocala can also enjoy everything that the stunning property has to offer. The Equestrian Hotel overlooks the WEC Grand Arena, and riders can relax in luxury at the end of a long day.
The Riding Academy Hotel will open for guests in the spring of 2024 offering an additional 390 suites on the property where competitors can experience incredible amenities such as grab-and-go food, separate sleeping and living quarters, an expansive outdoor pool and deck, as well as a pet-friendly experience.
Dine in at The Yellow Pony Pub & Garden with a selection of drinks, bourbon and whiskey, plus pub fare such as the popular soft pretzel and braised short ribs. Those entertaining clients or celebrating a special occasion can reserve a table at Stirrups Restaurant, Ocala's premier, elegant southern steakhouse that boasts a selection from an award-winning 6,000-bottle wine program led by an in-house Master Sommelier.
With the Home Away from Home rental units available just five minutes away from the show, plus an on-site, full-service RV Park with a 24-hour laundromat and General Store, WEC – Ocala has accommodations to suit every budget.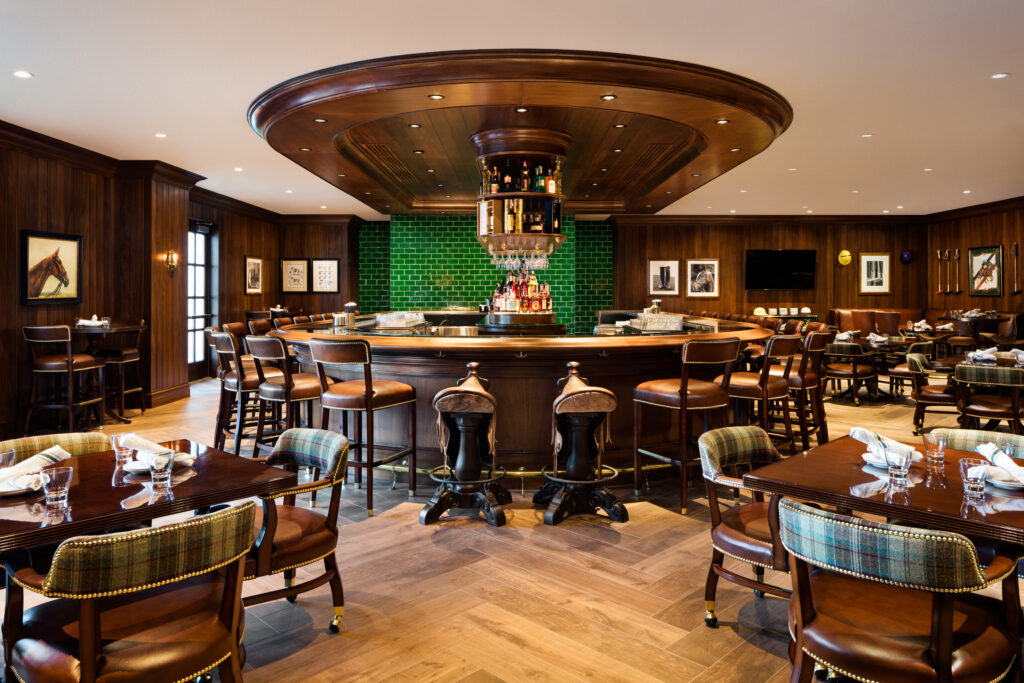 Outside of the accommodations, WEC – Ocala offers seven restaurants in total, a resort spa and more than two dozen shops and boutiques, including Lugano Diamonds, Ariat International, Mr. Pickles & Sailor Bear Toy Shoppe, The Debonair Collection, John Craig Clothier, Chi Rho Ranch and many more.
Visit ocala.wec.net/stay or call 866-478-9267 to book your horse show accommodations today.
---
Entries, Stalls and Feed/Bedding
View EquestrianEntries.com to place entries and book stalls for all WEC – Ocala dressage competitions. Feed and bedding orders can be purchased online after stalls are assigned. Stall assignments will go out no later than two days before the show starts. A link to the feed/bedding order will be sent out with stall assignments.
Health Papers
Please bring the following health documents to the Dressage Show Office located on the backside of the CaptiveOne Advisors Indoor Arena 1, upon arrival.
A 14-day statement of health, certificate of veterinary inspection or a health certificate, required for all horses arriving from in-state or outside of Florida
Coggins within one year
Vaccine records of Flu/Rhino within the span of six months
Click here for equine health and safety protocol details at WEC – Ocala.
Vendors
For vendor opportunities, fill out the vendor application. Questions, email Christy Baxter at Christy.Baxter@wec.net.
Advertising and Sponsorship
For corporate advertising and sponsorship opportunities, contact Jim Wolf at jwolf@wolfsportsgroup.com or Karla Campbell at Karla.Campbell@wec.net.
Media
World Equestrian Center welcomes journalists and members of the media to visit the facility. To apply for media accreditation, fill out the Media Accreditation Form.
About World Equestrian Center
World Equestrian Center features two premier equestrian and multidisciplinary venues in Ocala, Florida, and Wilmington, Ohio.
These exclusive facilities comprise state-of-the-art arenas, expansive stadiums, versatile outdoor space, sporting fields and well-appointed exposition centers. An abundance of lodging options and luxury accommodations are conveniently located on-site, along with shopping and dining throughout each property.
Dedicated to offering great sport and good fun in a family-friendly environment, World Equestrian Center promises an unparalleled experience for exhibitors, spectators, vendors, sponsors and retailers built on three core values: Quality. Class. Distinction.
Learn more at wec.net.
Media Contact:
Justin Garner
justin.garner@wec.net