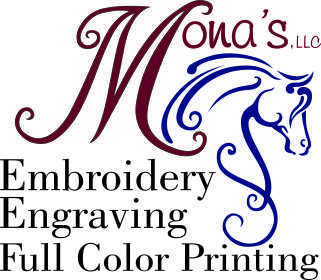 Each week our Featured Finds highlights some of the latest and greatest shops at World Equestrian Center. WEC's Vendor Village plays host to everything from tack shops to salons to home and gift stores. We love to share the stories of how those shops found their niche in the equestrian industry. This week, we sat down with Allan Garray, owner of Mona's Monograms, to hear about their journey in the equine industry.
WEC: Tell us how Mona's got started.
Allan: It's almost thirty years now and, when we started, I was a partner in a small horse farm that had twenty or thirty stalls. I went in with a few other people to purchase the farm because they liked this trainer. My wife, Mona, was riding at the time and we thought it was a good investment. Mona was into having things decorated and, thirty years ago, there was not a lot of computerized embroidery. It was very basic.
Our son came along, he's thirty one now, and Mona wanted to do something at home, so we purchased our first computerized embroidery machine, I think it was in 1988 or 1989, and we started doing some stuff at home. I played on a lot of sports teams and I traveled around the country playing baseball, so I had contacts in that and we got to work right away. We started in our basement, then moved to our garage, then moved to a studio that I built over our garage. We went from one machine to three or four machines.
Back then, the only way to really advertise was in print. we never really thought that was a viable option because it was a lot of money. So, it was probably sometime around 1991, we had a minivan, put the machine in the van, took a tent and went up to our farms that was having a schooling show and set up. We figured it was easier to promote ourselves to these other farms by having something there so that they could see what we were doing. It worked. We started doing bigger shows in the state and started doing regional shows in the state. We then started doing things around New England and it went from a minivan to an old senior citizens' bus that I built, then to a stock twenty foot trailer, then to a custom built thirty foot trailer. Then we bought a semi and retrofitted that. Now, we have four trailers and fifteen machines that travel literally coast to coast to shows.
It grew slowly. We've had some pretty good years and for the most part it's been pretty good. We're now at shows over forty weeks per year. Many weeks, we'll be at multiple shows. We've had as many as three events in one weekend.
We have four full-size commercial machines at WEC and can pretty much do anything. The machines we use are some of the best you can buy, so they're very durable. We can do everything from silk shirts to horse blankets and coolers and everything in between. With four machines we can do about 200-250 items per day.
WEC: What is the typical turn around time for a monogrammed item?
Allan: Ninety percent of the time, everything is same-day. If it's in the morning, they'll get it by the afternoon. If it's simple or it's a logo we already have set up the turn around time is quick. I digitize the logos, which we don't and never have charged for. That was a way that smaller farms with twenty or thirty students could afford to have custom items. When we were just starting to get our name out, I would go around and take pictures of farms' logos, then reproduce it and make up a hat and go hand it to them at no charge. That was the way of our advertising. They would see it, their customers would see it, and they would come and get things made. Now, we have well over 2,000 farm logos that we do. Everything is in the Cloud, so we can access it from any location. We don't have to have Vector images like many other places do. We can take a picture of a golf cart or an old shirt or even a sketch and reproduce the logo.
WEC: Tell us about some of the different products you have.
Allan: In theory, we can get and make anything. After thirty years of doing this, whether its personalized items, jackets, shirts, hats, polos, heavy weight, light weight…we can pretty much get any brand and any product. Triple Crown does a lot of our custom work. We do Baker sheets, scrim sheets…pretty much anything. It's not just embroidery, either. We have laser engravers and rotary engravers, so we can do award plates, plates for halters and bridles, all of those types of things. We do them all on site and we mount them for free. We try to make it as easy as we can.
WEC: What is one of your most popular items?
Allan: I think the brass plates in general are very popular because you can order them from "big box stores", but they tend to get sent with the wrong hardware and the customer has to mount it themselves. With us, they can come in, pick it out, we cut the plate, they come back an hour or so later and we mount everything, so it's simple, easy and done. Hats for farms are very popular as well. In the Fall and Winter, soft shell jackets are very popular.
WEC: What is your personal favorite item to make?
Allan: I like doing new logos. Not to steal a line from Tom Brady when they ask him what his best win is and he says, "The next one," but for me, it's the next logo. We love making designs for someone who has never had a logo designed before. They come in and see it and they're just surprised and excited.
Allan also added:
It's something we've enjoyed doing for a long time and it's nice to have a permanent shop at WEC. All of the companies we have dealt with have all been great and it has allowed us to travel around the country and meet some great people. We just have fun doing it.