This week's Featured Find comes to us from Chagrin Falls, Ohio, merging the latest fashion with classic equestrian style. Chagrin Saddlery offers customers a unique shopping experience, outfitting riders in trendy yet traditional looks tailored to their specific taste. Dana Miller, owner of Chagrin Saddlery and Ali Troyan, Mobile Manager and face of Chagrin Saddlery at World Equestrian Center, took the time to tell us about the unsurpassed shopping experience Chagrin Saddlery offers.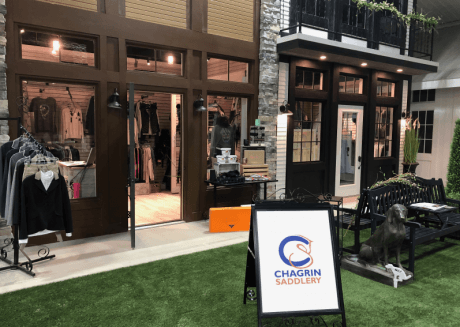 Seasoned vendors at World Equestrian Center, Chagrin Saddlery has had a presence at World Equestrian Center's Winter Series since 2016. Dana laughs as she explains the memories that have been made over the past three years, "Ali and I built our own spot the first year, and we did all of the construction ourselves. Then we had a prefabricated cabin brought in the next year. Now we have two adjoining spaces in the Vendor Village, which is beautiful. There have been many memories made here. We're very very happy to have been part of what has been such an amazing transformation; It's awesome to see how far it's come!"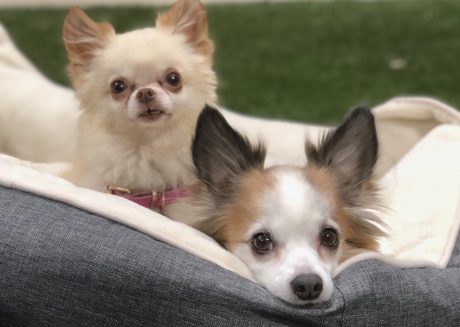 Over the years, Chagrin Saddlery has become a staple at World Equestrian Center. Whether on the road on the World Equestrian Center / Chagrin Saddlery Mobile Boutique, or right in the heart of the show grounds in Wilmington, Ohio, riders have flocked to the store for all of their outfitting needs. Chagrin Saddlery has built a strong relationship with their customers, becoming the go-to for fashion-forward equestrian style. Ali, along with her furry four legged helpers, Maisy and Oakley, have become experts at styling riders for schooling or the show ring. Ali explains, "I think something we have been very unique with is that we are able to style peoples' rides and looks. People come in and tell us what their barn colors are and what their style is, and we go from there to figure out what they're looking for. This helps us figure out what we can do to help brand them as a rider."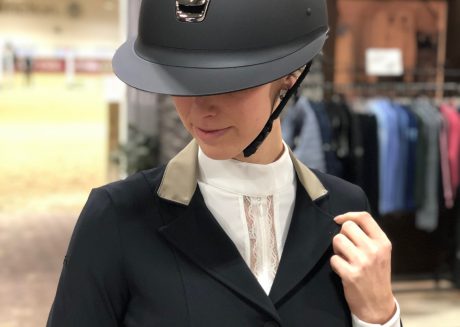 Dana adds to Ali's statement, "What Ali (and we all) do at Chagrin Saddlery is really listen to someone's needs and wants and sell with all of our senses. We really pay attention to who the person is and what they're about. Then when we make a recommendation. It's all about who THEY are. When it comes to the look, we're going to listen, and then we're going to create something that's going to set you apart in a way that lets you be an individual." Dana adds that everyone at Chagrin Saddlery has the knowledge to edit a rider's ideal look, but still let the rider keep their own style.
Chagrin Saddlery enjoys that the riders they style are as incredibly unique. For example, Dana tells us a story of one rider who wanted her horse's opinion on its bonnet, "We had one rider had that wanted their horse to pick out the bonnet. It's a lovely rider. The rider felt that the horse needed to pick its own bonnet, so she held up two and let the horse choose." Dana explains that this level of customer service makes Chagrin Saddlery who they are.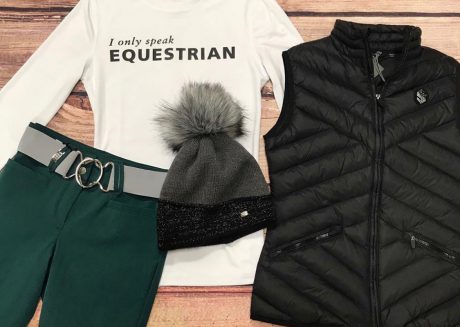 As far as the brands carried at the Chagrin Saddlery location at World Equestrian Center, the store offers a selection of the latest and greatest brands for customers to choose from. Riders can find brands like Animo, Samsheild, Alessandro Albanese, For Horses, Franco Tucci, Parlanti, Fratelli Fabbri, GPA, Arc De Triomphe tack, Edgewood tack, Equifit and Snaks 5th Avenchew. Dana explains that their curated selection of brands sets Chagrin Saddlery apart, and that customers come to them looking for those specific brands.
One brand that Chagrin Saddlery is passionate about is For Horses. Dana explains that For Horses is a brand imported from Italy, and that its uniqueness lies in the fabric. "What makes For Horses so unique is that the owner of the company is a fabric engineer, and the way they manufacture breeches (and all of their products)…they fit like I've never seen anything fit in my life. When people put them on they feel like they're putting on an athletic pant, except they don't show any imperfections. They're flattering to everyone that puts them on. You can't help but look at certain areas and think, wow, these look amazing! When someone buys them, they always come back to get two or three or four more pairs. Their hunt coats and show shirts are they same way. It's a brand that is strengthening and growing, and we continue to go deeper into the product as they expand."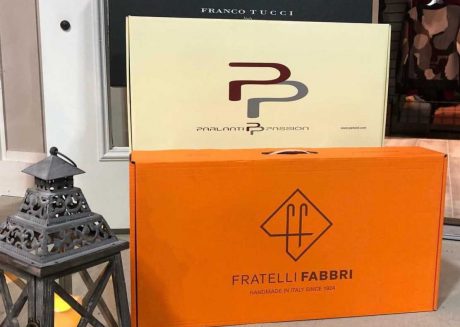 Chagrin Saddlery also has a wealth of experience in fitting custom boots, which is no simple task. Dana says, "Ali has become one of the top boot fitters in the industry. She's very talented. It's a very tough thing to do. And, once you measure, then you have to style the boot. You have to tell somebody 'I think the sparkle on your toe is a good idea,' or 'maybe don't do the hot pink band at the top.' You have to be a stylist of these boots and tell people what would be the right thing, because they're going to pay a lot of money. It takes a lot of confidence to do this. After that, you style the whole outfit with a bonnet, a saddle pad and a hunt coat. In this process, you become someone that people trust. It's something that we pride ourselves on."
In the near future, Chagrin Saddlery will be adding to their selection of fashion forward, but classic, riding apparel with a couple of very unique brands coming in the Spring, adding to the unique, fun shopping experience customers have come to expect. Chagrin Saddlery's main store is in Chagrin Falls, Ohio, and customers can always shop online as well. Keep an eye out for the World Equestrian Center / Chagrin Saddlery Mobile Boutique on the road this Summer!
Photos courtesy of Ali Troyan.