This past week brought fantastic equestrian sport to both the Hunter and Jumper arenas as we weathered a brutal winter storm from the comfort of the heated indoor arenas and barns. We enjoyed fantastic food and delicious drinks throughout the week with Dietrich sponsoring a spread of appetizers for spectators and exhibitors during the $2,500 USHJA National Hunter Derby on Friday, and World Equestrian Center bringing more tasty appetizers ringside for spectators and exhibitors during the $25,000 WEC Grand Prix.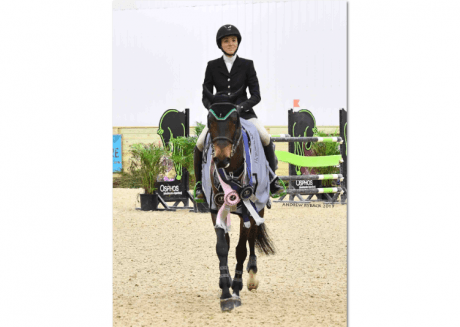 Thursday saw an exciting win in the $5,000 Welcome Stake 1.35 m sponsored by CWD from Taylor Kain and Eirecon Equine Sales's Gipsy 1134 (Corlensky G x Landina). Kain was up against some serious competition, but she and Gipsy 1134 turned just a little tighter than the others in the jumpoff, shaving critical fractions of a second off of their time. The pair stopped the timers at 31.973 seconds, sending them straight to first place.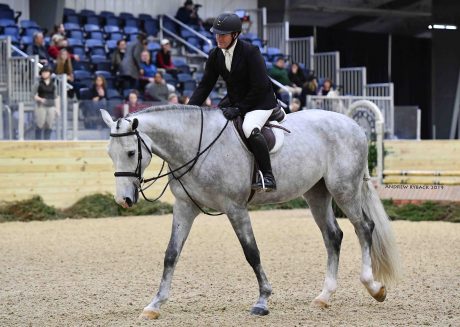 Friday brought stellar hunter action from the R+L Arena for the $2,500 USHJA National Hunter Derby. Greg J. Crolick and Renaud Farm, LLC's Alovaro rode two flawless rounds for scores of 90 and 92. Though others scored into the high eighties and low nineties, none were more impressive than Crolick and Alovaro. The pair took home the win, and Alovaro's groom Claire Harves, was awarded the Groom's Award for the class, receiving $100 cash and a $50 WEC gift certificate for Alovaro's beautiful turnout.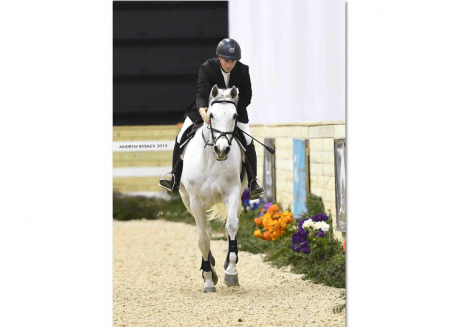 The $7,500 Futures Prix 1.30 m sponsored by Voltaire kicked off Saturday evening's Jumper action. Michael D. Burnett and his own Iron (Iroko x Ikurrina Timbera) returned to the Futures Prix after their victory in the class last week, riding third in the order of go. The pair jumped the first clear round of the night and held the lead throughout the entire class. Burnett and Iron crossed the timers at 31.664 seconds, setting the pace with a time no one could beat and claiming victory for the second week in a row.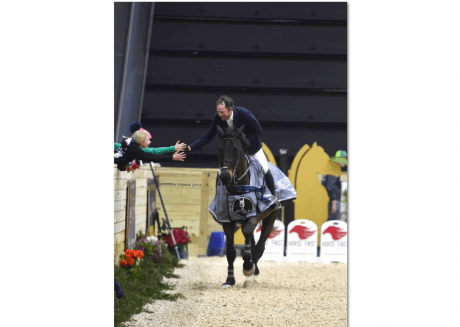 Following the $7,500 Futures Prix was the $25,000 WEC Grand Prix. A total of three entries made it to the jump off, making for a true head-to-head battle, but it was David Q. Beisel and his own Essince W (Chacco Blue x Rossan) that took the win. Essince W stunned both the crowd and Beisel with his incredible jumping abilities, clearing the jump by over a foot. This was a special with for Beisel, with Essince W being his own, and he could not have been more proud of his horse.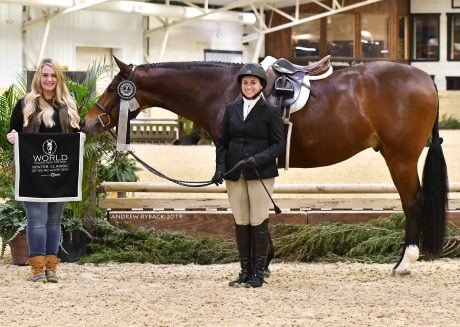 Also on Saturday Evening in the Roberts Arena was the $2,000 Non Pro Hunter Derby 2'6″ sponsored by Chagrin Saddlery. Samantha Roper and her own Al Betcha Wanna Look caught the judge's eye, winning the class. Along with winning the Non Pro Derby, Roper and Al Betcha Wanna Look took home two firsts and two seconds in the Intermediate Adult Hunter division. Thanks to their top placings and fantastic rounds, Roper and Al Betcha Wanna Look were crowned Champion of the Intermediate Adult Hunter division.
This week also featured World Championship Hunter Rider Classes. The World Championship Hunter Rider Program was founded in 1992 to recognize and celebrate the hunter rider. Since the inaugural WCHR Professional Finals in 1992, the WCHR program has expanded to include coveted year-end awards for Professionals, Developing Professionals, Amateur Owners, Adult Amateurs, Juniors, Children's and Pony riders. WCHR Program Members qualify for National and Regional Awards by earning points at Member Events held across the country throughout the qualifying year. Points from a rider's top four WCHR Member Events will be used to determine the National and Regional standings. For more information, about WCHR Program, visit USHJA's website.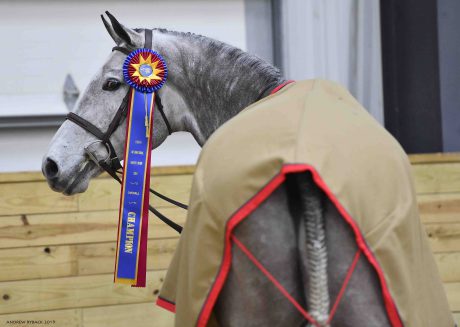 Stunning hunters graced the Sanctuary Arena Sunday morning for the the $10,000 USHJA International Hunter Derby as part of WCHR. Sixteen jaw-dropping hunters vied for the win, but it was Becky Price's Last Word (Last Man Standing x Con Cita), ridden and trained by Meagan Murry-Tenuta that prevailed, scoring a total of 378. Meagan Murray-Tenuta also rode Becky Price's Cheeky (Carrico x Roxette) to a third place finish in the International Derby. Murray-Tenuta and Price were thrilled with their horses' performances, saying that this was just Last Word's second Hunter show, and sharing their excitement for the future with both horses.
Winners of the $10,000 USHJA International Hunter Derby Meagan Murray-Tenuta and Becky Price's Last Word competed in the WCHR Green Hunter 3'6″ division, placing first in three out of four over fences classes and taking home the Champion ribbon for the division. Another mount of Meagan Murray-Tenuta's, Cheeky, also owned by Becky Price, who took third in the International Derby, competed in the WCHR High Performance/Green 3'9″ Hunter division. Staying in the top three placings in all over fences classes, Cheeky and Murray-Tenuta were crowned Champion of the division.
Photos Courtesy of Andrew Ryback Photography.