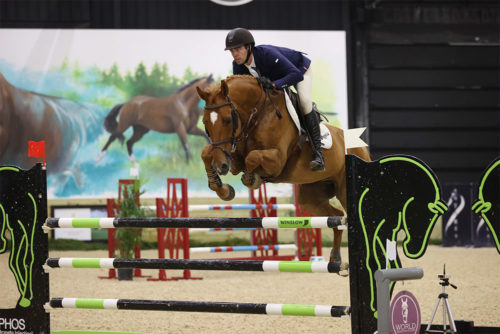 The World Equestrian Center summer horse shows kicked off this afternoon with a spectacular one-two finish by Ryan Genn in the $5,000 Welcome Stake 1.35m sponsored by CWD Sellier. Genn of Rheinland Farm in Lebanon, Ohio bested a field of thirteen, setting the pace early on in the class on Wilhelm Genn's Dante's Inferno (Diardo), then returning aboard Wilhelm Genn's VDL Gerinus T (Arezzo VDL x Rosalina) to beat his own time for the win. Genn just returned to his home state of Ohio after an impressive win in Traverse City's $72,900 Grand Prix CSI 2* with Shannon Reid's Dieta.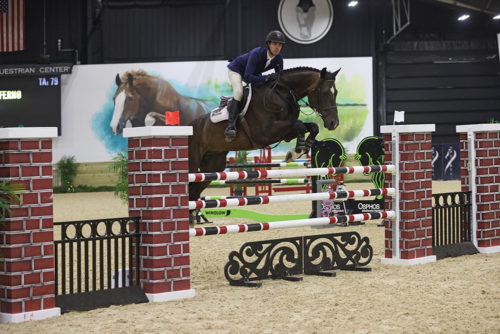 The course for this afternoon's $5,000 Welcome Stake 1.35m sponsored by CWD Sellier was designed by Bobby Murphy of Lexington, Kentucky, and featured 14 jumping efforts, including two one-stride combinations, forward lines and several inside turn options in the jump off. First to deliver double clear rounds were Genn and Dante's Inferno. The pair are recently returned from Traverse City where they took multiple top placings in 1.35m and 1.40m classes. This afternoon, Genn and the 10-year-old bay gelding were perfectly in sync, easily jumping a clear first round in 73.394 seconds, well under the time allowed of 79 seconds. The duo continued straight to the jump-off of the Table II 2b event, picking up pace and hugging the inside track to fences 3, 1, 9 and 12AB. They crossed the timers at 36.078 seconds, setting a tough time to beat for the remaining entries.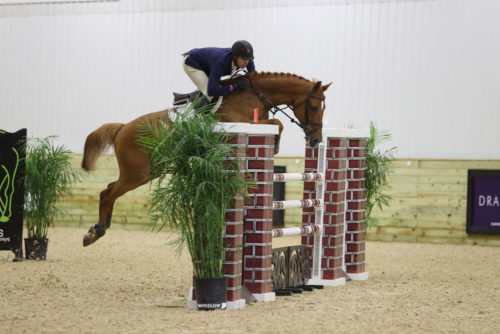 No other entries managed double clear rounds until Genn returned near the end of the order aboard VDL Gerinus T. The pair also had a successful trip to Traverse City, taking multiple wins against tough competition. This afternoon, Genn and the 9-year-old Dutch Warmblood gelding delivered the fastest clear first round of the class in just 72.033 seconds, signaling that they would be tough competitors on the short course. Genn and VDL Gerinus T continued straight to the jump-off, also sticking to the inside track and clearing each fence with room to spare. They galloped through the timers at 33.606 seconds, moving into first place and ultimately taking the win.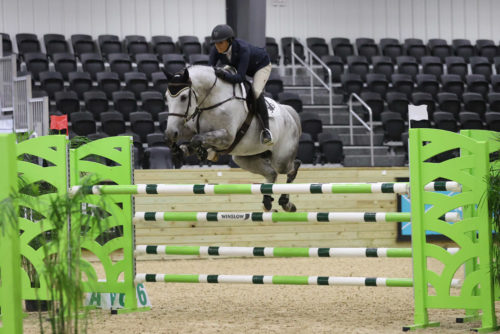 Samantha Cooper and Hurt & Hurt Equine's Fronsac de Beaufort (Qody de Saint-Aubert x Fidji de Breve) also had noteworthy rounds in the Welcome Stake. The pair was fresh off of a string of first and second place victories just three weeks ago at Brave Horse and was on form for this afternoon's class. Cooper and the 9-year-old Belgian Warmblood gelding were quick in the first round, jumping clear in a time of 75.654 seconds and advancing straight to the jump-off. They kept their pace from the first round and chose to take all of the inside turn options, crossing the timers at 35.842 seconds with one unlucky rail at fence 9 for a third-place finish.
Wilhelm Genn stuck around after the class to chat about VDL Gerinus, "He is nine years old. He's not a really easy horse, but he's an incredible athlete. He was sold in the VDL sale as a five year old, and he got away from somebody that was leading him at the showgrounds. He ran loose for about 15 or 20 minutes, then after that he was totally fried. The people that bought him at the sale didn't take him, and his owner wasn't sure what to do with him. He told me that the horse was a good talent and asked if I could help him out. I watched the videos of him, and he was actually one of my favorites out of the whole sale. I agreed to take him. He's always been a difficult ride, but he's been getting better and better. I always believed in his talent and never gave up on him. It's paying off now. He won two classes in Traverse City. He's such an athlete. He's as brave as any horse I've ever seen and he's so careful. He's not easy to ride, but when you have the right rider for that horse he's amazing."
Wilhelm also added, "Dante's Inferno is another very talented horse. He always jumps beautifully."
$5,000 Welcome Stake 1.35m Results
VDL Gerinus T, Ryan Genn – 0 | 0 | 33.606
Dante's Inferno, Ryan Genn – 0 | 0 | 36.078
Fronsac de Beaufort, Samantha Cooper – 0 | 4 | 35.842
Quantofino, Sarah Meier – 0 | 4 | 37.548
Everyday Hero, Heren Lee – 0 | 4 | 38.849
Strawberry, Molly Kindness – 0 | 12 | 36.079
Footloose hx, Ed Copeland – 2 | 80.528
Alfie Z, Payton Beerbower – 4 | 70.762
Sandro Kahn, Logan Taylor – 4 | 74.130
Amigo, Riley Mackillop – 4 | 74.980
Photos courtesy of Winslow Photography.