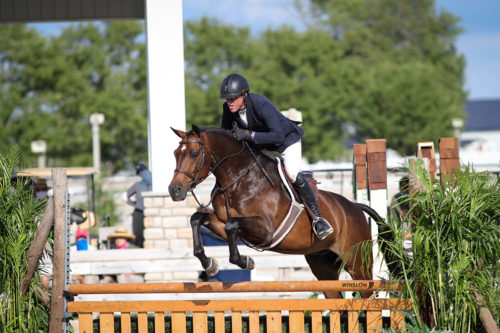 Exhibitors enjoyed another warm, sunny day today in southwest Ohio at World Equestrian Center, making for the perfect backdrop for the afternoon's $10,000 USHJA National Hunter Derby. Forty entries tried their hand at a stunning derby course designed by Bobby Murphy of Lexington, Kentucky, but it was David Beisel of David Beisel Stables in Goshen, Ohio, and Lori Taylor's MTM Bentley (Bonaparte Z x Hot Cherie P) who nabbed the win with a brilliantly planned track in the handy round, earning a score high into the 90s.
The course for this afternoon's $10,000 USHJA National Hunter Derby featured rollback turns, bending approaches and four high options, all accented by lush greenery, purple flowers and a stunning wagon island. Michael Britt-Leon and Rachel Rinke's De Novo (Diarado x Hauptstutbuch Gracia) set the tone for the class during the first round. Britt-Leon and the 9-year-old Oldenburg gelding took all four high options, earning a score of 89. Britt-Leon returned shortly after aboard Kelly Sims' Private I (Corrado x Verdi), an 8-year-old Oldenburg gelding. The pair took first place in the $5,000 USHJA National Hunter Derby at World Equrestrian Center this winter and were hoping for another win. Britt-Leon and the striking bay gelding also opted for all four high options, earning an impressive score of 92. To add to his first-round successes, Britt Leon returned once again aboard Kelly Sims' Bacchus (Bisquet Balou x Feliz V/D Donkhoeve), a 7-year-old Hanoverian gelding, earning a score of 90.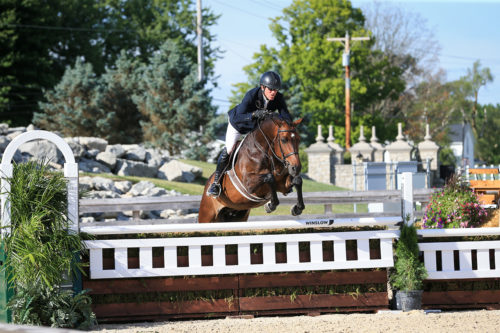 Hot on Britt-Leon's trail was David Beisel and Lori Taylor's MTM Bentley (Bonaparte Z x Hot Cherie P). The pair were on fire at World Equestrian Center this winter, winning two USHJA National Hunter Derbies and taking several more top placings. Beisel and the six-year-old Danish Warmblood gelding were in typical flawless form this afternoon, taking all four high options in the first round and earning a score of 88.75.
Also scoring high into the 80s during the first round was Sam Berry and Dell Kelly's Checkpoint Charlie (Chap x Simona). The duo were fresh off of a successful show at Lamplight where they earned several top placings in the Performance Hunters, and were well prepared to compete this afternoon. Berry and the 9-year-old Brandenburg gelding chose to take all four high options, earning a first round score of 87.
The handy round offered several inside turns, and one particularly handy approach to fence 3. Fence two was a trot fence set on a diagonal close to the center line, then entries cantered down the diagonal and past the ingate to roll back to fence 3, which featured two high options and one low option. The high option closest to fence 2 was set so that, if perfectly executed, entries could jump fence 3 directly from fence 2 in about 3 strides. Britt-Leon and De Novo were early in the order to accommodate for Britt-Leon's multiple rides. The pair took all inside turn options, but did not attempt the direct approach to fence 3. Their round was flawless, earning them a score of 88 and an overall total of 177.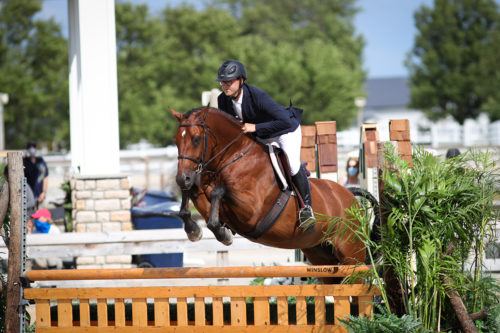 Sam Berry and Checkpoint Charlie took to the course shortly after. The pair mimicked their first round with a lovely forward rhythm, and took all inside turns and all four high options. Berry and the bay gelding were rewarded with a score of 91 for an overall total of 178, moving them into the lead.
David Beisel and MTM Bently changed the game in the handy round by taking the direct approach to fence 3 in foot-perfect fashion, then continuing to take all inside turns and high options. Their performance wowed the judges and earned them a score of 96, bringing their overall total score to 184.75 and moving them into first place.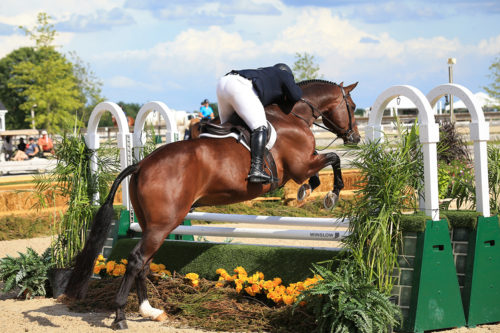 Britt-Leon had the final two rides of the class, the first being Bacchus. Knowing they had to take a risk to beat Beisel, the pair also opted for the direct approach to fence 3. While fence 3 was perfect, Britt-Leon and Bacchus had an unlucky rail at fence four, taking them out of the running for a top placing. Britt-Leon returned aboard his final ride, Private I, and again took the direct approach to fence 3, as well as all inside turns and all high options. The pair earned a second round score of 91, bringing their total score to 183, sliding into second place just above Berry and leaving Beisel in first place.
MTM Bentley's owner, Lori Taylor, took a few minutes to chat with us ringside about her beloved horse, "Here's the thing that's cool about Bentley: he turns seven in August, so he's still six now. He's only been showing for a year. All he does is come to the show, does one round in a 3′ class, does the incentive, then he comes in and does the derby. That's it, that's how good his brain is. David is amazing, so he could ride anything. He could make a cow look good, honestly. So, what makes Bentley special is that I could go get on him right now and he would just clock me around. He's the calmest and sweetest horse. He loves everything about showing."
Lori added, "He's a unique derby horse in that his owner (me) is just back doing the 2'6″, while most derby horses owners are showing in the 3'3″ and 3'6″. I'm just trying to stay off of him so David can continue to develop him, and then I'll have a really nice show horse when he turns eight!"
Lori shared the touching story with us of how she got MTM Bentley, "I got Bentley because the horse I had last year in Ocala passed away from colic. I was sad, of course, but he was 20 and went out with dignity. He wasn't a horse that ever wanted to be 28 in a pasture. He was a show horse. I had just sold my company, so Bentley was my present to myself. So, it's like God took the 20-year-old away, but he gave me Bentley."
$10,000 USHJA National Hunter Derby
MTM Bentley, David Beisel – 88.75 | 96 | 184.75
Private I, Michael Britt-Leon – 92 | 91 | 183
Checkpoint Charlie, Sam Berry – 87 | 91 | 178
De Novo, Michael Britt-Leon – 89 | 88 | 177
Vaillero, Nicole Lyvere – 84.5 | 89 | 173.5
ICloud, Maria Kneipp – 84.75 | 82 | 166.75
Chemistry, Stephanie Portman – 85.5 | 81 | 166.5
Constellation, Sam Berry – 84.25 | 80 | 164.25
Stardust, Emma Walters – 88.5 | 74 | 162.5
Caesar Augustus, Anneliese Kolaska – 85 | 75 | 160
Charismatic, Linda Radigan – 86.5 | 73 | 159.5
Bacchus, Michael Britt-Leon – 90 | 45 | 135
Photos courtesy of Winslow Photography.