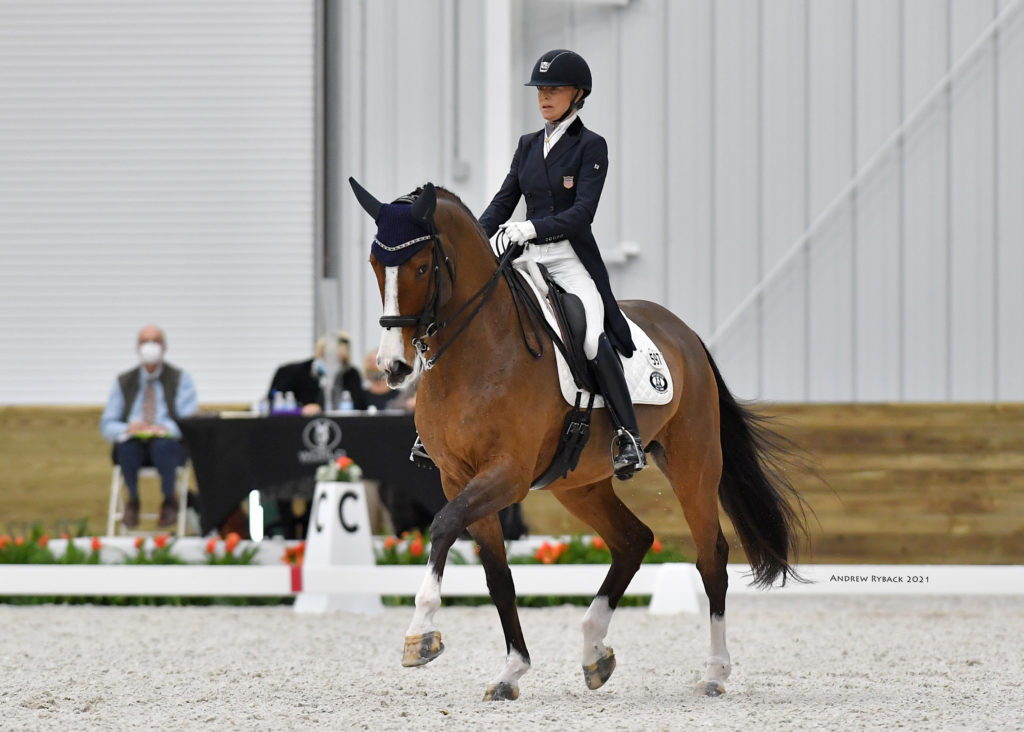 For Immediate Release
January 27, 2021
Ocala, FL – In the second-ever dressage show at the World Equestrian Center — Ocala (WEC), riders gathered to contest Level II competition. The World Equestrian Center Dressage VIII show, held January 22-24, featured competition from USEF Training Level through Grand Prix that offered GAIG/USDF qualifying.
Dressage competition at World Equestrian Center – Ocala continues with a third Level II show on February 26-28. The March 12-14 Level III National show includes qualifying opportunities for the US Dressage Finals. World Equestrian Center — Ocala will host international CDI competitions in April, October and December. The full 2021 competition schedule can be found here.
In Saturday's FEI Grand Prix Open division, Anne Gribbons of Orlando, FL, rode her own Let's Dance to a score of 67.174% for the win in the class.
Gribbons is one of the most well-known and accomplished figures in the sport of dressage in the U.S. She has brought almost 20 horses to the grand prix level as a rider and another 20 as a trainer. She is a licensed USEF Senior judge and an FEI 5* judge, and she was the head of the ground jury at the FEI World Equestrian Games Tryon 2018. She was the US Equestrian Technical Advisor and coach for dressage and was a member of the FEI Dressage Committee. At 74 years old, she remains active in the sport by riding every day, teaching students (including Anna Marek, a winner at the WEC Dressage VI show), giving clinics, and judging.
Appearing in the competition arena is somewhat less frequent for Gribbons, so she appreciated this chance to show one of her favorite horses.
"I admire and like Lilo Fore, and she happened to be my judge," said Gribbons. "She didn't miss a thing. It's nice input. You can ride around at home and pat yourself on the back all you want, but unless you're out there and someone else is criticizing you that you respect, you don't really know. That's the benefit of showing, because now I can go home and train better."
It has been a long and winding road for Gribbons and her 14-year-old Brandenburger gelding (Laurentio x Grandseigneur). Gribbons imported him from Germany as a three-year-old, and they steadily moved through training to the grand prix level when an injury in 2017 forced Let's Dance into a year-long break where Gribbons could not ride him.
Photo: Anne Gribbons and Let's Dance winning the FEI Grand Prix on Saturday at WEC Dressage VIII. Photo by Andrew Ryback Photography.
With the help of her farrier and vets, Gribbons was eventually able to put a saddle on him again, and it took another year of solid work before he was back in grand prix shape. With the pandemic in 2020, plans were again put on hold, but Gribbons feels lucky to be in the show ring again.
She expressed. "I feel totally blessed every day I sit on him. It's like a gift I never expected. I feel delighted at this point in his life and in mine, [that] we can go out and have a good time, just enjoying being out there. He loves being the center of attention. It's been a long haul, and I really feel so lucky that he is now up and running and it seems to be okay. Every time I go somewhere to show, I remember how it could have ended."
Having been in the sport for decades, Gribbons has been to every major equestrian facility in the world and deems World Equestrian Center – Ocala as the most "fabulous" she has seen.
"It is breathtaking," she said. "The planning and the way it is thought out for horses is just amazing. The detail is incredible. It is very nice to have all these restaurants and things for the fun of the competitor; it's a very welcoming atmosphere. The footing is perfect, the stalls are amazing. It's certainly a facility that is going to awe anybody who visits."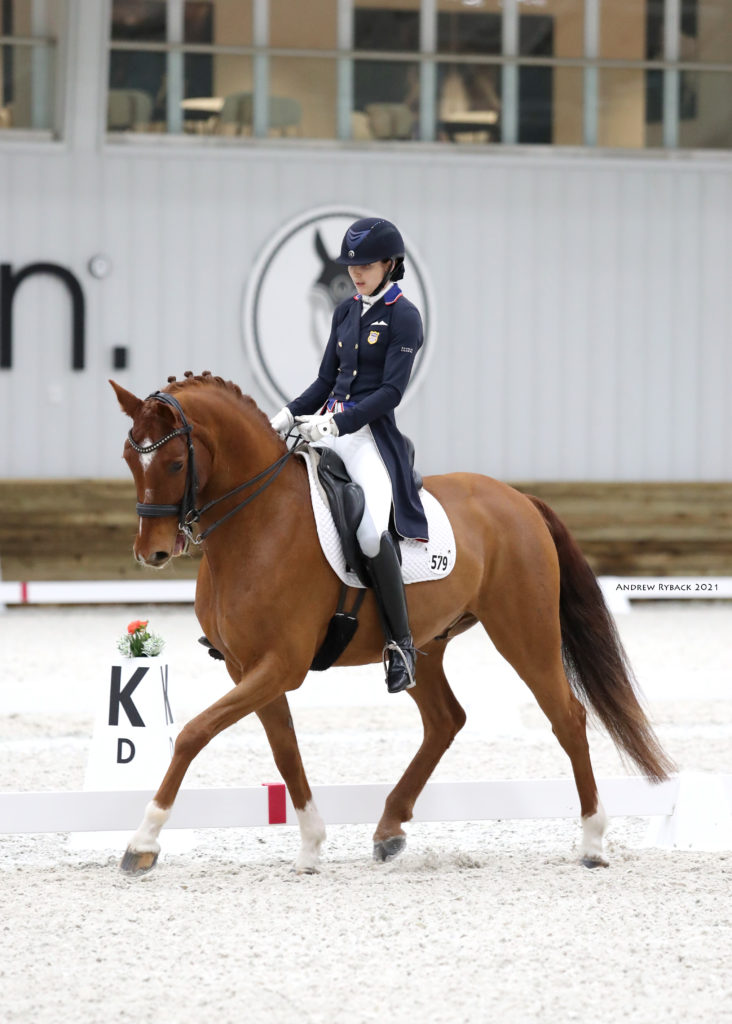 A winner of multiple classes at WEC Dressage VIII was Nora Batchelder of Williston, FL. In Friday's FEI Prix St. Georges test, Nora Batchelder and Jill Vonderhaar's Dondolo received a score of 76.471% from the judges. On Saturday, they competed in the FEI Intermediate-I class to a score of 69.118%.
Batchelder and the 10-year-old Oldenburg gelding by Don Diamond started together two and a half years ago, when Batchelder gained the ride in order to teach the young horse its flying changes. Although Vonderhaar then started riding him, Dondolo returned to Batchelder six months ago to continue training and working toward the Prix St. Georges level.
"Jill has been very generous to let me show him," said Batchelder of the horse. "He's been a really fun horse to show. We are hoping to get him to I-2 grand prix and want to get him more show experience."
Photo: Nora Batchelder and Dondolo won the FEI Prix St. Georges class on Friday. Photo by Andrew Ryback Photography.
In the FEI Intermediate-2 test on Friday, Batchelder captured another win, this time with her own Fifi MLW on a score of 73.971%.
Fifi MLW, a 12-year-old American Hanoverian mare by Fidertanz 2 x Wolkentanz, was bred by Mary Lou Winn of Florida and Batchelder bought her as a five-year-old. Last weekend at WEC was the mare's first time ever competing in the Grand Prix.
"We are getting her feet wet [at this level]," explained Batchelder. "She's a big, powerful girl and is learning how to collect herself. She scores well on canter pirouettes. Her piaffe needs to get better, but she's getting there. She has a big, powerful trot, so to get that smaller has taken some effort. I'm proud of her; she's figuring it out and solving that puzzle as she continues to develop as a grand prix horse."
Based only 20 minutes away from WEC, Batchelder said it is very exciting to have such a state-of-the-art facility nearby.
"We're just thrilled to have that kind of quality venue," she said. "I'm so excited to have CDIs that close and more Level III competitions. I'm hoping to participate in all of the remaining shows. We're excited to be as big a part of it as we can be. Getting to expand the CDI calendar is really nice.
"It's sort of like a horseperson's candy store," she continued. "I think it's going to be really fun to show dressage horses and go and soak in other disciplines there, too. It was fun to watch the hunter/jumpers [last weekend], and it will be really cool when the cross-country course is finished. It's beautiful."
Batchelder also complimented the footing and stabling, and she noted that the large indoor arenas and climate-controlled buildings will be especially helpful during Florida's hot summer and fall months.
"Florida in the summer can be a bit tough for horses and riders; two-legged and four-legged athletes get hot!" she said. "So that's really exciting. I already have clients who want to stay in the hotel when it's open. It looks very fun to stay there and look down on that amazing arena."
For full horse show results for the World Equestrian Center Dressage VIII, please visit www.horseshowoffice.com.
Button: RESULTS – http://results.horseshowoffice.com/Shows/Classes?sid=2&oid=76
An equestrian lifestyle destination unlike anywhere in the world, the World Equestrian Center – Ocala offers exhibitors, trainers, owners and guests an endless list of Florida horse show amenities and superior customer service.
For more information on World Equestrian Center – Ocala, visit www.wec.net.
About World Equestrian Center
The World Equestrian Center features two premiere multidisciplinary horse show venues located in Ocala, Florida, and Wilmington, Ohio.
These exclusive facilities comprise state-of-the-art arenas, expansive stadiums, versatile outdoor space, sporting fields and well-appointed exposition centers. An abundance of lodging options and luxury accommodations are conveniently located on-site, along with shopping and dining throughout each property.
Dedicated to offering great sport and fun in a family-friendly environment, World Equestrian Center promises an unparalleled experience for exhibitors, spectators, vendors, sponsors and retailers built on three core values: Quality. Class. Distinction.
Learn more at www.wec.net.
Media Contact:
Candace FitzGerald
candace.fitzgerald@wec.net
603-738-2788
Photos courtesy of Andrew Ryback Photography.