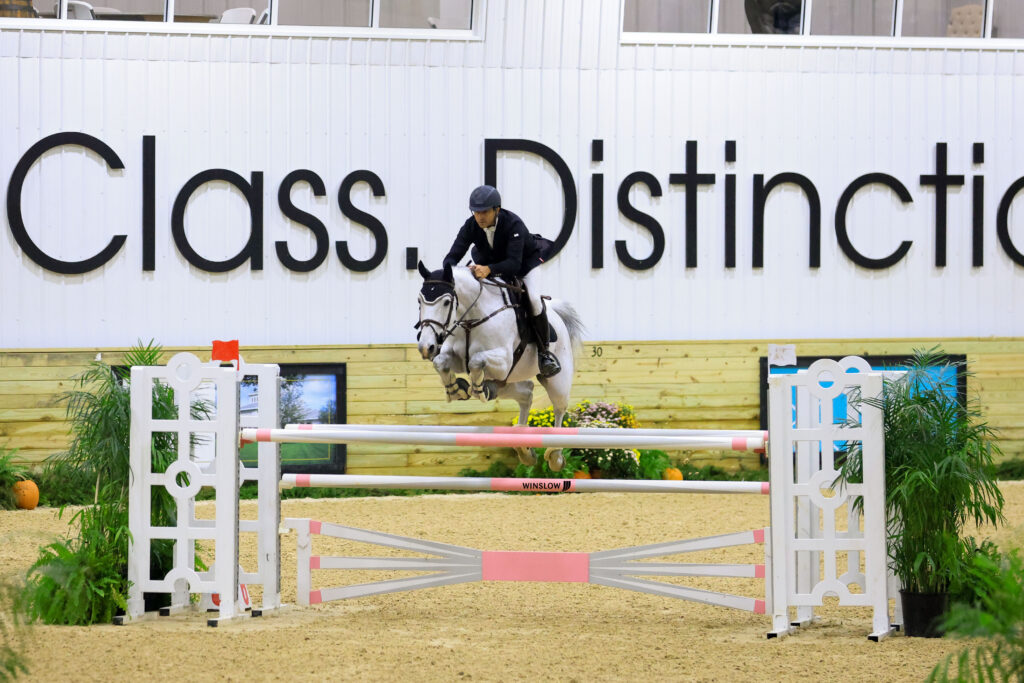 Happy Halloween and welcome to the final leg of the five-week Fall Classic horse show series! World Equestrian Center is all buttoned up and our climate-controlled indoors are keeping horses and riders out of the brisk Ohio autumn elements. Feature jumper action began today with the $15,000 WEC Welcome Prix 1.35m in the Sanctuary arena. This elite class saw a field of nineteen international exhibitors contest the technical course designed by FEI Level III course designer Anderson Lima of Brazil.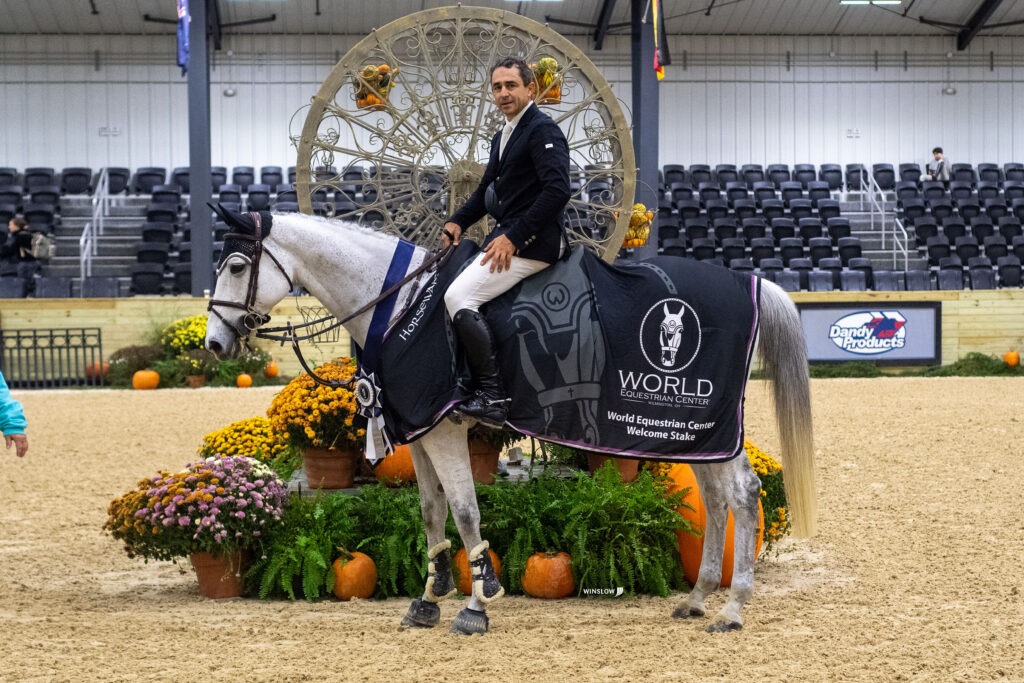 Seventeen horse and rider combinations delivered fault free first rounds, advancing them straight to the jump off. Of those who returned, only seven managed double clear rounds. Competitors battled neck-and-neck to finish the short course clean and clear in the fastest time, but it was Argentina's Gustavo Prato and King Van Het Keyzerhof (Clearway x Werry Van Het Keizershof) who ultimately topped the class.
Prato was in it to win it this afternoon, piloting the 11-year-old Belgian Warmblood gelding through a clear first round of 71.765 seconds. It took only 33.656 seconds seconds for this duo to fly through the timers in the jump-off. They earned the class lead early and finished nearly two whole seconds faster than the second place finisher.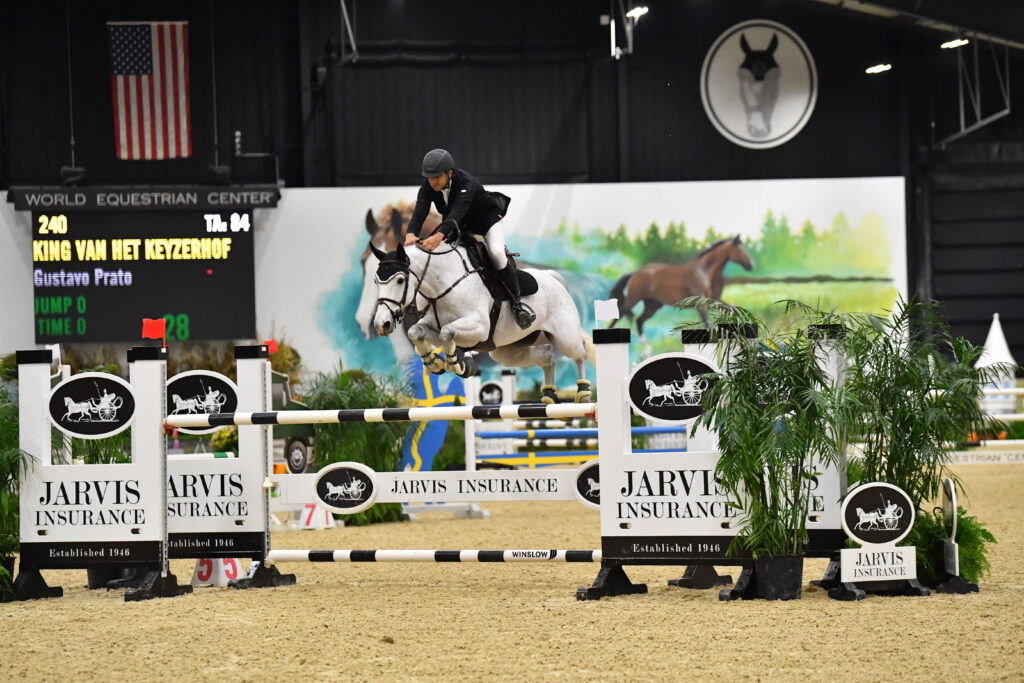 We caught up with Prato of Wellington, Florida to chat about his victory in the $15,000 WEC Welcome Prix. "This gelding is originally from the Netherlands. I've had him for only six months and bought him to compete in the 1.40m. He has done some FEI classes and is starting to move up! He is extremely fast and just a very cool horse. This course was very smooth and was a great way to begin the week if you are thinking of competing in the Grand Prix."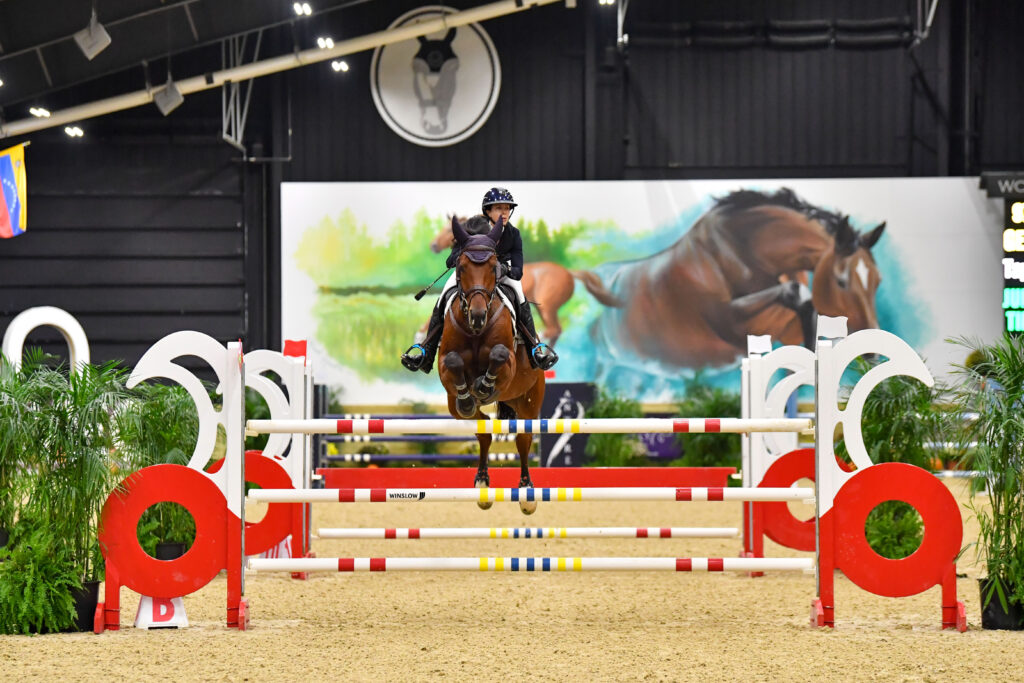 Taylor Land of Pinetree Stables in Newnan, Georgia and Falco V (Bustique x Watina V) jumped double clear to take the second place spot in this afternoon's $15,000 WEC Welcome Prix. Land and the careful 11-year-old Dutch Warmblood gelding wrapped up the first round in 73.897 seconds, advancing straight to the jump-off; where they completed the short course in 35.866 seconds with all rails up.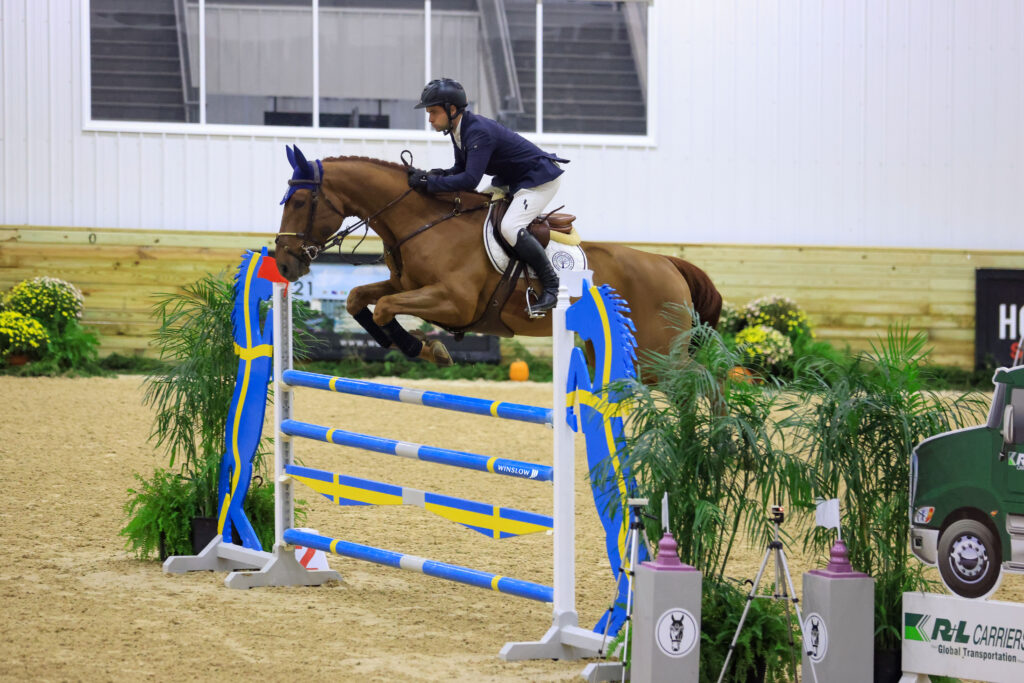 Claiming the third place spot was Ireland's Kevin Mealiff and A D Reed (A Big Boy, Pennsylvania), a 9-year-old European Sport Horse gelding. This duo managed clear in round one, finishing in 75.109 seconds and earning a spot in the jump-off. They caught their breath and then took on the short course, where they jumped clear and crossed the timers in only 36.104 seconds.
$15,000 World Equestrian Center Welcome Prix 1.35m
King Van Het Keyzerhof, Gustavo Prato – 0 | 0 | 33.656
Falco V, Taylor Land – 0 | 0 | 35.866
A D Reed, Kevin Mealiff – 0 | 0 | 36.104
Get Go, Taylor Land – 0 | 0 | 36.445
Maraca LS La Silla, Kady M. Abrahamson – 0 | 0 | 36.503
Nazarine Van De Axelhoeve, Sabine Cooper – 0 | 0 | 39.222
Fiper, Colin Syquia – 0 | 0 | 39.501
Chagrand, Michael D. Burnett – 0 | 4 | 34.472
Caiman des Sequoias, Nicole Loochtan – 0 | 4 | 35.226
Ecuador W, Logan Taylor – 0 | 4 | 35.622
Thank you to all exhibitors, trainers and spectators for another great day of equestrian sport at World Equestrian Center – Wilmington.
Join us in November for two weeks of horse showing! Entries and stall reservations are now open for Midwest Indoors I (Nov. 10-14) and II (Nov. 17-21) featuring top NSBA sanctioned hunter/jumper competition. The two weeks of consecutive indoor hunter/jumper shows offer a perfect opportunity to prepare for finals and winter circuits in our beautiful climate-controlled venue along with $275,000 in prize money. Entires and stall reservations can be submitted at www.horseshowing.com.
For more information regarding competing with the National Snaffle Bit Association please visit https://www.nsba.com/
Photos courtesy of Winslow Photography.