We saw some terrific competition this week at the World Equestrian Center as The Winter Series of the Midwest continues on to its 17th consecutive week of Hunter / Jumper horse show action. Read on for horse show results from our feature classes during the World Equestrian Center Winter Classic 16 – April 18-22, 2018.
Jumper action kicked off in the Sanctuary on Thursday, April 19 with the World Equestrian Center $5,000 1.35m Open Welcome Stake. Twelve horse and rider combinations contested the track, but it was Sam Pegg of Ten Sixty Stables, Uxbridge, Ontario, and Hilma who set the tone, delivering the two clean, smooth and super fast rounds that ultimately proved to be unbeatable.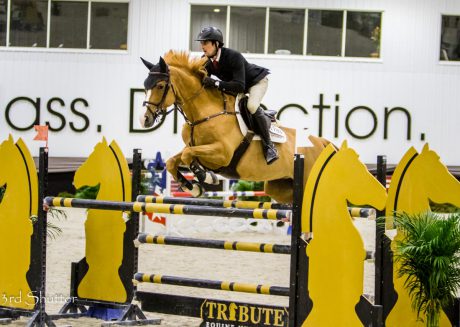 Pegg and Hilma are emerging as a force to be reckoned with at horse events. It was their third trip to the winner's circle in the Open Welcome in as many weeks. Pegg and Hilma also won a $25,000 Grand Prix earlier this season at the World Equestrian Center during the Winter Classic 12 horse show.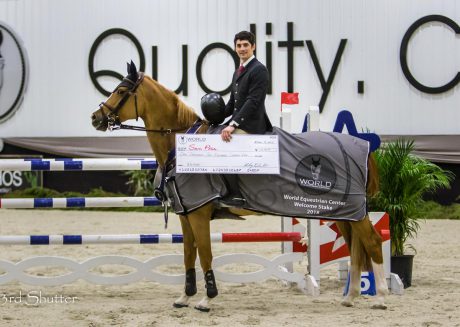 Sam has won the Open Welcome six times during the 2018 Winter Circuit – three times on Hilma and three times on his 16-year-old Belgian Warmblood mare, Shaia De Macheco (Kannan x Rivage du Poncel). Shaia De Macheco is on track to be our 2018 World Equestrian Center Winter Series of the Midwest Open Jumper Circuit Champion. She is featured along with a story about Ten Sixty Stables in the Spring issue of the World Equestrian Center Magazine.
Horse Show Friday Nights are for Futures
Friday nights at World Equestrian Center are about ringside horse show exhibitor parties and the $7,500 1.30m Futures Prix. The Futures Prix is a popular divisions that gives horses and riders who wish to move up to riding bigger tracks and higher fences the perfect opportunity to compete in an evening feature class.
It was Grand Prix veteran David Beisel and Donnaludine who bested a field of nine horse and rider combinations to take the win in the class, held in the Sanctuary arena. It was the pair's second consecutive week winning the class and their third win in the Futures Prix for the 2018 Winter Circuit.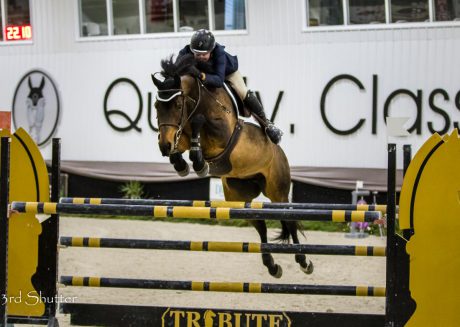 Saturday Night at the Sanctuary
Twelve entries negotiated the track in our Saturday night feature class, the $25,000 World Equestrian Center Grand Prix. Despite several double clear rounds, it was David Beisel and the speedy mare For Sunday whose time provide impossible to beat.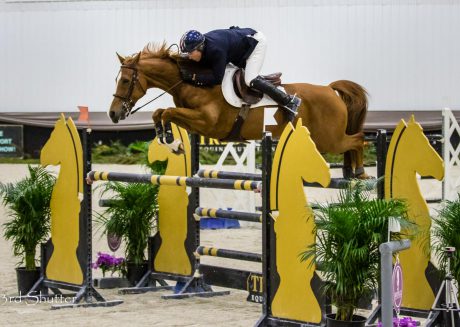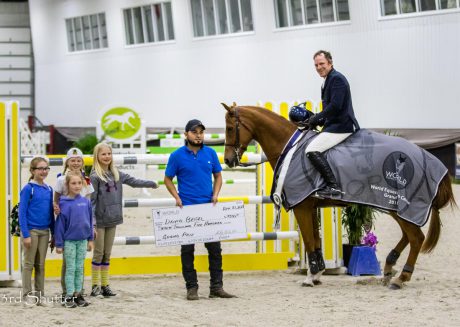 For Sunday and David earned the 2017 USEF Horse of the Year in the 7-year old Jumpers and together they have won a Futures Prix, an Open Welcome Stake and a Grand Prix at the World Equestrian Center this season.
Beisel ultimately earned three slots in the top 10 as he was also fourth with La Dolche Vita VDL, owned by Makayla Weber and 9th wit Phyllis Harlow's Call Me Hannes.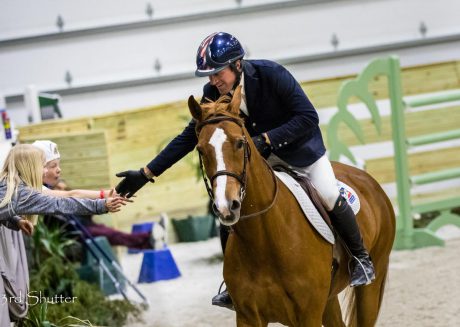 One of the most popular riders at World Equestrian Center, David Beisel often has the loudest cheering section in the Sanctuary arena. He is known for his dramatic riding style and blazing fast jump off rounds that keep spectators on the edge of their seats. David can often be seen doing a ride by of high fiving with his bevy of young fans at the end of each jump off round.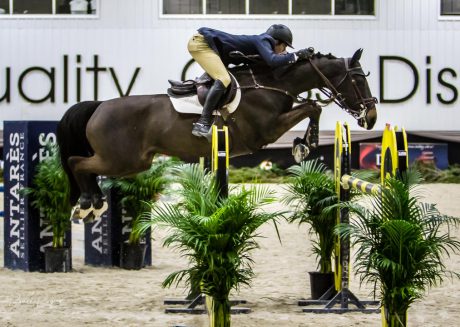 Sam Pegg and Shaia De Macheco were just off David's time for a close second after a classically smooth and super-fast double clear round. The Canadian duo won the World Equestrian Center $25,000 Grand Prix during the Winter Classic 7. They have won the $5,000 Open Welcome three times this winter.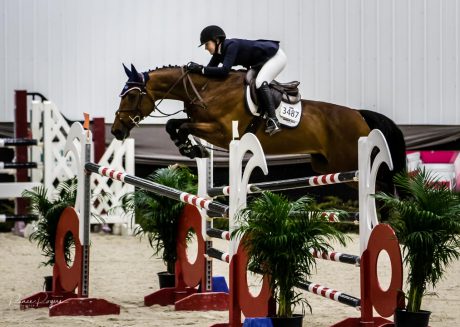 Making her Grand Prix debut, 17-year old Emma Kurtz took third with Chagrin Saddlery's Pippi and fifth with Chagrin Saddlery's Carisma. Emma is an accomplished junior rider who has distinguished herself in the equitation and hunter ring. She has turned her focus to the jumper ring. In her first appearance at the World Equestrian Center, she stylishly delivered four impressive double clear rounds.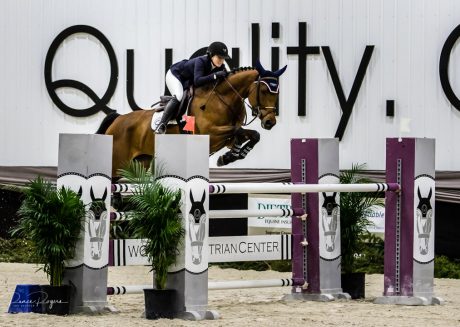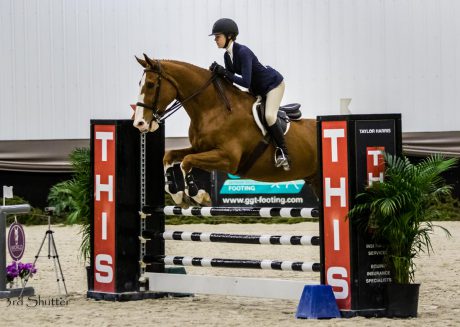 Special thanks to our Winter Series of the Midwest sponsors, including Tribute Equine Nutrition and Taylor Harris Insurance. We appreciate their horse show support and for providing their beautiful jumps in our Sanctuary arena.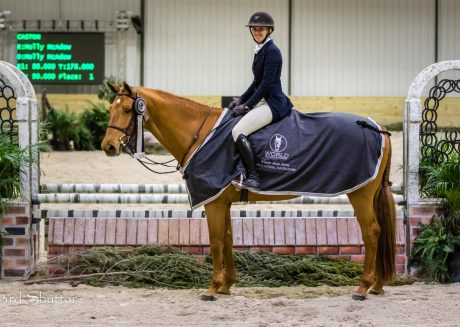 Sunday is Hunter Derby Day at World Equestrian Center USHJA $2,500 National Hunter Derby
The horse show events week would not be complete without our USHJA $2,500 National Hunter Derby. There were 13 entries vying for the top spot this week and it was Molly McAdow and her own Caston who took the win.
The handsome Caston is an 8-year old chestnut Holsteiner gelding who typically competes in the Green Hunter 3'6" and 3'9" division. This was the first Derby win for Caston and McAdow at World Equestrian Center.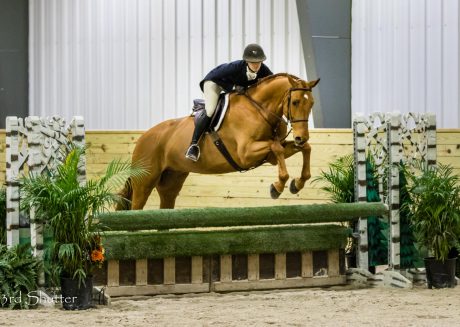 $1,000 2'6" Non Pro Hunter Derby
Izzy Beisel rode Beachin' to victory in the $1,000 2'6" Non Pro Hunter Derby. Beachin' is a 13.2 h German Sport Pony owned by Marigot Bay Farm LLC. The pair competed against a field of eight other horse and rider combinations in the R+L Arena, where Hunter Derby horse show action takes place weekly.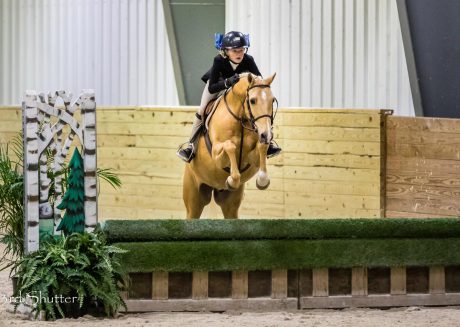 Beachin' and Izzy emerged from the two rounds of competition with the highest score for the most stylish performance over the Hunter Derby jumps, ultimately earning them the win.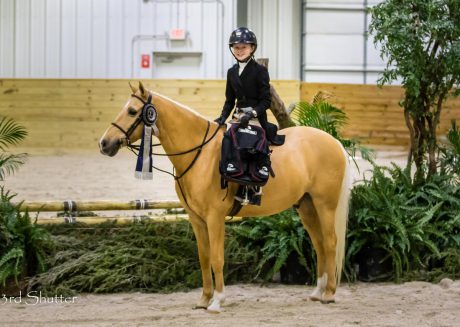 After the prize giving, Izzy and Beachin' took a well-deserved victory lap, celebrating their win with a characteristic aplomb.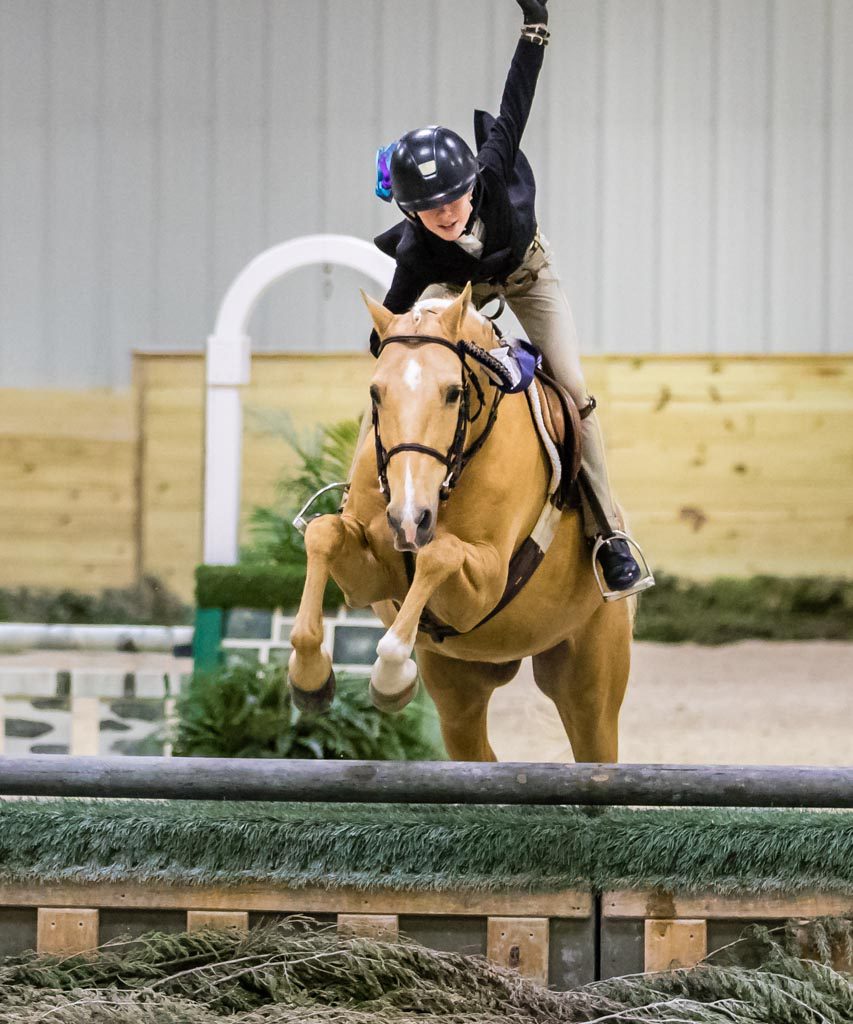 Our horse show action continues next week with the Winter Classic 17. It's the culmination of the Winter Series of the Midwest 2018. We will honor our Winter Circuit champions with prizes at the end of each division. There is a Celebration of appreciation for our exhibitors on Friday, April 27. A parade of Champions is Saturday, April 28 at 6:00 p.m. before the Grand Prix in the Sanctuary.