The World Equestrian Center recently launched a new website which focuses on the overall horse show experience for participants and spectators alike. The expanded website is rich with information, imagery and functionality. The new site encompasses content focused on horse show events at the World Equestrian Center facilities in both of our Wilmington, Ohio and Ocala, Florida locations.
While this is just a preview a few new items visitors will find on the new site, it is our hope the upgrades are useful and serve as a gateway to the World Equestrian Center.

Horse Events Information
There is so much more for horse show exhibitors to access on our new site! Exhibitors can access the World Equestrian Center calendar directly from the Home Page, or from the Events or Calendar pages. Exhibitors can access calendar entries for both the Wilmington and Ocala facilities. The calendar includes a complete listing of the multidiscipline events taking place at the facility. It also features detailed event information and access to prize lists and entry instructions.
The Exhibitors page is the place to access online entry forms and make stall reservations; also place feed and bedding orders for each horse show. A link to our Forms page outlines all of the required horse show forms you need for your upcoming visit. Stall reservation forms are also available on this page. We offer a downloadable, printable stabling form and online stabling reservation form for your convenience.
Payments can be made directly through the Exhibitors page at no additional cost. Do you find it more convenient to talk to a stabling professional? Our contact information for the stabling manager is readily available to help meet your individualized needs for your upcoming visit.
The new website is also where you'll find pertinent information for upcoming shows along with results of recent events. The Exhibitors page provides a link to shows that explain all of the types of horse show offerings we provide. Enjoy direct access to the show prize list offerings as an exhibitor.
We also provide you with a comprehensive list of Frequently Asked Questions to help in planning your trip and obtain answers to the most popular questions we receive at The World Equestrian Center. Yes, all the information exhibitors want is now at their fingertips and easy to find!

Planning a Horse Show at World Equestrian Center
Those interested in holding an event at the World Equestrian Center can glean key information about the facility. The website includes ring dimensions, amenities, reservation requirements, facility availability, arena rentals and other details.
The website features onsite lodging options including the beautiful Cabin Village and Home Away From Home units in Wilmington, Ohio, and the luxury World Equestrian Center Hotel in Ocala, Florida. Guests can view images of our accommodations, review amenities and occupancy details to select the option to fit their needs. After deciding on World Equestrian Center, go ahead and request a show facility rental online.
We hope our exhibitors and spectators will appreciate the in-depth event and facility information, maps and FAQs now available on the site. Guests will also find easily accessible information including directions and parking, details regarding horse show event viewing, dining and shopping. It is our goal to help guests plan the perfect experience at the World Equestrian Center.
Premier Vendor Space
World Equestrian Center features a collection of carefully curated vendors offering a wide variety of horse related products and services. The range of vendors include those with equipment, horse care products, saddles, tack, clothing, boots, specialty foods supplements and treats. Many vendors also feature attire for the show ring and beyond, accessories, fine art and equestrian inspired home goods.
Vendors can also view the incredible Vendor Village, which is a recent addition to the Wilmington, Ohio location. Additionally, vendors can access information about becoming a vendor at World Equestrian Center locations and download an application.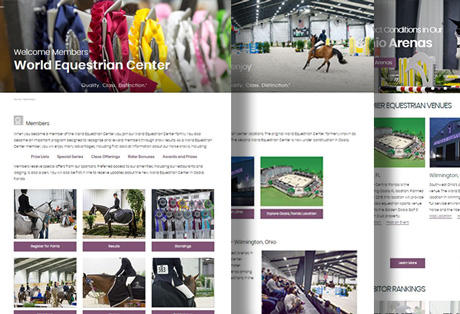 Equestrian Real Estate in Ocala
We are excited to introduce the development expansion of the World Equestrian Center in Ocala, Florida. This new facility, adjacent to Golden Ocala Golf & Equestrian Club, is in the heart of the heart of horse country. Beautiful horse farms surround the new facility in North Central Florida. Visit the website to learn more about what's planned for the new horse show event location and follow construction updates.
In addition to the luxury World Equestrian Center Hotel, the new facility will include delectable dining options, retail space and a host of other amenities. It will truly be an elite destination in the region for horse show events.
Equestrian real estate is a key component of the World Equestrian Center in Ocala, Florida. World Equestrian Estates is an exquisite new gated-community planned for the Ocala location. Homeowners will be able to enjoy the equestrian lifestyle while mere moments away from a world-class horse show facility.
Visitors to the website will learn more about the Ocala location and the equestrian real estate options at World Equestrian Estates including pricing and contact information. To obtain more information about World Equestrian Estates, please fill out the contact form on the real estate page. Our knowledgeable agents with Royal Shell Real Estate will be happy to assist you.
Be sure to join the email list to follow construction updates, and to be included in the latest news updates.

Locations
It was important to add a locations page to the website so users have great information about both venues. So if you want more information about the Wilmington or Ocala property, select either location for more detail. Each location provides a unique horse show experience and offer many options for participants.
The hallmark for both World Equestrian Center locations is the use of indoor arenas to stage horse show events. Therefore Ohio's winter snow or Florida's blistering summer heat will not stop a show. The arenas are temperature controlled so horse shows can be scheduled year round.
Things to Do – Ohio and Florida
Another new feature to the World Equestrian Center website is information about things to do in both Wilmington, Ohio and Ocala, Florida. While there are plenty of activities to keep exhibitors and spectators busy at both horse show facilities, each region is home to a unique blend of things to do. We've tried to give visitors a sample of options such as places to dine, shopping venues, entertainment outlets and other attractions.
During a visit to the Ohio or Florida horse show facility, be sure to carve out time to see the area up close and enjoy the treasures of each region. If you are a returning visitor, there is bound to be something new to explore too.

Time for Pictures
The website is rich with galleries full of imagery evocative of the World Equestrian Center featuring horse show events we manage to those we host. Visit the photo galleries where we showcase many amenities. And be sure to view the images from after-hour events of the equestrian competitors, trainers, owners, support staff, and enthusiasts that make up our World Equestrian Center family.

Horse Show Sponsorships
Sponsors of World Equestrian Center are featured on a dedicated section of the website. It's our way of showing appreciation for their support in partnering with World Equestrian Center. The interactive page includes links for each sponsor. In addition, the page includes a downloadable brochure with details for sponsor packages and pricing for horse show events.
Connect With Us
Navigate through the new website for World Equestrian Center to find out about upcoming events, show results, or learn more about show facility rental, arena rentals, on-site accommodations, amenities and other updates.
Visit the new World Equestrian Center website today and start planning your next visit to a horse show at either the Wilmington, Ohio or Ocala, Florida location.
Connect with us on Facebook, Twitter, Instagram or YouTube to let us know what you are up to at World Equestrian Center.